Affiliate marketing is becoming more and more popular nowadays when it comes to new ways of making money. The number of available niches and affiliate programs is really great. You can choose any field and platform you are feeling good at for promotion: traveling, fashion, luxury items, events and so on. Essential oil affiliate programs can become one of the top choices. Read this article further to learn why and what you can do to succeed.
How Essential Oil Affiliate Programs Work
The COVID-19 pandemic has demonstrated the importance of human health. People started to think more about what they can do to avoid undesirable illnesses and how to cure them faster. There can be no better situation for the essential oils to come to the limelight. Despite the fact that they have been quite popular for decades for therapeutic effects and ability to soothe and heal, their popularity got another push only several years ago. The components of essential oils make them effective when it is necessary to deal with pain, inflammation and even mental health issues like anxiety or depression that are spreading with an enormous pace especially among the dwellers of big cities.
Unfortunately, most people don't have much information about the advantages that essential oils can bring or how to use them in the most effective way. This is where affiliates can help. Joining some affiliate program in the niche of essential oils can give an opportunity to let people know more about them, find authentic products produced by reputed companies and learn how to avoid counterfeits.
But what should an affiliate know about the functioning of an essential oil affiliate program?
These programs work like any other affiliate program: it is the process of promotion of a product (in our case – essential oil) through a referral link containing data about the exact affiliate for a limited amount of time. To put it in a simpler way, a person interested in essential oils or in purchasing them, visits a thematic website, gets all the necessary information, clicks the link and finds him- or herself on a seller's page, makes an order and the affiliate gets a commission from that order. Just like that!
What Essential Oil Affiliate Programs Pay for
Partners of essential oil affiliate programs promote such oils on their websites dedicated to health, new trends in lifestyle like aromatherapy or meditation, mentality, cleaning and so on and get payments for every customer action (purchase) in a set period of time. It means that the visitor has to buy an essential oil via a referral link in order to make it count for the affiliate. Methods of payment and commission rates may vary and depend on the seller and its terms and conditions of affiliate programs.
In the next parts of the article, we will dive deeper into the topic and have a closer look at the best essential oil affiliate programs that are offered on the market, their commission rates and cookie windows. Read further to choose the program that suits you best.
Top 9 Essential Oil Affiliate Programs
Enough with theory – here is a list of the top essential oil affiliate programs containing all the necessary information you may need.
Rocky Mountains Oils Affiliate Program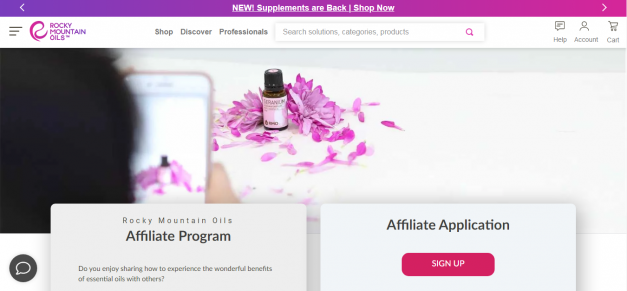 Commission rate: 9%-16% per sale
Cookie window: 60 days
Rocky Mountain Oils is a quite old company founded in 2004 by a group of enthusiasts who wanted to develop high-quality pure and safe essential oils for the whole family. You can choose oils for skincare, cleaning, better sleep, mood improvement, nutrition and many others. You can also order kits with multifunctional essential oils like for every day, natural laundry and diffusers.
There are some other good features concerning Rocky Mountain Oils and its marketing strategy. For example, customers can choose oils on the basis of their needs instead of scrolling the long lists. The corporate return policy is also amazing. What makes it even better is the fact that you don't have to pay for return shipping charges as the company covers them. It is a rare thing on the market and customers like it. Rocky Mountain Oils' reputation in the industry is built on the risk-free guarantees placed on all their orders.
Rocky Mountain Oils affiliate program is also of high quality like all its products offering higher than the average commission rates and cookie window. The company also provides its affiliates with banners and links.
If an affiliate wants to get 16% commission, it is necessary to sign up as an exclusive and promote only Rocky Mountain oils. If there is no exclusive promotion, the commission rates drop to 12% and access to exclusive offers and incentives is not granted.
Barefut Affiliate program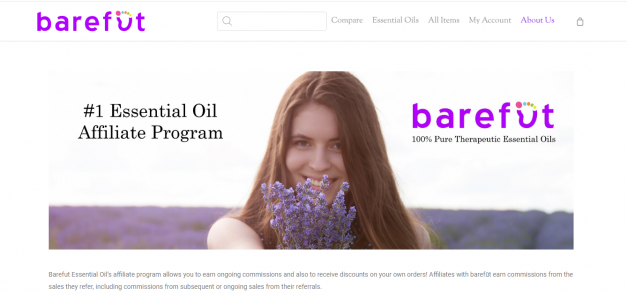 Commission rate: up to 20% per sale.
Cookie window: unknown.
Barefut, presenting its products as "the world's finest essential oils", is one of the best producers of 100% natural essential oils gathered from 35 pure locations all over the globe. The collection includes teas, single and carrier oils, unique blends, diffusers and special literature on the topic. Some of the products are labeled as kid-friendly from the age of 2 years.
After becoming a Barefut affiliate you can promote a wide range of products sold at an affordable price among your audience. It means that in order to make more money, you have to convert more visitors. But the company gives a 20% commission for the first sale via the referral link and a 10% bonus in case of the second purchase through your link.
One more advantage of the Barefut affiliate program is that the company offers a reward product giving customers 5% credit for the next purchases.
Jade Bloom Affiliate Program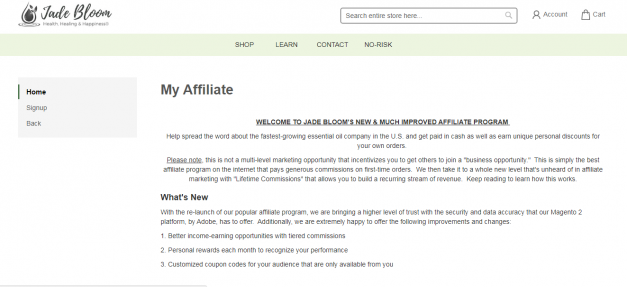 Commission rate: 10%-15% on first orders, 5%-10% on repeat orders.
Cookie window: lifetime.
The mission of Jet Bloom is quite appealing – "to change the way people think about health for all humanity". The company offers its customers products created from 100% essential oils which include teas, shampoos, deodorants, soaps, toothpastes, hair care and so on.
Jet Bloom essential oils are well priced. Besides that, the company offers a loyalty program for customers who return to buy more. Customers also have access to an online game which gives an opportunity to earn bonus points and discounts on future deals. The shipping is free for any purchase exceeding $15. When it comes to guarantees, Jet Bloom offers 100% refund no matter what reason for return is named.
Affiliate program has one of the best advantages that can be offered – lifetime commission on sales. Its rates vary and depend on what tier you have chosen. You can also study at Jade Bloom University and learn how to use oils in the most effective way. After finishing the course, you get a $32 bonus and free information – a perfect combination.
doTerra Affiliate Program
Commission rate: 20% per sale.

Cookie window: 60 days.
doTerra sells one of the rarest and unique essential oils on the market – frankincense and copaiba oils, but at reasonable prices. Besides essential oils, the company offers a huge number of other products for self-care.
The doTerra affiliate program is built in a little bit different way than many other programs. You have to get the rank of doTerra Wellness Advocate in order to make money as an affiliate. It means that you need to convert your audience into company's affiliates who also sell the products. It turns the affiliate program into a multilevel marketing program.
GEO Essential Affiliate Program
Commission rate: 15%-20% per sale.

Cookie window: 30 days.
GEO Essential is a company that is "pure, organic and complete" believing that organic oils are the best and safest choice. All the oils are claimed to be pesticide free, produced without genetic engineering and non-irradiated. The product line consists of 37 single oils, 5 blends, CPAP infusion adapters and refill pads.
The company ships orders above $25 for free and offers a flat rate of $2.49 for lesser purchases. GEO Essential promises to deliver pure and authentic aromas that are easy to market and promote.
The commission rate in the affiliate program is higher than the average, which makes it worth looking at.
Young Living Affiliate Program
Сommission rate:
up to 24% per sale.
Cookie window: unknown.
Young Living is one more company offering a wide range of essential oils and oil-related products: singles and blends, massage oils, roll-ons, diffusers and accessories. The company also sells a range of products for health and fitness which is not a common thing for the market niche. Young Living has a makeup line too.
One of the best parts of the Young Living affiliate program is that promotion of any their product gives you high commissions. Even though it is also a multilevel marketing program, like doTerra, this fact doesn't make its earning potential less appealing.
Amolis Affiliate Program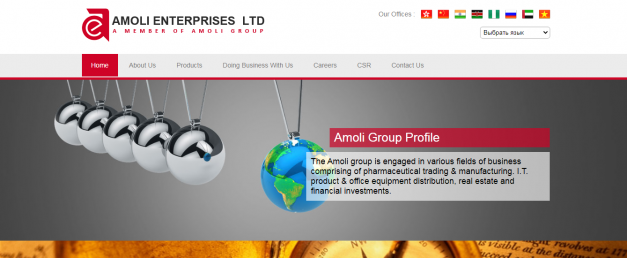 Commission rate: 205% per sale.
Cookie window: 60 days.
If you ask any person what types of products are more preferable, it is highly likely that the answer will be "natural ones". That is why promotion of natural essential oils can help you to generate a lot of money. Amolis is the seller of high quality products created to deal with some specific issues like skin tags, warts, wrinkles, stretch marks and even varicose veins.
All the brand products are FDA-listed and made of natural and pure ingredients which makes them excellent items for promotion. The average order price is $62 which makes commission quite interesting. Different bonus programs and incentives make an affiliate program even more interesting.
Diffuser World Affiliate Program

Commission rate: 15% per sale.
Cookie window: 30 days.
All the benefits that essential oils bring can be enjoyed only with the help of high quality diffusers and vaporizers. Diffuser World is not only the producer of some of the best devices on the market, but also the supplier of essential oil blends for various purposes like fever relieving or bug repelling.
Diffuser World offers relatively high commissions which are three times more than Amazon's for the similar products.
Oasis Diffusers Affiliate Program

Commission rate: 10% per sale.
Cookie window: 90 days.
Oasis Diffusers is one more producer of two unique types of diffusers for a shower and a car vent. The shower diffuser is easier for promotion while the car diffuser is something really new on the market. It gives customers a perfect opportunity to enjoy favorite aromas of the essential oils in their car or shower.
The diffusers can be attached to the walls without any construction work and as they are powered by batteries there is no need to plug them into the household electricity grid.
Desire to promote something new and standard 10% commission rates can be among the reasons to join the Oasis Diffusers affiliate program.
How We Compiled Our Rating
We have conducted our research, compiled our rating and selected the best essential oil affiliate programs in order to help our readers save their time and get easy access to all the necessary information. The data and numbers presented in this article have been gathered on publicly available sources like thematic and expert blogs, corporate websites and aggregators of affiliate programs. The result is in front of you – a top list of essential oil affiliate programs.
This report contains only the programs that are offered by trustworthy companies that give high commission rates for their affiliates.
Tips for Webmasters Who are Going to Work with Essential Oil Affiliate Programs
If you decide to enter this prospective affiliate marketing niche, pay attention to some important tips that will help you to avoid mistakes and save some serious effort as there are many factors to look for in an affiliate program besides cookie window and commission rates.
Promotion of high-quality products is much easier as they sell better even if they cost more
Try to choose affiliate programs that offer training courses and support – basic understanding of the market will make your journey as an affiliate partner much easier.
Try to choose companies that offer good marketing assets and are eager to communicate with its affiliates on all the most important and latest updates concerning the products, corporate news, guides and policies.
Ask for coupon codes, promo materials and essential oil samples for reviews and testing as recommendations based on something that you tried yourself are much more convincing.
Pay attention to reliable tracking, custom referral links and cookie duration – a good affiliate program offers all these three components.
These are the factors that you shouldn't ignore while choosing a relevant program. But what if you still don't know what niche website to try, have a look at the following ideas.
Healing with vibrational frequencies. Here you can promote essential oils, suitable music, lighting equipment, aroma sticks, crystals and some homeopathic remedies.
Cleaning. You might think that this niche is a little down to earth, but think about the situation when oils become a part of some recipe that will help to create a perfect wood polisher or antimicrobial wash. Green cleaning solutions are becoming popular nowadays and more people would rather choose an ecologically friendly product.
Intimacy. Essential oils are an essential element for the creation of a romantic atmosphere. Besides oils, you can promote some dating services, intimate apparel and courses on how to attract a perfect partner.
These are just a few ideas that we tried to show. You have just to think a little and some new idea on where you can implement essential oils will definitely come to your mind.
Conclusions
Essential oils have already been used for centuries, but only several years ago they got a huge uplift in popularity. Still, it is a developing market offering a great number of opportunities for growth. You can promote essential oils for yoga, meditation, fitness, cleaning, mental health and many other niches. It leads you to the opportunity to choose a theme for a website that is not taken yet and present it to the world. And get your commission, of course.
We truly believe that the essential oils affiliate programs described in this article are some of the top choices available in the industry. You can join any of them on the basis of your preferences and make money. In case you need more information on how to earn on the Internet, read our guide on the topic.
FAQ
What is the essential oil niche?
The essential oils belong to a niche marketing sector. They are used for production of items for beauty, healthcare, home, aromatherapy and so on. Women are the main target audience in this niche, but oils' popularity has been on the rise among millennials.
What do essential oil affiliate programs pay webmasters for?
Like any other affiliate program, essential oil affiliate programs pay webmasters a commission rate for promotion of the product and new clients that made a purchase through referral link.
What are the most popular sources of traffic?
The most popular sources of traffic for essential oils include website traffic from affiliate marketing campaigns, organic traffic and traffic from social media platforms.
Which GEOs are in demand?
Affiliate programs sometimes have target locations or GEOs for their affiliates' audiences. The most demanded of them include those that have high quality users with the income above average, users that are easy to convert and users from developing markets that are at the beginning of their way of spending more money.
How much can Iearn?
The earnings in affiliate marketing usually depend on performance, expertise, market and a bit of luck. If you combine all these four factors, you can earn as much as you want.
How long is the money held in essential affiliate programs?
The money holding period is determined by the niche, conversion type and the purchase funnel and, as a result, it may vary from several seconds to several weeks.
Does doTERRA have an affiliate program?
Yes, doTerra, selling rare oils at reasonable prices, has an affiliate program which offers 20% commission rate and 60 days for cookie window.
Does Young Living have an affiliate program?
Yes, Young Living also has an affiliate program which can be suitable for newbies in affiliate marketing as the brand has different products for promotion.
Share the article

Read. Learn. Do. Earn more money on Affiliate Marketing
Don't miss