This article will help you to dive into the world of the top luxury watch affiliate programs. In case you have a blog or a channel related to luxury lifestyle, we will try to help you earn money in a more effective way. If you are an amateur in the world of affiliate marketing, you will definitely find some useful information you may begin your journey with. And if you need some basic knowledge, you can read our guide on the best affiliate marketing courses. 
Why Luxury Watch Affiliate Programs Are Popular with Webmasters?
The world is moving out of the COVID-19 pandemic and markets of luxury items are starting to grow again. People are longing to communicate, visit new places, destinations, events and spend money to show off. And what is one of the best symbols of success and status for both a man and a woman? The answer is definite – some luxury item like fashion product, jewelry or a watch. 

If you run a website or a channel with the content devoted to luxury lifestyle, your target audience consists of people who are highly likely to be noticeably wealthy. It is a perfect asset when it comes to making money on the Internet. And being a partner of a luxury affiliate program is your chance to capture the opportunity to boost your earnings. This is the main reason why luxury watch affiliate programs are popular with webmasters. 

Let's have a little bit more detailed look into the topic. The luxury watch market was estimated at around $26.3 billion in 2021 and it is projected to reach $32.3 billion by 2027. It means that the affiliates who are choosing the niche for their activity now will have enough space for luxury watch promotion for rather a long time. 

Do you want to know what affiliate programs are the best right now? If the answer is yes, continue reading as we have done all the hard work for you. 

How Luxury Watch Affiliate Programs Work
Affiliate marketing is one of the best marketing solutions nowadays as it is very cost-effective and suits practically every ecommerce entity in terms of increasing sales. Luxury watch affiliate programs also belong to this category. 

To become a promoter of luxury watches, an affiliate has to sign up to a retailer's affiliate program on commission-based payment model. This affiliate gets a unique link for sending traffic to the corporate website. The link contains data about the source of the traffic which is necessary to make a payment only in case when the target lead is converted into a consumer and makes a purchase. 

Top 10 Watch Affiliate Programs
Let's have a closer look at different luxury watch affiliate programs, their commission rates, cookie windows and, of course, their pros and cons. Here is the top list!

Brooklyn Watch Co. Affiliate Program

Commission rate: 8.5% per sale.

Cookie window: 30 days.
Brooklyn Watch Co. offers a wide variety of luxury watches for its affiliates to promote among target audiences. Consumers can choose any type of product they like with casual, sports and classic designs. The brand has all of them, which makes it one of the leaders in this niche. 

Another good quality of Brooklyn Watch Co. is its pricing policy. The prices are mid-range what gives affiliates an opportunity to promote royal collections of watches among a wider range of potential clients. It leads to more clicks and more commissions. 

Transparency of the company with its affiliates is also considered an attractive attribute for most of them. The brand places its affiliate programs on a special platform – ShareASale – in order to make all the deals safe, secure, clear and understandable. 

Invicta Stores Affiliate Program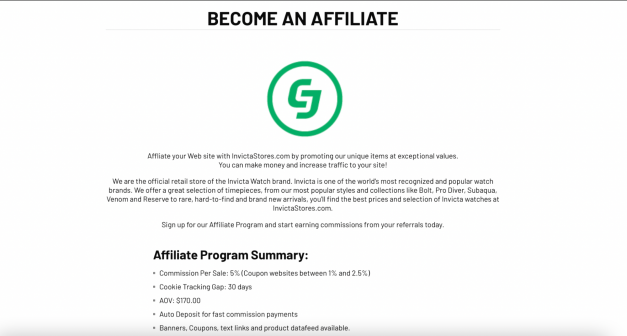 Commission rate: 5% per sale.

Cookie window: 30 days.
Invicta Stores is one of the most well-known brands when we think about luxury watches. The company sells both popular models and rare products. What makes its affiliate program worth looking at is the fact that the affiliates can promote limited pieces as well. 

ShareASale is used as the basic platform for affiliate marketing programs and Auto Deposit is utilized for faster commission payouts by Invicta Stores. The company also provides its affiliates with all the necessary assets for promotion: banners, coupons, statistical data to follow traffic movement on referral links. 

If we consider the main drawback of this affiliate program, it includes one of the lowest on the market commission rates – only 5% per deal. 

Original Grain Affiliate Program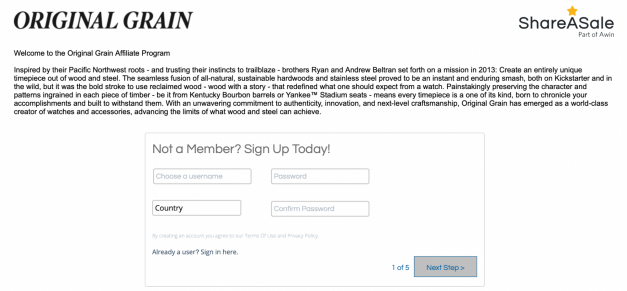 Commission rate: 6% per sale.

Cookie window: not disclosed.
Professional partnership relations with its affiliates are one of the most appealing factors speaking in favor of the Original Grain affiliate program. The brand really focuses on the quality and value of its partners. The affiliates have the same level of priority as the target audience. Besides having a program with general conditions, Original Grain also collaborates with the affiliates on individual terms. 

Such an attitude makes the brand one of the highest ranked players in the niche of luxury watch affiliate programs. But the commission fees are one of the lowest on the market. 

LuxChoice Affiliate Program
Commission rate: 6% per sale.

Cookie window: 45 days.
One of the most well-known luxury watches distributors is LuxChoice. This brand relies both on classics and style. The corporate affiliate program is available on FlexOffers. Its affiliates get access to all the necessary marketing materials – referral links, banners, advertising tools, coupons, bonus codes for products and much more. 

One of the main advantages of LuxChoice is free shipping for the customers – a rare thing in the luxury watches niche. Cookie window also exceeds the average level – 45 days. 

Jomashop Affiliate Program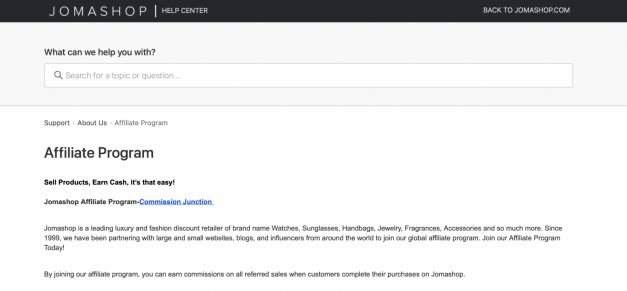 Commission rate: 5%-50% flat fee.

Cookie window: 7 days.
One more brand holding leading positions on the market is Jomashop. The company claims to be a provider of trouble-free affiliate programs for its partners who get access to traffic tracking tools and a creative program. All this is done in order to help the affiliates to increase efficiency of collaboration with the target audience. 

Among other advantages of the affiliate program are different ways to increase commission up to 50%, friendly transaction process, access to high-value orders and daily promotional coupons. 

Unfortunately, the cookie window is limited to one week only. 
Nowa Affiliate Program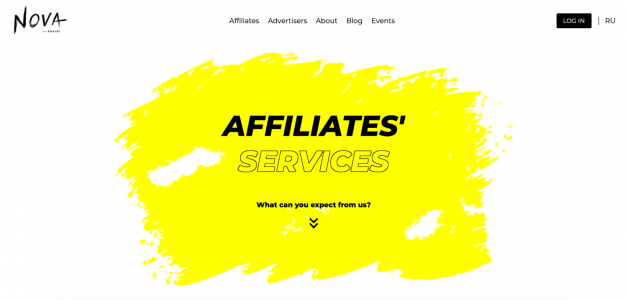 Commission rate: 20% flat fee.

Cookie window: 60 days.
Nowa differs from the brands that were described above as it is an independent producer of Smart Hybrid watches that have such features as automatic time zone switch, sleep tracking and everything that a user might want. It makes them easier to promote. 

One of the greatest features of the Nowa affiliate program is that the affiliates can promote any type of watches they want and feel comfortable with. The company also invests a lot of time and effort into its affiliates through weekly updates, reviews and their keeping in touch with managers. 

But the program is not recognized internationally. 

Bob's Watches Affiliate Program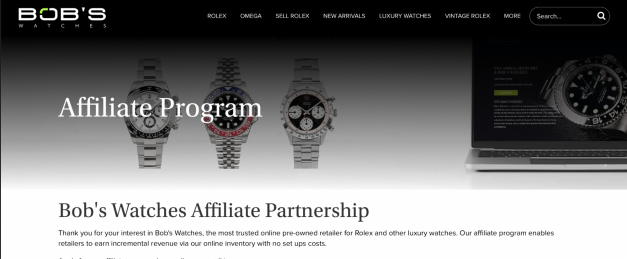 Commission rate: 5% per sale.

Cookie window: 14 days.
Bob's Watches affiliate program is one of the most popular among the affiliates as it gives a unique opportunity for the promoters to make more money by the means of the online inventory without any supplementary setups. 

Signing up for the program is also very convenient for the affiliates who can create and launch their landing pages with the help of the free template collection. 

One more attractive feature of the program is the access to sales and commission tracking tools which are implemented in an easy way. 

Flex Watches Affiliate Program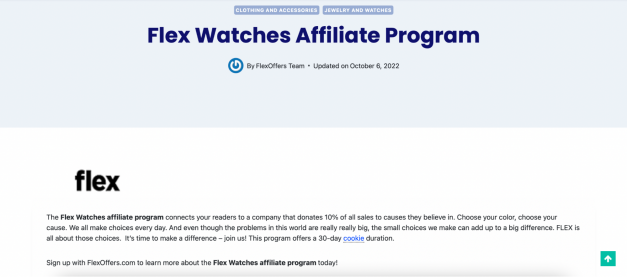 Commission rate: 10% per sale.

Cookie window: 30 days.
The Flex Watches brand offers a minimalistic approach that offers a selection of luxury watches for promotion. This brand also helps to generate consumer traffic through licensed watches promotion. The terms and conditions of the affiliate program seem to be quite comfortable: higher than the average commission fees and long cookie window give the affiliates enough time to make money.

To mention some drawbacks of the program, there are some reviews the customer support has some issues with client orientation. 

Filippo Loreti Affiliate Program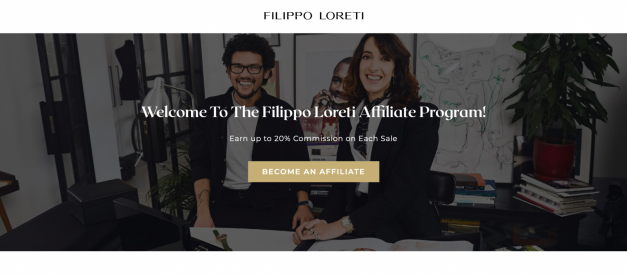 Commission rate: 8% per sale.

Cookie window: 30 days.
Filippi Loreti has launched one of the best luxury watch affiliate programs which is built on the direct-to-consumer approach. Affiliates can sell watches directly to the customers at a fair price. 

The affiliates are also provided with all the necessary marketing tools for the head start like newsletters, special promotional techniques and opportunities for sales boosting. Brand's partners also get access to fully automated data feed and traffic tracking in real-time. 
Ashford Affiliate Program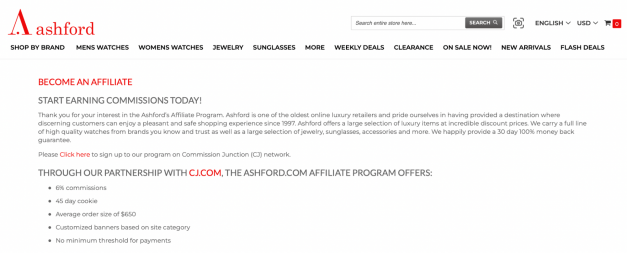 Commission rate: 6% per sale.

Cookie window: 45 days.
Ashford is one of the oldest online retailers conducting its business since 1997. The brand has got a very good reputation on the market. The affiliate program is managed through the Commission Junction network. Its affiliates have access to customized banners, promotional coupons and vouchers. They also don't have to exceed the minimum threshold for payments. 

How We Compiled Our Rating
The research that was conducted in order to create our rating included analysis of publicly available sources with corporate websites being the priority as they contain primary up to date information about all the available luxury watch affiliate programs. We also paid attention to expert blogs and channels as they also offer a lot of useful information. The research resulted in creation of this list which you can consider a starting point for affiliate collaboration with the selected brands. 

We should note that all the programs described in this article have a reliable reputation and good partnership conditions. 

Tips for Webmasters Who Are Going to Work with Watch Affiliate Programs
The number of available luxury watch affiliate programs is really great and is not limited by our list. That's why we offer you some tips that will show what you should pay utmost attention to as the whole process can be quite overwhelming. The combination of such things as a long cookie window with commission and conversion rates makes a perfect affiliate program.

So, the first thing to consider is the commission paid to the affiliate as the basic aim of any marketing activity is making money. This point leads us to the search for a watch affiliate program that offers higher than the average commission rates. 

Traffic generation is another pillar of affiliate marketing. The higher traffic is generated through referral links, the more commissions are earned. 

Generation of conversions is one more crucial factor to look at while choosing an affiliate program. It is recommended to look for those which can effectively make people click on your link. 

Transparent corporate policy with the affiliates is a must too. Before starting a collaboration with a new retailer, it is better to read all the terms and conditions in a thoughtful manner to avoid unpleasant surprises in the future. 

A good affiliate program gives access to the monthly statistics and performance as it can help you understand whether you are a good performer or not. 

Cookie duration also plays an important role in affiliate marketing: the longer it is, the more chances for you to get a commission. 

Conclusions
We tried to present to you a top list of luxury watch affiliate programs in our article that are worth your attention from a "money making" point of view. 

As you see, the number of available programs is really great and you have plenty of options to choose from. It may be exclusive promotion of a single watch brand or collaboration with a retailer selling different watches. 

Luxury watch affiliate programs, like any other luxury niche, has one serious advantage: many people have doubts concerning their ability to promote expensive items effectively which opens free space for the brave who are ready to take the risk. 

FAQ
What do watch affiliate programs pay for?

Watch affiliate programs, like all the others, pay commissions for the customers that clicked the promoter's referral link and made a purchase during a cookie window. 
Which watch affiliate program is the best?

There are doubts that one particular watch affiliate program can be better than all the others. Each program has its pros and cons which makes the choice subjective. 
Does Rolex have affiliate programs?

Rolex doesn't have its own affiliate programs, but its retailers do.
Does the Patek Philippe brand have an affiliate program?

The situation with Patek Philippe is like with the Rolex one: it is better to choose a reseller.
How much commission do affiliate programs usually pay webmasters?

Average commission rate in a luxury watch affiliate program is usually 5%-10% per sale. But there are programs that offer higher or flat numbers. 
Share the article

Read. Learn. Do. Earn more money on Affiliate Marketing
Don't miss