Many businesses use affiliate and referral marketing to reach potential customers and increase their sales through networking tools called programs. In this article, not only do we expose the similarities between affiliate and referral programs, but we share the many differences between them as well. After all, it is called referral vs affiliate marketing.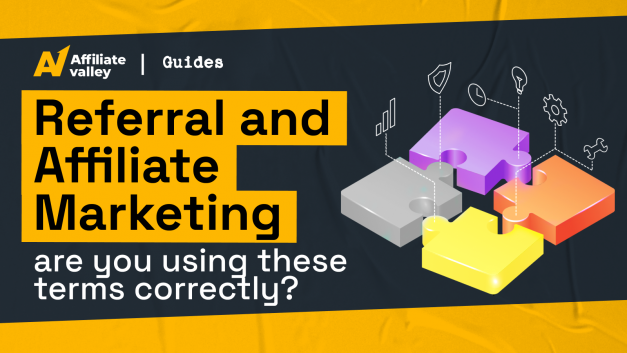 What is affiliate marketing and who is it for? 
Affiliate marketing is a type of performance-based marketing in which a business rewards a marketer – in this case, an affiliate – for each new customer or sale generated by the affiliate's marketing efforts. These leads and sales can be generated through any source and channels the affiliate is connected to.

Affiliate marketing is considered one of the best ways to reach new customers and grow your business. And it's especially effective if you're selling products or services that people are interested in buying. So if you're looking for a way to boost your business, affiliate marketing might be a good option for you.

What is referral marketing and who is it for?
Referral marketing is a type of marketing that focuses on getting customers to recommend your product or service to their friends or family. This can be done through word-of-mouth or online reviews. Referral marketing is a great way to build brand awareness and generate leads. It's also a great way to get customers to come back to your business.

Who is referral marketing for? Any business that wants to grow its customer base and increase its sales. If you're looking for a way to get more customers, referral marketing is also one of the best options to do so.

What's the difference between referral and affiliate marketing
If you have made it that far, you've probably noticed that these two marketing techniques may be similar in theory, however, applied in much more diverse ways. Keep reading to learn more about the key differences between referral and affiliate marketing programs.

The marketer referring new customers
In a referral program, existing customers are the marketers. Based on the quality of their experience, people can become advocates for a company's brand and products. Through a unique link, satisfied and loyal customers are able to recommend products to their friends, family members and are rewarded every time the business gains a new customer.  

In an affiliate program however, business owners rely on bloggers, website owners and influencers to promote their product/brand. With that said, affiliates are responsible for promoting the products through their own means and efforts and get rewarded usually with a certain commission.

Audience pool
When it comes to referral marketing, there is usually a limit to the number of referrals a marketer can reach as opposed to the affiliate. In affiliate marketing, the advertiser is more likely to have a larger following base which will automatically allow them to reach a wider audience. 

Rewards
This would not be a "referral vs affiliate marketing" article if we did not provide the differences shared by the two programs in terms of compensation. 

Referral programs incentivize their promoters who also happen to be satisfied customers with:

free items; 
discounts;
store credits; 
cashbacks etc. 
Meanwhile the affiliates are more likely to receive commissions based on the number of sales, clicks or the actions taken by people who used their links. Note that they sometimes receive free subscriptions and discounts as well.

Outreach strategies
Another key factor to consider in our affiliate referral program analysis is the different marketing strategies used by the people involved in the programs. 

Businesses using referral programs as a part of their marketing strategy for instance rely on their customers' experience and will to share the product with their family, friends and anyone they think might be in need of the brand's products/services via social media with a sharable link.
Businesses using the affiliate marketing model on the other hand are able to get in touch with a broader audience through their affiliates. The affiliate promotes the company's products/services on various channels and social networks and websites. They actively advertise the products to anyone who would listen and beyond as they have no control over their website or page traffic.

Trust and Engagement
More often than not, people find themselves in doubt when purchasing new products, and one of the reasons behind that hesitation is mainly trust. And this right there constitutes one of the key differences in referral vs affiliate marketing.

The results in a referral program are fundamentally based on the promoters' friends and inner circle, which is a huge advantage since a successful referral comes from a recommendation and the trust between the referrer and their friends or family members.

As opposed to referral marketing, affiliate marketing doesn't rely on the affiliates' acquaintances. The person advertising the product does not know the potential customer personally but rather has a general idea of their target audience. And this is why they might have difficulties in areas such as leads or customer engagement as there is no space for personalisation.

What are the similarities between affiliate programs and referral programs
The word of mouth
Both referral and affiliate marketing are based on social currency. What do I mean? In order for affiliates and referrers to make profits they need to advertise a company's products/services and whether it is to people they know or not. Referrers rely on their friends and family meanwhile affiliates get help from their followers. It's all about word of mouth.

Incentives based
Referral vs affiliate marketing is not all about the many differences between the two strategies but the similarities they share as well. Although the reward system for both programs is different, in this case we only want to point out that the marketers are rewarded for advertising the product. 

It is all about the big picture
Whether it is referral marketing or affiliate marketing, the goal is the same – growth. These strategies are used by business owners in order to drive more sales into their company and take it to its full potential. Referrers and affiliates share the same goal as it is about providing hot leads and potential customers for online business.

A source passive income
Affiliate and referral programs can most definitely be additional sources of income for both new and experienced marketers online. 

Note that earning an income from both referral and affiliate programs is categorized as freelance, therefore you have to keep in mind that your compensation may vary from month to month.
Budget-friendly
This article may cover the following topic – affiliate program vs referral program, however, we cannot deny that it concerns both business owners and marketers. That said, a company's marketing strategy not only is responsible for their image but for the cost tied to the execution of these strategies as well. 

Affiliate referral programs are definitely ways that allow a business to save money while receiving new customers and making sales on a budget.
Examples of referral programs
Below are a few referral programs that help webmasters gain that extra income and retailers – the sales they need.

Morning brew

Morning Brew is a newsletter that delivers the latest business news to business-oriented people on a daily basis. 

Their referral program provides a variety of rewards through a tiered reward system in which subscribers earn larger and more valuable types of compensation as they continue to refer to others.

Airbnb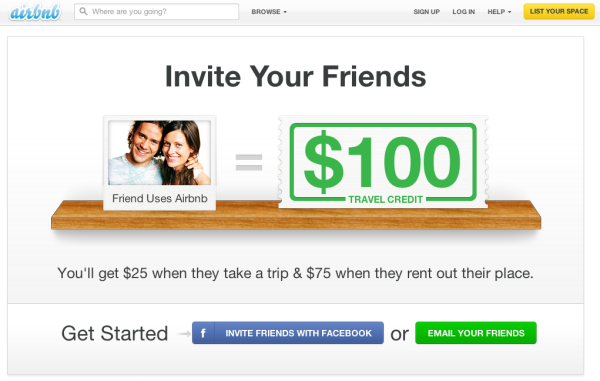 The well-known housing marketplace not only has gained its reputation by allowing homeowners to rent their properties but because of their referral programs as well. 

Referrals 1.0, the company's first refer-a-friend program, was launched in 2011:
Receive $25 when your referral takes a trip

Receive $75 when your referral rents out their home.
And then there is the referrals 2.0 program – Personalized invites. It allows you to gift a trip to your friends or family members. I guess they realized that self-interest is not always a good motivator.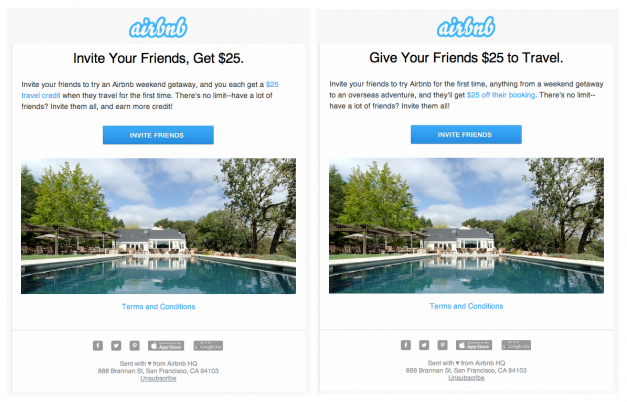 Floyd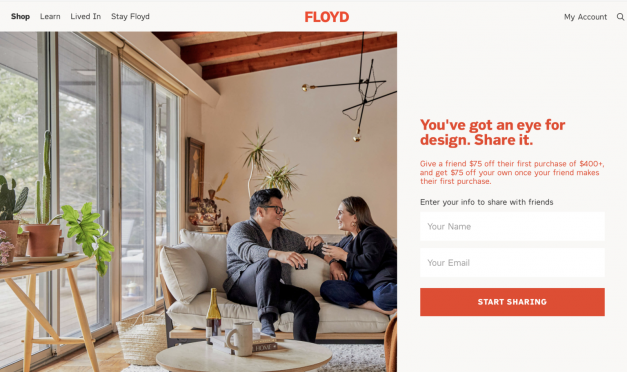 A sustainable furniture brand that takes pride in creating long-lasting pieces. Its goal is to make furniture shopping easier by using practical and adaptable designs.

Floyd provides customers with a link to share with their friends with a $75 discount on a purchase of $400 or more. The customer receives the same discount as well.

Robinhood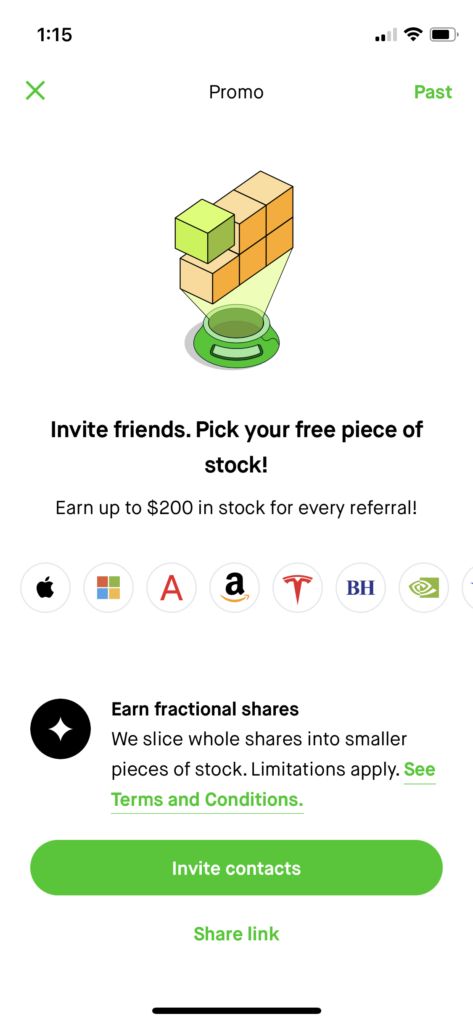 Robinhood is a financial-oriented company that provides investment portfolios to both beginner or experienced stock traders.

In their referral program, they give a share of stock randomly selected from a pool of shares to each user who provides a successful referral. Note that for the referral to be successful, the referral has to install their app through the marketer's link. 

Amazon prime
Amazon is one of the most successful online businesses known to date and after introducing Amazon prime, the ecommerce took the industry by a storm and continues to make wonders with 200 million active members worldwide. 

Now what about their referral program? 

It's straightforward. A Prime member recommends a friend. If that friend joins and spends $5, the referrer receives a $5 credit to use on their next Amazon purchase.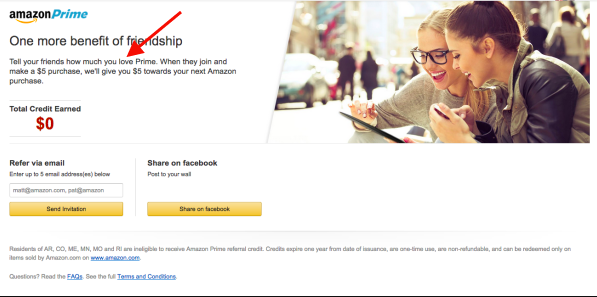 Examples of affiliate programs
Now let's check out some of the best and most popular affiliate programs online.

Skillshare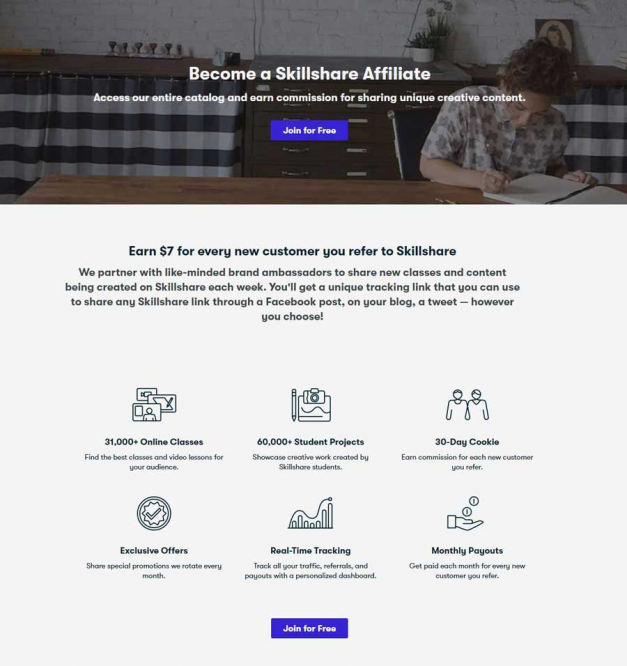 Skillshare is one of the most popular online learning platforms in 2022. They offer a variety of courses such as photography, business management, self management, to art etc. 

Advertisers are often happy with their affiliate program as they earn a commission on both free trial signups and paid subscriptions.

ActiveCampaign
It is a platform focused on customer experience and offering email marketing tools, CRM tools, and marketing automation, all integrated in one single software, on one single platform.

By joining their affiliate program a marketer is able to receive up to 30% commission for each lead or sale generated via their affiliate link.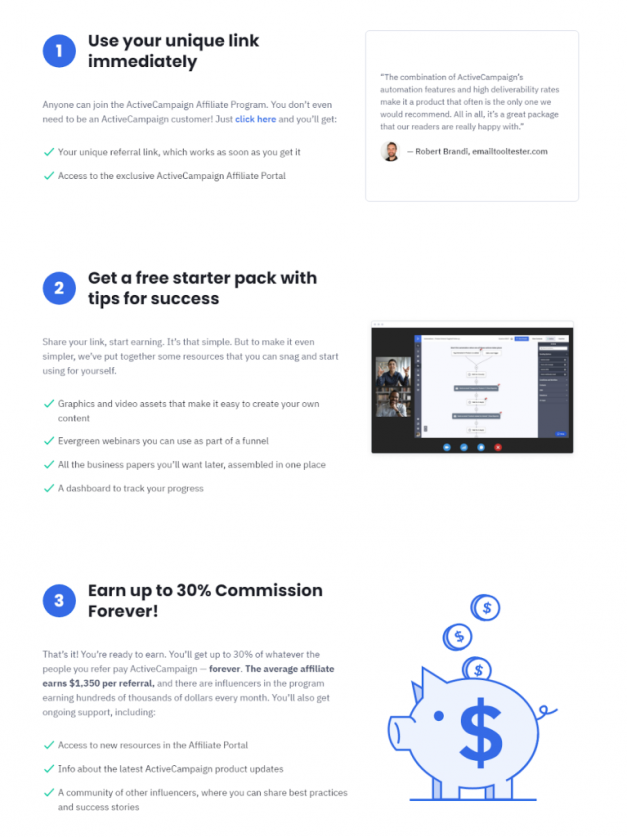 BigCommerce
BigCommerce's people-first approach, competitive commission, and widely used product make their affiliate partner program appealing to affiliates.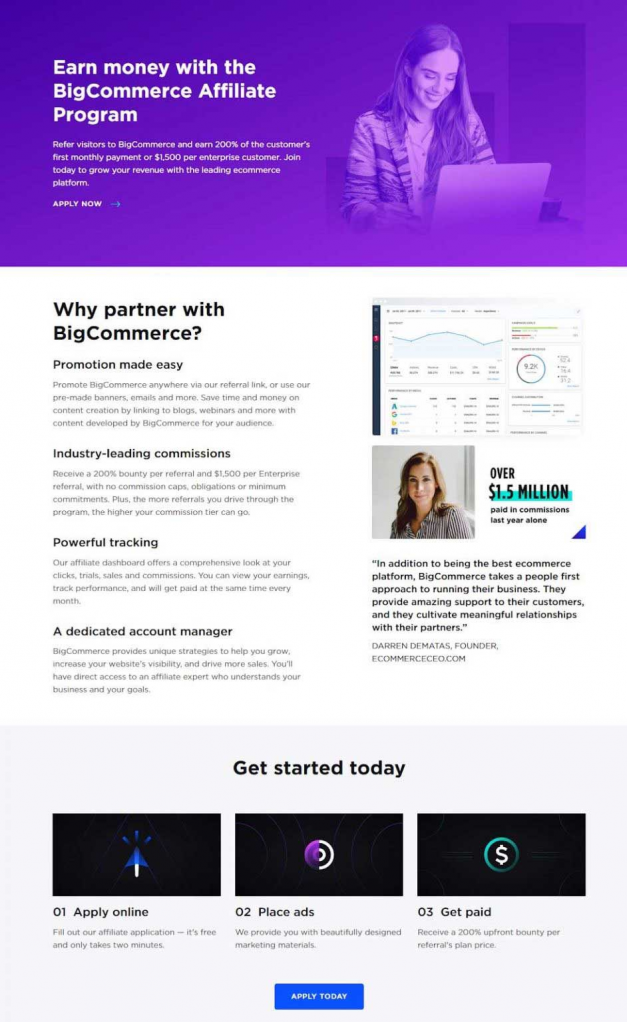 Wix
Wix is a website design and publishing platform that makes website creation both beautiful and simple. When users partner up with Wix in order to promote the platform, their job becomes easier as the product frequently markets itself.


Fiverr
Fiverr is considered one of the most popular platforms for freelancing. Affiliates can promote almost all of Fiverr's products and services, including individual freelancer service purchases, business accounts, workspace plans, and even online courses.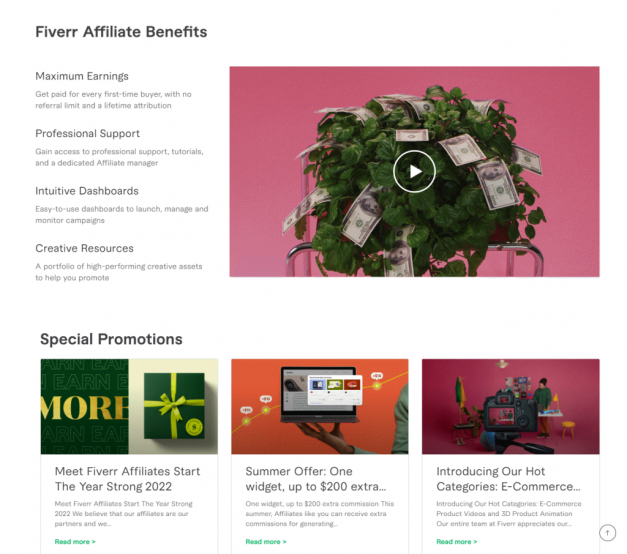 By driving traffic to the website affiliates get great rewards, access to some resources and certain advantages like their payout options, managers, access to the websites blogs and in-built libraries and so on.

Affiliate or referral program: what to choose
Referral and affiliate marketing are strategies used by business owners all the time to enlarge their customer base and keep developing their business and generating profits. 

But if you are a marketer and wondering which one to choose, know that there is certainly no definitive answer to that. 
In this article we presented the pros and cons of both programs, however it all comes down to your social media activity, preference and goals. Your lifestyle and goals can definitely help you know which one to choose.

Note that if you want to become an affiliate but do not know where to start you can always check out this article where we provide tips and tricks for beginner affiliates.

Tips for webmasters and marketers
Whether you are part of a referral or an affiliate program, there are some key principles that are most advisable to follow in order to grow as a marketer and someone who wants to earn more money. 

Choose your programs carefully as it is important to go with what you are comfortable for you in order to do a poch job;

Always have a strategy – having your own marketing strategy will help you reach new users, friends of your friends and followers of your followers and get those leads.
Sometimes less is more – Having too much on your plate can be overwhelming and cause you to fall short of your goals. Our advice? Don't join too many affiliate referral programs. Find what works for you and stick with it.
Conclusions
In this article we have covered the basics of affiliate and referral marketing, drew a parallel between the two and exposed some key differences. But don't forget, ultimately the choice is yours!

FAQ 
What is a referral program?

A referral program is a system whereby previous customers are rewarded for recommending their products to their network (friends and family…). Retailers develop their own referral programs in order to reach a larger audience. It is a marketing strategy in which previous satisfied and loyal customers are asked to become brand advocates in exchange for appealing incentives.

What is an affiliate program?

An affiliate program is a marketing arrangement between an owner and a marketer in an effort to generate traffic and leads that would eventually help them find their ideal customer and make profits. 

What are the disadvantages of referral programs? 

Referral programs have brought something new to the table in the marketing sphere, which is personalized marketing as a referrer mostly advertises a product to their inner circle. However, it becomes a disadvantage when they are not able to reach a broader audience. And let's not forget to mention that the amount of referrals are often limited in a referral program.

What are the disadvantages of affiliate programs?

Although affiliate programs are a marketing arrangement between an ecommerce merchant and a marketer, as an affiliate you don't actually have any control over the program. You are to play by the rules set by the company. Neither do you have control over your competition and not to mention a customer base. And lastly, it is freelance which means an unstable source of income.

What is the difference between a referral program and an affiliate program?

Referral programs target existing satisfied customers and provide them with a customized link and incentives in exchange for successful referrals. Meanwhile affiliate programs target influencers, bloggers with a wider audience and to whom they can market their affiliate links. 

What do they have in common?

Both affiliate and referral programs share the same goals: growth while relying on third-parties to generate new leads and sales through online marketing and rewards. Businesses sure can't reach their target audience without help so they create a way for users on social media to earn passive income. It's a win-win situation.

Which is more profitable to use?  

Referral and affiliate marketing, although sharing some similarities and the same goal, have some key differences that might help a marketer choose which one suits them best as they are both profitable. 
Share the article

Read. Learn. Do. Earn more money on Affiliate Marketing
Don't miss