"Cogito, ergo sum" is one of the most well-known quotations usually translated into English as "I think, therefore I am". You may ask, how is it related to SEO? Directly. But we should adapt a little bit to modern times. If your brand can't be found on the first page of a search engine, there is no "am", "is" or "are" for it. To avoid such unpleasant situations, you may need to finish SEO training and get a relevant certification. 
Where to start? Right here, right now. This list of best SEO courses has been created specially for you. 

What is SEO?
Good tone of any research project or guide is to start it with the basic definitions as it really helps to understand the subject much better. To avoid long going around, let's stick to the topic and get the answer to "What is SEO exactly?" 

Search engine optimization, or SEO as most of us know it, is a website promotion strategy intended to increase both traffic quality and quantity through the organic results of different search engines. It is implemented through optimization of online content, increasing its relevance and main link popularity in order to make the website easier to find and rank higher in Search Engine Results Pages (SERPs) after users make particular requests. 

The key to success is the optimization of online content in accordance with search engine algorithms. They calculate the relevance and quality of the corporate web page and rank it. The higher the position in SERP, the more traffic is generated. These positions are not paid for and are much more likely to get more clicks due to their visibility in such search lists of engines like Google, Bing, Yahoo, and many smaller ones.

SEO has become an integral part of any firm's marketing strategy. Many marketers are sure that it is a much more sustainable way to attract more customers than paid search advertising. They have a point as the statistics don't lie: according to BrightEdge Research, 53% of site traffic comes from organic search and only 15% from paid one. Even though these figures are average for different businesses, the tendency is quite clear.

SEO has much more advantages in comparison with paid search:

Less expensive and more cost-effective in the long run;

Requires less maintenance;
Generates high-quality traffic;
Generates a higher return of investments;
Improves site usability;
Promotes brand credibility and awareness.
To be honest, this text is also written to please the SEO algorithms. If you ask, where you can start learning them, the answer will be "at SEO courses", of course. Read further to find out how to make the right choice. 

How to Choose the Best SEO Course
The reasons why you may need an online education in SEO may vary. Whether you are a SEO beginner and need understanding of the marketing fundamentals or want to refresh what you have once known about search promotion, you will highly likely end up with looking for the best available course. Remember that every success story has begun with something. And after you have decided for yourself that yours begins with education, you have two paths to follow – the difficult and the right one. 

The first way will definitely take more time and effort as you have to do a lot of research yourself. The number of SEO courses is really great and they may differ from each other either slightly or significantly. As a result, there is no guarantee that you will find the best course that meets all your needs at once. You have to assess such aspects as if a course pays more attention to theory or practice, if it is really as good as its advertisement (each course on the Internet is usually "the best") , if it gives the necessary certification, if it helps with SEO career, availability of a tutor who will really teach, be involved in workshops, and not only deliver lectures, access to lessons after the course ends, whether it is free and what price options it has and many more factors. 

The right way that we promote is much simpler – all you have to do is to read our analysis of top ten SEO courses, choose the one that suits you best and become one of its students. And spent the saved time on something more pleasant than surfing the Internet. If you need educational content on affiliate marketing, read our guide on best affiliate marketing courses. 

How Much Does Online SEO Training Cost?
Prices on SEO online training differ significantly and depend on the vendor's pricing model. Some courses offer free education and paid certification to prove that you have passed the course. The option when you look for all the necessary information yourself is totally free and always available. 

If we take into consideration paid courses, the price gap in 2022 begins with about $100 and ends with more than $10 000. But it is a normal situation for online education where prices can't be controlled. Unfortunately, higher price doesn't mean better quality, which makes the choice even more difficult. But do not despair as we have done all the work for you. 

10 Best Online SEO Courses
If you choose the second option and continue reading, you will be able to drive your digital career and skills on a whole new level with the help of knowledge on how to boost website rankings. And here is the result of our audit on the best paid and free SEO courses that we promised you. 

Search Engine Optimization Specialization

This 4.7-star course can be found on Coursera – one of the most well-known brands on the market of online education. You will get in-depth knowledge on SEO and grow from a beginner to an expert if you take this specialization consisting of five minor modules:

Google SEO

Google SEO Fundamentals
Optimizing a Website for Google Search
Advanced Content and Social Tactics to Optimize SEO
Google SEO Capstone Project
The whole course is quite comprehensive – it will take at least six hours per week for five months to complete it. But it is worth that as you gain practical skills which are likely to lead to a pay rise or even a new career. One of the main advantages of this course is that all the materials are free. The only thing you have to pay for is a certificate or a subscription fee of $59 per month (it is a better option for those who invest a lot in their education). 

SEO Starter Guide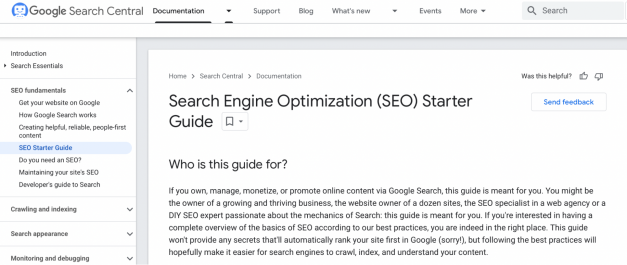 The second course in our list is also related to Google – it is a part of Google Developers section and absolutely free. It suits best for those who have some basic understanding of coding and software development. They will find examples of code snippets and some modern practices here. It may be a little bit complex for beginners in SEO. This course will also not suit those students who prefer visual education – it is built on the basis of texts and images. 

The main advantage of this particular course is seen in comparison with other SEO courses – they teach how to rank higher in Google. But who can teach it better than Google itself? After finishing this course, you will learn how the search engine wants websites to look and data to be structured in order to appear on the first page. Besides that, you will have a clear understanding of such aspects as on-page SEO, off-page SEO, technical SEO and how to implement them on your website. 

Semrush Academy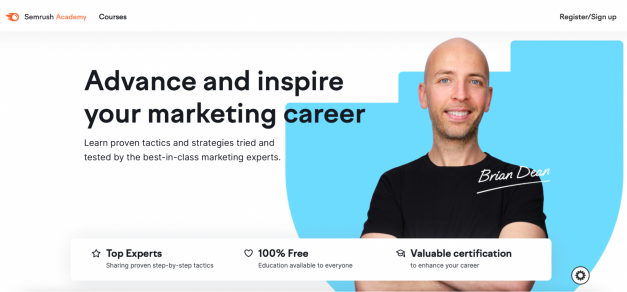 One of the best options available on the market is the platform run by Semrush Academy. Besides being free, it gives you access to many marketing courses with SEO as one of them. The only thing you have to do to begin your education here is to register a Semrush account. Unfortunately, having free access to something useful practically always has some drawbacks. So, be ready that during the course you will face advertising of Semrush Academy software. But you are not obliged to buy anything here. Anyway, it is an effective tool to track search positions of the keywords that are of utmost importance for your particular needs. 

Semrush is one of the top brands in the SEO business and it perfectly knows what you need to become a much better marketer. The total number of courses in the Semrush Academy is more than twenty and most of them are devoted to SEO, for example, Content Marketing and SEO Fundamentals. 

The Beginner's Guide to SEO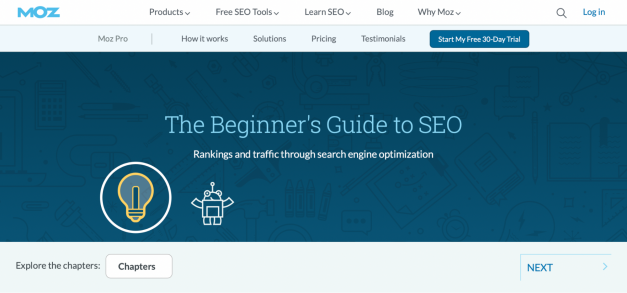 The Beginner's Guide to SEO was created by Moz – one of the major companies in the whole SEO industry. As you can see from its name, this course is for those who are going to begin their journey in digital marketing. Moz offers some basics of SEO strategies and terminology like how search engines work, keyword research, SEO site audits, on-page SEO, technical SEO, link building, reporting on SEO and measuring SEO success. All of that can be consumed in a single run. There are no promises to make you an expert in a couple of hours. And be ready for severe attacks to buy Moz Pro subscription – the price you have to pay for free knowledge. The course content consists of texts and images, so you will need to read a lot. 

Moz has its own tracking platform and plenty of other free SEO related expert content like a blog and video channel which are regularly updated. 

Yoast SEO Academy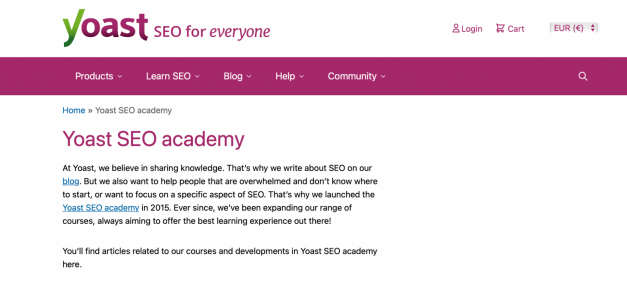 One more set of SEO courses with a lot of useful information for blogs and other websites was developed by Yoast Academy. This brand is known for the creation of one of the most popular tools on the whole Internet - Yoast SEO WordPress plugin. You need a premium subscription to install it, but it makes this platform a perfect place to learn about SEO for websites that use WordPress. It is a common strategy for platforms when optimization of its educational content is built around their own software. 

This Yoast course itself helps students to learn about the best SEO practices and get access to insights of some successful bloggers. Premium subscription at a price of $99 is also required to get access to all the course materials. They are appropriate for everyone from a SEO beginner to an advanced student who is willing to improve their skills, especially in blogging and WordPress utilization. Once the Yoast account is created, you will get access to all the necessary knowledge to attract organic traffic to your blog. 

SEO Training Course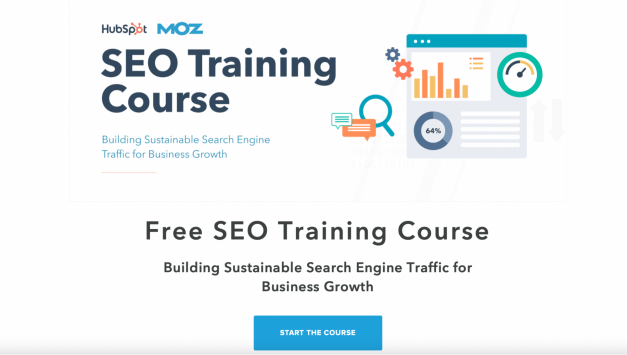 Hubspot Academy is one more famous player in the industry of SEO courses. The brand offers a free course built around real working experiences that will help to achieve the main goal of SEO – to promote your website to the top ranks of any search engine. 
This Hubspot Academy SEO Training Course is one of the best choices for those digital marketers who are looking for a concise course on the topic. It consists only of eight videos that last only 38 minutes in total. It may not be enough for those who have some experience in the profession, but amateur students will get some valuable information on link building and creating top ranking posts, content and web pages which are integral parts of any content marketing strategy. 

One more advantage of Hubspot Academy is that it offers courses to other marketing related topics. And many of them also take less than an hour to finish. It is quite useful when you need to learn something particular and not spend hours looking for some educational content in comprehensive courses. 

The Blueprint Training

Finally, we have a SEO course in our list that is not affordable for everyone, but with free trial version so that you can "try before buy". Its price of $9999 is not the only difference from other courses in our list. The Blueprint Training course – SEO Sprints – teaches you to build your own SEO agency or related business in content marketing. The course itself consists of 13 modules and a ready to use traffic project tools and templates. Besides that, you will be taught basics of business running and develop strong analytical skills. After this major investment you will be able to do SEO as a professional and sell your expertise to others. In case you want to grow as a businessman, Blueprint is your choice. 

There is also the Blueprint Platinum that costs twice as much and includes a twelve week educational program, designed for companies, agencies and professionals who are ready to scale their business beyond $1 million. 

Ahrefs SEO Tutorials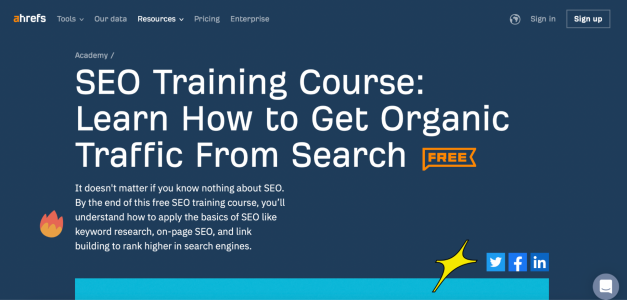 Ahrefs offers a free set of tutorials which are intended to teach you some advanced SEO techniques. The starting point is from the basics, but it is skippable. The content provided in the course is frequently updated with useful information like tutorials, articles and videos. 

When you start learning at Ahrefs, you will get access to several courses.
SEO Course for Beginners designed to help you dive into SEO in a systematic way.

Keywords Research Tutorials for SEO created to demonstrate you some advanced approaches to keyword research.

Link Building Tutorials suitable for those who need link building skills for SEO like backlink analysis, link prospecting and many more. 

Technical SEO Tutorials showing how optimization of any website for SEO works and how to perform an SEO audit. 
During these courses you will learn both with the instructor and provided tools. Some of the tools are paid, but you can have a free trial or use software in a restricted version. 

SEO Training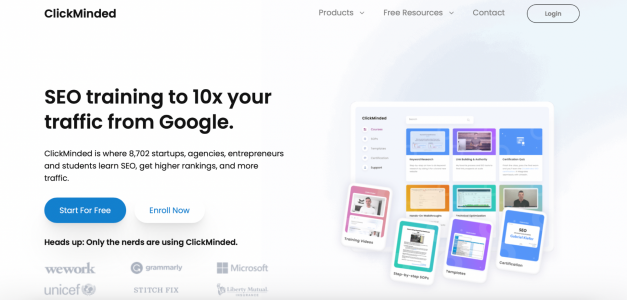 This course on SEO was developed by ClickMinded for those who want to scale their skills and move their performance to the whole new level, especially if they start from the very beginning. One of the main advantages of this course is that it is self-paced – you don't have any time limits and can put as much effort into understanding the educational material as you need. 

The topics that are covered by ClickMinded include some fundamentals like an explanation of what SEO is, how to apply ClickMinded Search Framework for optimization of any website; on-page SEO like what keyword research is and how to do it effectively, what aspects of marketing strategy are more important, how to create content plan and other tips; off-page SEO like "CRM for link building"; and, finally, technical SEO with understanding of Google Search Console. 

SEO for WordPress Websites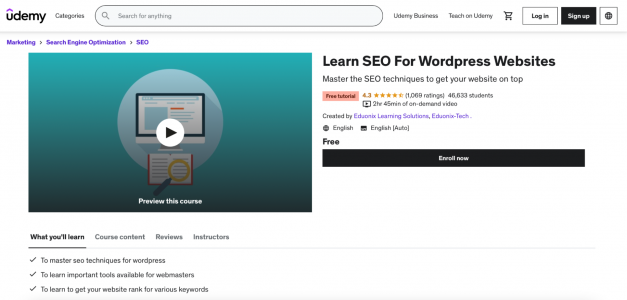 Udemy's course costs $199 and is a perfect option for those who use WordPress as it is comprehensive, affordable and suits students of different professional levels. This SEO course will teach you how to become number one rank on Google via learning the right methods to optimize WordPress website, improving user experience, sourcing low competitive but high traffic keywords, increasing organic traffic from different search engines and optimizing links. 

The course consists of 10 hours of video, 17 articles and 14 downloadable materials. The certificate is also included. The target audience of this course includes webmasters, bloggers, marketers, designers and content creators – in other words, all those who use WordPress on a regular basis and depend on SEO. 

FAQ 
How do I become a certified SEO specialist?

In order to become a certified SEO specialist, you have to finish the relevant course, pass the final exam and get a certificate. 
Can a SEO course help me find a job?

All your specific knowledge is a competitive advantage. And an SEO course is not an exception. If you can apply what you have learnt in practice, you will be able to find a job.
How can I learn SEO for free?

There are some SEO courses that are free. You can choose among them. Another way is to look for all the information yourself on expert websites, blogs and channels. 
How long does it take to learn SEO?

The total learning time depends on how much time you are eager to spend on studying. The more effort you put into it, the faster you'll get your first results. But don't burn out. 
Is SEO a high paying job?

Any job is high paying if you are an expert and have vast working experience. SEO can be both a source of main income and additional one.
Share the article

Read. Learn. Do. Earn more money on Affiliate Marketing
Don't miss