Long gone are the days when creating a website was a pain in the ass. Now, you do not need to spend lots of money and time on developers to create a site for you. You can create the site yourself without much difficulty. Even though an affiliate marketer must not necessarily have a website to work, as a newbie, creating a website is the best way to start.

There are many platforms today that will let you easily build a website. But for this guide, we will be using WordPress. We are going to take you through all the steps you need to follow to create your affiliate marketing website. Alternatively, you can go ahead and start with just a landing page. A landing page builder is a great option especially if you are a beginner in affiliate marketing.
So, follow my lead.

Things to know before we start with the creation
It is always a good idea to have a good understanding of how affiliate marketing works before building the website. It is important because many people jump in without knowing the basics and end up not making the amount of income they desired.
How much will it cost?
The cost of building and maintaining your website on WordPress will vary depending on your needs. In this tutorial, we are going to be showing you the cheapest way, since we do not know how much you are willing to spend. So, it will cost about $46 - $100 depending on the choices you make.
We have also assumed that you have already selected your affiliate marketing vertical. This will play an important part in your success as an affiliate marketer. If you are still having doubts or have not yet selected the niche, then we encourage you to check out our article on the best niches to use in 2019. Once everything is set, it is time to begin.
Creating your first affiliate marketing website
As we mentioned above, we will be using WordPress. It is the largest, most popular, and best website builder in the world and most of all it is "free". But you still need to purchase some of its services:
Your Domain Name – This is the URL you will be using for the website. For example, the URL for our site is affiliatevalley.com. No two sites can have the same domain name. To obtain a domain name, it must be registered. Also, when choosing the name, make it simple, so that people will be able to remember.
Web Hosting – To make your site visible on the internet, it needs to have a "web host". This platform lets you rent a web server. Your website's information will be stored on their servers.
For the domain name and web hosting, we are going to be using BlueHost. The reason for this is that they are cheap, offer a discount, work with WordPress, and are a popular hosting platform.
Setting up the Hosting Plan and Domain name
Go to BlueHost.com.
Once on the landing page, Click the Get Started button.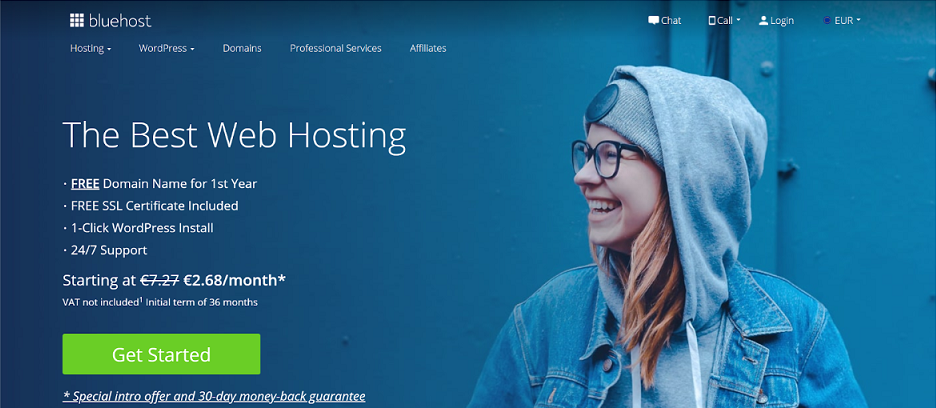 Now, you will have to select your hosting plan; there are four options for you to choose from – basic, plus, choice plus, and pro. You can select depending on your budget, but we recommend you to select the basic plan.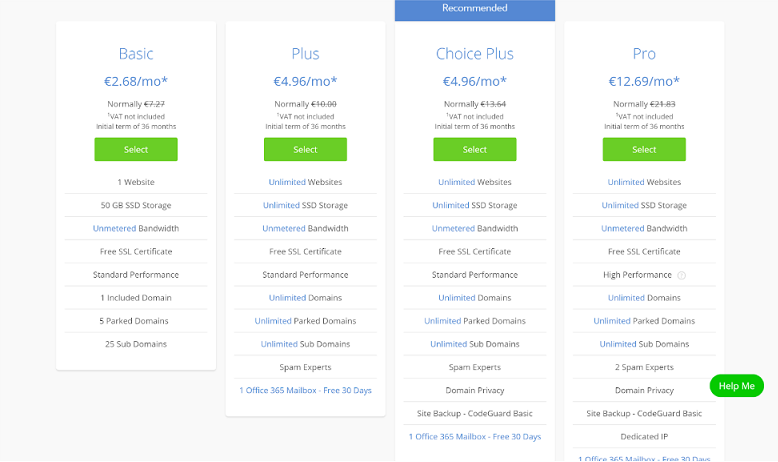 Next, you will have to choose your domain name. Do not worry if you have not yet come up with a name. You should be able to skip this step and do it later.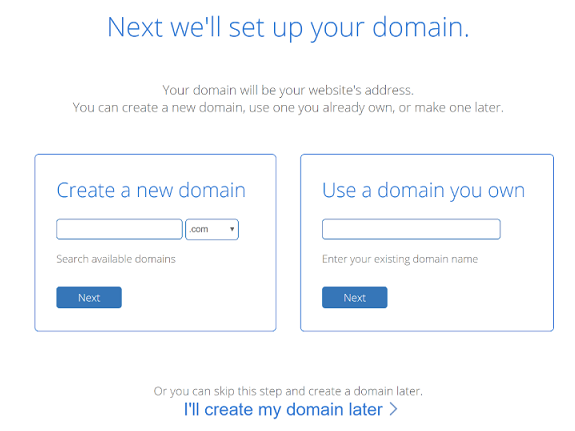 On the next page, you will have to fill in your account and payment details. This should be easy to do.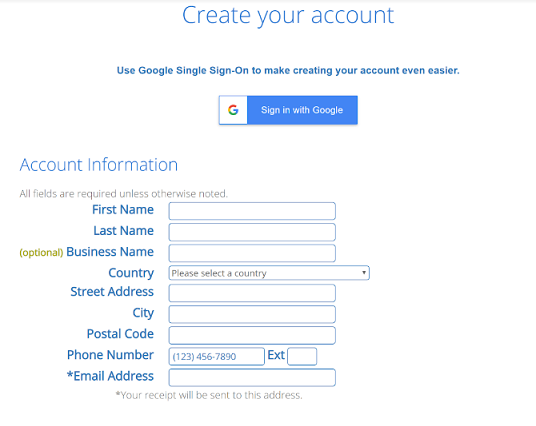 The next page will prompt you to review your personal details and payment method.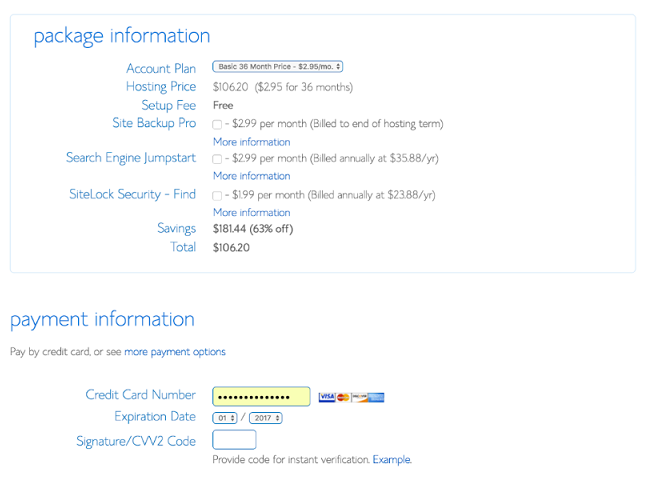 Once everything is done, a welcome email will be sent to your inbox where you need to set your password.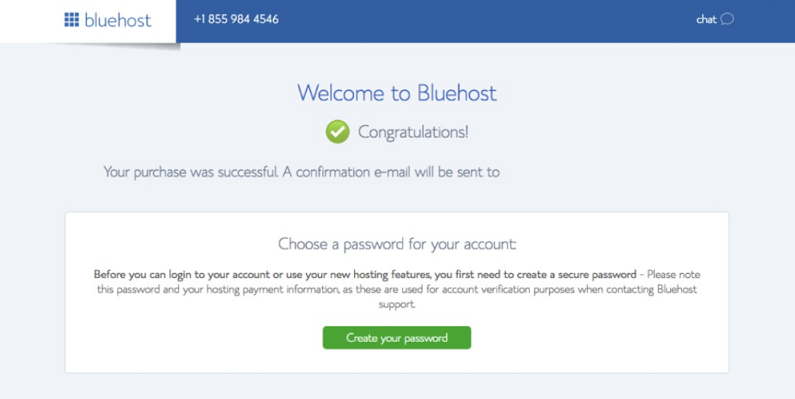 Now, you can log into your BlueHost account and familiarize yourself with the dashboard and settings.
Installing WordPress
Fortunately, you can easily download and install WordPress from your BlueHost account. It is possible to choose free WordPress templates even before installing WordPress. If you see the template you like, choose it, if not, then you can skip this step.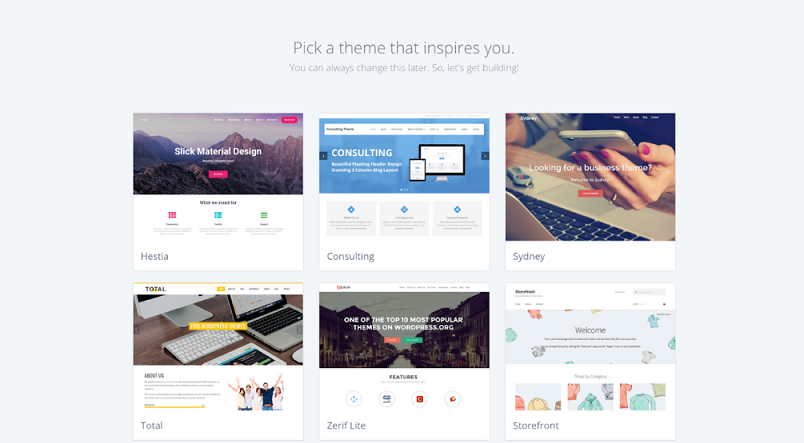 From there, you should click the Start Building button to install WordPress.
Using WordPress

Once you get to the WordPress dashboard. The first thing to do is choose if the site is for Business or Personal use. For affiliate marketing, you need to choose business.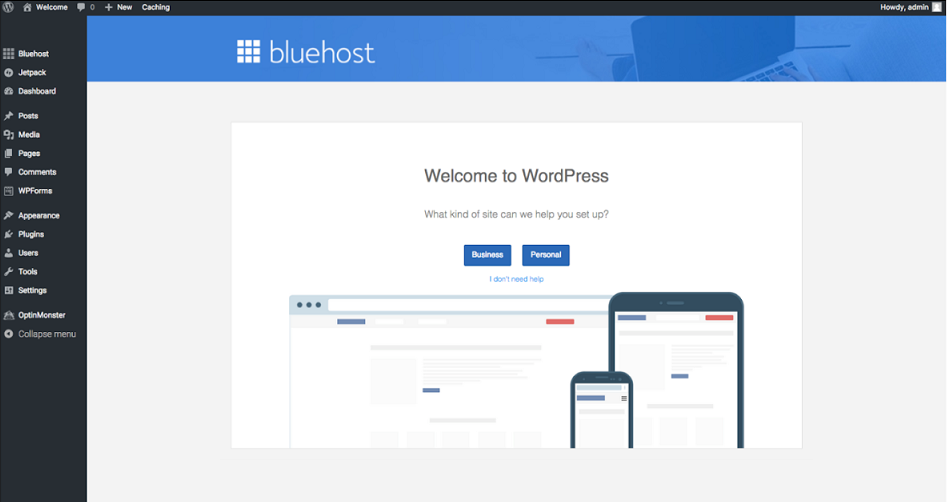 Now, it is time to familiarize yourself with the WordPress dashboard and settings. From here, you can install plugins like SSL for your site's security. Installing the right plugins will make your affiliate marketing website successful. Here are some plugins you should install: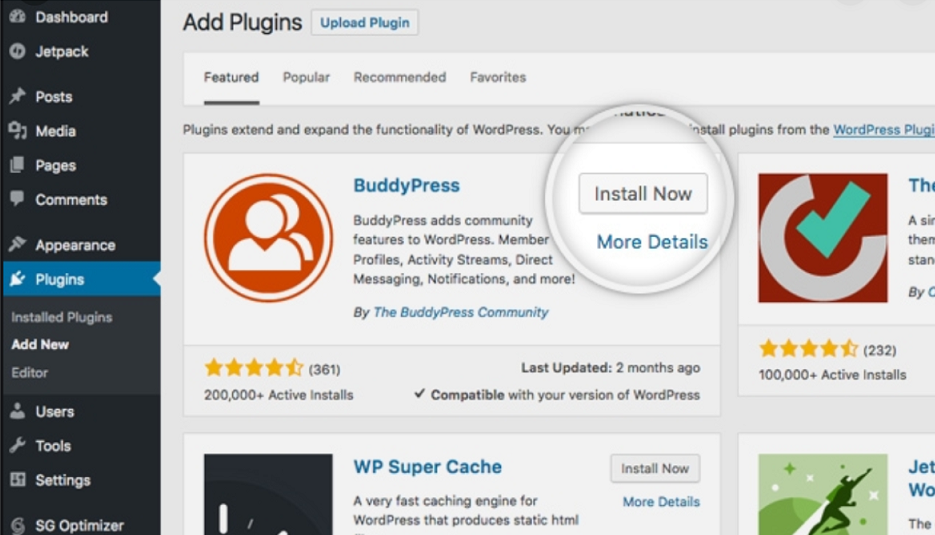 You should also set the title and description of your website.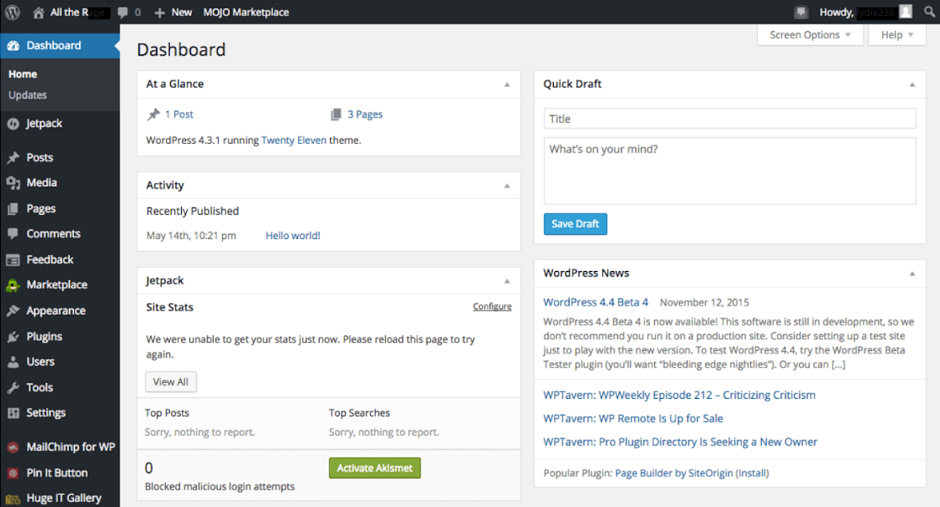 The two most important tabs on the WordPress dashboard are the Pages and posts. With Pages, you will set up things like the Homepage, About me, Site disclaimer, and Privacy policy. The Post tab is for all the blog posts and articles that will be added to your site. You need to edit them to your taste, then finish creating the site.
Once you are done setting up everything, your next step is to grow the affiliate marketing site. This is usually the hard part. The website needs to generate traffic that will help you to make profits. To do this, you have to follow some guidelines that we have listed below. To know more about starting affiliate marketing, we recommend you to read our article on Affiliate marketing, how to start and earn your first $1000.
Guidelines for increasing traffic to your site
Know your audience
If you had already selected a niche, then you need to research on its audience. You need to know what they like and what they don't. Promoting the right product or service to the wrong audience is a waste of time. You may also have to interact with them to better understand their needs.
Be trustworthy
Make sure the content you put out is valid and accurate. You do not want to feed your audience with wrong information. Provide them with useful and unique content and let the audience know that they can rely on you for information.
Make yourself relevant
You need to make sure that the content on your website is the best. Even if others have that same content on their sites, make yours more interesting and captivating. Go to lengths to help your visitors with information. If you are doing a review of a product, do not just copy and paste reviews from Amazon. You can buy the product, use it and give your thoughts about it. Make sure you update the content on your site. This is because the content is a crucial factor that will attract visitors to your site. The content needs to be engaging enough for them to click on your affiliate links.
Let your visitors know you are an affiliate marketer
It is against the rules to hide the fact that you are an affiliate marketer or that you receive a commission when visitors buy a product you are promoting. Be sure to tell them and let them know that you are not biased when giving reviews.
Choose your affiliate product with care
Same with the niche, make sure that you do lots of research on the product you will be promoting or reviewing. Check the commission rates and know how much you will be getting for promoting a particular product. Do not promote too many products at the same time because the audience will not trust you.
Choose the affiliate program carefully
The affiliate program you choose may be the cause of your failure or success. Some are better than others. Make sure you do lots of research before choosing any. You need to know about their terms of use, commissions, and the tools they offer to affiliate marketers. Some affiliate programs offer you customized banners and ads to place on your website which may bring in more traffic. There are many good affiliate networks that you can start from such as Amazon associates, CLickFunnels, etc.
Be patient
Affiliate marketing will not make you a millionaire overnight. You need to gradually build your audience and gain their trust. Once they start trusting you, they will recommend you to others, and the cycle continues. All this does not happen in one night. When you build enough credibility, merchants may even approach you to promote their products for higher commissions.
Now, let's check out some practical examples of sites that have been created almost to perfection and are doing great.
Examples of best affiliate marketing sites
Nerdwallet

Nerdwallet is one of the best-created affiliate marketing websites. We are sure most affiliate marketers will say the same. The site has been operational for a while now. It is doing excellent despite being in one of the most competitive markets. They provide very useful content. It is a review site for financial products. They have set the standards for affiliate marketing sites for many years now. This is a 100% affiliate site. They do not run ads or market their own products. One of the main things they do to trending is by constantly updating their key pages with new information.
Money Saving Expert

MoneySavingExpert is a website that helps individuals to make good financial decisions. It was created by a financial journalist, Martin lewis in 2013. As of today, it is one of the largest consumer affiliate websites in the United Kingdom with more than 8 million users per month. The content quality and devotion to users set it apart from competitors.
The Wirecutter

The Wirecutter is one of the go-to websites for electronics, gadgets, and consumer goods reviews. It was created by Brian Lam. The site is focused on providing users with the most honest reviews and is even nicknamed the "Mythbusters for gadgets".
Dating Advice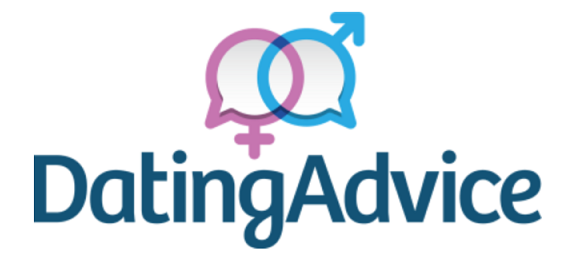 Lots of affiliate marketers have made a fortune out of the dating niche. Many users are now wary of dating sites because they are filled with fraudsters. DatingAdvice.com sets itself apart by providing visitors with expert advice.
Conclusion
Building your website and adding quality content to it is the small and creating a business. The amount of time and effort you put in it will reflect in your profits. Always try to learn from others to improve your knowledge and learn upcoming trends. Before you know it, you are already an expert making lots of profits.
Share the article

Read. Learn. Do. Earn more money on Affiliate Marketing
Don't miss