Online advertising through websites, social media (affiliates, referrer) has become the main form of communication between businesses and their customers. Nowadays, marketers have multiple tools at their disposal to ensure lead generation and high conversion rates. A landing page is a crucial tool that any affiliate should have in order to successfully promote a product, and in this article, we provide great tips on how to make a landing page for affiliate marketing.
What is an affiliate landing page?
An affiliate landing page is a self - contained page on your website with the sole purpose of leads generation in a marketing campaign. It is made to convince each visitor to click and convert on an affiliate offer with a compelling call-to-action (CTA). 

In short, your affiliate landing page is where a user is redirected – after clicking on an affiliate link – to be presented with an offer or a lead form.
Since an affiliate landing page's main goal is to drive as many leads as possible in order to boost your engagement and conversion rates, the traffic to your landing page cannot be from only one source. In fact, it could come from organic search, social media, email newsletters, paid ads, or a variety of other sources. That said, your landing page should be as optimized and well-organized as it can be to earn these commissions.

What is a Pre-Lander?
A pre-lander, simply put, is a page that appears before your audience before they land on your affiliate page aka your offer. Even though they are often pretty brief and concise, pre-landers tend to give your visitors an idea of what is behind the curtains and what they should prepare themselves for.  

They are not only designed to provide enough information to pique the interest of visitors, but to help your promising leads make split-second decisions and invite them to take steps that lead to your affiliate landing page.

Pre-landers are great marketing tools to ensure conversions but also to identify areas in need of attention in your strategy overall. 

Here are some examples of  pre-landers that look cool enough and provide just the right amount of information to lead your visitor to your landing page. 

How to Build an Effective Affiliate Landing Page
Building an affiliate landing page might seem complicated to some and easy to others. There is no right way to feel about it, however, there is a right way to build it – an effective way that will help your business/brand find more exposure with potential customers along the way. 

Your landing page content is all about the brand and the products/services you wish to sell and it sure has to reflect that with:

a specific structure that not only tells your visitor that the offer carries some benefits and is worth considering, but that it is legit.

all the cool details that were not included in your pre-lander. This is your opportunity to give your visitors as much information as possible about the products and offer.
aesthetically appealing features – How many times have we exited a page because of its chaotic setup and challenging visuals? In order to prevent such, you need to create a landing page that is charming and aesthetically pleasing. Remember that your content is as important as your products; it is a link between you and your potential customer. 
Structure of an Affiliate Landing Page
Think of a compelling headline
The headline influences the conversion rate of the landing page. If it isn't appealing, the user will abandon the page. As a result, the conversion rate will be quite low. Encourage them to continue reading or scrolling so that you can direct them to your CTA button.

We also recommend using SEO keywords along with the interactive formula when creating headlines for your landing page. It persuades users to take action and find solutions to their problems.
Add the link to your offer as early as possible
The goal of your landing page is to convert as many visitors as possible into customers, therefore, it would make perfect sense if you were to link your offer in your content and at the beginning. It tells them exactly what this is about and helps them make up their minds. You want them to buy your products, not waste their time, which leads to my next point.

A very clear, concise and appealing copy
Selling a good quality product is not enough for your users to engage with your offer. Your content needs details, you need to present your products and the solutions they can possibly bring into your visitors' lives. 

Make sure to add images of a suitable size as they look much more attractive and the offer is perceived better. It's a "second headline" that says it all. Furthermore, ensure that the image accurately represents the concept of the offer. Photos should be relevant to your offers and of high quality.
Include CTA buttons in your copy. CTAs are a reminder to your audience when they scroll through your page. A simple "Learn more", "Book now", "Join now" can go a long way on your landing page.
If you are interested in learning more about how to write a copy as an affiliate, check out this article. 

A list of the benefits of your offer
As inspiring and great your offer might look, what people truly need is the advantages that come with it. They should know to the T what makes it better than the rest and why they should even consider it. To make a successful landing page for affiliate marketing, you need to state the value of your offer through its benefits. 
Include social proof
Let's not fool ourselves by pretending that when it comes to affiliate marketing, people take action with just good faith and good will. It is not the case. People need not only a great product with great benefits, they also look for data. What kind, you ask? Well the kind that indicates whether or not other users have tried the products, what they think of it and if they actually recommend it to anyone else. 

Examples of social proof you can add while creating your affiliate landing page:

Metrics such as "1M+ downloads" or "3M+ satisfied customers around the world".

Show testimonials from happy customers
Include before and after pictures
Show statics and studies that are in favor of your products
Comments, messages or emails sent from satisfied customers
Social proof is one of the best ways of keeping customers on your landing page.
Note that if you are interested in knowing how to make a landing page for affiliate marketing during the holiday season, click here.

Affiliate Landing Page Examples
Below, you will encounter great examples of affiliate landing pages that can be certainly useful to you as an affiliate.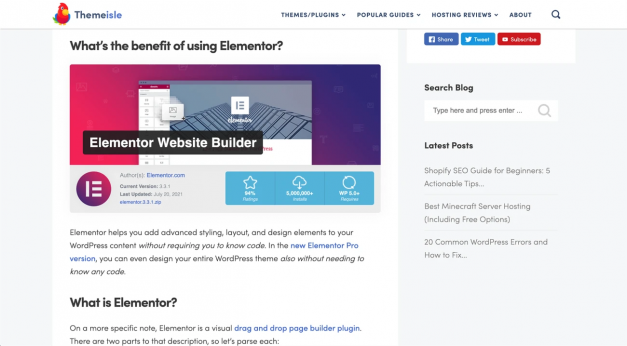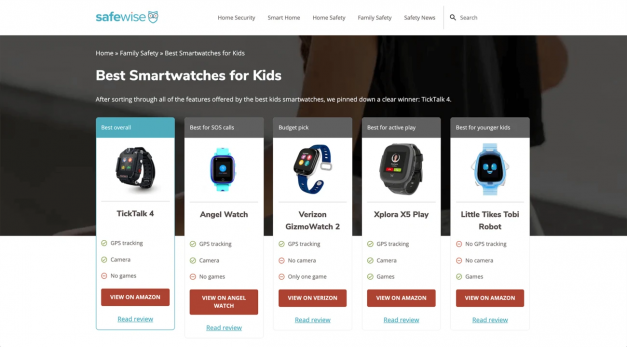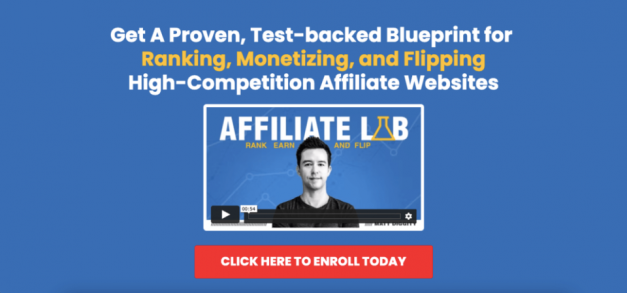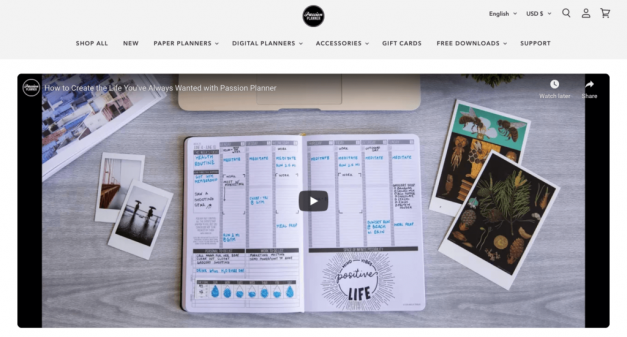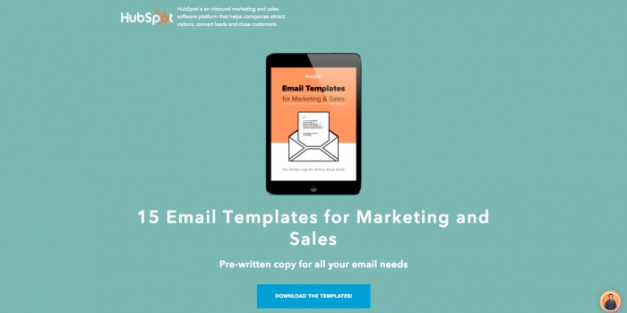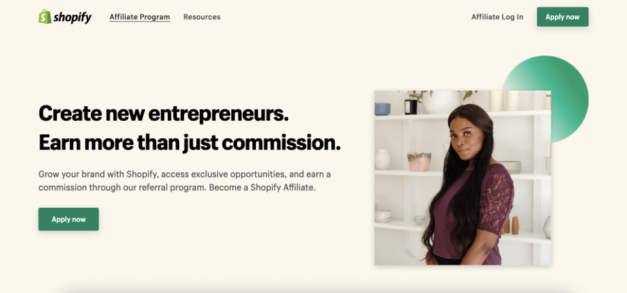 Each one of those examples integrated the principles which we have shared so far in this article. From the Themeisle's review of the popular WordPress plugin, Elementor to Shopify's clean and simple affiliate page, the concepts are successfully crafted to accomodated their target audience and keep these leads coming. 

Here are some affiliate landing pages templates as well:

A product roundup template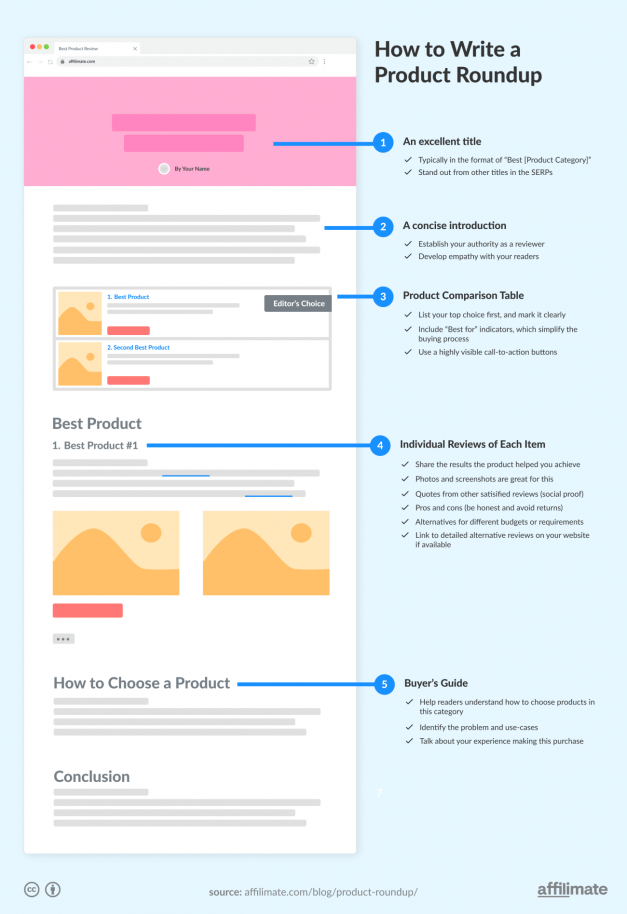 A product review template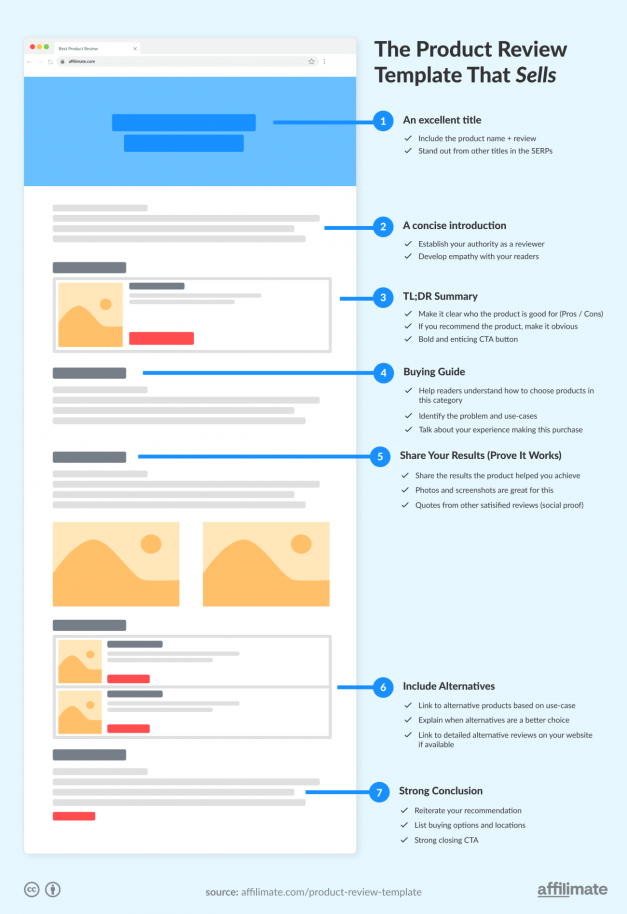 Consider taking a look at our article that went over the best affiliate landing pages with high conversion rates.

How to Analyze Traffic on your affiliate landing page
Monitoring your performance is a crucial step in your advertising campaign process. Whatever content you have on your landing page – a gated download for an eBook, or a special offer promoted through PPC ads, Google Analytics or any other tool available online can help you track the success of your campaign.


You must first set up goals in Google Analytics to track conversions on your landing page. By linking a goal to your campaign's thank-you page, you'll be able to track how many people visited your landing page and took action by filling out a form, clicking a link, or downloading an offer.

Best Free Landing Page Builders
Remember when I mentioned that marketers have great tools at their disposal to convert those leads and earn more commissions, right? Well now you can totally see for yourself as we also share with you the best free landing page builders available to you in 2022 to help you create a converting landing page for affiliate marketing. 

ConvertKit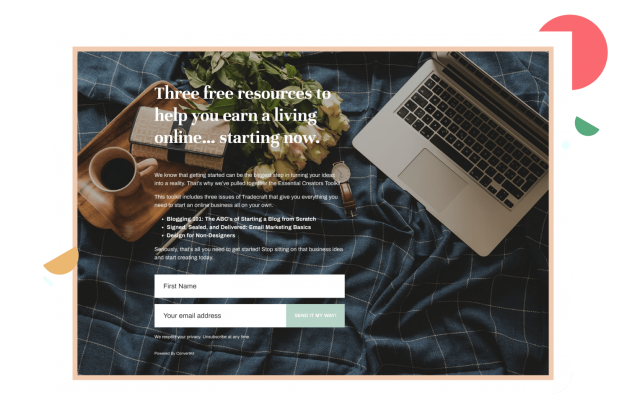 You can use ConvertKit to launch your landing page for free and start collecting emails. You can essentially validate any idea using ConvertKit's designed templates designed for products, ebooks, videos etc., thank you pages, beautiful stock photos from Unsplash and many more. 

Carrd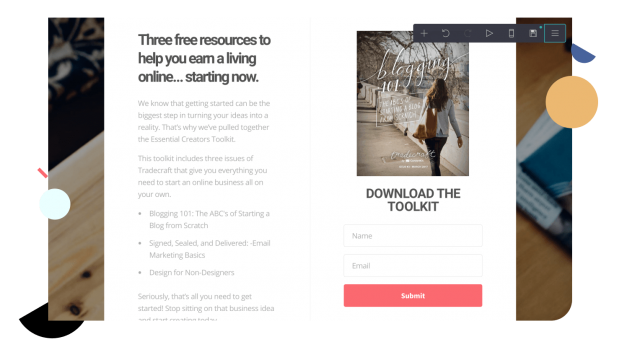 Carrd is not just a free landing page builder; it's a powerful platform for building simple, responsive websites. Carrd allows you to quickly create a new single-page website for any purpose, from personal profiles to portfolios, squeeze pages, webinar signup pages, and much more. 

It takes only 5 minutes to recreate a landing page on Carrd. Isn't that awesome?!
Ucraft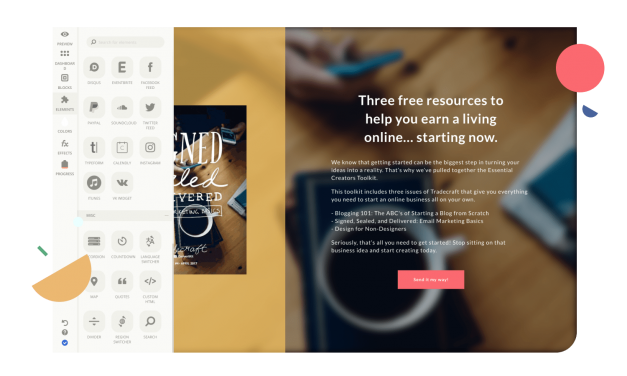 Ucraft is a website builder with a free version for making landing pages just like Carrd. It aims at small business owners, online creators, and bloggers by being the quickest way to create a clean and responsive landing page in minutes.

Wix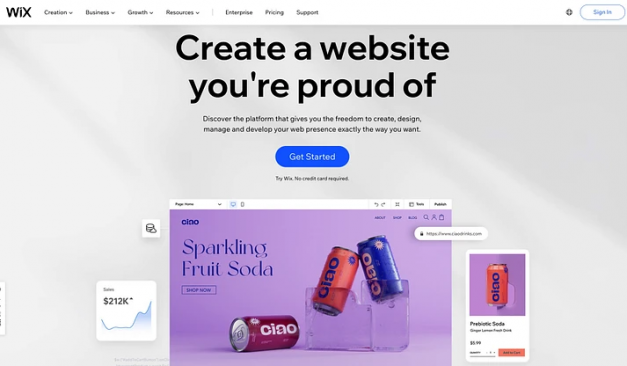 With a wide range of templates and features available, Wix is considered one of the best landing page builders ever. You just have to choose a template and you will be able to customize and optimize as it is convenient for you and your strategy.

ConvertFlow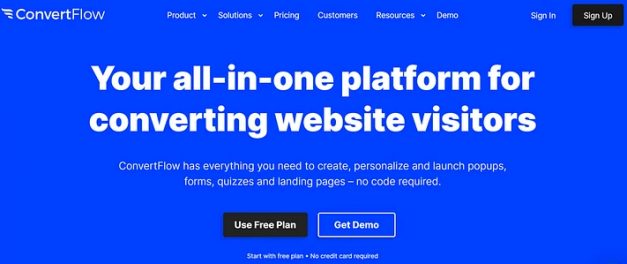 You already own a domain? Then consider using ConvertFlow and to create a dedicated affiliate landing page. It includes a number of landing page templates for various campaign types, such as lead generations, coming soons and pre-launch pages, sales and offers etc.

FAQ
How do I set up a landing page for affiliate marketing?

An affiliate landing page is more like a message, a communication channel between you and your potential customer and so when they land on that page it has to be well-structure, with all the details they need to know about your brand, product and offer, it has to be well-organized and pleasing to the eye.

Which landing page is best for affiliate marketing?

Creating a landing page can be a lot of work if you are new to the sphere of affiliate marketing but in reality, it is more like an algorithm that you have to follow in order to reach your goal. So how do you create a landing page for affiliate marketing? By having a good and valuable offer and presenting it with great images and benefits package, by optimizing your headline and copy overal, eye-catching CTAsl and, of course, by providing proof that other users have had success with your products.

Can I put affiliate links on the landing page?

The purpose of your landing page is to attract visitors in order to convert them into customers by offering them a product/service. Therefore, it is mandatory to include the links relevant to your offer on your landing and we recommend adding it as early as possible in your content.

What is the goal of a pre-Lander?

A pre-lander serves as a preview for your deal. There you reveal just enough information to entice your visitors into the following page which is your affiliate landing page. There you can also include some images, a form and, of course, the CTA button. 
Share the article

Read. Learn. Do. Earn more money on Affiliate Marketing
Don't miss