CPA marketing enables various digital businesses to widen their reach, boost traffic and improve conversion rates. There are various CPA ad networks and verticals/niches they operate in, but only a few are tested and trusted or offer a wide range of services requiring minimum financial exposure. Advertise is one of the leading CPA networks and in this review, we highlight their services, the features of their platform, and the benefits of working with this network.

In this review, you will read about:

Overview of Advertise

Basics of CPA Marketing
Benefits of Advertise
Features of Advertise's platforms
How to get started
Payouts and bonuses
Conclusion and Profit Race
Overview of Advertise
The Advertise affiliate network has been operating since 2015. Providing more than 1300 offers in gambling, betting, ecom, and financial verticals, they accept traffic from all GEOs and trusted sources, excluding incentivized traffic.

The attractively competitive rates of this affiliate network give them an edge over various networks in the industry - many webmasters note that Advertise's rates are higher than numerous other affiliate networks. They work mainly with CPA, Hybrid, Revshare, and CPI as well as running multi-channel campaigns on CPA, CPL, CPI, and CPS providing users with a gateway to multislot advertising - display, mobile, social, video, email, search, domain parking, affiliates.
Going through the features of their platform and the services they provide, it is evident that webmasters who work with Advertise have access to a huge selection of tools, an updated list of current offers, internal media buying shares bundles, and professional advice from experts.

Using their affiliate program - partners can receive up to 5% bonus payments for their referrals. Advertise also cooperates with many services, which helps arbitrageurs to buy them at an impressive discount.
Advertisers and Publishers will find this CPA affiliate network useful due to their unique platform that brings together the interests of both advertisers and publishers, as well as their CPA (cost per action) solutions sure to help marketers achieve amazing results in attracting customers and monetizing traffic. They provide advertisers with advertising solutions to increase conversions, develop brands, and build targeted traffic; while enabling publishers to monetize their traffic.

Basics of CPA Marketing
Newbies in affiliate marketing will find Advertise's easy-to-navigate user interface excellent, and existing affiliate marketers or persons already working with CPA can take advantage of the huge database, frequently updated offers, and active community of publishers thereby ensuring that promotional offers get a wider reach, generate more traffic subsequently boosting profit.
To fully understand how Advertise stands out, it is important to know the basics of CPA Marketing. Cost Per Action is an online advertising payment model that pays only for certain user actions on the advertiser's website. The CPA model is one of the most cost-effective advertising payment options since the advertiser pays not for impressions or clicks -the effectiveness of which is extremely difficult to measure-, but for specific consumers who have confirmed their interest in the product through targeted actions. This means that payment is made only for those user actions that bring profit.

It is especially profitable for actions from advertisers in:

banks, insurance companies, and financial brokers
online shopping
construction companies, real estate renovation companies
lawyers, accountants, auditors, notaries
car services, car dealerships
medical and health institutions
job sites
educational institutions
services for buying and booking tickets
real estate agency
travel companies
business service companies
public service companies
Online Games
hosting providers
Regardless of the scale of the business, the goal of investing money in internet marketing is the same for everyone - to attract potential customers - and this is why Advertise stands out as they are experts in all these verticals and traffic management specialists who can attract and convert new customers with only minimal costs from users with maximum results guaranteed.

Benefits of Advertise
Having explored their platform and checked out reviews, here are some benefits of working with Advertise:

Security and unique fraud detection system
Global coverage - access to huge traffic in more than 190 countries worldwide.
Availability of a large selection of offers from different verticals - within the same network, you can work with gambling, shopping, apps, finance, etc;
High rates - for many offers, the rates are higher than those of competitors;
Multi-channel campaigns on CPA, CPL, CPI, CPS
Convenience and ease of payouts - daily, weekly, and monthly payments are available, as well as payments once every two weeks and on request;
Get the complete package - full service for search and social campaigns as well as planning, comparison of rival's prices, placement, and optimization.
Professional support on standby to help with any problems;
Access to a team of experts and affiliate managers who understand traffic arbitrage and assist their webmasters;
Access to discounts and promotional codes for services - you can buy a tracker, cesspool, accounts, and cards at friendly prices;
The ability to withdraw money to a card, crypto, and electronic wallets, as well as the ability to connect a payment system on request;
It accepts traffic from all over the world and from any source - you will find an offer even if you are pouring schemes;
Large selection of tools for work - rotators, API, SmartLink, and much more;
Some offers have RevShare with a progressive rate;
Detailed statistics, which display all the important information;
+ 7% to the payment if the withdrawal is to the settlement account of an individual entrepreneur, legal entity, or self-employed.
Features of Advertise Platform
The Advertise website has a friendly user interface and is easy to navigate with translation available in various languages depending on the browser used. Information is easy to access and various tools are available to make operation seamless. Among other functionalities, current offers from affiliate programs popular with webmasters working with Advertise are displayed on the landing page so that users can choose the offer that matches their traffic. Daily updates and offers from affiliate programs are also shown; this is an added advantage.

How to get started
Registration is easy and can be completed in a few seconds. Compared to other networks with complicated registration forms requiring so much information, approval, and so on, Advertise takes the lead in saving users from stress.

From the landing page, there are sign-up options for webmasters and advertisers.


Webmaster Registration is available for individuals and entities. Only a username, password, email address, and contact for Telegram, Skype, or other platforms are required. Access is granted immediately.

Advertisers registration has more fields for sign-up and takes less than 2 minutes in signing up. Additional fields such as target audience, category, call center hours, and Geo-targeting help to make the user experience tailored to the required specialization.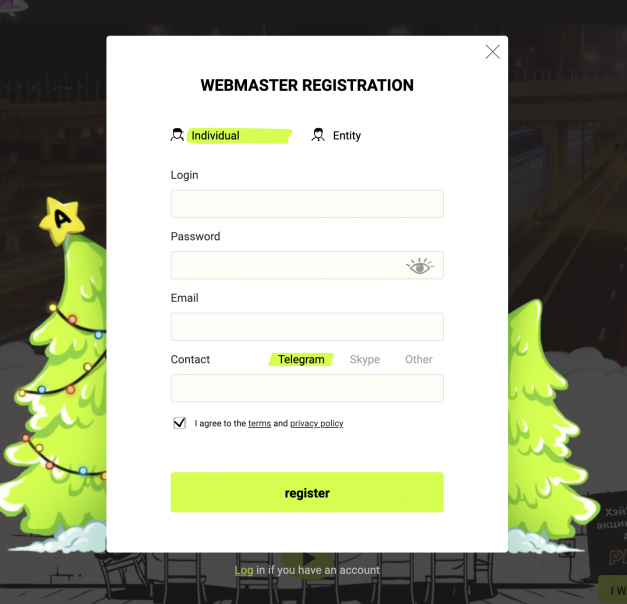 Login is done via username + password. Immediately after logging in, the user page opens up.


In the upper right corner - information about your available balance, account status (basic or VIP), username, and login ID are displayed. Beneath this is the navigation menu bar with buttons for Start, Statistics, Sources, Offers, Tools, Finance, and Support. The top left is the Advertise news section with the latest info, and in the center, users can find their balance in rubles and dollars, as well as statistics on referrals, top offers, and ongoing promotions.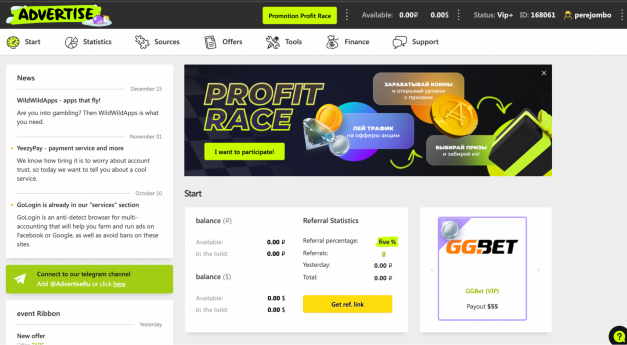 The Start button shows you the welcome page already described.

The Statistics button provides analytics to guide users. The stats here are sorted:

by days;
by sources;
by offers;
by promo;
by actions;
by keywords;
by SubID;
by detailed statistics;
by smartlink statistics.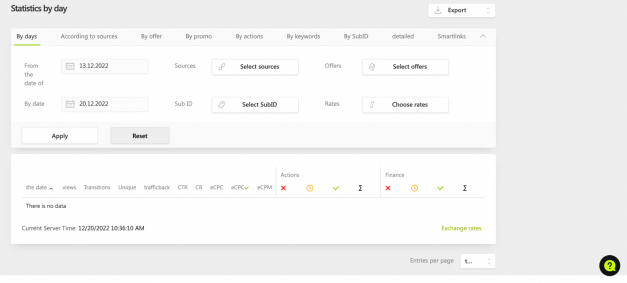 There are filters by dates, sources, SubID, offers, and rates. Users can export the data in formats such as. XML, JSON, CSV.
Data displayed includes the date, views, clicks, unique, trafficback, CTR, CR, eCPC, eCPM, bounces, holds, accepted leads, etc. There is also the exchange rate button at the bottom which shows the current conversion rates of the ruble and other currencies for the duration selected. A big benefit as well.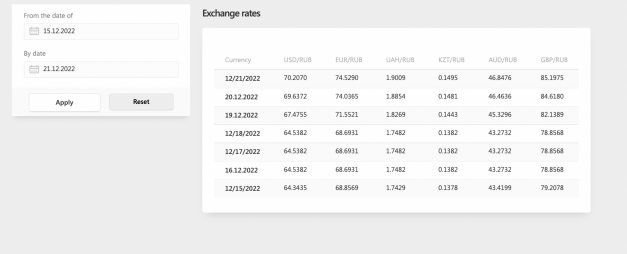 The Source button shows the various traffic sources. This helps with traffic identification and management so that at a glance you can see the URL source of the traffic, status, ID, and type.
To add a source, simply click the "Add" button, select the type of source, specify the name, select the source, give a description and add the target countries.

The Offers button is very important and shows all the offers available on the Advertise platform at the moment. For ease and convenience, there are sorting options by stocks, name, eCPC, CR, date added, rating, hold, and last changes; filters by country, category, traffic types, payment models, and platform; and options for displaying only new, promotional, exclusive, revenue share and XML directories offer. These help users in targeting only relevant offers and sorting them out from hundreds of offers.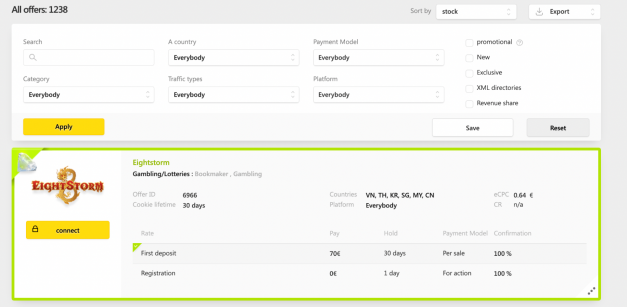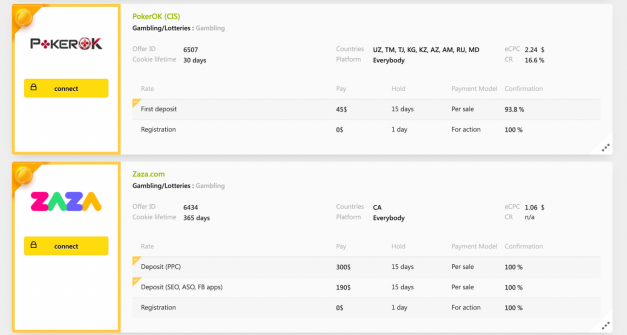 Offer cards are described in sufficient detail - you can find out all the necessary information without opening the offer page. The card displays:

cookie lifetime;
country;
platform;
eCPC;
CR;
payment model;
cold time.
If you go to the full page of the offer, you can find detailed and crucial info such as allowed traffic types, traffic requirements, features, and descriptions.

Advertise also provide the possibility of suggesting and adding offers not listed on their platform, for this you need to scroll to the very bottom and click the "Suggest an offer" button. Note that users with basic accounts will not have access to some offers. An upgrade to the VIP+ account is required.
VIP+ Accounts

Users with VIP accounts have exclusive access to all offers and can connect right away unlike the basic users who do not have this option. Simply contact the support team to get upgraded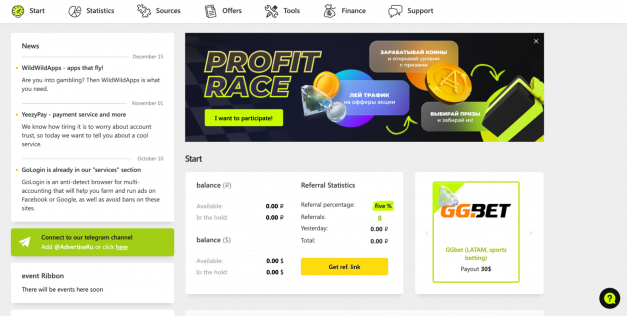 The Tools button presents all the amazing tools for partners to have the ultimate affiliate marketing experience. Advertise partners have access to:

banner rotators;
promotions and coupons;
coupon feeds:
domain parking;
postbacks;
link shorteners ;
discounts for various services;
XML products;
agency offices;
deepening generator;
trafficback;
link tester;
smartlinks.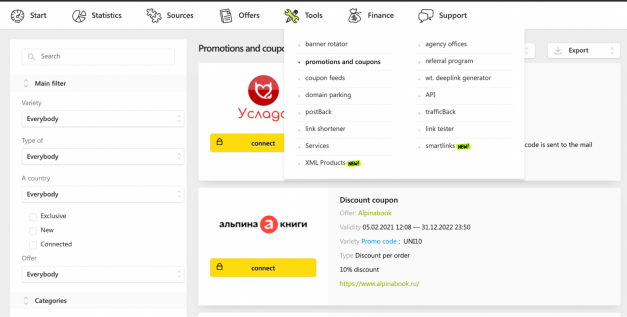 Not many affiliate networks can boast of such an abundance of tools within their account.

The Finance button allows users to view their payouts, set up payouts, and view balance history and exchange rates.

The Support button allows users to create tickets, view the history of tickets, or track the response of technical support to an existing ticket. The extensive FAQs available are also a big plus.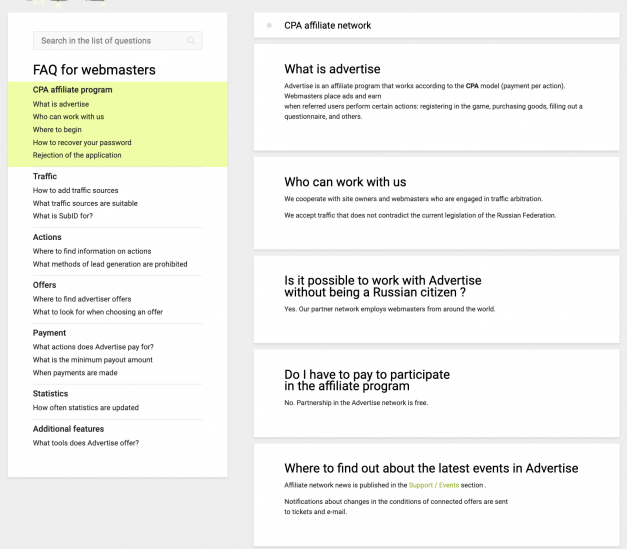 Payouts and bonuses
Payments are available to webmasters:

everyday;
every week;
once every 15 days;
once a month;
upon request.

You can order payments in rubles and dollars. Webmoney, Paypal, Capitalist, USDT, bank cards, Qiwi, and bank accounts are available for payments. When adding a wallet, you can immediately specify the frequency of payments.

Advertise offers webmasters the most favorable conditions. The CPA network offers the highest rates for offers, convenient, detailed, and fast statistics for each action, flexible terms of cooperation, the development of new exclusive promotional materials, a wide range of tools, various promotions, discounts, and bonuses.

Payments through any payment systems, Daily payouts on business days, The best rates for any offer, Fast, qualified support daily, and Protection from dishonest advertisers.

Conclusion and Profit race
The Advertise CPA Network is truly impressive. Their database is excellent, sets of tools are massive and easy to use, offers are huge and regularly updated, and services are secure and guided by professionals. It is a reliable network and one that has passed the affiliate valley review with flying colors. They are highly recommended.
To further prove their innovative abilities and encourage users Advertise has launched a new promotion called Profit Race - a promotion where each webmaster will receive gifts for working with Advertise. There are no conditions. Just send traffic as usual by choosing an offer, get extra virtual coins "coins" for it, and exchange them for really cool prizes.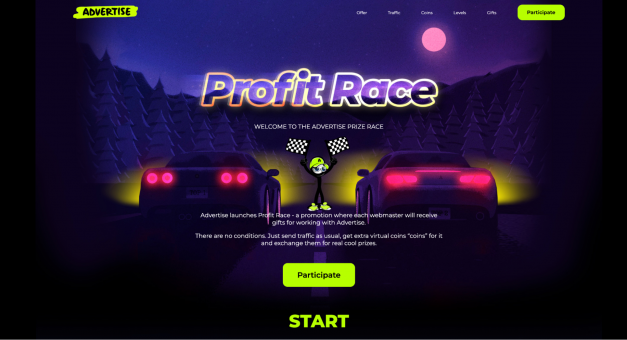 Share the article

Read. Learn. Do. Earn more money on Affiliate Marketing
Don't miss