Once a new affiliate network hits the radar, we usually don't wait long to explore it and pass a verdict ourselves. So it's only natural that once the Vietnamese network Dynu In Media started popping up in affiliate marketing media in the past couple of months, the review was coming.


So, let's take a closer look at the Dynu In Media affiliate network, its offers, conditions for affiliates, special tools and payouts.
Let's go!
What is Dynu In Media: network overview
Dynu In Media started its journey in 2019 as the division of the Interate Corporation, a shareholding company from Vietnam.
Right now, it features 600+ direct and in-house offers in 10+ verticals with the focus on CPA/CPL/CPC models. It is said to generate 20.000+ leads daily, and works with 200+ well-reputed advertisers and 1000+ industry-leading publishers.
The online reviews are generally positive with a shred of ecstatic, with big names like iAmAtilla mentioning Dynu In Media as "an incredible CPA network to work with".
In recent months, the network has followed along with its plan to dominate the Vietnamese CPA market. It actively attracts new advertisers and publishers by providing appealing conditions and high payouts. According to the company's official statement, the next stop is asserting themselves as an equal player among the biggest affiliate networks in the world. Let's see how it goes.
Registration in Dynu In Media
The registration process is rather simple.
As an affiliate, you'll be driving traffic to advertiser's products, so you'll have to register as a Publisher.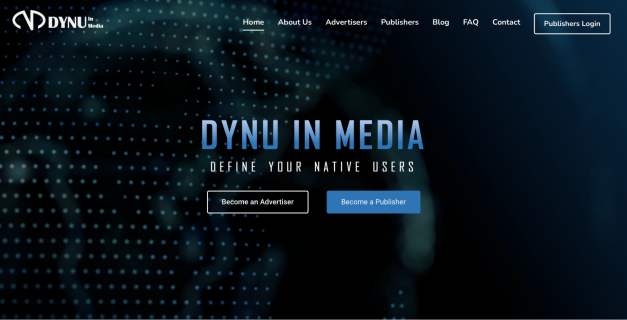 Once you do, you'll get to the Partner Sign Up page with a standard form which you need to fill in to apply.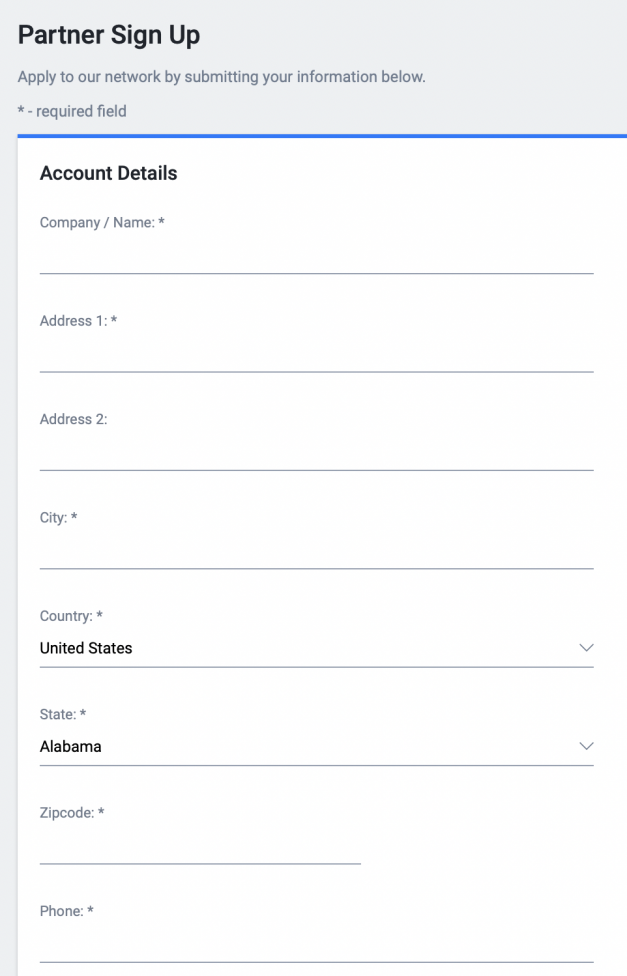 Additionally, the network asks all its publishers to fill out a questionnaire that will help them determine what traffic you have and what offers will suit it best.
The additional questions include:

Your ID
Your preferred payout method
Your traffic type and how you are going to promote your offers
Whether you own a website
Your top GEOs and verticals
Any specific requests that you might have
Reference from 3 networks that you are already working with
The last question might seem unusual, but as a network that values integrity, Dynu In Media makes sure to build trust with its partners.
Once you provide all the information, accept the terms and conditions and hit Sign Up. You'll be forwarded to the login page while your application is verified.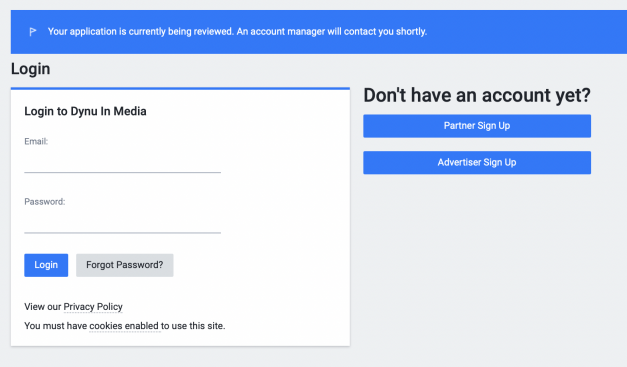 Usually, it takes the network about 24 hours to verify your application, of which you'll be notified by email that you provided at registration.
Working with Dynu In Media: Dashboard
The first page you see upon login is the Dashboard. On this page, you'll be able to see all the stats for your campaigns in one place, once you start driving traffic.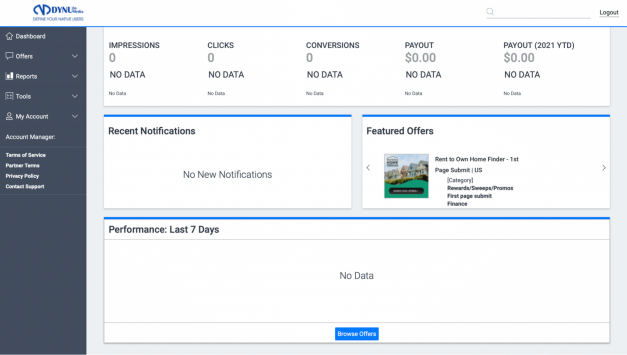 As you can see on the screenshot, it shows the aggregated statistics of Impressions, Clicks, Conversions and Payouts. The Performance chart will show you how your campaigns performed in the past 7 days.

Additionally, you'll find the notifications section and the section with featured offers. We'll talk about this one later.

Dynu In Media Offers
Once approved, you'll get access to the network's rich inventory of offers. Let's take a closer look.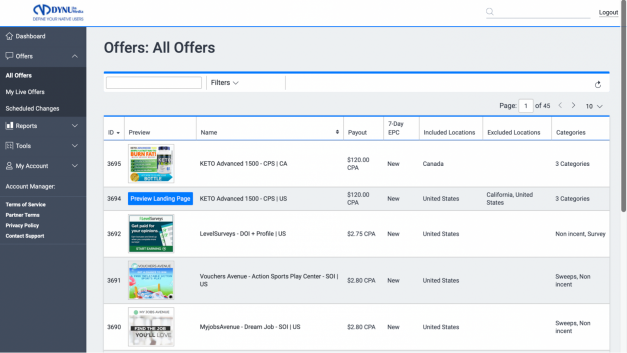 Using the renowned HasOffers system allows Dynu In Media to provide its partners such benefits as campaign optimization, fraud detection, real-time reports, link tracking, and many others.
The list of verticals available in the network is massive. Publishers can choose to work with:

Sweepstakes (SOI/DOC/CC, trial/PIN submission)
Finance
Gaming
Surveys
Extensions
Insurance
Health & Beauty
Bizoop and more.
Their main models are CPA/CPL/CPC as Dynu In Media positions itself not only as an affiliate network, but a performance agency that aims at delivering the best results for its partners and clients.

A great feature worth mentioning is the Filters that will help you find the right offer by various parameters.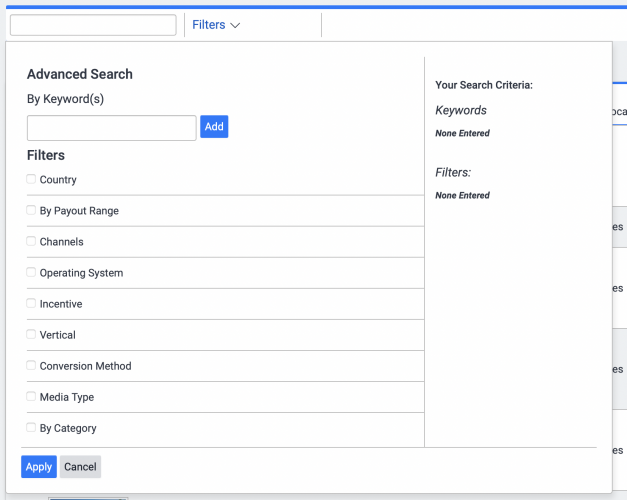 You can look up an offer by a certain keyword, a country, payout range, traffic channels and many others (see the screenshot). We find it really handy!
Featured offers
Each day, Dynu In Media publishes new featured offers on your Dashboard. These are the offers with the most attractive conditions and lucrative offers. As we're writing this review, these are the offers that deserve your attention.
CarInsurance.net - Form submit | US - $10.00 CPA


Affordable Housing Expert | US - $2.40 CPA


QuoteWizard: Auto - Desktop | US - $8.00 CPA


ILoveSamples - CPA | US - PO: $2.40 CPA


Everyday Winner - 1st Page Submit | US - $2.40 CPA


Offer description: a look inside
Let's look inside an offer, for example, the last featured offer, Everyday Winner with the 1st Page Submit as a target action.
Once you click on the offer, you'll get to its description page. Here, you'll find all the details of the offer, its landing page, conditions on the accepted traffic and GEOs, requirements and limitations.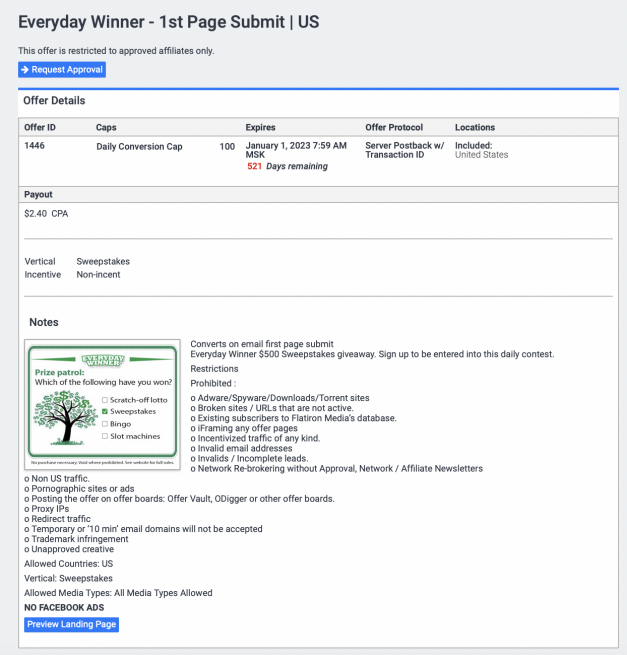 For example, this offer targets US users and allows all media types except for Facebook Ads.
Top offer to promote


One of the current offers that Dynu In Media heavily promotes to its partners is the Found Benefits - Stimulus with a single opt-in for the US audience.

Here are the details of the offer:
Vertical: Finance
Categories: Non incent, Finance
Offer description: Consumers can search for benefits. Conversion occurs on the second page submit. All non-incent traffic approved US Only All placements must be pre-approved.
Accepted marketing channels : All
GEO targeting : restrictions apply. All traffic is accepted
Suppression: Please download now or you run the risk of violating CANSPAM compliance.
Found Benefits subject lines for the email channel: Access Resources for you and your family today! Take advantage of these exclusive opportunities! Apply for Financial Benefits Explore Special Offers Find the Latest Deals for Families Unlock Your Wealth Potential
Status: Active
Expires: April 17, 2030 11:59 PM EDT
Protocol: Server Postback w/ Transaction ID
The offer's landing page is available for preview here.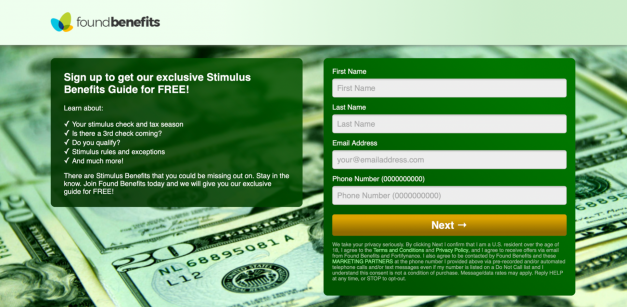 Conditions in Dynu In Media
When it comes to affiliate networks, the main parameters that determine whether you'll work with them are the size and regularity of payouts (we'll get to that a bit later) and the conditions for GEOs and accepted traffic sources.
Available GEOs
Dynu In Media targets top tier 1 countries such as:
US
UK
Canada
Australia
New Zealand
most of the European countries
some Asian countries
Traffic types
The types of traffic that the networks allows are:
Email
Display
Push
Native
Social
and others.
Basically, you can work with any sort of traffic as long as it is legitimate and non-incent.
Payouts in Dynu In Media
The payouts in Dynu In Media are made regularly (NET25, NET15, NET7) with the minimum threshold of $50.
You can collect your payment in VND or USD.
The payout methods include:
Wire transfers
PayPal
Payoneer
We haven't found a single review of Dynu In Media by an affiliate who was dissatisfied with their payment, not to mention not getting it at all, so it is a good sign.
Killer features that help Dynu In Media stand out
With the abundance of affiliate networks in the market, it is hard to really stand out among the competition. However, armed with these killer features, Dynu In Media is definitely in the game:
- Dynu In Media takes pride in its anti-fraud system. Being a combination of proprietary tools, these systems, above all, make sure that you are always well-converted.
- Data translated into revenue. In addition to optimizing and analyzing your campaign data, Dynu In Media optimizes your Return on Investment (ROI) and turns it into actionable insights.
- Maximized campaign performance. Dynu In Media builds quality content targeted to social and native channels that is aimed at driving quality traffic.
- Quality Publishers
- Friendly 24/7 support. A dedicated team of analysts that helps you resolve any of your concerns promptly.
- Real-time reporting. The intuitive platform and tracking system of Dynu In Media allows publishers to analyze their performance with the help of multiple report types, special postback tracking, and real-time statistics.
- Access to 600+ offers.
- Exclusive offers and in-house offers with competitive payouts.
Other resources
Apart from its main course of activity, Dynu In Media goes big on content and social media.
First of all, it has a Twitter account where they post their hottest offers.
A Facebook fanpage, a must nowadays, and a private Facebook group called "Make money online with Dynu In Media" is where publishers can ask questions, share their knowledge and build a community.
A LinkedIn page helps the company with hiring and connecting with the industry leaders.
And don't forget the blog where Dynu In Media shares valuable insights on running campaigns of all sorts.
Our summary
Dynu In Media hasn't been on the market for too long, compared to other networks. But the push it is making right now is making us believe in all the seriousness of its intentions to conquer the CPA market.
What we liked most was its sophisticated anti-fraud solution, the versatility of offers and a super quick approval time. As disadvantages we'd add the lack of popular payment methods, such as WebMoney, Capitalist or crypto, however we are sure that they are yet to come.
Overall, Dynu In Media is definitely a network to check out.
Register now and don't waste your chance to boost your revenue!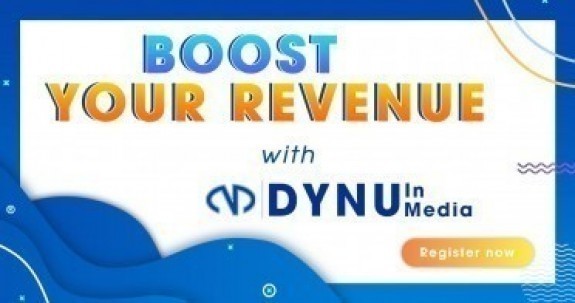 And if you have any additional questions, get in touch with the Dynu In Media team!
Skype: live:.cid.bcbcb788216793ac
Email: [email protected]
Share the article

Read. Learn. Do. Earn more money on Affiliate Marketing
Don't miss