DSP platforms are undoubtedly a vital part of the digital advertising ecosystem. After all, they carry out RTB (real-time bidding) auctions — something that helps 3 different types of participants of the market.

They give broader ad coverage to advertisers
Improve inventory monetization for publishers
They buy traffic from SSP platforms
Overall, they are a great help and a must-have for ad networks that want to monetize CPM traffic. But how do you find a good platform? There are so many of them out there, after all!

We have asked Adsttera, an experienced ad network with thousands of clients, to help us make a list of the best DSP platforms — and how to choose the one that will suit your platform the most. Let's dive in!

Top 6 DSP Platforms in 2023
Although this list contains many reliable and trusted DSP platforms on the market, it is by no means conclusive. Don't forget to do your own research before settling on any service.
Adsterra DSP
Top verticals: iGaming, Entertainment, Software, Streaming, Sports, VPN/Utility.
Adsterra, a global ad network, is the top DSP platform for Popunder traffic. With over 12K core advertisers and 150K new campaigns each year, this platform has proven itself as reliable over its many years in the industry.

Adsterra's SSP partners can enjoy 100% top-class demand from various CPM, CPC, and CPA deals. They have high eCPM rates for any Tier traffic from 1M daily impressions. Adsterra also utilizes AI algorithms to ensure its partners get the highest bids possible and various anti-fraud solutions to automate bot filtering.

Most of Adsterra's features are aimed at providing high-quality service that can satisfy all parties involved — after all, happy publishers lead to higher payouts for you, too.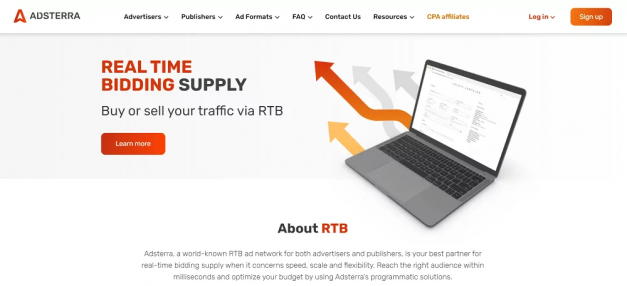 SmartyAds DSP
Top verticals: Employment, Finance, Business, Sports and Travel, Lifestyle.
SmartyAds provides complex media buying solutions driven by data. It also enables the creation of omnichannel campaigns across various devices. 

With the most comprehensive selection of targeting options offered in the self-serve account, SmartyAds takes pride in offering a tidy, user-friendly design as well as simple access to analytics and all its other features.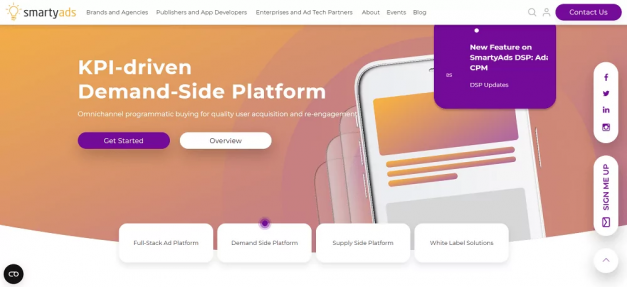 Commerce Max by Criteo
Top verticals: Education, Science, Arts, Consumer Electronics.
Owned by a trusted and established brand Criteo, this DSP platform works with premium publishers and has 15K advertisers. Its main focus is retail.

Commerce Max offers a wide variety of powerful targeting options: 8+ parameters, including but not limited to Browser, GEO, ID, and more. It typically works with T1 GEOs, like NA or Europe.

This platform lets publishers sell traffic via their Direct Bidder service.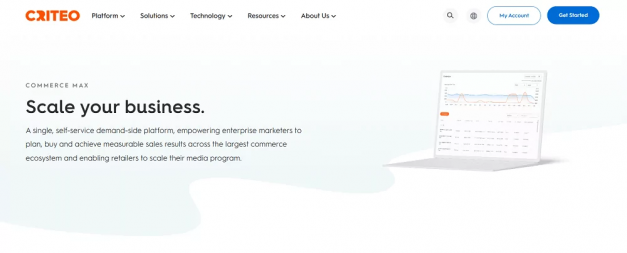 TrafficStars
Top verticals: iGaming, Slots, Crypto, VPN, Nutra, Sweeps.
Big data, clever algorithms, and cutting-edge technology are used by the TrafficStars RTB self-serve platform to assist SSP partners in increasing their income and advertisers in targeting only the most relevant customers.

This DSP platform has a highly competitive bidding system and a lot of different demand sources, which allows publishers to increase efficiency and get more out of their inventory. They also provide access to broadly targeted campaigns.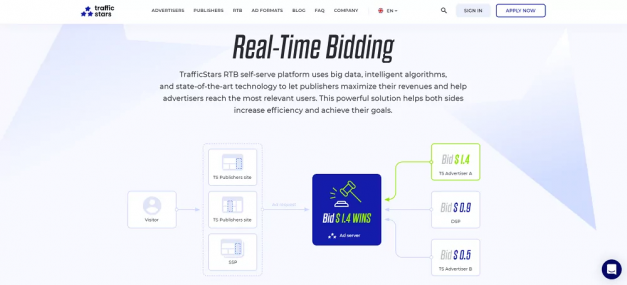 Zeropark
Top verticals: Nutra, iGaming, Utilities, Betting.
Zeropark offers multiple options for monetizing traffic, with its flagship traffic types being Pop, Domain, and Push.

The platform's Programmatic RTB interface supports multiple feed formats including XML and JSON. What's special about Zeropark, however, is that it makes it possible to match many different parameters — and publishers can even add their own custom ones.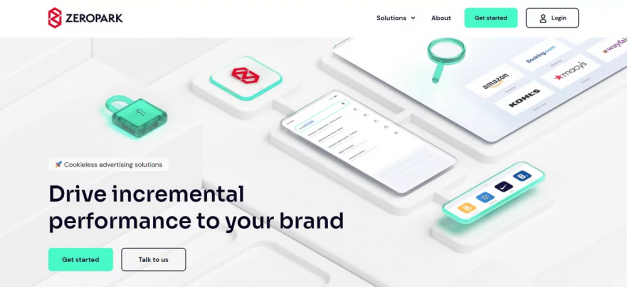 ExoClick by Exogroup
Top verticals: Niche Video, Ecommerce, Dating, Nutra / Health, Games.
This programmatic ad exchange and global ad network supports Popunders, Banners, Push Notifications, Native, Video, and Email Clicks. ExoClick also has a DSP platform that enables seamless integration with SSP providers and direct publishers via openRTB or ExoclickRTB (XML). 

ExoClick allows its clients to manage their own transactions and programmatically connect networks and DSPs, which lets them utilize the full extent of the demand from ExoClick's advertisers.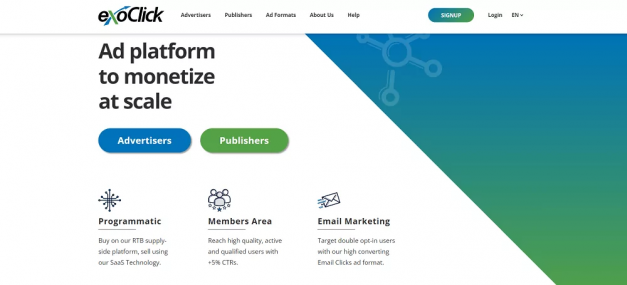 How to find the best DSP platform
Finding the perfect DSP platform isn't easy. After all, there are so many services out there — how do you determine which one will be a good fit for you and allow you to make the maximum profit possible?
In the end, the best way would be to settle on a few platforms and give them all a try. In order to narrow down your list, here's a checklist of some of the general things you should look out for if you want to find a good DSP platform.

1. What kind of traffic do they accept?
It might seem like it's no big deal if a DSP platform accepts any kind of traffic. But in reality, this is a bad sign: it means that they 1) don't value their advertisers and 2) are likely working with bots and fake impressions.
Platforms like this often underpay clients with genuine traffic — after all, why pay more if they can get cheaper traffic via second-hand reselling and other means? They don't really care about quality. It is better to stay away from platforms like this: they are not worth your time.

2. Who owns the DSP platform?
Many DSP platforms are owned by trusted established providers and ad networks like Criteo, ExoGroup, and Adsterra. Look for companies that have been on the market for a while and that have a good reputation — not only are they much less likely to scam you, but also know the industry better, and can often provide you with a better service.
3. What features do they offer?
What we mean by this is, what kind of tools and functions does the platform offer you? It seems like a given, but user-friendly interface, intuitive dashboards, personal accounts with API setup pages, live support, and so on go a long way in making your experience much better. 
Another thing to look out for is their payout options: are they regular? What methods do they offer? The wider the variety of choices, the better.

4. Do they offer a personal manager?
A personal manager is not something everyone will need, but they are helpful when you're just starting out or want to branch out and start something new. Not to mention, even experts may run into some issues that can be solved in just a few minutes by a personal manager that is familiar with you and your account.
For example, imagine you want to verify a new endpoint. A task like this can take a while if you're on your own — a personal manager, however, can help you with it or quickly directly connect you with the tech department of your platform.

5. How do they select traffic?
This point will determine how much profit you'll be able to make. Their selection process will decide how well their ads will fit your traffic. After all, users that see irrelevant ads will be unlikely to convert. And you need them to interact with ads to see your profits grow.
Check out the DSP platform's traffic-to-offer matching parameters before signing up — there needs to be a lot of them, at least over a dozen, and they need to be varied.

6. Do they have any in-house solutions?
Any platform worth its time has at least some non-template solutions. A DSP platform having an in-house tech department means that it can adapt to your needs if need be. Any integration would be much smoother — and safer — this way, too.
7. How do they treat their publishers?
Although the satisfaction of publishers isn't really your problem, it's still vital to your own success in the long run. After all, they're the core customers of the platform you will be using — and if there's no demand for your service, your profits will dwindle. 
Check out their reviews and see what they say about the platform you have your eyes on: are they satisfied with their revenue? If not, then the service you're checking is likely not very reliable.

Share the article

Read. Learn. Do. Earn more money on Affiliate Marketing
Don't miss