The article prepared by Travelpayouts

If you love traveling and run a travel blog, you can monetize your passion through affiliate marketing. With our comprehensive guide to affiliate marketing for travel bloggers, you will learn how to effectively monetize your travel blog by selling airline tickets, hotels, car rentals, and other travel services and earning a commission on each sale.
What is Affiliate Marketing and How Does It Work
Affiliate marketing is a type of performance-based marketing that is based on revenue sharing.
Publishers, known as affiliates, who have no product to sell and want to earn money, can promote the advertiser's products and earn an income from every sale.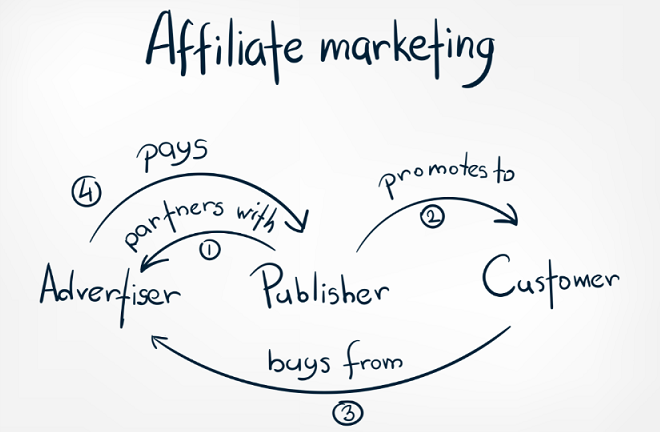 There are countless target niches within affiliate marketing. So choose based on your liking. If you like to travel, we have good news, the travel niche is one of the most attractive markets due to the large selection of products, diverse affiliate programs, and high impact on the global economy.
Travel and tourism contributed $8.8 trillion to the global economy in 2018 and make up 10.4% of overall global GDP. Now, you can eat a piece of this pie by earning a commission on every sale through affiliate programs!
Affiliate Marketing for Travel Bloggers: How to Get Started
Affiliate marketing is a proven way to make money online. However, to succeed, you have to start off on the right foot. Follow our checklist to succeed:
Learn the principles of affiliate marketing.
Find affiliate programs suitable for your audience.
Join the best affiliate networks and programs.
Get affiliate tools.
Organically embed tools into your website.
Analyze statistics and conduct experiments to identify the best options
Where to Learn Affiliate Marketing
Ideally, you'll need to combine learning by practicing on your own with the best affiliate marketing courses. To save time and avoid common mistakes, start learning from the very beginning with the following courses:
All of the above courses provide general information related to affiliate marketing. For more specific information on the travel niche, check out the guide called "7 Ways to Jumpstart with Travelpayouts".
How to Find the Best Travel Affiliate Program
If you've just started to look into affiliate marketing, it might seem like you're completely unprepared for the task. The most important part of the puzzle is to find programs that can benefit you and suit your needs.
On the Internet, you can find readymade lists of the best affiliate programs, such as this one. These lists usually contain the leaders within a specific niche. However, a universal best solution does not exist, since everything depends on the features of your personal traffic. For example, in some cases, pay-per-action affiliate programs will provide the best results, while, in other cases, pay-per-click programs will generate higher income.
Therefore, explore the available affiliate programs for yourself, try some out and find the best solution for you. We have compiled a list of offers and affiliate programs that you can use to diversify your revenue streams and expand your portfolio.
Travel Affiliate Networks
Affiliate networks are the intermediary between the advertisers and publishers. There are many global networks that cover various niches and contain hundreds of affiliate programs. For example, Commission Junction or Awin. In addition, there are more narrowly-focused, specialized networks, such as Travelpayouts, which is the largest travel affiliate network.
Travelpayouts
Travelpayouts is the leading travel affiliate network with over 240,000 registered affiliates and 60 affiliate programs, including:
Travelpayouts offers a range of tools, including API, White Label Solutions, mobile SDK, and more.
Join the Travelpayouts affiliate network to gain access to dozens of travel affiliate programs, detailed statistics, a large knowledge base, and a developed travel community.
Travel Affiliate Programs
If you want to focus on specific products, then we suggest starting your journey into travel affiliate marketing with two niches: car rentals and resorts. These niches offer high rates and less competition than niches like airline tickets and hotels.
Car Rentals
When visiting a new place or somewhere far off from the beaten path, car rentals can be quite useful to tourists. That's where online car rental services like Rentalscars.com or Discover Cars can come in handy.
Rentalcars
Rentalcars.com is the world's biggest online car rental service. The platform is a part of Booking Holdings Inc. and offers its services in over 60,000 locations across 160 countries.
Rentalcars.com works with over 900 companies across the globe to bring their car rental services under one platform. The site has more than 3.5 million reviews and allows its users to compare services before making a commitment.
The Rentalcars affiliate program offers a 6% commission for every booking made through your promotion. The commission is confirmed after customers return their cars to the rental company. You can learn more about their affiliate program and how to join it by clicking here.
Discover Cars
One popular alternative to Rentalcars is the Discover Cars affiliate program. Discover Cars offers one of the highest rates at 56% реr car rental booking from their own income. By renting a car with full coverage, you can earn 24% of Discover Cars' income.
Sixt
Sixt is another service provider that offers rental car services and ride-sharing options through its app. Their affiliate program offers up to 8% for each sale made by affiliate members. The company offers great prices on high-quality cars and offers lucrative commissions for affiliate programs.
Resorts
Resorts provide a great incentive for travelers to promote their services. The audience that travelers can most easily reach is the exact kind of audience that is most likely to purchase their services.
However, you are still limited to how many resorts you can reach out to as part of an affiliate program. Your audience will only take your promotion seriously if it comes after an authentic experience that you had while using the services that you are promoting.
Original Resorts
If you're headed to one of Mexico's several mesmerizing beaches, Original Resorts can offer some great deals through their affiliate program. Their services include hotels, cruises, vacation clubs, and real estate in Mexico's top beach locations. Offering 10% commission on sales, their affiliate program is a great opportunity for any travel blogger.
Palace Resorts
Palace Resorts is another company offering deals for travel bloggers to promote their series of luxury hotels along the coast of Mexico and Jamaica. However, their services are not marketed to business travelers but are instead targeted at families and romantic stays. Their affiliate program offers a 4% commission on confirmed reservations.
Anantara Hotels & Resorts
Anantara Hotels & Resorts is another company offering resort and hotel services for business and leisure stays in several regions throughout Asia. If your audience is interested in holidays within this region, the Anantara Hotels & Resorts affiliate program would be the right choice.
You can learn about the top affiliate programs offered by the best resorts by clicking here.
How to Place Affiliate Tools
Make Links Visible in the Text – They must be a different color from the main text. The reader must intuitively and without difficulty understand that there is a link.
Add Links Naturally – However, the link and any other affiliate tool should be placed where people need them. For example, it makes no sense to share the link before the article just to place it "higher".
Give the Reader a Reason to Click - Warm up the reader. For example, describe the problem, and then place a link to the solution.
Buttons - If you use a button, always add a call to action.
Carry Out Experiments – Try a new placement, change the font or color. Experiment with different ways to find the option that converts better.
Don't Forget About the Comments – Post links not only in the article but also in the answers to questions from your audience.
You can find out more tips on affiliate links by reading this page.
How Much Can You Make with Affiliate Marketing?
Travel blogs, such as It's a lovely life and Local Adventurer, are making thousands of dollars on a monthly basis through affiliate marketing. However, such high returns are the result of investments of time and money. There is no ceiling on earnings in affiliate marketing – the more sales you generate, the higher your income.
Even with a full-time job, affiliates can earn a passive income through affiliate marketing while only dedicating two to four hours a week to the practice. Affiliate marketing can offer freedom from the 9-to-5 grind for those with a free spirit seeking to explore the world.
Travel blogging can be very lucrative if you arm yourself with the proper tools and keep an eye out for the right opportunities.
Share the article

Read. Learn. Do. Earn more money on Affiliate Marketing
Don't miss