Looking for high ROI and bigger payouts? We advise you to pay attention to Gambling Affiliate Programs. Gambling is the popular vertical, there are many interesting and fresh products there and the work of the call center doesn't affect the affiliate's income. If you haven't worked with Gambling yet or you are not satisfied with the results of your CPA, check our list of the best Gambling Affiliate Networks and join the Gamblers team!
Gambling, what is it?
Gambling offers are online casinos, poker, and other virtual casino machines, which are presented in a classic form or as games in desktop or mobile browsers.

Any gambling games are played for money. The user makes a deposit either after registration or after playing for the bonus "free" money that the casino gives to involve him in the game. This deposit is the commission for the partner.

The payouts for Gambling offers are approximately $50- $60 in Tier-2 countries. In Tier 1, the rates are increased by 3 times, and the payouts are $130- $160. The hold in these offers is often higher than in other verticals, which is due to a more complex traffic quality control system. However, for trusted partners, CPA-networks always reduce hold to a minimum.

What format of cooperation should an affiliate choose?
There are two formats for working with gambling offers - through CPA networks and directly from the casino. Let's take a look at the advantages and disadvantages of each method.

CPA networks
The affiliate is provided with a wide range of offers. There is no need to register in every affiliate program and communicate with a new manager. Also, CPA provides a personal manager who can advise an offer that works better right now in a particular GEO - they have statistics on all offers that are connected, and you can compare their profitability in a separate period. Also, a significant advantage is special offers, various bonuses, and promotions.

The disadvantage is that the affiliate network takes its percentage of earnings for its work.

Working directly with the casino
The advantage is that you can personally discuss the conditions - if you have good traffic, then you will easily get the maximum bid from the advertiser that no CPA network will give. This also applies to such conditions as the frequency of payments and hold.

If you work on RevShare and want to receive money from each player for years, then a direct advertiser is the best option.
But if you are a beginner, you work with purchased traffic and low turnover, it will be easier for you to start in a CPA network.

Payment models in gambling
CPL (payment for lead, for registration)
This model is suitable for new affiliates. The user registers and leaves his data. After that, the lead is considered valid and the advertiser charges the affiliate a commission.
CPA (payment for deposit)
The advertiser sets the amount of the minimum deposit, and as soon as the player deposits money on the balance, the partner is charged a commission.
RevShare (% of casino profits)
The casino shares a percentage of the money earned with the affiliate. This scheme is only suitable for old partners, as it's not so easy to access it. Most likely, affiliates will have to work with the advertiser directly, and not through the CPA network, besides, they need to confirm the quality of traffic in practice.
Some affiliate programs may have mixed payment models. For example, payment for registration + payment for the first deposit, or payment for registration + revshare according to the next player's history.
What about creo and traffic sources?
Creo in gambling is always bright and exciting. The app icon should be easily recognizable as a casino without creating confusion. The ad text is short, with keywords for the player. And of course, use emojis as they add CTR to your ad. Also remember that the video ad gets more clicks, cause the dynamic image and the sound attract the user better.

Let's take a look at popular traffic sources:

The context is considered a premium traffic source, the audience is the most interested there. Therefore, affiliates get maximum bids.
Facebook is not inferior to contextual advertising because its audience is considered to be the most solvent. However, you need to consider the difficulties of passing moderation that has arisen recently.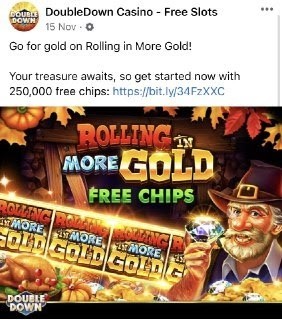 SEO is characterized by relative cheapness and high conversion rates. However, this source has its drawbacks - the problem of control and the delayed result.
Push-ads, Teaser ads, Popunder, Popup
These sources are easier for newbies to enter the vertical, since there is no need to cloaking and pharming accounts. However, for high conversions, affiliates need to repeatedly test pre-landing pages and targeting correctly.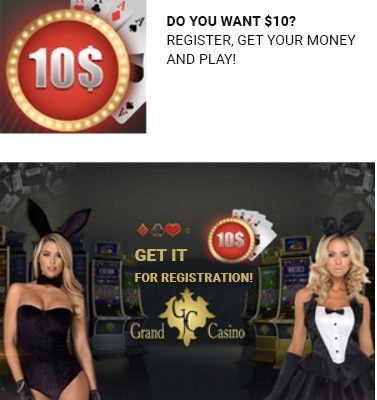 Best Gambling Affiliate Programs
Now let's move on to the most responsible and important stage. In order not to spend a lot of time searching for a suitable Affiliate Program, we have prepared a list of the Best Gambling Affiliate Networks.
#1 Max.Partners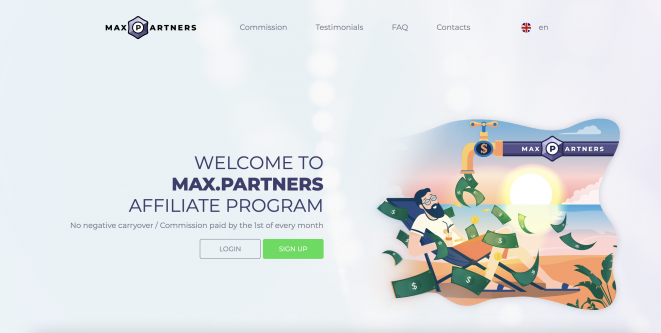 Max.Partners is a direct affiliate program of MaxCazino. After registration and account activation, you can start with one of the standard promos, all materials for which are provided by the program, or come up with something of your own - for this as all opportunities are given.
After signing up you will have a "default" commission plan, which provides RevenueShare with a differentiated percentage of 25-45 depending on the number of players. In order to get commission with a fixed Revenue Share or CPA\Hybrid plans you need to contact MaxPartners support team on the following contacts:
e-mail: [email protected]
telegram: @maxpartners_aff
Skype: live:.cid.85d46a3294856f9a
MaxCazino accepts traffic from all countries except France, Latvia, Netherlands, United Kingdom, United States, Slovakia, Russia, Ukraine and it is constantly working on improving conditions for players.
Max.Partners and MaxCazino have dozens of experienced partners from the gambling industry, campaign performance tracking is easy and convenient, managers respond quickly - so if you want to work with an experienced member of the iGaming and gambling niche, this program is definitely worth your attention.
Revshare commissions: up to 45%
Commission types: CPA, RevShare, Hybrid
Offer types: Gambling
Offer GEO: Whole World (except 8 countries: France, Latvia, Netherlands, United Kingdom, United States, Russia, Ukraine, Slovakia)
Tools: Banners, Landing pages, Promo codes
Minimal withdrawal: $50 (Net30)
Payment methods: Neteller, Skrill, Bank wire, Bitcoin, Litecoin, Ethereum
#2 Royal Partners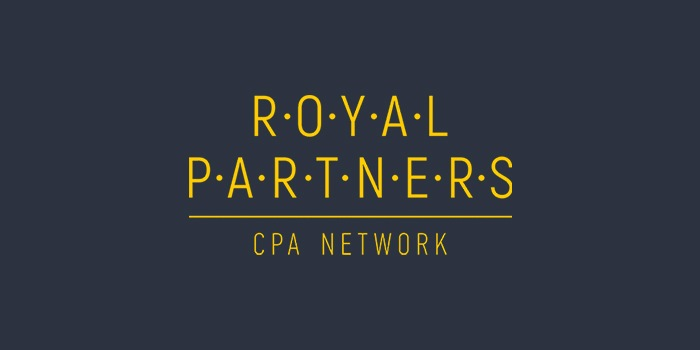 Royal Partners is a promising and growing partnership program that will allow you to earn on attracting gambling players. Royal Partners offers individual conditions for cooperation and provides professional support to each partner.

Payment model - CPA (up to $ 100 per lead), RevShare (up to 60%)
Minimum withdrawal amount - $50
Benefits:
Big brands with high conversion rates

Fast withdrawal of money
Monthly and weekly commission payments
Profitable RevShare and CPA partnership
A wide selection of promotional materials
Individual restructuring of negative balances
24/7 online customer support
Special privileges and bonuses for regular partners
#3 Gambling Craft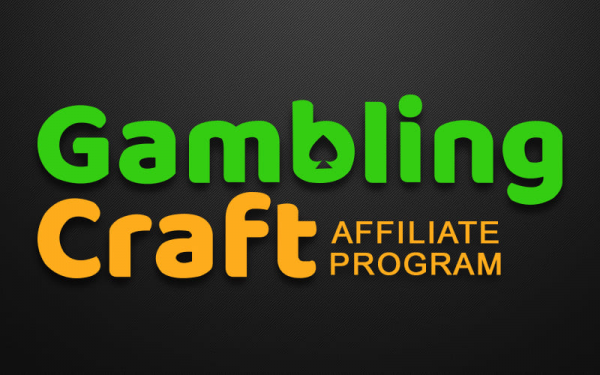 Gambling Craft is an affiliate program of the popular Play Fortuna and Booi Casino with a lot of interesting promo materials and various payment models. Both casinos are very popular among gamblers and are considered to be among the top ones. The geography of the received traffic is Russia, the CIS and European countries.

Payment model - CPA (up to $450), RevShare (up to $50), Hybrid

Minimum withdrawal amount - $20
Benefits:

High deductions
Zeroing negative balance
White casino with a license
Convenient and fully functional admin panel
Payments to popular payment systems
#4 Alfa Affiliates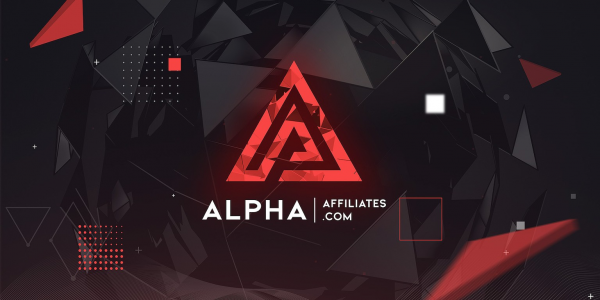 Alpha Affiliates, an affiliate program specializing in the promotion of gambling, is a direct advertiser for six licensed casinos. It features a transparent scheme for the formation of partnership deductions (without hidden commission costs).
Payment model - CPA (100- 200 EUR), RevShare (up to 50%)

Minimum withdrawal amount - 50 EUR
Benefits:
Promotes legal brands

Referrer gets 5% of FD players
No hold
No negative balance carryover
Independent brands
24/7 partner support
Advanced conversion options
In-depth analysis of statistical data
Multiple promo formats
#5 Leadbit Gambling

Leadbit Gambling is an international CPA network working with more than 150 gambling offers on favorable terms around the world. The affiliate program provides WW offers, bonuses for arbitrage instruments, cases for a profitable launch, offers with increased points in the Leadbit Store: a gift store where you can choose valuable prizes for points.
Payment model - CPA, CPL и CPI

Minimum withdrawal amount - $30
Benefits:
Wide geo coverage

WW offers and exclusives
No hold
Profitable launch cases
Increased rates after the test
Increased points in the Leadbit Store
#6 CPAToday.biz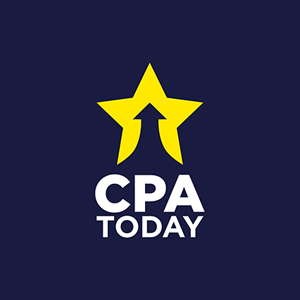 CPAToday.biz is one of the leading CPA networks in the gambling industry. They offer a large number of offers from top brands with extensive geo.
Payment model - CPA, CPL

Minimum withdrawal amount - $50
Benefits:
Early payments

Profitable geo
Detailed statistics
Detailed tracking of targeted lead actions using a global POSTBACK
Daily payments
Support 24/7
#7 1Win Partners

1win Partners is the official partnership program of the boomer company 1win, which offers profitable monetization of gambling traffic.
Payment model - CPA ($25 - $80 per lead), RevShare (up to 60%)

Minimum withdrawal amount - $1
Benefits:
Daily payments

Best quality of products
Detailed statistics
Customized promo-materials
Personal manager 24/7
Support and training
#8 Game-revenue.com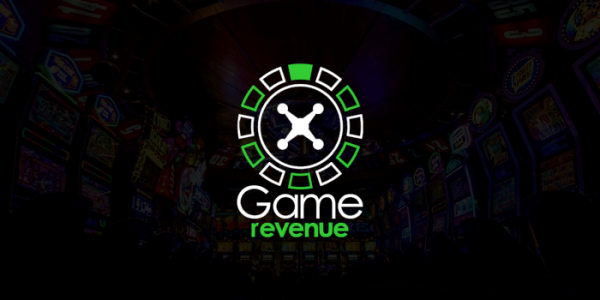 This is one of the brightest representatives of gambling affiliate programs.
Payment model - RevShare (40% - 60%)
Minimum withdrawal amount - $50
Benefits:
High bids

Licensed offers
High conversions
Writing off negative balance
Exclusive promotional materials
Reliable statistics tools
#9 Mostbet Partners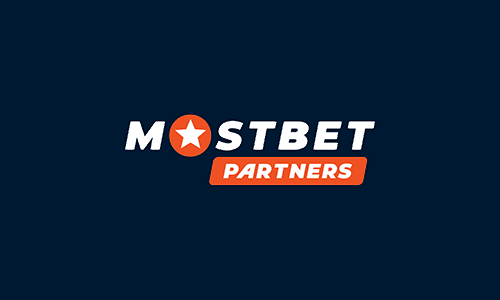 Official Affiliate Program of online casinos and BC Mostbet.com which has thousands of slots at its disposal, as well as a multi-level system of benefits and cashback payments every week.
Payment model - CPA (up to $ 75 per lead), RevShare (up to 60%), RS+CPA
Minimum withdrawal amount - 50$
Benefits:
Wide geography - 50+ GEO

High Retention rate and user's LTV ways of earnings withdrawal and payments on request
Convenient ways of earnings withdrawal and payments on request
Thematic promo materials
All necessary metrics in statistics
Unique conditions for top partners
Personal manager
#10 PlayAttack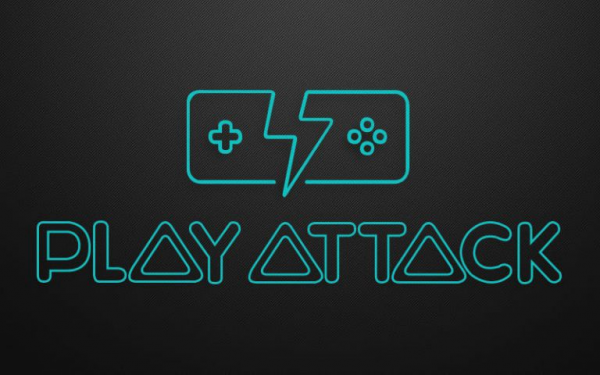 PlayAttack is a Gambling affiliate program affiliated with Frank Casino and Drift Casino.
Payment model - CPA (up to 200 Euro), RevShare (up to 55%)

Minimum withdrawal amount - $10
Benefits:

Licensed software
The best gambling brands
Large commissions
New gambling establishments
#11 3snet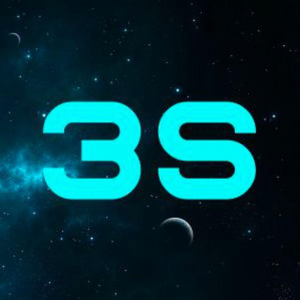 3snet is a large partner network with gambling and sports betting offers. Suitable for European traffic.
Payment model - CPL, CPA, CPI, RevShare
Minimum withdrawal amount - $250
Benefits:

Variety of offers and their large number
High deductions
Wide geo
Many allowed traffic sources
A large number of tools for tracking traffic
Flexible traffic reports
Individual conditions
#12 Gagarin.Partners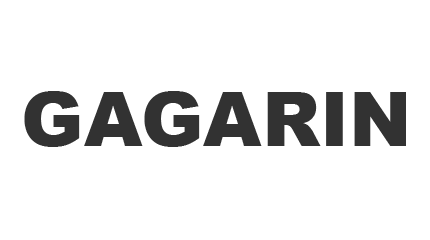 Gagarin.Partners is a direct advertiser, official Pokerdom affiliate program. They accept traffic to poker and casinos.
Payment model - CPA ( $50- $150), Revenue Share (25-45%)
Minimum withdrawal amount - $200
Benefits:
Direct advertiser
Licensed Products
Conversion 1: 3 to deposit
Offline brand development
Responsive support
High flow of leads
The pace of development of online and offline gambling shows impressive growth, steadily adding to the turnover by an average of 10-15% per year. Online gambling revenue in 2020 is more than $ 500 billion. Many factors contributed to this, and one of them is the quarantine- people are bored of sitting at home, so they are happy to start playing online games, moreover, the fuel to the fire adds a tempting offer - "You can win money for free". In 2021 these indicators will increase And this is no longer a question of quarantine, people are completely involved in online games, and rumors of incredible winnings only contribute to the growth of this industry.

In order to track the popularity of Gambling on demand, we used Google Trends according to the words "Online Casino".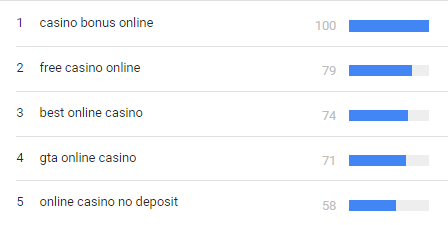 This is a list of the most popular searches. People are interested in no deposit casinos and bonuses.
Then we looked into which countries are most often searched for online casinos on the Internet.


In the first place are New Zealand, Laos, and Portugal.
But it should be borne in mind that these are personal requests of users on the Internet. If you request statistics from the casinos and CPA-networks, the picture looks like this: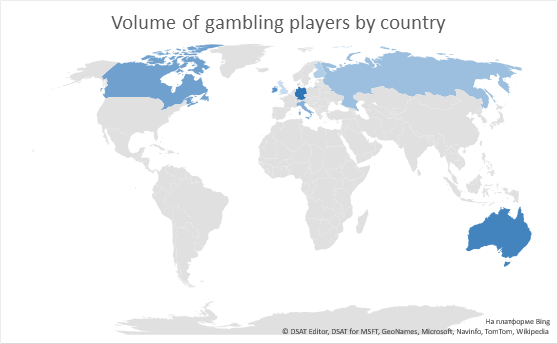 Australia and Germany are showing impressive spending figures and stable growth with over $ 1,100 per capita. Russia, Ireland, Singapore, and Canada are also at the top. Further in the ranking are Finland, Great Britain, and Belgium.
Conclusion

Gambling does not give up its positions and is gaining popularity every year. If you are looking for high payouts and conversion rates, you should try yourself in a gambling affiliate program that you can choose from our top list. Don't forget to test new approaches in order to pump your skills. And we wish you space ROI, large deposits and only high-quality traffic!

Share the article

Read. Learn. Do. Earn more money on Affiliate Marketing
Don't miss