Do you want to earn money from the monetization of traffic with push-subscriptions? Then you need to carefully approach the choice of advertising network where you will work with traffic. After all, it is the demand for pushes - their bay-out and bid make your earnings. And earnings may be extremely different, especially given the realities of 2020...
What are we talking about? Not so many advertising networks still have a buyout of push-subscriptions at their disposal, and even fewer can afford a CPS model (payment for 1,000 subscriptions) with good bids – not so many people are ready to bear such risks.

To work on a RevShare model is an optimal way-out. Any country can show green ROI at a distance with the proper approach. And there is no need to get attached to the interest that the ad network promises. Only tests will show the real payback. Many factors influence profitability. They are the rate of conversion into subscription and its cost, frequency of sending pushes, traffic quality, bid in an auction, etc.

Cheap tests are a huge advantage of push-subscriptions for webmasters. Sometimes, it's enough to have ten dollars to compare various advertising networks. Besides, it's an additional way of making money on the site for webmasters. That's why the vertical is extremely friendly - a simple funnel and inexpensive conversions that allow you "to feel" traffic.

If we talk about advertising networks that are definitely worth testing, then take a closer look at zPush. They have been working on the market for quite a long time and offer good conditions for work. What are they? Let's figure it out together.

Monetizing push subscriptions with zPush
Advertising network zPush.biz started working public in 2019 and despite the changeable market of pushes, keeps on working and accepting traffic from any GEO. The platform offers working on RevShare as well as CPS after tests.
If we talk about rates, the RevShare is 90% and can reach 95% at the distance. As for actual rates on CPS, you can find them in your personal account, or ask your manager to provide them: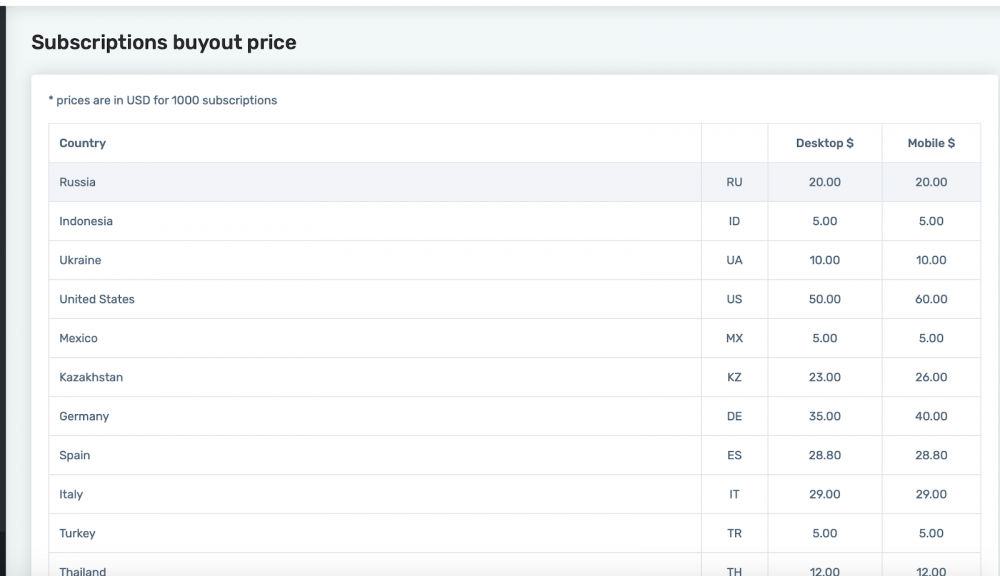 zPush has the following advantages to boast of:
First of all, they accept traffic worldwide (any GEO).
The integration is simple. Just insert the script and start collecting subscriptions (further).
There is an opportunity to choose the frequency of mailing, as well as additional solutions for completing monetization and optimization of the number of users to unsubscribe.
A unique solution that allows you to increase the number of subscriptions (up to 40-60%) without sanctions from search engines (for owners of websites).
No hold and prompt support.
zPush now offers nice promotional conditions - double pay for the first week, as well as increased payments for the first month of work. Got interested? Then sign up right now.

How to get started with zPush
If you have your own website and want to monetize it with push-subscriptions, then just add the site in the "Sites" section. Here, it is enough to specify the name of the site, open access to statistics, and load the script to the root of the site.
Optionally, you can work on completing monetization in in-site format, as well as you can choose the number of pushes sent per day (the average number is 16, it allows the audience not to burn out so quickly, and gives quite good income):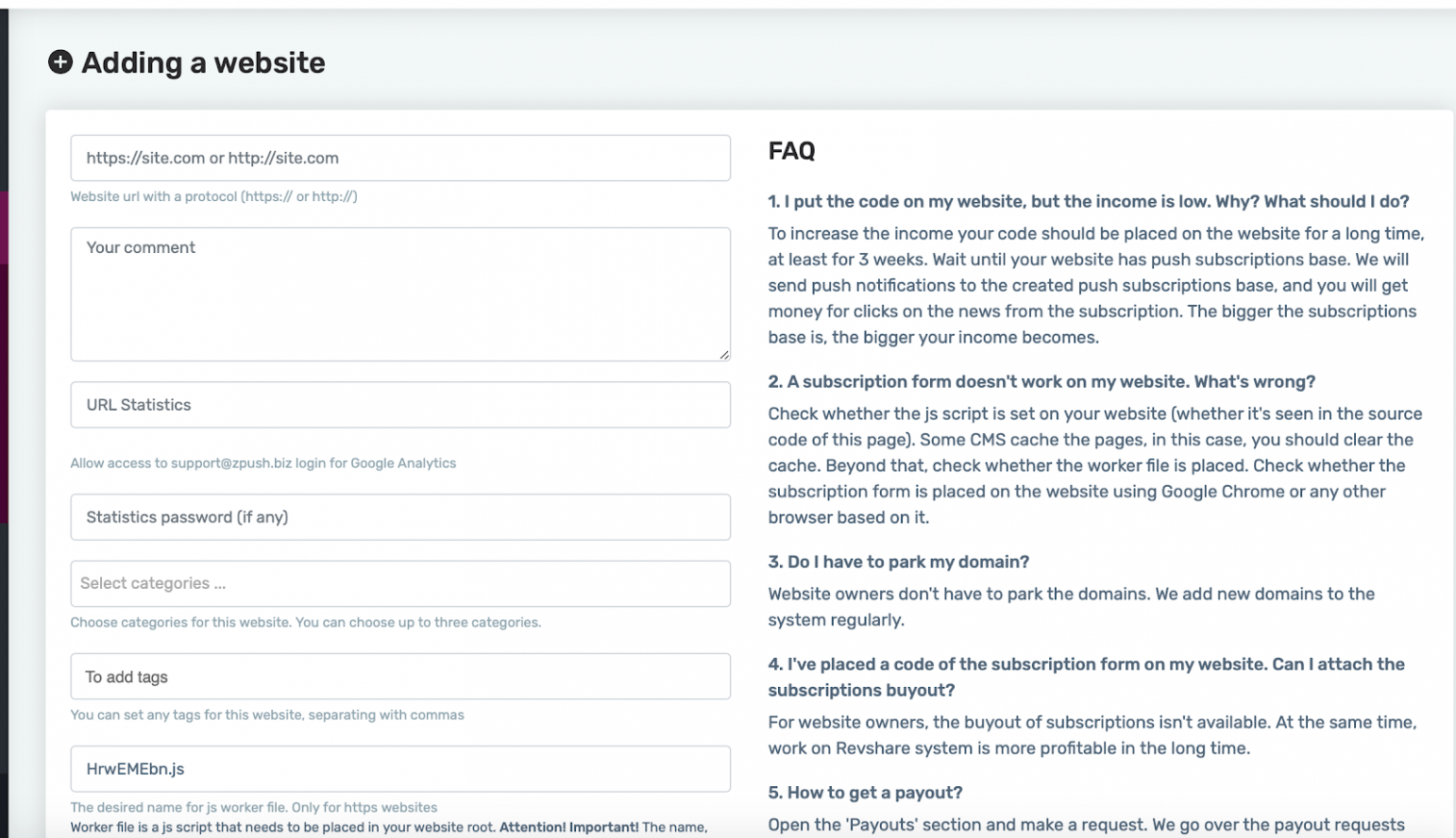 How to drive traffic to the landing page?
First, create a "Direct Link". To do this you just need to enter a name, specify the type of traffic and category. Optionally, you can specify Trafficback, Postback, and Subsback URL (link to which traffic will be redirected after subscription - you can insert any Smartlink or WW-offer).
Also here you specify the complexity (the number of subscription forms that the user should close - if this is not your site and there is no sense to spare the feelings of the audience, then you don't have to go up to the end), and the number of subscriptions.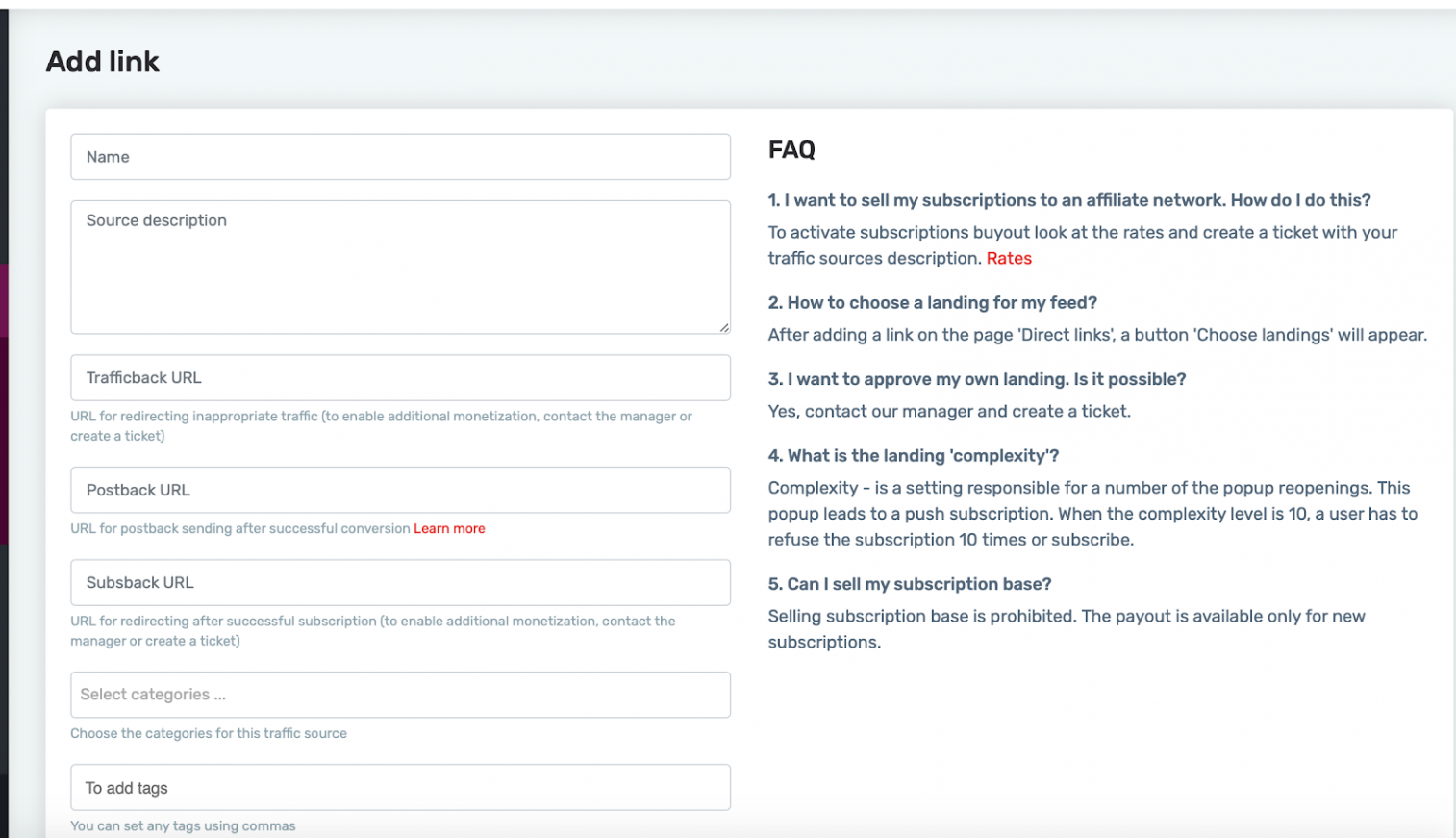 Next, after the moderation, we can choose a ready-made landing page for the link: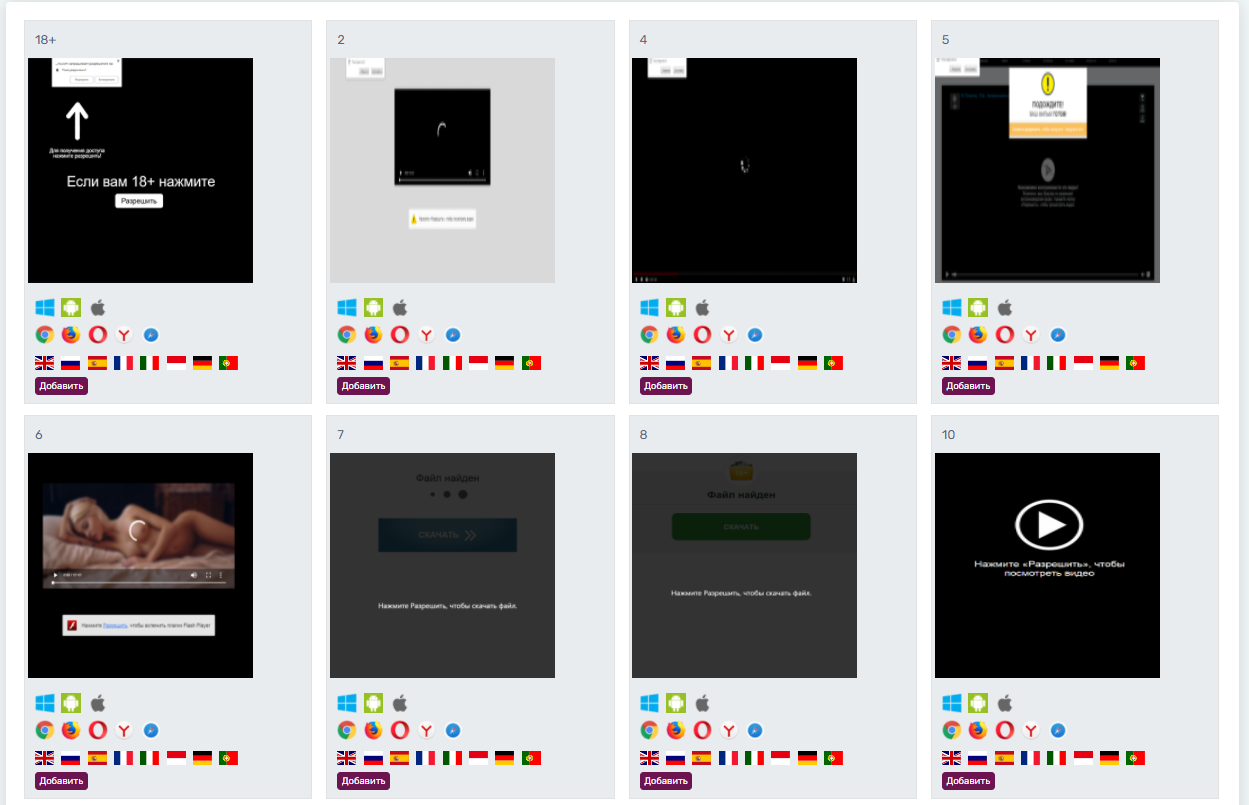 Get a link by choosing a domain (or insert your own) and go to check the correctness of the work.
Actually, that's it! If we talk about the volume of traffic, pops still remain the most common source for push-subscriptions. Cheap traffic to optimize and look for approaches with maximum CR.

All data fall into the Statistics section. By the way, the interface is quite simple and pleasant.

Statistics have the possibility of segmenting subscriptions by sites, days, countries, formats, devices, as well as filtering by sub-labels, links, landing pages, sites, GEO. In general, a complete set of features for comfortable work: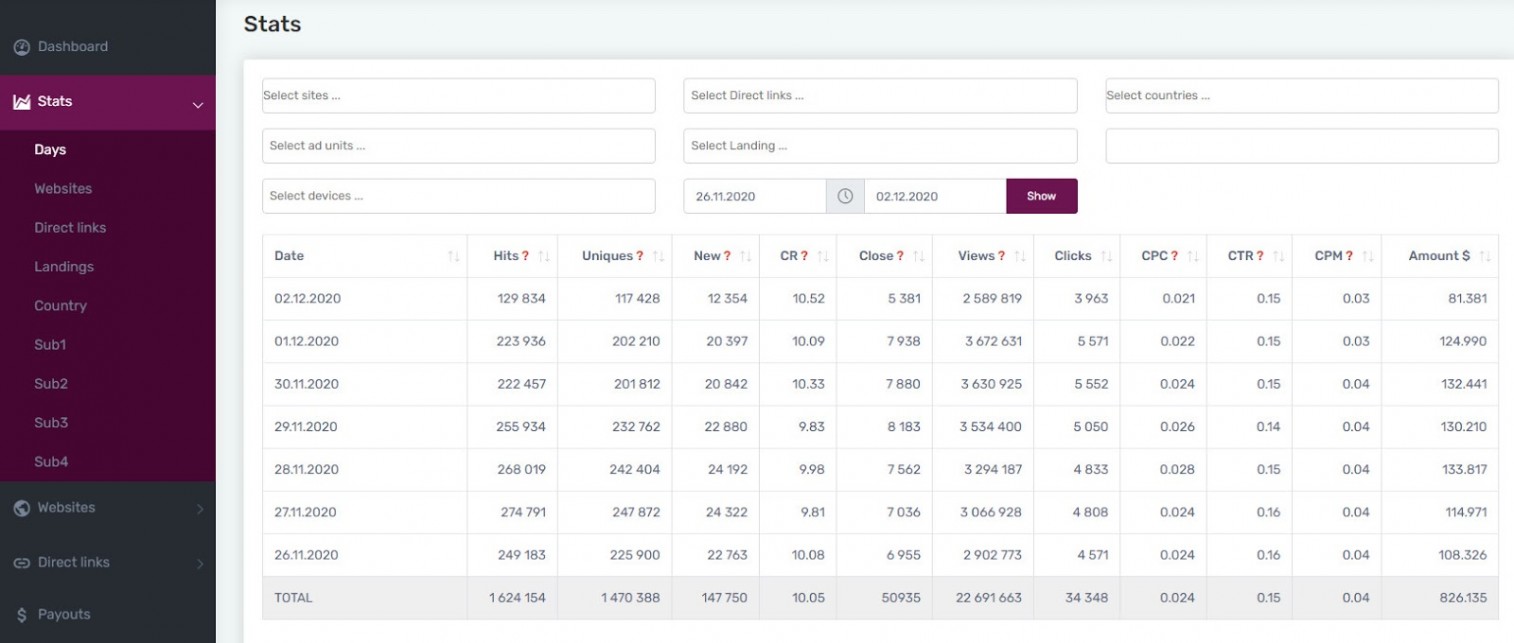 Payouts
No problems here. Especially for pushes. Payments are made on time and in full. The absence of hold cannot but make you happy. You earn money and get it on the same day. By the way, you can do so by means of Webmoney, Paxum, and Wire transfer.
And for fans of referring there is a 5% referral program.

Conclusion
Pushes have become an indispensable advertising tool that allows you to earn from both sides – use it as an advertising format, and as a way to monetize traffic. Despite the fact that the hype around pushes has subsided, you still can keep on working with them and keep on making good money.
ROI is a bit lower than it was at its peak, but so is the competition due to a host of factors. This makes webmasters look for proven advertising networks that are willing to take responsibility for monetization and, of course, payouts. The main job now is to find a proven network where you can work with volume, and that will show excellent statistics.

zPush is a good example that worths your attention. They showed a decent result in independent tests. They offer good conditions, and, what is important, they have a good reputation among webs.

What to choose? It's up to you to decide. The functionality of the network allows you to customize your funnel, offering ready-made creatives and variability of mailing, and the support is really responsive and can help in solving any issues.

Register now while the service offers promotional conditions such as increased payments for the first month of work, and try it all yourself.

We wish you the cheapest subscriptions, no unsubscribing, and the highest profit from traffic!

Share the article

Read. Learn. Do. Earn more money on Affiliate Marketing
Don't miss