Over five days travel marketers and influencers shared their tips on how to monetize content and become successful on your own terms. missed the summit? We've brought some takeaways for you.
The travel industry is constantly changing and so are the tools of promoting travel websites and SEO. Popular destinations and travel trends are very dynamic, so bloggers and brands must adjust swiftly to these changes. Besides, COVID has changed the industry forever - it's hard to think of another challenging year.

Adjusting to the times
"The travel industry has been hit particularly hard by the pandemic, but there are signs of hope. Weekend trips, local destinations, and family road trips have become the travel of the current times. The websites that weather this storm will be the ones who rapidly adjust to meet these new trends", - says Laurie Tighe from Budget Your Trip, a website that helps travelers plan trips and tracks their travel budgets.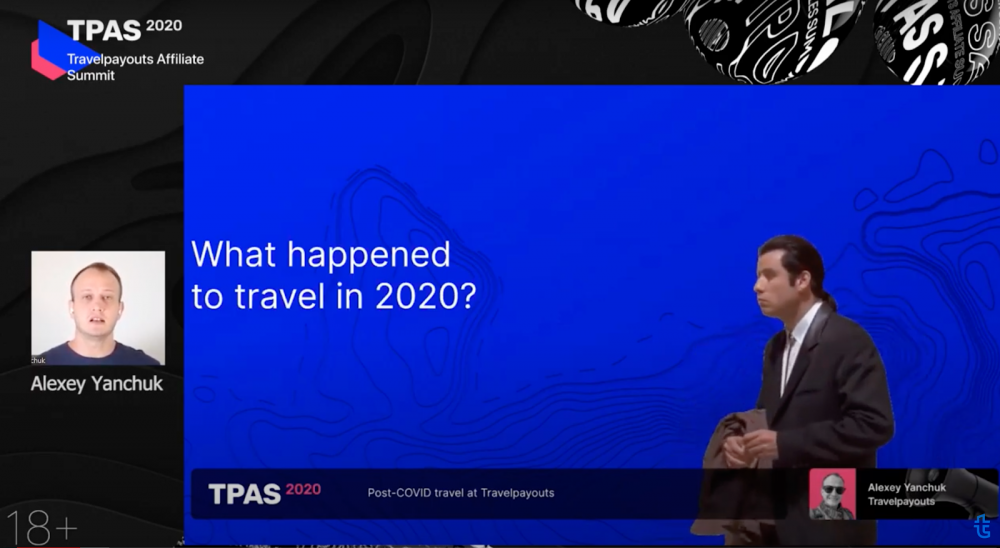 Alexey Yanchuk from Travelpayouts described how the company is wading through the time: "Travel restrictions around the world caused changes for affiliate marketers and we see a decrease in conversion, higher rates of refunds in avia and hotels, as well as addition of new products and services to affiliate programs, such as online tours, COVID-19 insurance, etc. At the same time, there has been a suspension in affiliate programs – some advertisers stop accepting affiliate traffic or decrease commissions".
According to market research trends, affiliate marketers need to adjust to a changing reality and use new tools for making money, such as automatic monetization of the links, scripts to quickly redirect the traffic after program suspension.

In 2021, Travelpayouts is going to keep supporting affiliates and educate them on how to take advantage of each offer. "We start creating widgets for our advertisers - a travel map that allows users to find the best accommodation around a specific area. We'll continue adding more advertisers and create widgets for them. Beyond that, we are investing in mobile and recommend other affiliates focus on this", — Yanchuck added.


Use cases
Lea Palova from Kiwi.com, one of the largest flight bookers in the industry, shared how to use affiliate tools to grow your business quickly.

First off, it's crucial to remember that the monetization process takes time. Organic traffic to a blog or website comes with a combination of SEO optimized content and audience on social media or email subscribers.

There are many ways to monetize your traffic: sell your own product or service, use paid subscription or membership content, as well as sponsored posts and product reviews, contextual advertising, sell ad space, offer donation, and try affiliate marketing.

"However, don't use too many affiliate offers on one site and avoid suggesting wrong offers to the wrong audience. We recommend to run A/B tests on the design, offers and placements and then to publish offers and campaigns regularly and reach out to advertisers for new offers or discounts. Kiwi allows bloggers to promote travel content by using affiliate tools such as widgets, deeplinks, banners and creatives, API and white label", – Palova shared.

Producing quality content for travel blogs
During the Summit, speakers devoted a great deal of attention to the ways of creating quality content for monetization.

First things first, and choosing a niche makes building a blog easier and faster. The right niche connects an affiliate with a focused and interested audience, and makes their business more searchable online.

"After COVID-19 local travels will be more popular for travel bloggers. Established bloggers will be able to recover more easily because of their strong brands. And new bloggers will need to niche down in order to stand out", – said Somto Ugwueze, founder of the SomtoSeeks blog.

Ugwueze also shared tips on how to create a successful travel blog after COVID-19: "There are key components to epic content you should follow. First of all, address one topic in depth. Offer a new perspective or address something that most other posts omit. Optimized for keywords, but focuses on the reader first".

While creating a successful travel website, bloggers should pay attention and avoid common mistakes: writing for yourself instead of for your audience, ignoring SEO, trying to build a presence on multiple platforms at the same time, not building relationships with other bloggers.

Megan McMullin from MeetEdgar, which provides social media management tools, encourages create smarter content rather than more content. As in the Pareto 80/20 rule, 80% is valuable content and 20% - promotions.

"The more systemized your content distribution is, the more engagement, reach, and impact you can have. Distribute with purpose, value and promise. And remember that most people need 7-10 touch points with content before they even open it. Upcycle content across all your platforms, transform blogspot into a podcast, newsletter, or a lead magnet, even try video format where you explain the core takeaways from your post", – said McMullin.

Facebook Ads and SEO
Speakers concurred that Facebook ads are still an effective tool of monetization (83,3% of social ad spending is on FB), as they can produce fast results, reach your ideal audience, and are customizable. They can increase affiliate and ad network incomes, website page views, and help build an email list.

According to Facebook data, since the pandemic started, there has been an increase in time spent across Facebook apps of 70%.

Even though the travel sector is on pause now and companies and brands are trying to save money, Jason Hunt, Co-founder of Merged.ca, a digital marketing company, recommends to stay relevant and run small ads for small budgets and keep investing in your audience.

Alexa Williams Meister from 52 Perfect Days, a popular travel blog, shared her experience with using Facebook ads to drive traffic to optimized articles.

"To make blog more profitable with Facebook ads, bloggers should create content worth promoting and choose the right articles to promote with Facebook ads. Analytics is the key. If you can find a cash cow or create one, you can earn regular income from your website. To find it, examine Google Analytics (check out the last 30 days, 3 months and the same months last year), explore Pinterest Analytics and Google Trends, and always check affiliate analytics for spikes", – Alexa Williams recommends.

Thus, a combination of affiliate networks (such as Travelpayouts), ad network and Amazon's affiliate network will create a website that makes money.

Laurie Tighe from Budget Your Trip shared some tips on using SEO to grow organic traffic: "Link building is the most effective way to grow your website's ranking. Links on major websites cause a quick spike in traffic".

Name and brand recognition are important, but most revenue comes from new users, especially in the travel industry. Finding loyal followers is challenging, but newsletters, social media and bookmarks can create loyalty.

Quality content is key. Studies have shown that longer articles (at least 500 words, but preferably over 1,000) rank higher. Writing multiple articles around a specific topic implies expertise, which Google likes.

Google updates their algorithm frequently. Being proactive by creating high-quality content and only building trusted backlinks is the best way to address future changes.

On top of monetizing techniques, Oneyka Raymond, a television host featured in Conde Nast Traveler, CNN, NBC New York and other media channels, shared her vision on how personal branding helps travel bloggers earn more. I had a couple of posts going viral, as a result, publications and brands got attracted to me. I believe the power of publicity is extremely important to someone who is trying to monetize their blogs".

Watch more talks and connect with Travelpayouts on YouTube.

Share the article

Read. Learn. Do. Earn more money on Affiliate Marketing
Don't miss