Affiliate marketing is one of the most prominent forms of marketing today and it's a really simple concept. If you manage to drive traffic to someone else's product or you manage to direct someone to make an online purchase, you get a small cut of the transaction.

Amazon has one of the largest Affiliate marketing networks on earth. It's hard to estimate how many websites and blogs are currently a part of the 12 Amazon marketplaces that offer an affiliate program. There are some very rough estimates that put the number between 100,000 and 1,000,000. Clearly, there is money to be made by being a part of an Amazon affiliate network.

How to get started
The program is actually called Amazon Associates, and it's relatively easy for anyone to sign up. However, you do need to have certain requirements met before you can even consider becoming a part of the program. This usually means that you have to have a platform on which you can post the links to products. Your platform could be a website, blog, social media page, or youtube channel. To become an associate, you need to follow these steps:

Go to the Amazon Associates page.

Click on New Customer and start to create your account.
Enter basic information, and your website or social media profile URL.
Сhoose a name for your store.
Explain how you direct traffic to your site.
Enter your phone number.
Choose the method for receiving payment.
Build your Amazon affiliate links.
The rules and guidelines for being an Amazon associate
There is a very long and tedious list of guidelines for Amazon associates. However, the most important rules can be boiled down to this:

You must state on your platform that the items you are including are ones that might bring you financial compensation.

You cannot be deceptive in your claims about the products you recommend.
Avoid using prices in your recommendations since they are subject to change.
You are not to use your links in any form of offline promotion (outside of the platforms you have listed in your application).
You are not to shorten or abbreviate the links generated from the Amazon associates panel.
The properties of a good product
Now that we understand the rules, it's time to get into the qualities of a strong product that you can promote on your platform. This depends to a great degree on the type of content you usually produce, as well as the areas of interest of your visitors or followers. There are several areas where you need to be paying attention when it comes to choosing the right products to promote.

The price
The price is a very important factor, for multiple reasons. First, you as an Amazon associate are getting your earnings based on the percentage of sales, so you might naturally think that it's better to promote more expensive items in order to get more commission. However, what you really want is to earn as much money as possible.

You also need to consider how important price is to anyone that is making a purchase. It's one of the most crucial factors that go into a decision to buy. This might be something you want to experiment with. It is also very important that you know your audience. Based on that, you can see if one price point or another is going to work for you. The fact that you can keep generating more links and trying out different products is a great opportunity for you to experiment and learn more about your audience's preferences.

The product category/niche
This is another factor that is greatly dependent on your audience and your content. If your content is related to a certain lifestyle or an interest, you should do your best to identify which niche or subcategory on Amazon corresponds with that. Then you know what is the best place to go looking for new product ideas that you can evaluate.

Of course, if you have a more general audience or your content is not really specific to a certain interest then your best bet is to look for products that are generally in demand and that most people would be interested in. In this case, it's best to be watching the bestseller pages: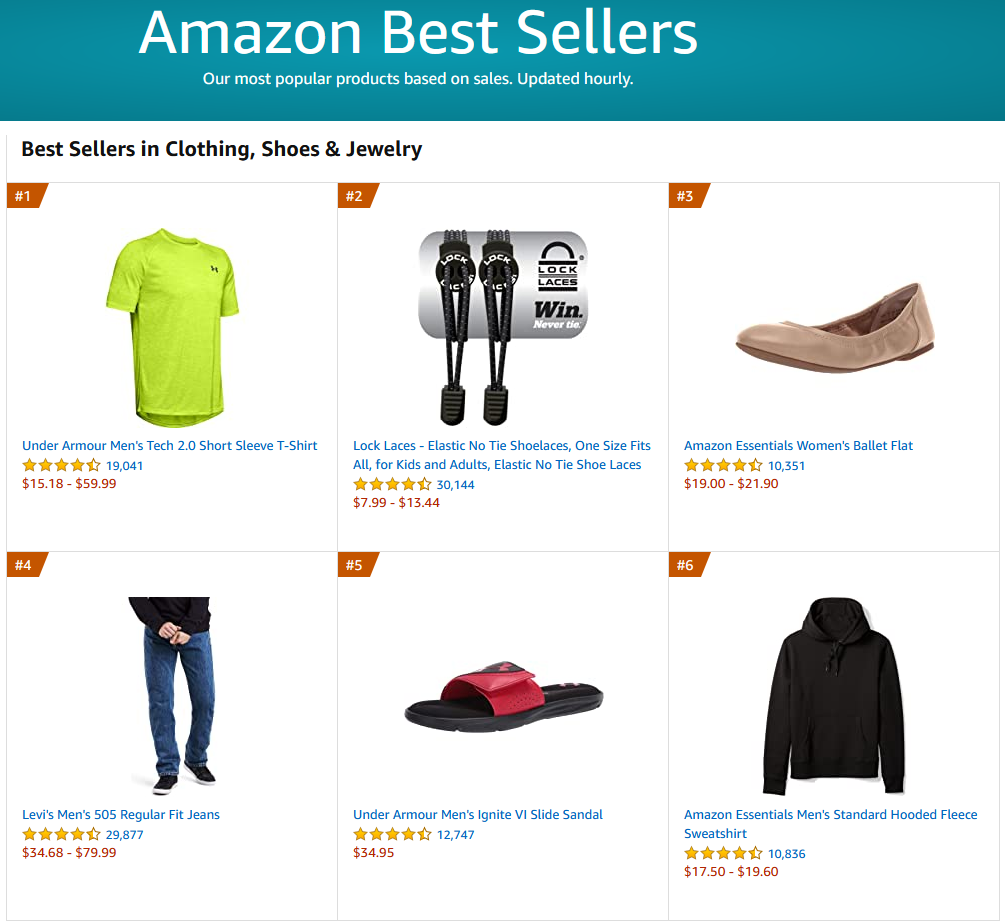 Here, you can actually see the bestsellers for any niche and find good product ideas. This is also something you can be checking regularly since the bestseller ranks on Amazon get updated hourly. You could be finding new products all of the time!
The reviews
Reviews are extremely important when it comes to making a purchasing decision. In fact, getting reviews is one of the main challenges any seller on Amazon faces in order to rank their product up and convert more sales. Also, Amazon has gotten extremely strict in the way they control how reviews are being left. This means that the rating and reviews are very accurate and representative of the customer's experience using them.

So, finding products with very high ratings and a high number of reviews is a great way to validate the impulse that any of your website visitors has when they click on one of your affiliate links. If they are already interested in the product, and they take a closer look and see the overwhelming number of positive customer experiences, this will only go even further to reinforce their initial curiosity, making it more likely that they will indeed make a purchase.

The demand
The demand for a product is very difficult to assess with the naked eye. In order to see how truly popular a product is, you need some additional information. This is where a tool such as the AMZScout Pro Extension really comes in handy. This article is all about how to find the perfect product to sell on Amazon. This is the sort of information Amazon sellers use, however, the information could be just as useful to an Amazon affiliate.

This extension works on every Amazon page, and it can be turned on with a single click. Once you do that, you will have access to all of the information that lies beneath the surface, including most importantly the sales of any product: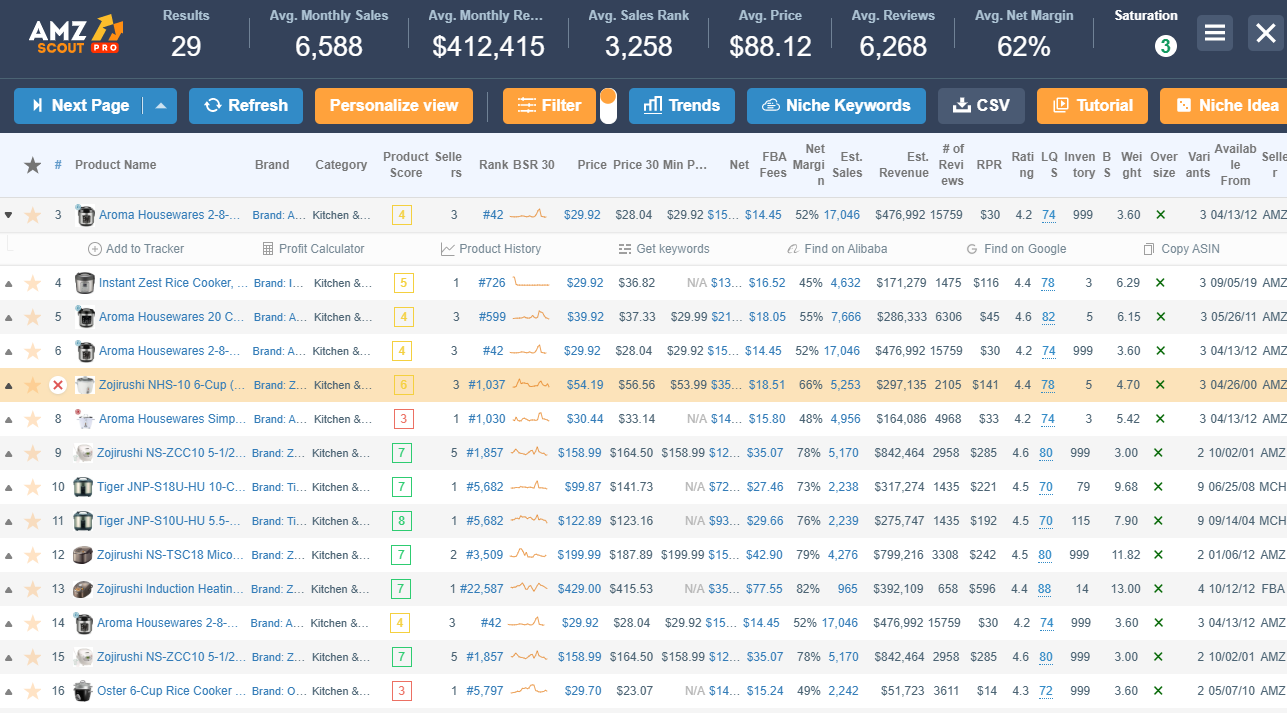 Knowing how much a product is selling a key indicator when it comes to determining its popularity and demand. By choosing products that sell more than others you are more likely to choose a better product.
Another important aspect of the demand is how consistent it is throughout the year. This is another piece of information that is almost impossible to find out on your own. Here is where you can make great use out of a tool like the AMZScout extension. You can see the sales history of any item just by clicking on the small graph next to any product title: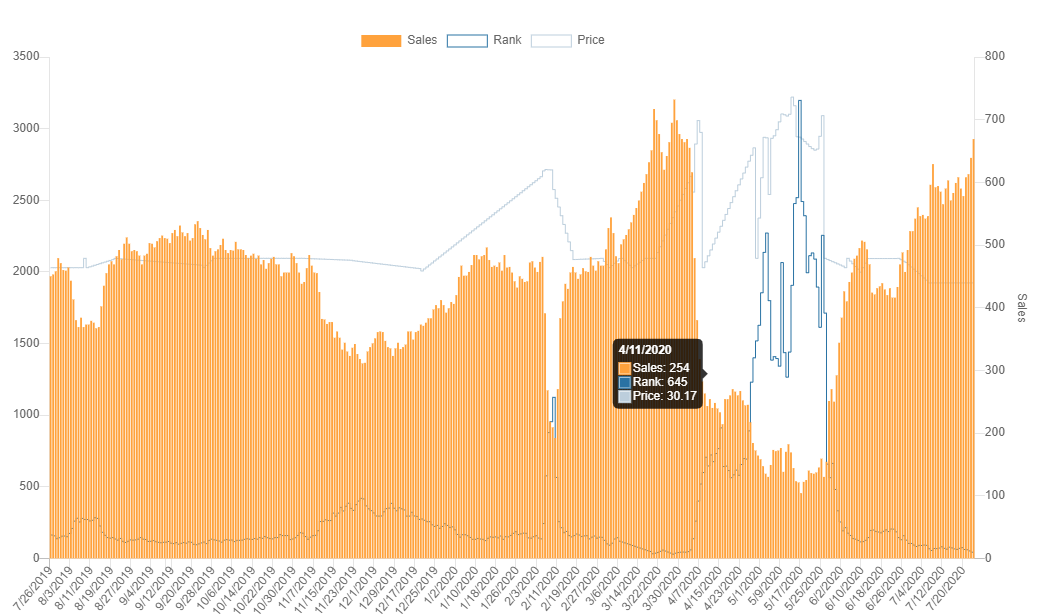 Figuring out which product is evergreen in terms of demand is very important if you wish to find any products that you would want to keep promoting and rely on for a regular stream of income.

Using the proper criteria and finding actual product ideas
So far, we've figured out that we want products that are in a relevant niche, that are sold at the appropriate price for our audience, that are in high demand, and that have a high rating as well as a high number of reviews. Now, you can simply browse Amazon and keep those criteria in mind, or you can do things on a higher level and use a tool that would help you to identify great product ideas in minutes.

The AMZScout Product Database is a tool that gives you exactly that option. This database contains information about every product on Amazon, and it allows you to enter your criteria and extract exactly what you need. You can add any value into any of the fields and simply click on "find products". Then, you will have a list of products to choose from:


Here are some great products ideas extracted using the AMZScout product database in some of the 5 most popular categories on Amazon:
1. Home & Kitchen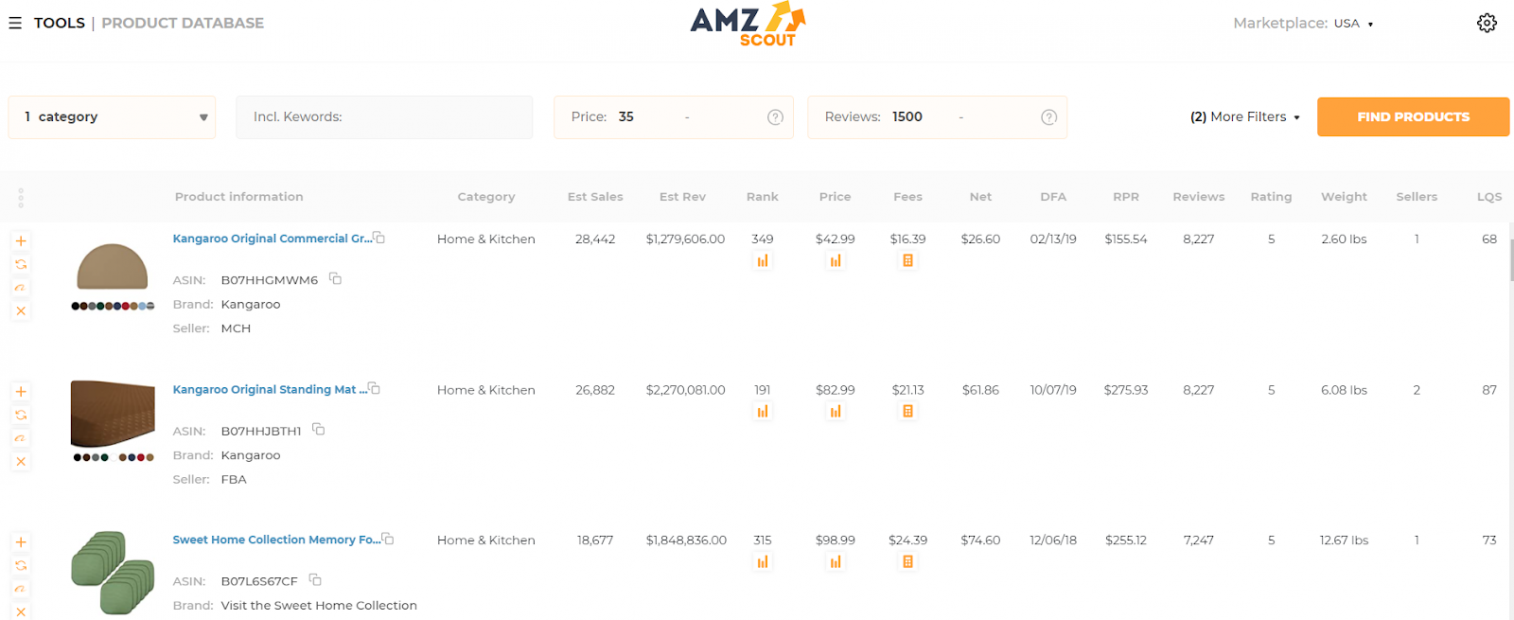 2. Beauty & Personal Care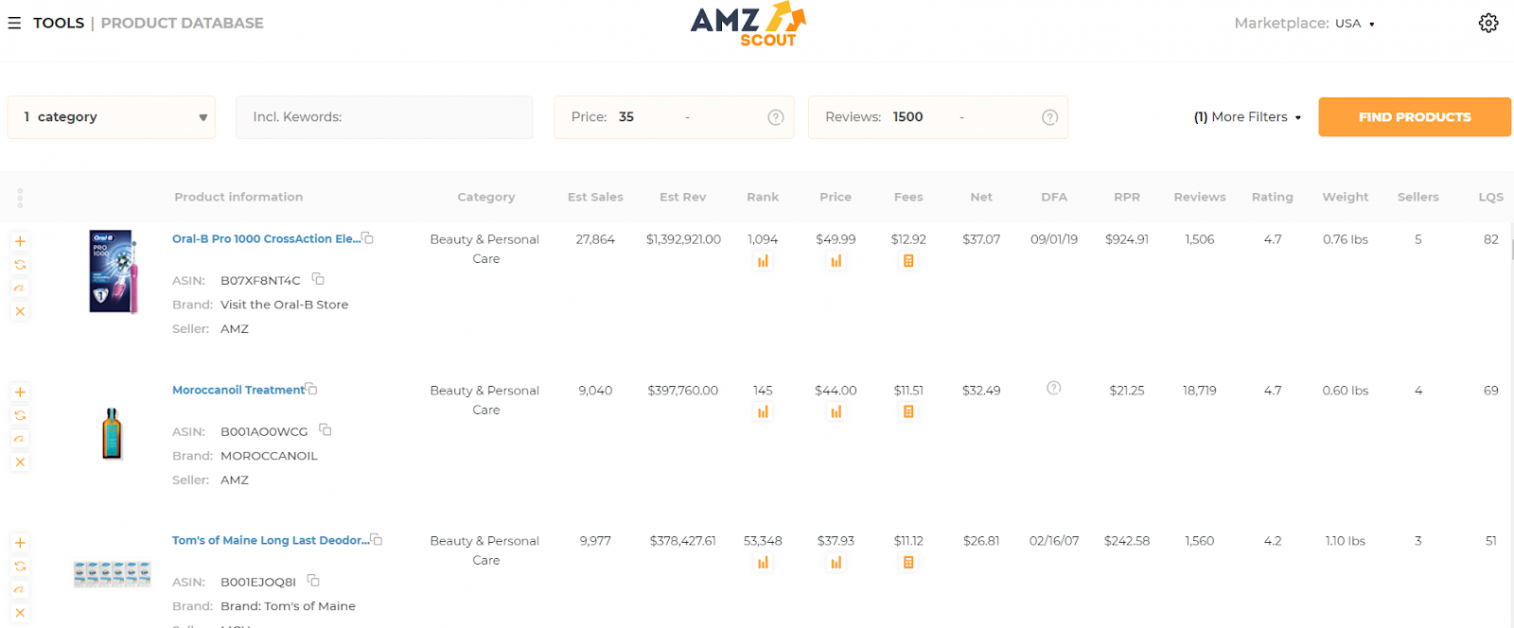 3. Toys & Games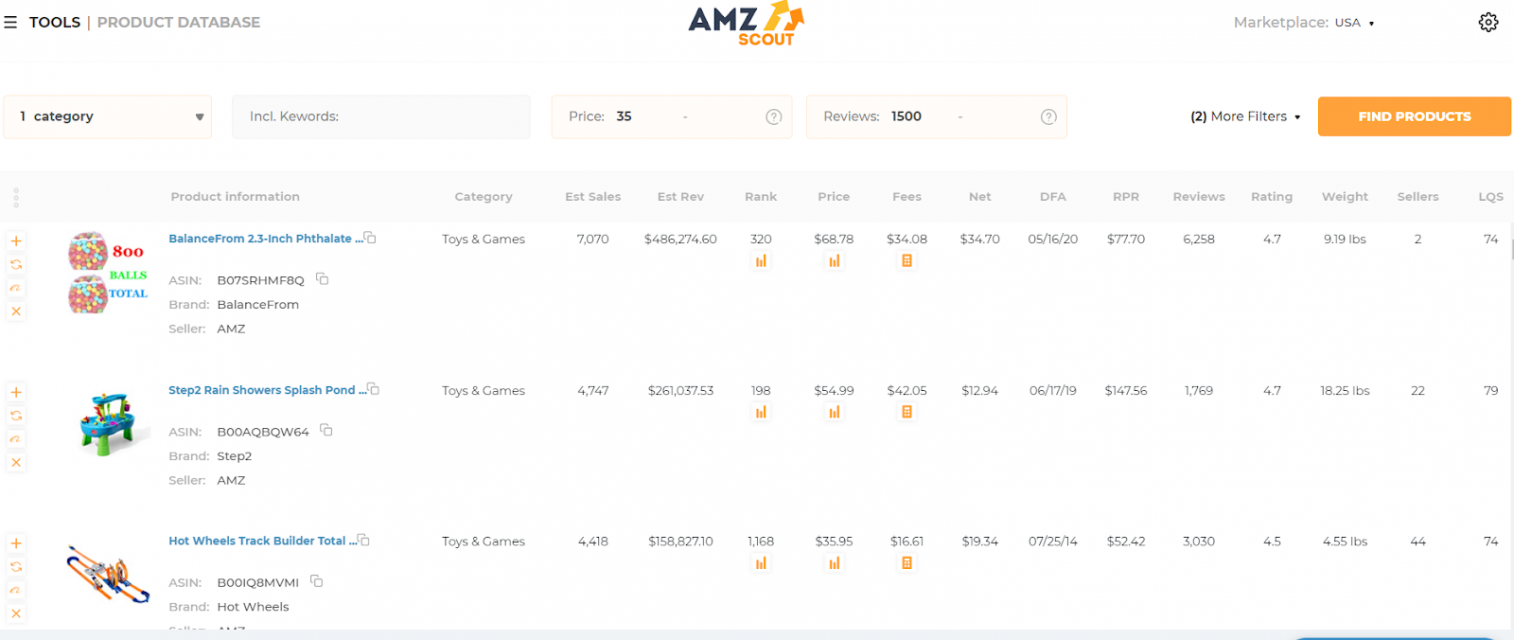 4. Arts, Crafts & Sewing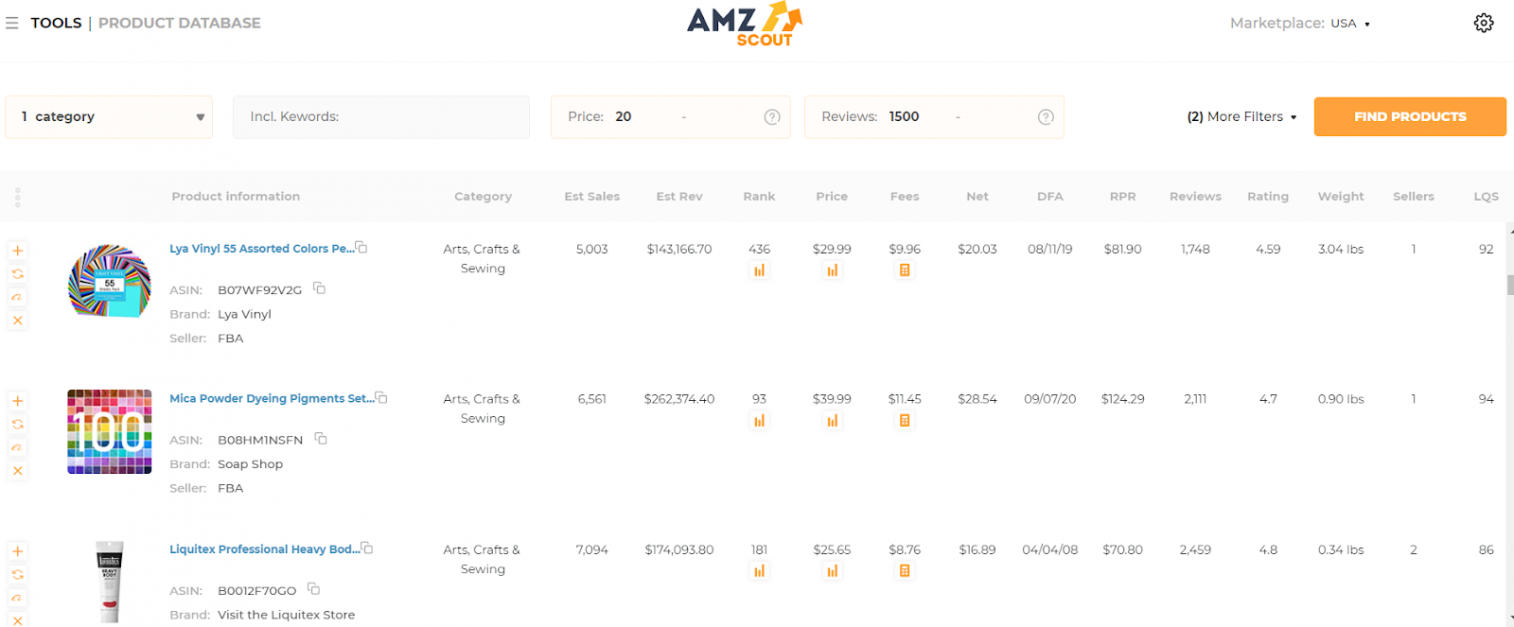 5. Household & Baby Care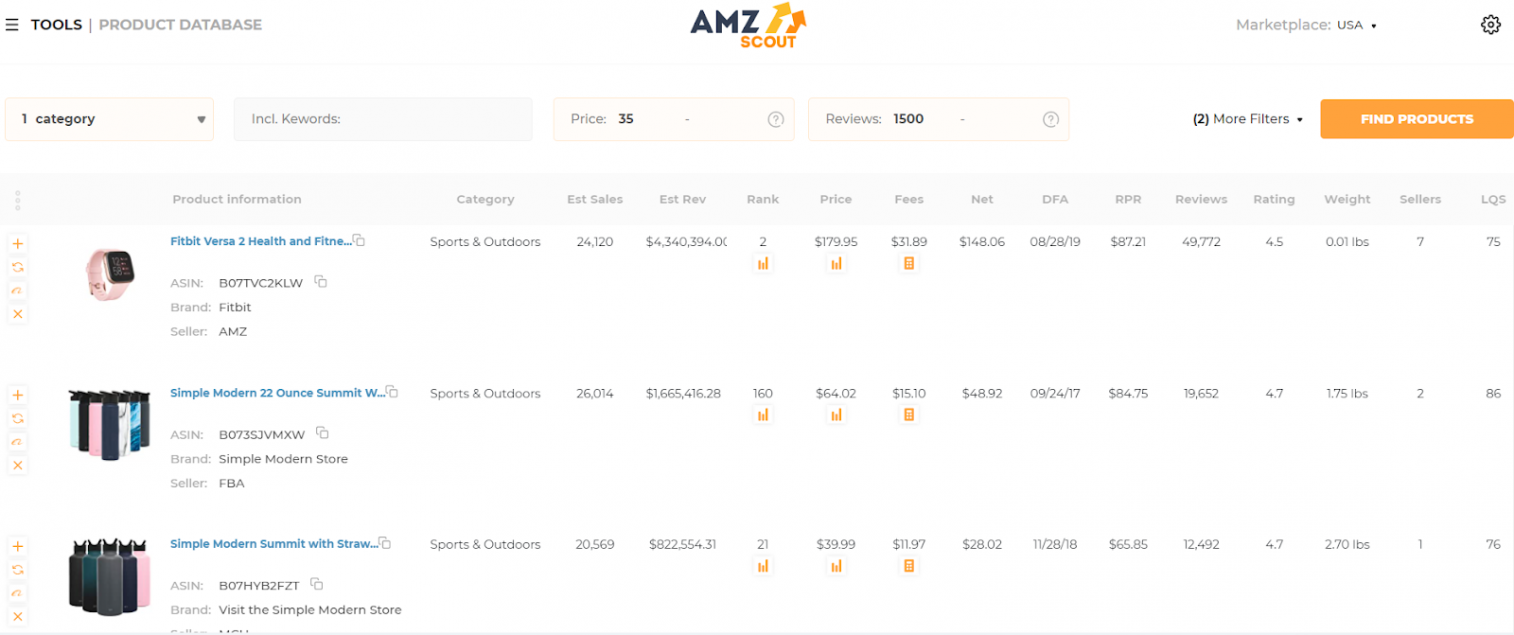 In conclusion, finding success with Amazon affiliate marketing is a mix of knowing your audience and knowing how to look for appropriate items on Amazon. Neither of these tasks is easy, however, if you take the time to master both you are sure to be rewarded. Also, the fact that you already have a website and a platform means that you have already done something right! You are producing content that people want to read, watch, and spend time consuming.
Finding the right products is merely an extension of that work. It's all about offering your audience what they want. Isn't that exactly what you've been doing the whole time that you have built up your audience?
---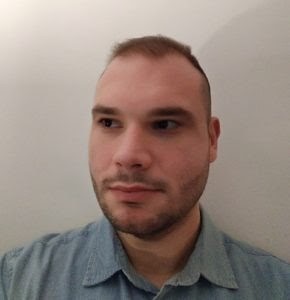 Author
Milos is an Amazon consultant with knowledge of all forms and types of Amazon marketing. He is currently a copywriter at AMZScout, a software company that helps maximize growth and revenue.

Share the article

Read. Learn. Do. Earn more money on Affiliate Marketing
Don't miss