Online affiliate marketing has gone through several stages of development. With the following affiliate marketing website examples, you will have a window on how affiliate marketing evolved alongside the Internet, from websites that provide links to hundreds of products to today's information-rich sites.

What is an affiliate website
If you're new to affiliate marketing, an affiliate website is one that promotes relevant products and services to visitors in exchange for a commission on sales. The company pays the marketer a commission for each referral that results in a purchase.

Examples of Successful Affiliate Marketing Websites
Headphones Addict
Headphones Addict is a group of audiophiles who provide expert headphone reviews. Their focus is on doing the research for headphone buyers so they don't have to.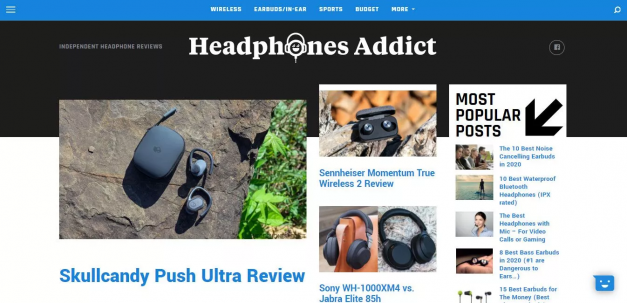 What makes their website special, you ask? 

The primary reason for this affiliate marketing website's success is its content. The expert reviews are insightful. It is also overseen by a professional sound engineer.

The variety of categories is also impressive. Headphones Addict appears to have considered every possible application for their gadgets. Based on a SEO strategy that incorporates long-tail eCommerce keywords, this provides them with organic leads for searches such as "best noise-canceling headphones" or "best water-proof headphones."
Another outstanding example provided by this affiliate website is its article structure. From the start, it provides rankings and statistics, and this is why visitors will find comparison tables at the top of the review useful.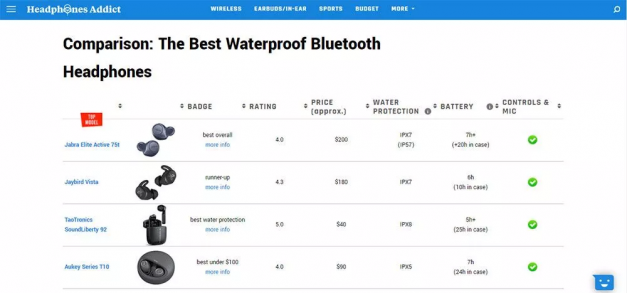 What about their revenue? How do they generate it?

Headphones The majority of Addict's revenue comes from product reviews.

Each of the listed items has an Amazon affiliate link. This is Headphones Addict's primary source of income.
The majority of revenue is generated by "best of" type posts for each category. Content such as 9 Best Waterproof Headphones is a clever way to generate high-quality organic leads. These keywords have a high volume of searches and buyer intent.

Headphones Addict also focuses on lower-volume keywords such as "most comfortable headphones." Using keywords with low competition is a good SEO strategy for any new review site.

Why should you check out their website?

Like Headphones Addict, vary your keyword strategy. Including long-tail keywords with high buyer intent and low search volume is a good place to start. This will boost your lead generation and conversion rate. Something that every affiliate website strives for.

Make individual rankings for the most important buyer factors. Every piece of content on Headphones Addict includes these. They do this in order to increase their audience's trust. As a result, conversions may increase directly. Try it out on your site and see how it goes.

NerdWallet
Nerdwallet is part of a financial products-focused niche. It provides consumers with trustworthy and knowledgeable financial information to help them make wise financial decisions. NerdWallet is here to help consumers make confident financial decisions, from finding the best credit card to purchasing a home.
To give you an idea of the scope of their operation, NerdWallet's brand name alone generates over 160,000 monthly searches.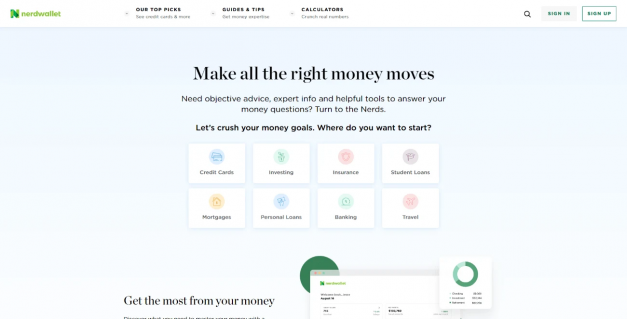 How exactly does the company generate income?

Personal finance calculators are pretty much the center of attention of the company. The way it works is that each calculator assists you in calculating values such as your Roth IRA contributions, and, alongside the results, they'll recommend locations where you can open the necessary accounts. Of course, each is an affiliate link.

It's actually a very simple idea. And when you see a successful affiliate website do something ten, twenty, or thirty times, it's not just for fun. Believe me, it works!

Photofocus
Photofocus is a photography website that features news, opinion, and product reviews. And for those willing to go through the pain of learning the jargon of the niche, commissions from photography affiliate programs can be substantial. With average order values in the hundreds of dollars, it's difficult not to make money if you have a ready-to-buy audience.

How do they make it work at Photofocus? 

Photofocus is capitalizing on expensive gear in one way by sharing the latest camera deals in news-style content.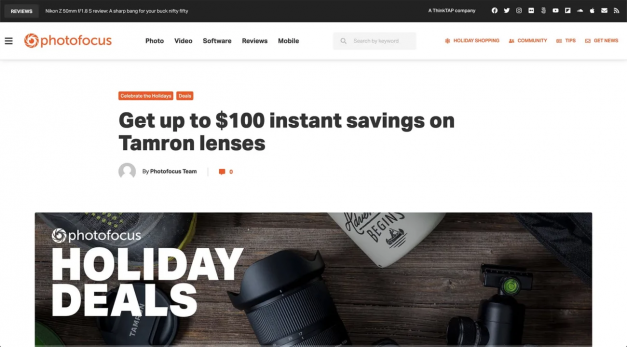 Photofocus has used a couple of strategies to mitigate this risk.

First and foremost, they do not only link to Amazon. Links to B&H Photo, for example, dominate their article on the best cameras for YouTube. I'm guessing they've negotiated a favorable rate with B&H to compensate for the inescapable lower conversion rate than Amazon.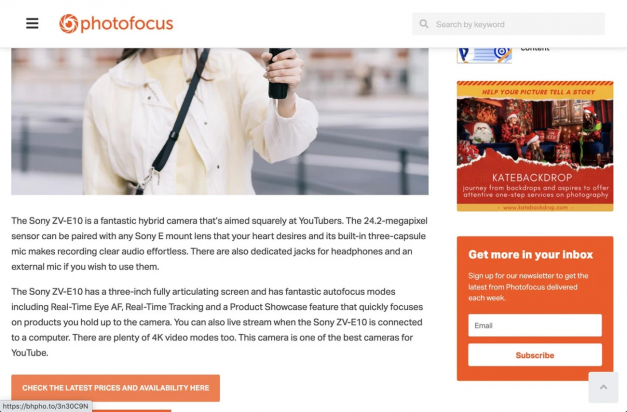 Second, Photofocus offers paid content. Instead of relying solely on an affiliate model, they generate revenue from a variety of sources. A strategy that far too many affiliates overlook in favor of traditional ad and affiliate monetization methods.

Finally, Photofocus adds software to a traditionally physical product-focused niche. Links to photo editing software such as Luminar and Skylum are prominently displayed on the website.

Even if your site's topic is about products that most people buy on Amazon, each of these strategies is a great way to diversify your affiliate income streams.

SkillScouter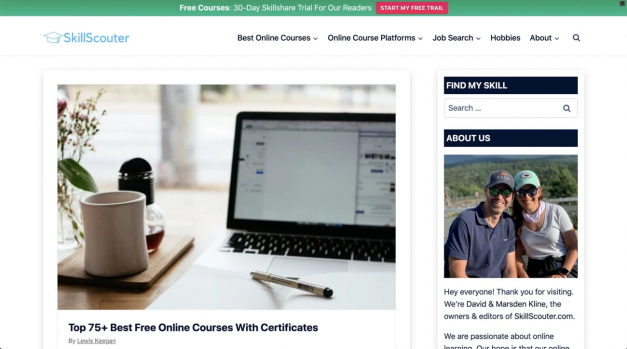 SkillScouter is an excellent example of a niche website that is monetized through affiliate marketing. The niche in this case is online education and elearning. Skillshare, Udemy, LinkedIn Learning, and a number of other education affiliate programs are prominently promoted on the site.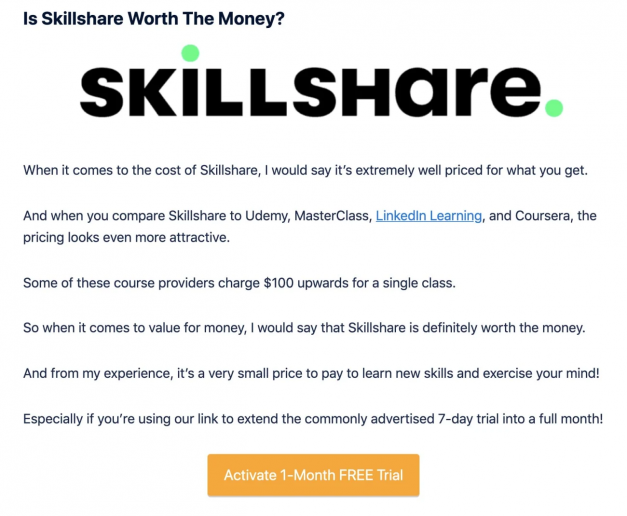 SkillScouter owes a big part of its revenue to Skillshare, and the creators at Skillscouter are partly the reason why through plenty of social proof in the form of statistics, author photos, and prominent summary boxes at the top of the review with a large orange button. Add that to the value brought by Skillshare, tell me, how could it not be a great source of income?

Skyscanner
Skyscanner is similar to Google when it comes to allowing users to search for and discover the cheapest flights, hotels, and rental cars available on a specific date. Skyscanner's algorithms prioritize the cheapest deals first, but also include information such as reviews and key features to assist consumers in making the best choice for them.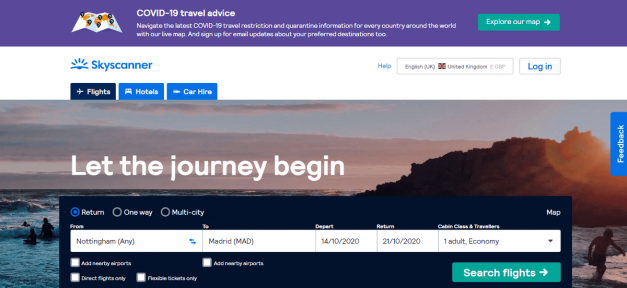 The majority of Skyscanner's 11 million monthly visits can be attributed to Search Engine Optimization (SEO), thanks to the affiliate website's detailed travel guides and tourism-focused articles. 

Skyscanner then earns commissions from the airlines, hotel partners, and car rental companies that it recommends or lists on its price comparison tools, demonstrating how SEO and affiliate marketing can work in tandem.

And that's how their estimated revenue is considered around $1 billion per year.

Consumer Search
Consumer Search is a great affiliate website that reviews home products ranging from lawnmowers to Bluetooth speakers and dishwashers. It has been in operation since 1999, and while it is not the most modern affiliate marketing website available, and let's just say that its simplicity does not go unnoticed.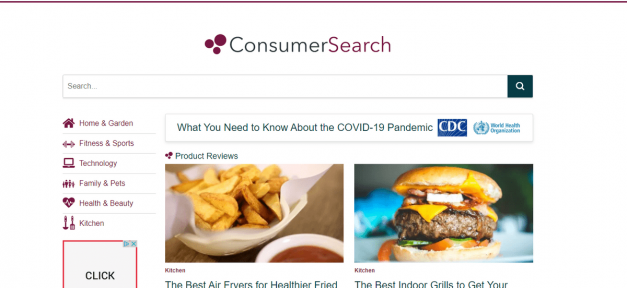 Consumer Search is doing what the vast majority of affiliates do when creating niche affiliate marketing websites: targeting keywords related to the 'best' of each product type. The difference is that they are doing it on a much larger scale than most other affiliates, and they are seeing excellent results - with 1.2 million monthly visitors.

Ruled.me
Ruled.me is an affiliate website with the sole purpose of  promoting the ketogenic diet and lifestyle. They concentrate on providing a factual approach to keto. The goal is to promote weight loss while making the dietary transition as easy as possible.
Keto dieters are provided with a tool allowing them to plan their entire day's nutrition – the keto academy.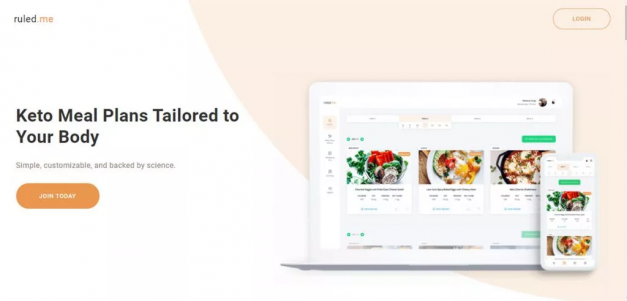 The keto academy is a membership-based tool, which includes a keto meal planner, recipes, and extensive nutrition information.This is a consistent source of revenue for Ruled.me. Not only that, but it increases interest in the site by obtaining testimonials.

The testimonials are from subscribers who have changed their lives for the better. Obtaining such strong social proof will significantly boost the authority of any affiliate marketing website. Over 312,000 people have signed up for their membership-based app.

Ruled.me, like many affiliate websites, earns money through commissions. At the end of the reviews, it links to Amazon affiliate products. They do, however, monetize their keto tool via a membership program.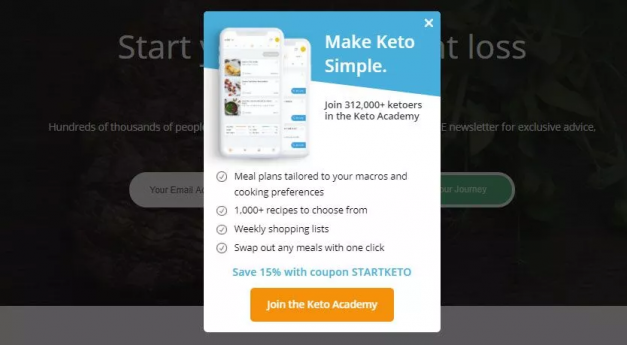 The monthly plan is $19.99, with discounts available for 3- and 6-month memberships. This is an excellent example of monetization strategy.

Ruled.me also provides a newsletter to which over 450,000 keto enthusiasts have subscribed. This expands their remarketing options.

A large newsletter is a valuable asset to any website. It increases brand awareness and customer retention. It also provides a platform for you to promote your offers.

VPN Mentor
VPN Mentor is one of the most effective VPN affiliate marketing websites. They strive to provide useful resources for people looking to buy their next VPN.
This affiliate marketing website features expert VPN reviews as well as helpful information on data privacy issues.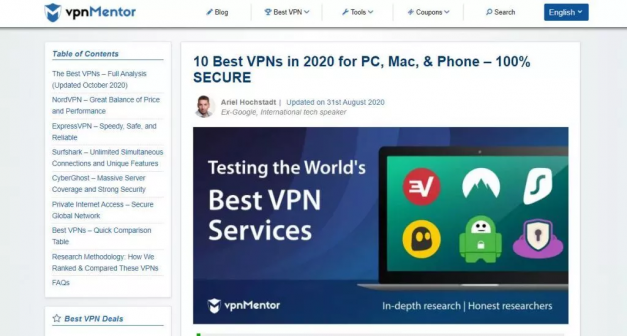 What makes their affiliate website a great one?

This affiliate website is an excellent example of content strategy. Each section goes into great detail about VPNs for various scenarios.

VPN Mentor also appears to update its most comprehensive publications, such as "The Best VPNs - Full Analysis," on a regular basis.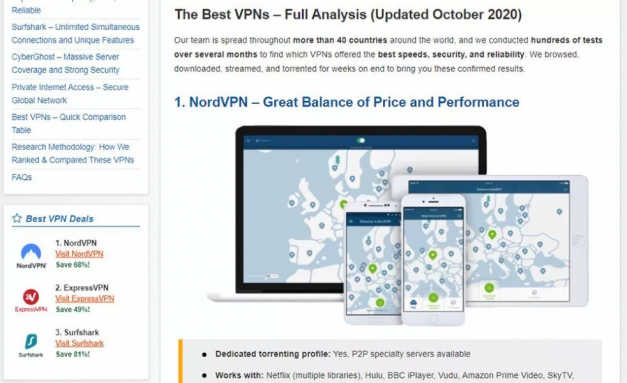 Updating your primary content pieces can increase your website traffic by increasing Google click-through rates. People want the most up-to-date information.

How do they make money?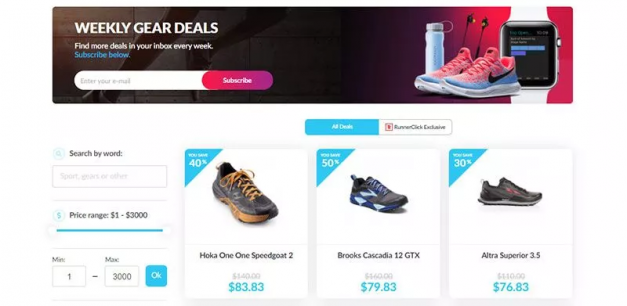 VPN Mentor makes money by recommending products. On their homepage, they have a clever section called "Best VPN Deals." It includes links to their most popular products. 

The site makes use of strategic pop-up ads for various products.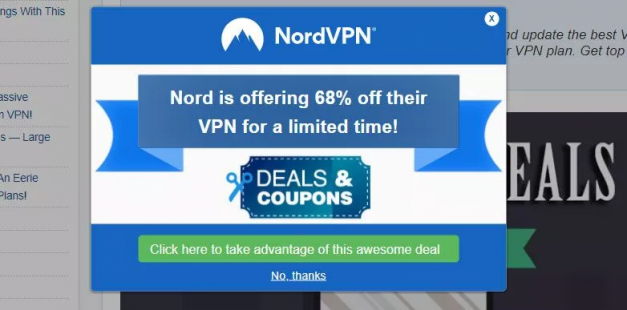 These are the affiliate links that appear in their reviews. VPN Mentor keeps a simple design with no additional advertising.

Everyday Carry
Everyday Carry is an affiliate site dedicated to portable survival tools that you should have on hand at all times. It may appear as an odd or unattractive niche, but it generates over 721,000 monthly visitors via organic channels such as search and social media.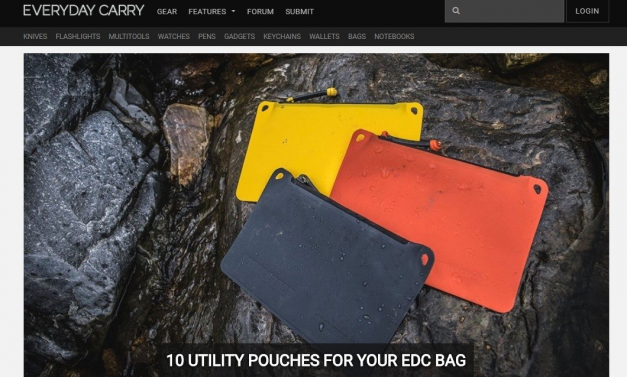 How do they make money?

The content on EDC's website is divided into two categories: regular reviews and roundup posts and user-submitted everyday carry setups.

Simple purchase CTA buttons are included in the reviews, and the images also link to the Amazon product.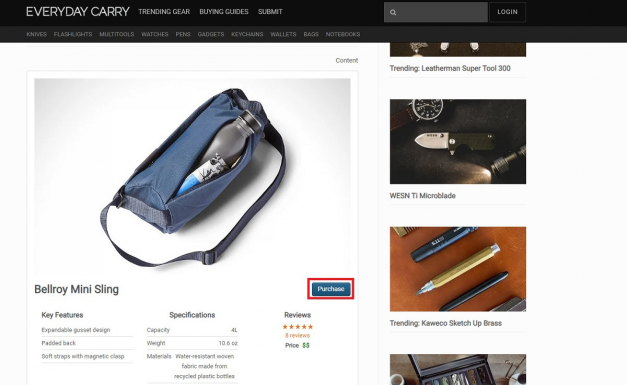 The user-generated EDC images include a sleek hover-product feature that displays a buy link as well as how many other EDC members own it. It's an excellent demonstration of social proof in action.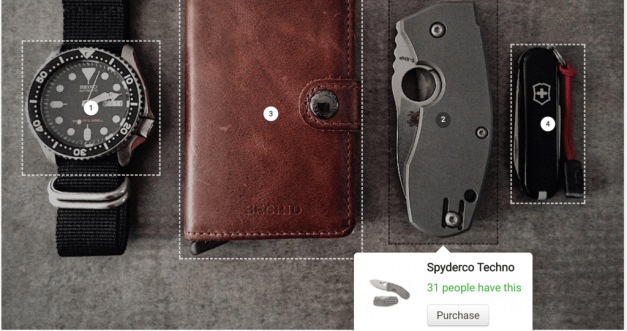 Lessons from Everyday Carry

Investing in the development of an active niche community can help you reduce your reliance on SEO and paid traffic sources.

A social proof element combined with dynamic user-generated content also helps visitors trust your recommendations and take action.
Website Setup
Web hosting is one of the most competitive niches on the internet, with huge commissions of up to hundreds of dollars per sale.
Despite this, Robert Mening's Website Setup has become one of the most popular sites in this niche.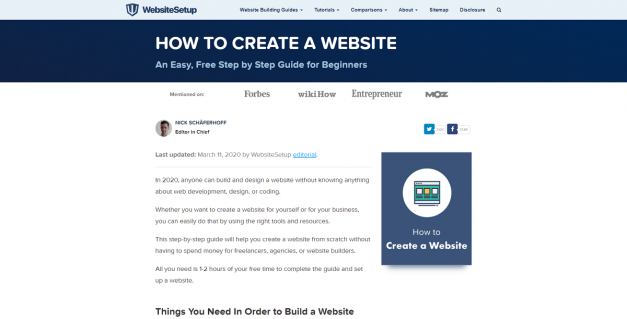 Two factors contribute to the site's strength.

Exceptionally useful and detailed content on a wide range of topics, not just web hosting, but also general blogging advice.

A very strong backlink profile with links from some of the web's most popular and authoritative blogs.
And not to mention that It ranks in the top three search results for a number of important keywords, which obviously proves a good SEO system on the website.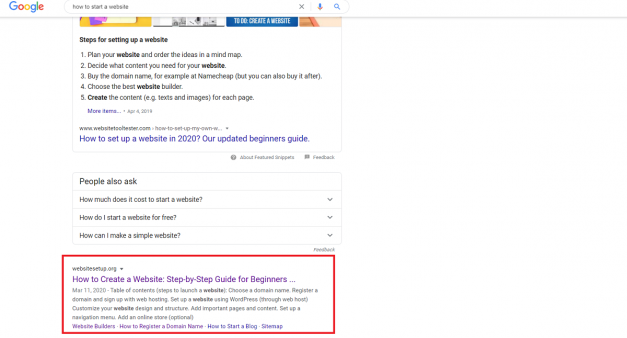 What is the source of their revenue?

The majority of WebsiteSetup.org's revenue comes from affiliate commissions from BlueHost and other hosting companies.
Signing up as a BlueHost customer is even one of the first steps in its signature "how to create a website" guide.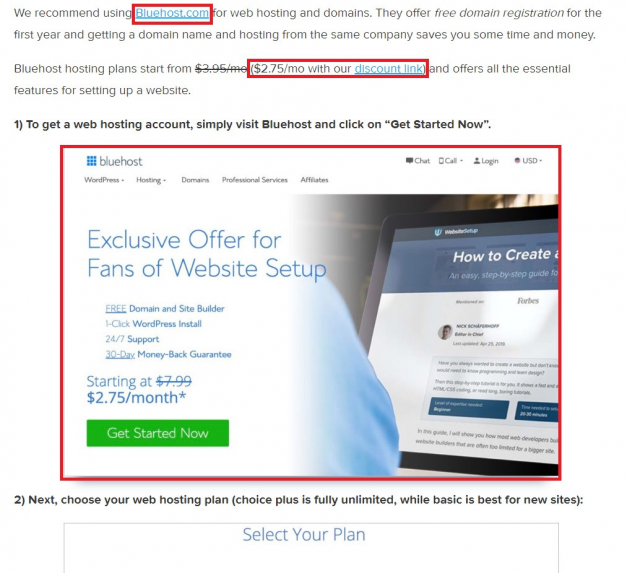 Why their website?

Because of his unwavering focus on in-depth and high-quality content, Robert has dominated a highly competitive niche.

Publishing such excellent content has also enabled him to contact other websites in order to build backlinks.
eBay Partner
The eBay Partner program is ideal for those who are new to affiliate marketing. While some affiliate programs have specific requirements that affiliates must meet in order to join, eBay Partner is relatively simple to join, even with low-traffic websites.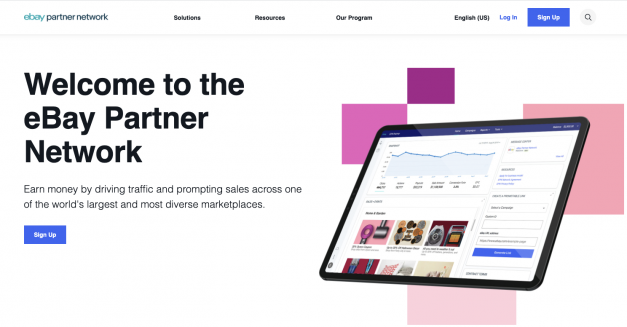 Affiliates (also known as publishers) can promote products on eBay and earn a commission on each sale through the eBay Partner program.

Publishers can promote either auction items or "Buy it Now" items, or both. The purchasing options eliminate the need for publishers to constantly scan auctions to ensure they are promoting live auctions rather than expired auctions.

If someone clicks on an affiliate link and places a bid, the publisher receives a commission if the auction is won within 10 days.

DollarSprout
The site's tagline is "Maximize Your Earning Potential," and it goes on to show people how to do so through job searches, side hustles, online businesses, and passive income-generating methods such as affiliate marketing.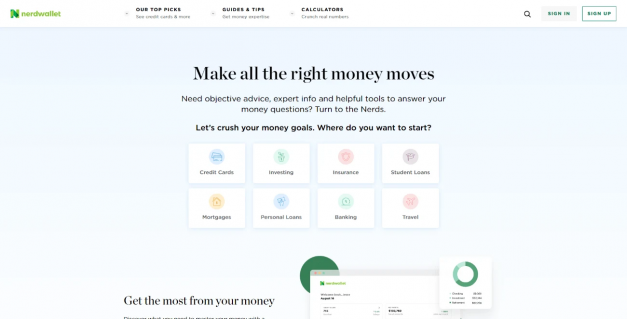 DollarSprout capitalizes on this with a well-organized website that divides money-making opportunities into offline and online pursuits. Searchers can read about any aspect of making money and obtain useful information for free.

Because most of the linking on DollarSprout is internal, the affiliate promotions are less obvious than on many other sites. Many downloadable guides to various careers and passive income-generating businesses are available on the site.

Amazon Affiliate Website Example
GearPatrol
This is a unique fashion review website that reads more like a magazine than a review site. This definitely gives it more credit than simply posting a bunch of products and hoping people read them.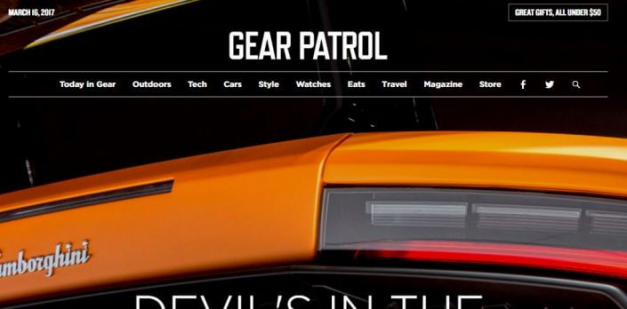 It's interesting that it takes a different approach, focusing on a clean layout and video reviews to show people the product they're testing, attracting 2.3 million monthly viewers.

This is extremely useful for people who want to buy but want to see the product in a video demo first.
Affiliate Marketing Blog Examples
Luke Kling
Luke Kling has been an affiliate marketer since 2004 and is well-known in the industry.
He's the mind behind affLIFT (a highly recommended affiliate marketing forum) and FPTraffic, a Facebook page management tool.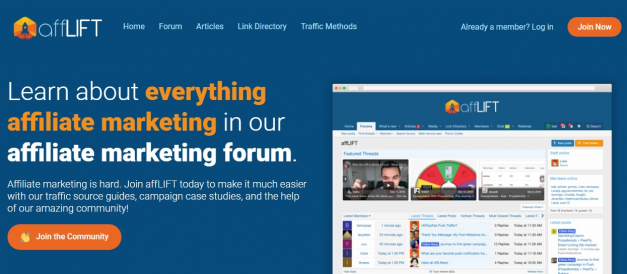 Until the PeerFly Affiliate Network shut down in July 2019, he ran the LukePeerFly.com blog. He still publishes a lot of affiliate marketing content at affLIFT.

Spark
If you're not familiar with ClickBank, they're an affiliate marketplace and e-commerce platform that connects sellers and affiliates.

ClickBank's official affiliate marketing education platform is Spark. We teach affiliate marketing concepts to people like you in order to help you build a successful online business.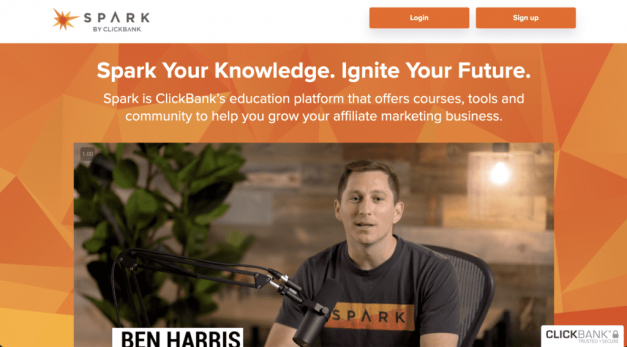 Spark is, in a nutshell, an online community and membership site that provides video training on everything you need to know to make money online. They currently offer courses on affiliate marketing, copywriting, Facebook Ads, email marketing, entrepreneurship, and much more.

FAQ
What does an affiliate website look like?

An affiliate website is not only promoting useful products within their niche, but is aesthetically pleasant as well. For the visitors to even make it to the CTA button, they need context and one way to do that is to provide some relevant information on your item and tell them why choose you.

How do I build an affiliate marketing website?

You can start creating an affiliate marketing website by picking a niche and then choose your affiliate program, the product that looks the most appealing to you, while prioritizing your audience needs. Don't forget to pick a web host and website builder, not to mention that the aesthetics on your website matter as it sets the tone for your offer. 

What kind of website is best for affiliate marketing?

Websites with high level focus on providing high-quality content and promoting valuable products tend to come a long way and connect with their visitors. Make sure to let them know who you are and that you have their best interests at heart.

Can I do affiliate marketing without a website?

You don't need a blog to promote an affiliate product, but you can do so on someone else's. You can advertise on Google Adwords, Facebook, or by purchasing advertising space on someone else's website. Advertising, unlike social media, is not free, and you must understand how it works. But more importantly, you just have to figure out a way to get people to click on your affiliate link.
Share the article

Read. Learn. Do. Earn more money on Affiliate Marketing
Don't miss