Virtual cards are becoming increasingly popular for online payments, including ad campaigns on various platforms. These cards offer a range of benefits, including increased security, ease of use, and flexibility in payment options. There are several services available for issuing and managing virtual cards for paying for ad campaigns on various platforms. Some of the most popular options include Payoneer, Adyen, Stripe, Revolut, TransferWise, etc. In this review, we show the uniqueness of Anybill, the services provided, its advantages, and all. You will read about:

Intro to Virtual Cards and Anybill
Advantages of Anybill
Registration
Navigating the Anybill Interface
Terms and Conditions, Privacy Policy
Conclusion
Intro to Virtual Cards and Anybill
When choosing a virtual card service for ad campaign payments, it's important to consider factors such as fees, security, ease of use, privacy, and compatibility with the platforms you'll be using. Additionally, be sure to review the terms and conditions of the service to ensure it meets your specific needs. Created by professionals in the industry with over a decade of experience in building FinTech, GameDev, and Marketing products, such as Sigma, Panoramik, or Edugram, the founders realized the need to provide a virtual payment system different from existing ones. Anybill is a service that helps to issue virtual payment cards to pay for ad campaigns and manage advertising costs. Users can top up their balance in USDT or via SEPA/SWIFT; in EUR; using private bins; It also possesses impressive features for teams, and offers cards without transaction fees (commission only for top-up).
Anybill offers unique services when compared with popular virtual cards such as:
Payoneer: Payoneer is a global payment platform that offers virtual cards to businesses and individuals. Their virtual card can be used to pay for ad campaigns on platforms like Google Ads, Facebook Ads, and more.
Adyen: Adyen is a payment platform that offers virtual cards as part of its payment solutions. Adyen's virtual cards can be used to pay for ad campaigns on platforms like Google Ads, Facebook Ads, and more.
Stripe: Stripe is a payment platform that offers virtual cards as part of its payment solutions. Stripe's virtual cards can be used to pay for ad campaigns on platforms like Google Ads, Facebook Ads, and more.
Revolut: Revolut is a banking app that offers virtual cards to its users. Their virtual cards can be used to pay for ad campaigns on platforms like Google Ads, Facebook Ads, and more.
TransferWise: TransferWise is a money transfer service that offers virtual cards to its customers. Their virtual cards can be used to pay for ad campaigns on platforms like Google Ads, Facebook Ads, and more.
In a nutshell, Anybill stands out from the rest with their:
🇬🇧Secure UK bins
💳Visa/Mastercard/UPI
💰Filling balance - Wire, USDT. From $500
💎Unlimited and free card issuance
GEO - Worldwide
Currencies - EUR, USDT
Account replenishment - Wire (SEPA/swift) EUR, USDT (TRC20/ERC20)
Minimum deposit - Wire — 3000 EUR, USDT — 500
Monthly Maintenance - 0 (recharge fee 3–4.5%)
There are no hidden charges when using Anybill. Fees to be paid on the service include the Top-up fee and the Decline fee.
Top up fee

DECLINE fee (for each decline)


up to 10k - 4.5%

10-25k - 4%

25-100k - 3.5%

100k+ - 3%

up to 3% - 0€


from 3 to 5% - 0.2€

from 5 to 7% - 0.3€

from 7% to 10% - 0.4€

from 10% to 15% - 0,5€

from 15% - 0,6 €
They have recently lowered the minimum amount to top-up on first deposit down to 50$ with a maximum of 10 cards, this means that users can test their cards with more comfort. Upon satisfaction with the service, the limit on the number of cards will be suspended when subsequent deposits are made (at least $500).

Advantages of Anybill
Easy but effective user interface
Wide range of platforms for use
Availability of cards in MasterCard, Visa, and Union Pay
Access to a team of experts and 24/7 support team
Impressive automation tools and detailed financial analytics
UK BINs and availability of Private BINs
Team collaboration and easy monitoring of performance and transactions
A thriving referral program for users to earn more
Quick issuance of cards (personal and for the team)
Quick USDT deposit
Registration
Joining the service is simple and registration can be concluded in only a few minutes from the Anybill website. Simply enter your first name, last name, e-mail address, company name, phone number (for 3DS), and country of residence (optional).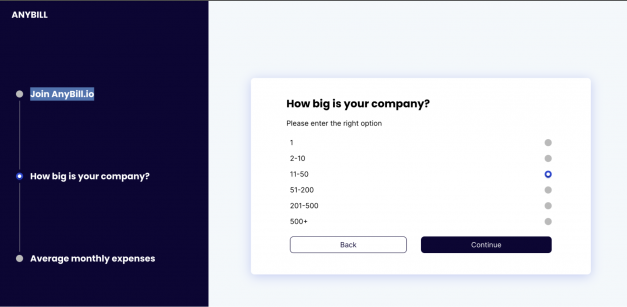 The Anybill account managers verify and grant approval quite quickly via email. Should they have questions or reservations, users are notified via email too. Upon confirmation, users can create passwords and receive access to the service.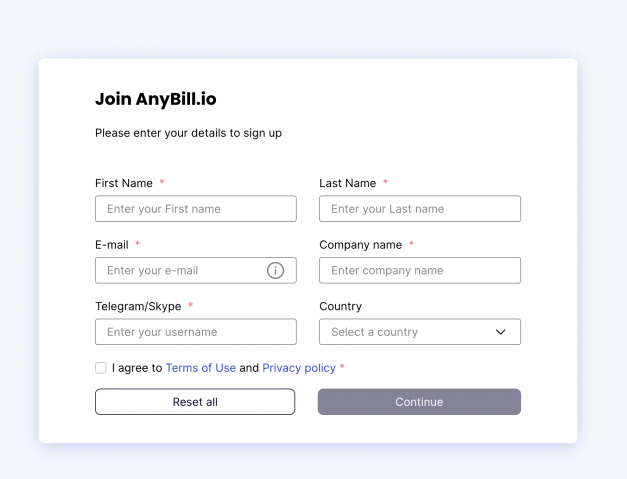 Navigating the Anybill Interface
The Anybill interface is simple and easy to navigate around. Upon logging in, the dashboard is displayed. On the left side of the screen, icons for Dashboard, Bank, Wallet, and Team buttons can be seen and accessed. On the top bar, the available balance and account profile is visible.
Dashboard: The available balance can immediately be seen in this tab, as well as the amount of profit and expense, the average amount spent by the team/card/buyer. Users can view how many teams, buyers, and cards are connected to the cabinet. Withdrawals and Top-ups can be made by tapping on the "withdraw" and "top up" buttons respectively.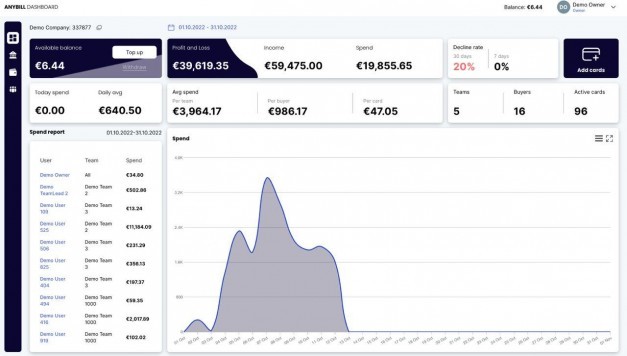 At a glance Profit and Loss, Income, Spend, and Decline rates for the last 7 days and 30 days are visibly displayed. Users can simply tap on the "Add cards" icon to get more cards added.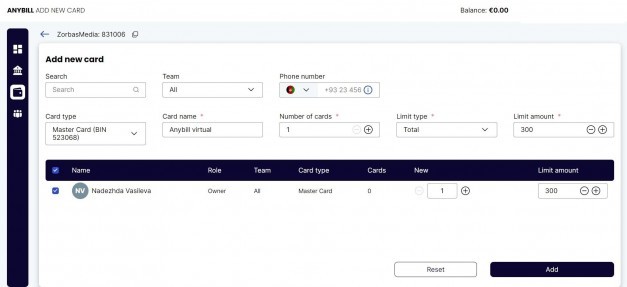 For proper monitoring and insights into the amount spend over some time, users can download data in CSV format. Daily average, Today Spend, Average spend (per team, buyer, and card) as well as stats for the team, buyers, and active cards are displayed. This is a big bonus for users as they can easily track their spend and check out the performance, especially from the graph of expenditures.

Bank: Transactions done can be viewed in detail in this tab. The Bank statement and Balance are displayed here.

ID, Date, Time, Status, Amount, Operation, Description, Card name, Card number, Team, and User can be seen under the Bank Statement tab.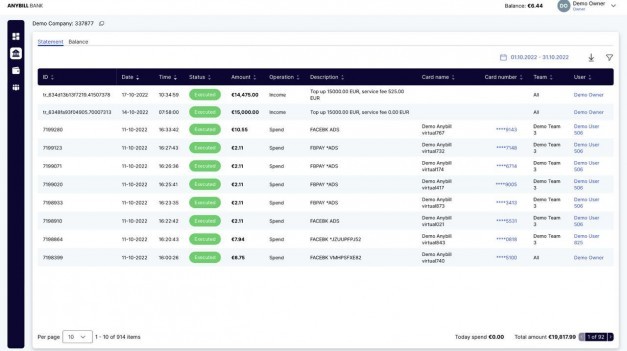 While under the Balance tab, the Total amount of income, withdrawal, and spend give the balance

Wallet: In this tab, details of cards and transactions for the user and team can be seen. From the sub-menu bar, users can find information for My Card, All Cards, My transactions, and All transactions.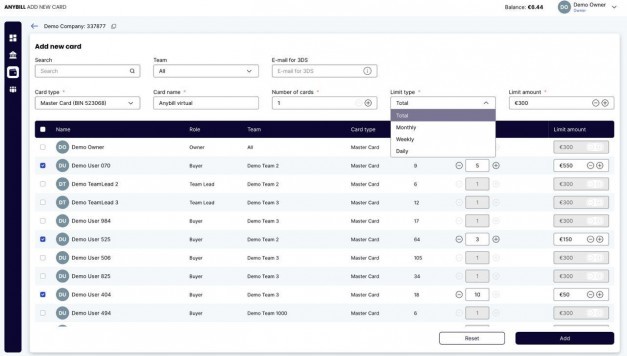 Card Information available includes Card type, Card name, Status, Card number, Spend, Limit type, Limit, and Date.

Transaction details include ID, Date, Time, Status, Amount, Operation, Description, Card name, and Card number. Data can be downloaded over a selected period, filters can also be used to make data more specific.

Team: Under this tab, details of team members such as name, team name, status, cards, and email address can be viewed. User reports over a selected period are downloadable in excel format, new users can also be invited to the team.


Terms and Conditions, Privacy Policy: Users are encouraged to read the terms and conditions before registering. The terms and conditions are governed under the laws of England making it quite formidable. Users can also see the types of information collected by Anybill and how it's been used in their Privacy Policy.
Conclusion
The perfect solution for persons who run several ad campaigns and have to do so with a lot of cards, the Anybill service is convenient and secure, uses a simple but effective interface, boasts of an impressive database with options to enable users monitor transactions as well as access stats both online and offline. Anybill uses private BINs that enable affiliate marketers and their teams to pay for advertising accounts on different platforms including Google, Facebook, TikTok, Snapchat, VK, Twitter, LinkedIn, Pinterest, YouTube, and Instagram.
An edge this service has over others is the possibility for seamless team collaboration and monitoring. Users can create team/corporate accounts and have other team members join in. They can also pay using both fiat and crypto; it's a great way for employers to create accounts for their employees, assign roles, and grant them required access to see and track spend, transactions, etc.

Users are encouraged to take advantage of the Anybill referral program where they receive a 5% commission for referrals. For more information feel free to contact their 24/7 support service.
BONUS: The first 50 people to use the promo code "affiliatevalley", will receive 3 first refills for free.
If you are not one of the lucky ones – don't worry. Nobody leaves AnyBill a loser! Use the same promo code to get your first free deposit. Note that bonus deposits can only be up to $3,000
Share the article

Read. Learn. Do. Earn more money on Affiliate Marketing
Don't miss