The rise of digital marketing has brought great opportunities for players in the advertising industry, especially in recent years with the emergence of powerful tools and effective models. Great attention is needed in determining what ad networks to join. In this review, we show the peculiarities and functionalities of OnClickA as a performance marketing ad network of choice. You will read about:

Introduction to Performance Marketing and Ad networks
Overview of OnClickA
Benefits of OnClickA
Ad formats offered
How to Sign up
Navigating the self-serve platform
Overview of Menu buttons
Conclusion
Introduction to Performance Marketing and Ad networks
Advertising networks connect publishers with ad inventory to sell to businesses interested in advertising. Advertisers are always in demand while publishers are ready to supply, thereby creating a need for ad networks to create a bridge while providing extra services aimed at enhancing value, high conversion, and subsequently great profit for both publishers and advertisers. Important criteria to consider in choosing ad networks include the size of payouts to publishers, entry barriers, GEO reach, network size and quality, security, variety of monetization options, ad formats, and ease of running campaigns to mention but a few.
Performance-based advertising is a form of advertising in which the purchaser pays only when there are measurable results. Digital publishers are constantly thinking about monetizing their websites with ads, and while Google Adsense leads this sphere with over 2 million users and over 85 million websites, there are other vibrant ad networks with more services to offer. Performance ad networks mainly use the ad revenue share, CPA, or CPC pricing model. They provide reporting tools and additional resources aimed at making performance marketers be more successful. OnClickA ad network meets all these requirements and provides more services.

Overview of OnClickA
OnClickA is a performance-driven ad network that enables users to target and engage high-converting audiences around the globe. Founded by experts with over 10 years of experience in affiliate marketing, the network stepped into the industry in 2020 and immediately established itself as a game changer due to its brilliant and innovative team of experts, customer-centric approach, comprehensive database, and simple but effective interface. Using a self-service platform, this performance-oriented ad network provides marketers with access to global premium leads and partners that would have been beyond their reach.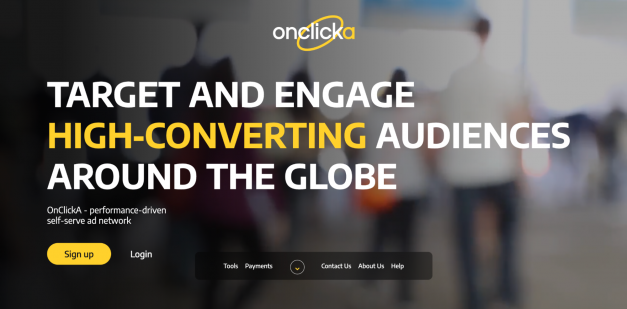 This unique ad network is able to target, filter, and convert high-quality traffic using machine learning technologies and big data. From an impressive 100 million impressions per day a few months after launching in 2020, the network is currently hitting 4 billion impressions per day with a strong reach of 240 GEOs and translation services currently available in 4 languages - English, Spanish, Deutsch, and Japanese.

Benefits of OnClickA
8 Ad Formats - Unique And Effective

7 Payment Methods - Variety, secure and convenient
4 B Impressions daily
Traffic Worldwide In 240 Geos
Premium Traffic Sources - A major advantage of OnClickA
You Can Buy Traffic Via Self-Serve, Api, Rtb Or Xml Methods
Advanced automation tools: Smart Pricing, Auto Adjust, Anti-Fraud Technology, Creatives autogeneration.
24/7 Support Team - Quick response time
All Major Tracking Service
An Intuitive Interface Available In 4 Languages (En, Es, De, Jp)
Ad formats offered
OnClickA supports a large range of ad formats, including standard banner ads, in-text ads, video ads, and mobile-specific ad units, using category-targeting for higher conversions. After conducting deep analytics the team of experts at OnClickA created 10 adformat templates which are easy to implement and have proved to be the most profitable for clients, they include: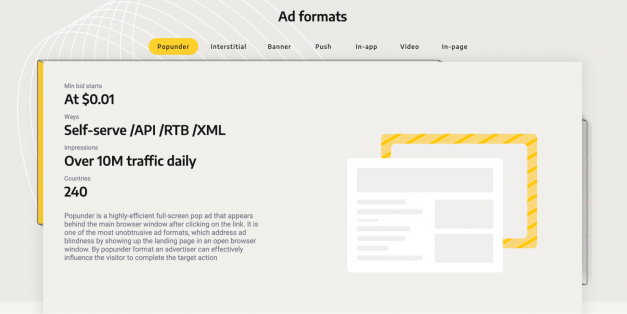 Popunder
As the name implied, this highly effective format pops behind the main browser window when the link is clicked. The landing page is displayed in an open browser window, making it one of the least intrusive ad formats that solve the issue of ad blindness. This popunder format allows an advertiser to successfully persuade a visitor to do the desired action.
Min bid starts : At $0.01
Ways: Self-serve /API /RTB /XML
Impressions: Over 10M traffic daily
Countries: 240
Interstitial
Favoured among advertisers due to its high CTR and impression rate, Interstitial is an ad format frequently used. It shows up above the main content of the device and the user would need to close the ad in order to continue accessing content on the website.
Min bid starts: At $0.1 CPM

Ways: Self-serve /API /RTB /XML
Impressions: Over 100K traffic daily
Countries: 240
Banner
As the name implied, banners are positioned in different areas on webpages with high traffic rates. This ad format is well known and used by advertisers. Seven banner formats with great CTR are available at OnClickA.
Min bid starts: At $0.01

Ways: Self-serve /API /RTB /XML
Impressions: Over 1B traffic daily
Countries: 240
Push
With a very high opt-in rate, Push ad format is frequently used by advertisers. It appears as a push notification while a user is on the webpage or app.
Min bid starts: At $0.01

Subscribers: Over 150M
Impressions: Over 500M
Countries: 240
In-app
With a significant CTR and impressions, this ad format is a banner in the content of mobile apps. A huge variety of in-app banner formats are available at OnClickA.
Min bid starts: At $0.72

Ways: Self-serve /API /RTB /XML
Impressions: Up to 5M daily volume
Countries: 240
Video
This ad format has a high conversion rate due to its 100% viewability. The video ad pops up at various points of the actual video content being watched either in the beginning, in the middle or at the end of the main video.
Min bid starts: At $0.1
CTR: Up to 25%
Impressions: Over 50M traffic daily
Skip: up to 30 seconds
In-page
Similar to push notifications, this ad format has a wider coverage as it shows up as a popup banner on the website page. Users are not required to be subscribed to the push mailing list.
Min bid starts: At $0.01
Impressions: Over 2B traffic daily
Ways: Self-serve /API / RTB / XML
Countries: 240
How to Sign up
From the OnClickA site, sign-up is straightforward and can be concluded in only a few seconds. There are options for personal use and company/organization.
Fields to be filled for personal usage includes:

Name
Email
Password (at least 8 digits)
Social networks (Facebook, Skype, Telegram, Wechat, Whatsapp, and others)
Username
Phone number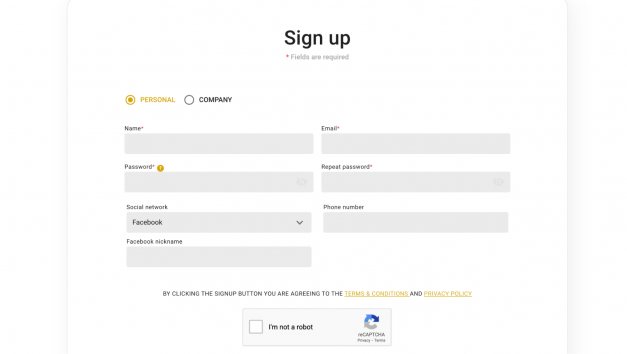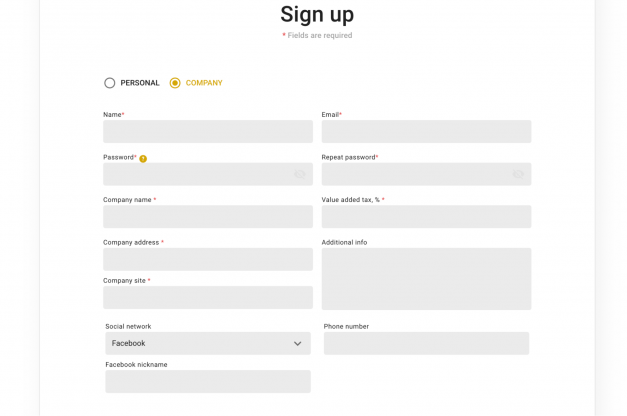 For subsequent sign-ins, login verification codes are sent via email to authenticate the user. This highly secure method prevents unauthorized access to accounts.

The Privacy policy and Terms and conditions are displayed for users to review before proceeding with the ad network's services. Here users can see data that OnClickA has access to, usage, and compliance with current regulations on the protection of personal data as well as other general terms are stated in clear terms.

Upon completion of the sign-up form, the user's account is immediately created. This is fascinating as users do not need to waste time waiting for extra verifications.

Navigating the self-serve platform
Logging into the OnClickA website an account manager/chatbot pops up with options to chat immediately with the user or just keep browsing. The design is simple and easy to navigate.

At a glance, the various Ad formats offered by OnClickA are displayed for ease. You'd find impressions, GEOs, and the rate at which the minimum bid starts - from $30, which is highly impressive and ensures that users can try out their services with minimum exposure and cost barriers.
Also displayed are their highly beneficial ad performance tools used such as:
Smart Pricing - for exposing traffic cost and volume with their Price-Box
Anti-Fraud Technology - To prevent bot traffic with their in-house anti-fraud system
Automation - Save your time creating ad campaigns with automation
User Account
Upon signing in, the dashboard design is simple and the interface is user-friendly.

The bar on the top of the screen displays the date and time in UTC, add funds button, a notifications menu where new messages are displayed and a user profile icon that shows options to exit the account and the user profile where you can view the name, email and social media messenger options, change profile type from Personal to Company or vice versa, turn notifications on or off, change password or turn on two-factor authentication.

On the left side of the screen, a panel with the following menu buttons are displayed:

Create Campaign
Notification
Dashboard
Statistics
Ads
Campaigns
Traffic chart
Tracking
Finances
Add funds
Referral programs
The Social Media platforms where users can network with OnClickA are displayed underneath the menu buttons and include:

Language Translation from English to Spanish, Deutsch, or Japanese is also available by simply tapping on the flag and preferred language.

The panel can be collapsed, reducing the menu buttons to icons and creating more space on the page.
Creating Campaigns
From the welcome page users can set up their campaigns easily by following the 3 simple steps displayed on the page:
Add funds: Top up your balance to make your campaigns active.
Create Ad: Upload the necessary pictures and videos for the ad.
Create Campaign: Select the settings to show your ads to your target audience.
A short but comprehensive video tutorial (134 seconds) explaining the three steps in detail can be watched directly on the welcome page. The tutorial is simple, concise, and easy to understand. However should users have any challenges creating ads, the virtual assistants are on-hand to solve any problems as well as the 24/7 Support team. The average response time from their tech support team is 15 minutes.
Overview of Menu buttons
1. Dashboard

This is the welcome page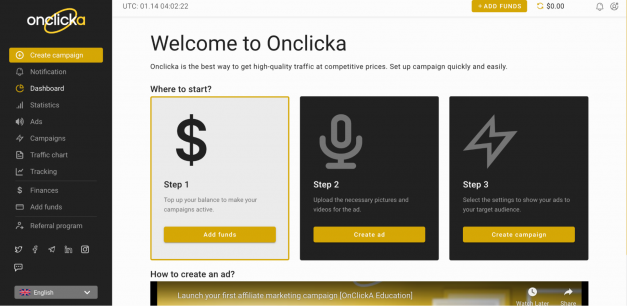 2. Create campaign
By following the instructions in the tutorial video, users will be able to create campaigns easily. In this menu, users will find tools for creating campaigns such as: Add link, Save, Tech team review, and Approve. They also have access to premium sites which is super vital. The global ranks, total visits, time on site in seconds, and page visits for each premium site are shown as well. In the pricebox pane, impressions and recommended prices based on AI calculations are shown.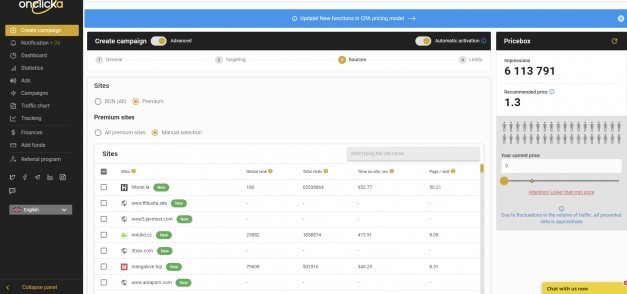 3. Notification

Here users can see messages and updates about their campaigns. Tabs such as Campaign and approve status, Money, and User details are displayed in this menu.
4. Statistics

In this tab, they can analyze performance in order to improve campaigns. Tabs to select the period for analysis, campaign statuses: active, archived, and paused; ad format and campaigns are found in this menu. The data and stats can be downloaded as well. At a glance, users can monitor how well their campaigns are and spot areas to improve. There are various filters to make the analytics more specific.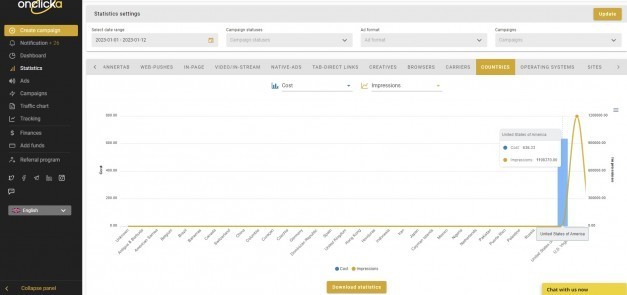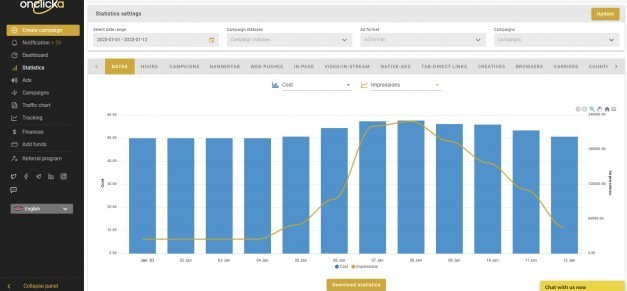 Users can toggle between cost, impressions, clicks, video views, CTR, Conversions, Dates, hours, campaigns, banner tab, web pushes, in-page, video/in-stream, native ads, tab-direct links, creatives, browsers, carriers, countries, operating systems, sites.

5. Ads

Depending on the ad format selected, users can see all active ads in this menu.
Names, ad format, status, approval status, and actions are displayed here.
For ease of view, users can toggle between the table view and the cards view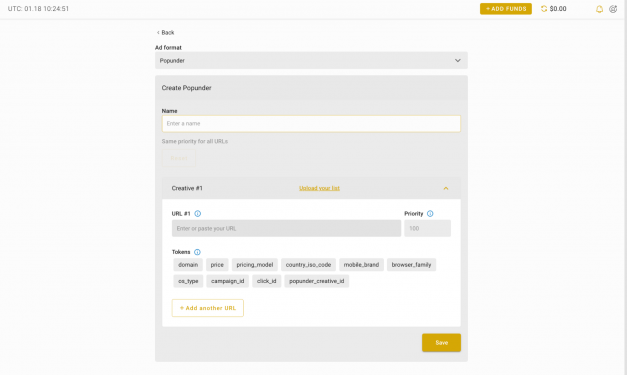 6. Tracking

Utilizing all major tracking services, users are guided to integrate with the tracker. They can read articles about integration simply by selecting a tracker.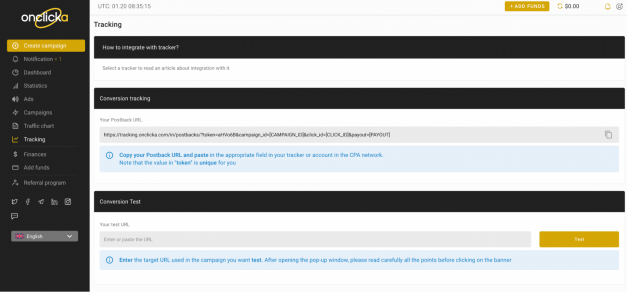 Users can also track their conversion by copying their Postback URL and pasting it into the appropriate field in their tracker or account in the CPA network.
They can test the target URL used in the campaign. Detailed procedure is displayed after opening the pop-up window.

7. Traffic chart

OnClickA uses an automation tool called auto adjust which saves users money and time in browsing through thousands of bids by bringing only the most relevant and cost-effective ones. The presence of anti-fraud technology also implements strict traffic quality control.

In the traffic chart menu, users can see the approximate data based on the previous week's traffic activity.


Filters include Ad formats, types of ads, traffic types, sites, premium sites, pricing models, operating systems, and countries.
Users can search for countries, their total impressions, total clicks, minimum price, and recommended price.

8. Campaigns

Utilizing the latest automation technologies that enable campaign auto approvement, users can save time. Campaigns can be created and monitored from this section.


Buttons in this menu include Campaign ID, Name, group, Ad format, pricing model, price, status, and approval status.
9. Finances

The pricing technology used at OnClickA was created with advanced methods of analysis and price adjustment. In this section, users can find the account statement. Users can also select a date range for review.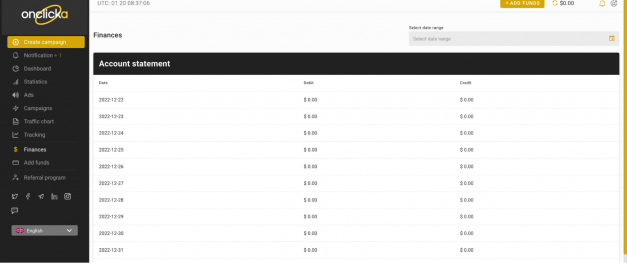 Under payments, they can find the amount, auto payment, payment method, comment, time created, and the date paid as well as download invoices.
10. Add funds

Payment methods available for selection are displayed here.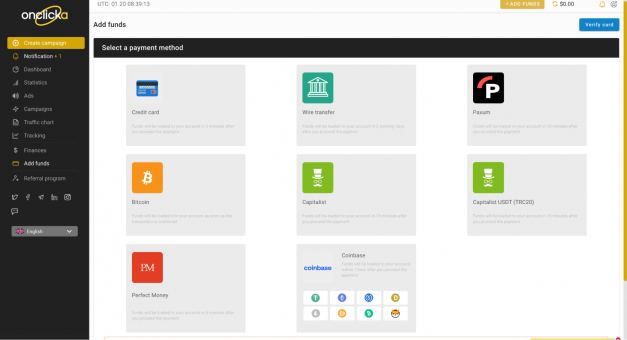 A minimum deposit of $30 makes it accessible to everyone. This is a competitive price for access to quality compared to other ad networks.

11. Referral program

The affiliate marketing aspect of OnClickA is shown here.

A referral link is generated and can be copied, and users get 5% of referral users' spending. Total referrals are also shown.

From the list of referrals, options for referrals where the list is shown; and Statistics where data are available for performance and analytics
Shortcoming: OnClickA has translations in only 4 languages, it will be necessary to get more translations to further improve the user experience of persons from other countries.

Conclusion
Trusted by more than 5,000 advertisers and providing premium traffic sources from genuine and high-converting websites, OnClickA currently runs more than 1,000 campaigns worldwide. Their AI enables automation for campaign creation, deep pricing analytics, creatives auto-generation, anti-fraud detection (also designed to bypass ad blockers), auto adjust, and much more, their team of experienced professionals, attention to detail, innovative driven approach, and simple but effective user interface all set OnClickA as an exceptional ad network. They are highly recommended.

This innovative network also provides education via OnClickA University where interested persons can get advertising education from experts with more than 10 years of experience and earn money at OnClickA.
Share the article

Read. Learn. Do. Earn more money on Affiliate Marketing
Don't miss