AdsEmpire is an ideal affiliate network that offers a wide range of profitable options across high converting verticals, such as dating offers, sweepstakes, games, and finance. This affiliate network has incredible advantages and special features that perfectly match the ligaments and allow you to save time while maximizing your earnings. In an age where affiliates and advertisers search for exclusive offers, AdsEmpire affiliate network remains the goose that lays the golden eggs!

Overview of AdsEmpire
AdsEmpire's skilled management team is the secret ingredient behind the company's success. They are constantly seeking and coming up with new tech and features to make affiliate marketing more exciting and more straightforward. AdsEmpire's primary goal is to help you monetize your traffic through Smartlinks and direct CPA offers.

Some of the verticals bound to get you excited include sweepstakes, crypto, dating, games, and others. You won't need to worry about your sources of traffic. AdsEmpire accepts traffic from multiple GEOs. Notably, they do not accept any incentive, chat, or fraudulent traffic. It is essential to understand that your traffic should follow the rules and regulations without violating policies on the platform or advertisers.
Some traffic sources like Popunders, email, Clickunder, SMS, or Celebrity could be restricted by some advertisers. Ensure you notify your account manager about your sources of traffic beforehand. Otherwise, AdsEmpire can withhold the entire sum or part of your traffic value. Ultimately, AdsEmpire ensures that all traffic remains real and of premium quality.
Registration Process
The first step is registering as an affiliate marketer. Click Sign Up and Join CPA Offers Empire or Smartlink Empire according to your preference and experience: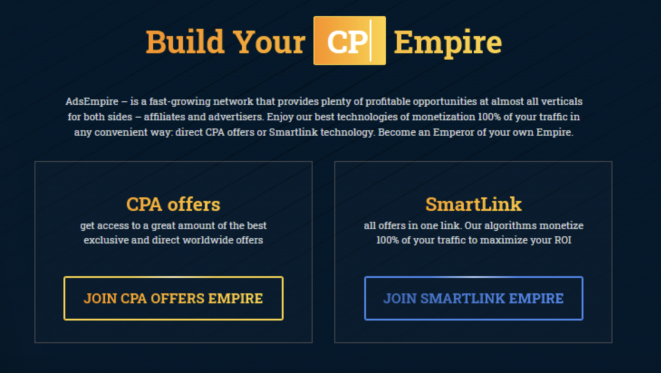 Fill in your contact information: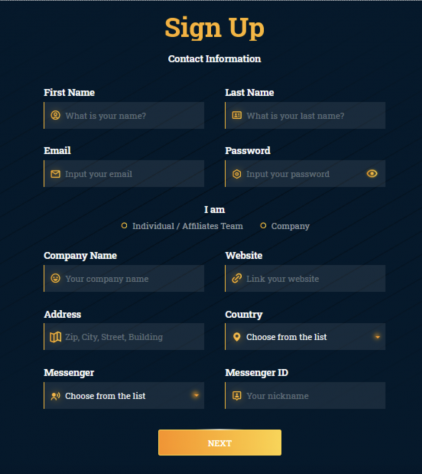 Select the option that mentions how you found out about AdsEmpire: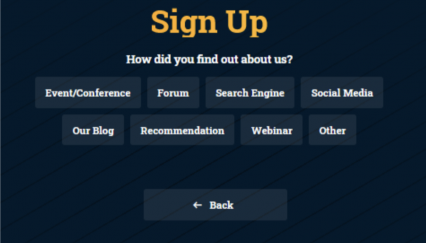 Click Finish Registration. If you fill out the information appropriately, AdsEmpire's affiliate manager will contact you through skype, telegram, or other preferred methods.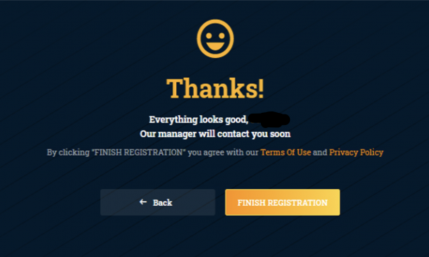 Whether you selected CPA offers or Smartlink, AdsEmpire has expert affiliate managers who understand their roles. They work hard to optimize traffic from all affiliates. However, you can work on both CPA and Smartlink. Usually, AdsEmpire takes 48 hours to review your application.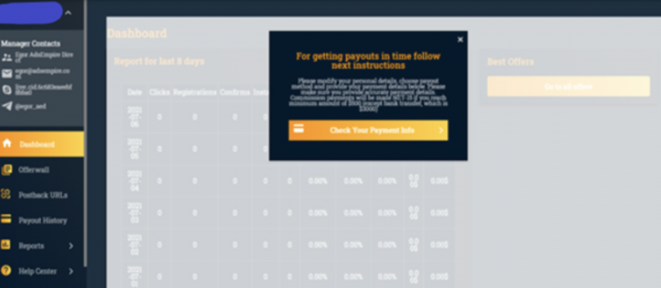 After accessing your account, you will view a standard dashboard. The first step should be modifying your personal details, selecting payment methods, and providing payment details. On the left, there is an Offerwall section containing all the offers in different affiliate programs.
Contact your affiliate manager to get the necessary links. Your manager's contacts are found on the left. An important rule of thumb is that the manager contacts you after registering. After analyzing your GEO, traffic sources, and results, your affiliate manager provides the best offers.
The main characteristics of this affiliate network include:
Founded in 2020, the company has prior worked privately with top affiliates and advertisers.
The main verticals include dating, mainstream, CPI, finance, and iGaming.
They accept all traffic from 50+ GEOs, focusing on all English-speaking countries, EU, Asia, and LATAM (Latin America).
Benefits of using AdsEmpire
AdsEmpire is a fast-growing affiliate network that offers both affiliates and advertisers a wide range of profitable options across multiple verticals. Wanna try them? Register with AdsEmpire and earn more money!
Unique platform: You do not need to worry about choosing between Smartlink and CPA offers. You can run both simultaneously!
Monetizes all sources of traffic: Their Smartlinks are designed for different sized leads. On the other hand, homogenous traffic is more suited for particular offers (CPA).
Attractive offers: Depending on your type of traffic (desktop or mobile) and geography, the cost of a lead in AdsEmpire usually ranges between $0.9 and $6. Interestingly, affiliates enjoy additional bonuses and revenues after monetizing 100% of their traffic.
AdsEmpire offers detailed statistics about your traffic and conversions on the dashboard.
Quality support: AdsEmpire motivates and helps its affiliates and advertiser in every possible way to achieve optimum results. The great news is that partner networks hold contests among affiliates with valuable prizes. The company's LP optimization tools help you identify the best landings.
Affiliates get weekly or monthly payments from $250.
You get to work with various kinds of traffic apart from spam, motive, or fraud.
Special tools
One of the unique tools in AdsEmpire are Smartlinks. For many affiliates and advertisers, the question still remains, what is SmartLink? A SmartLink is a URL that allows you to redirect traffic to the desired offer according to the targeted device, GEO, or others. This tool utilizes a fancy algorithm to help affiliates and advertisers get 100% of traffic and ensure none gets lost along the way due to possible incorrect operator/device/GEO, etc. For instance, when some clicks are not from the targeted GEOs, they are delivered to a different offer that requires clicks in that specific country. Smartlinks may have a 25% return on investment (ROI) increase compared to individual offers from a general group of products. Additionally, Smartlinks utilize:
User's connecting type, like WI-FI, 5G, 4G, or 3G.
Device's operating system
User's device operating system version
Smartlinks direct visitors to the best converting offer + landing page for that specific segment based on the targeting settings. AdsEmpire allows you to work with Smartlinks, CPA, or both! Smartlinks can work out to be a regular and consistent revenue stream for affiliates. It's a remarkable tool to make your effort easier as an affiliate marketer. Instead of using multiple offer links for different campaigns, you just need one Smartlink in all your campaigns.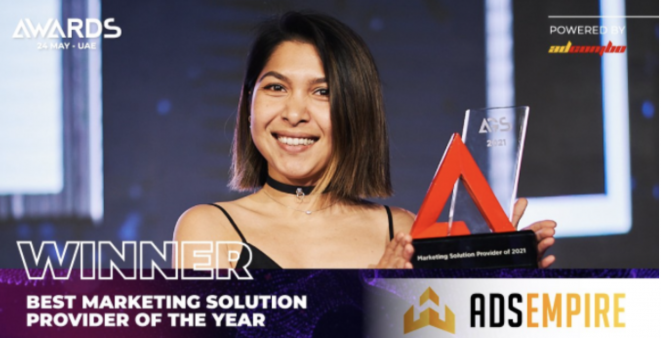 AdsEmpire is a multiple award winner in various categories. One of their recent achievements is a Best Marketing Solution Provider of the year at the Affiliate Grand Slam Awards held in Dubai May 25-26th.
Accepted traffic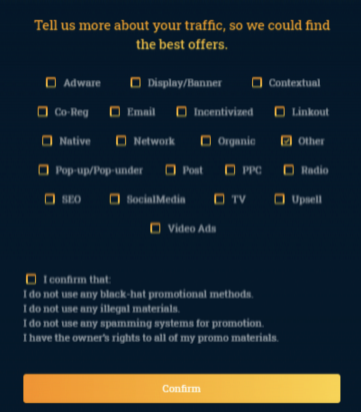 AdsEmpire also needs you to mention your traffic sources to find the best offers. Some of the accepted sources of traffic include Adware, post, video ads, contextual, Co-Reg, PPC, Email, Linkout, and others shown in the screenshot above. AdsEmpire accepts traffic from multiple GEOs, but notably, they do not accept any incentive, chat, or fraudulent traffic. Affiliates should follow the rules and regulations without violating policies on the platform or advertisers. You should not use any black-hat promotion techniques or spamming methods of promotion.

AdsEmpire offers overview
AdsEmpire's verticals include Dating, Dating Mainstream, Nutra, Pin submits, Cams, Sweepstakes, Astro, Crypto/Forex, Games, Games Mainstream, Betting, and Casino. Let's explore some of AdsEmpire's Dating Offers.
Online dating has been booming for more than a decade. As one of the verticals capitalizing on human emotions, it's resistant to the season change. People will always look for romance. For affiliates, it means a constant source of opportunities for making good money. AdsEmpire gives you the means to promote both Dating and Mainstream Dating, which pretty much covers the Dating niche.
Mainstream Dating refers to dating apps/websites where customers try to find their match according to common interests. Dating focuses on websites/apps where people can meet and have sexual relationships. AdsEmpire has exclusive Dating offers for you, including:
Another strong side of this affiliate network is their attractive dating offers in the DEU region for you. These offers target the German market. Some of the unique offers include:
Contact your manager and try out these new exclusive offers!
Becoming a super affiliate with AdsEmpire
Super affiliates are people who are ahead of the pack in the industry. They are always focused on their jobs and are hard-headed about their jobs. Super affiliates brainstorm, incent, and implement creative solutions, ideas, and approaches. You need to have high aspirations in the digital marketing industry. Some of the techniques of becoming a super affiliate include:
Exploring new niches
Most super affiliates established a consistent stream of revenue by utilizing the reach of mobile affiliate marketing. You have to come up with creative approaches, new techniques and manage to make a steady income. There are at least 3 billion smartphone users globally. Due to the global pandemic, different user behaviors, and new interaction norms, you have to take advantage of digital marketing platforms. If you build a connection with a portion of existing and new mobile users, you are on the right path.
Tapping into CPA marketing
You may have heard some big names in affiliate marketing. Most of them gained notorious status by driving traffic and promoting CPA offers. CPA means getting visitors or clients to perform particular targeted actions. The action can be making a purchase or simply signing up. Advertisers determine the targeted decisions and ad requirements. CPA is one of the most cost-effective affiliate models because you can easily track and attribute specific ad campaigns.
Be prepared to commit
Earning a super affiliate status requires affiliates to go back to basics, learn from errors, retry failed tasks, and repeat the process. That is how affiliates know new tricks of the trade. Retracing your steps or going back to basics is essential. Having a solid foundation, in the beginning, is your golden ticket.
Developing a superior mindset
Your mindset matters and influences your success. Other than utilizing digital channels and affiliate methods, gaining a reputation is influenced by your attitude and actions. Learning to be artistic and innovative can help you stand out from a big crowd. It implies searching for opportunities and loopholes that other people overlook right away. The same rule applies to your success in the industry. Some of the ideas may fail, but others are executed seamlessly.
Payouts in AdsEmpire
At AdsEmpire, you get paid through:
WebMoney

Bitcoin

Qiwi

Paypal Paxum

Payoneer

Peysera

Trustpay

Genome

Wire Transfer

or other Builderlings payment systems.



The payout threshold for a week is $1500, and the minimum payment amount for a month is $250 and $2000 for Wire Transfer, Payoneer, Paypal, and Paxum.Next, let us elaborate on the traffic types accepted on the platform.

Key Takeaways
AdsEmpire is a new and rapidly expanding affiliate network that provides myriad profitable opportunities with the best converting verticals for affiliates and advertisers. The company offers the best technologies to ensure you monetize your traffic of any type and from any geo in a convenient way, either by direct CPA offers or Smartlinks. AdsEmpire believes that you must be committed to gain success in affiliate marketing. Wanna you try? Register with AdsEmpire and assume the role of Emperor of your own Empire!
Share the article

Read. Learn. Do. Earn more money on Affiliate Marketing
Don't miss