Affiliate Grand Slam held on May 25-26 in Dubai gathered many experts in affiliate marketing under one roof. In total at the conference there were about 4500 participants, 150 companies, and many prominent speakers from the industry. Panels were focused on topics related to digital marketing, brand strategy, marketing in crypto, new technologies in adtech and content creation.
What was it like at Affiliate Grand Slam 2021?
It was difficult to cover the entire InterContinental Dubai Festival City in two days, to see all the stands and listen to all the speakers, but we activated the maximum of our networking abilities and among other things managed to interview some interesting representatives of the industry. 
Today we publish an interview with Andrey Veselov from the RollerAds Advertising Network.
Who are RollerAds?
RollerAds is a self-service advertising network with its own campaign optimization tools and advanced anti-fraud system. They use CPC and CPM models, with a minimum bid of $0.001 for all GEOs, giving a good set of options to access untapped opportunities and markets. They offer quite nuanced targeting options, allowing you to fine-tune it to individual campaigns.
You can read more about this affiliate network in our recent review.
We were excited to meet Rollerads team at the Affiliate Grands Slam and ask them a few questions about their experience of the conference, recent changes in the affiliate marketing world and their plans for the future.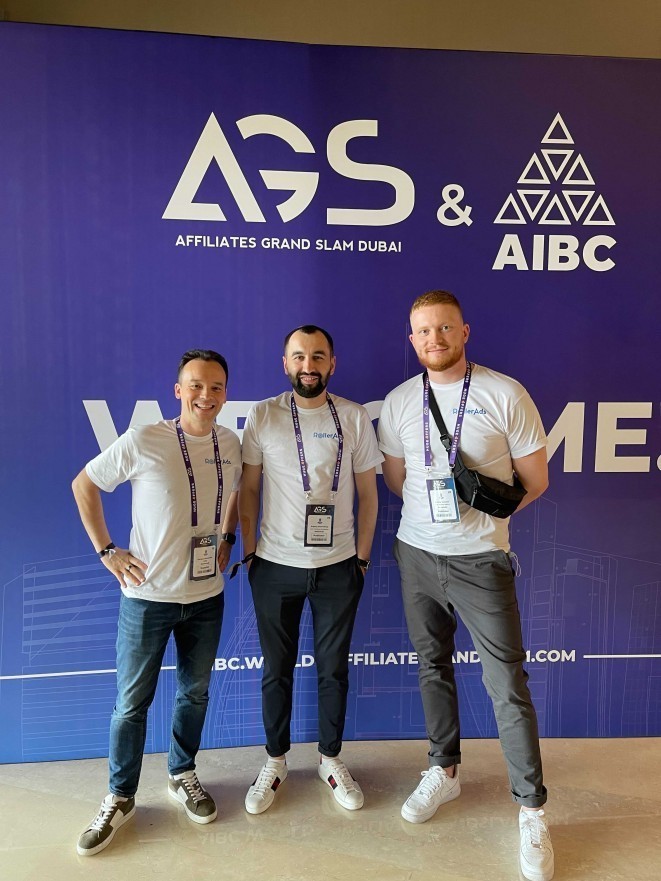 Left to right: Sergei Zhura, Eugene Bezrodnyy, Andrey Veselov at Affiliate Grand Slam in Dubai
AffiliateValley: Hi Andrey! How are you doing? How do you like the AGS scene? What's your overall impression of the expo? 
Andrey: Hello! Doing great, the expo is fantastic and we are enjoying our stay here in Dubai!
AffiliateValley: Have you met anyone interesting here?
Andrey: Lots of useful contacts! Personally, we are not new to the industry and have attended many conferences before, but still managed to meet new people here, which is amazing. We haven't had a chance to attend a conference in a long time, and everyone is very enthusiastic about networking. We'll see what results it brings, but I'm pretty sure we'll take home a lot of useful information, contacts and deals!
AffiliateValley: So, it's been a while since the affiliate marketing community gathered offline in such big numbers due to the pandemic restrictions. Speaking of which, how has COVID-19 affected RollerAds? What challenges did you face and how did you cope with them?  
Andrey: Speaking of covid, the pandemic itself did not make big changes in our product, because we provide traffic all over the world, our niche adapted to the new world order quite quickly, moreover, because of the pandemic, traffic volumes are actually growing.
AffiliateValley: What are the two things that you're most proud and not proud of that happened in the last year?
Andrey: It has been a difficult year, but it has made us grow in every way. Our team is expanding, we're increasing our customer base every day, and we're trying to provide the best services possible. We are proud of what we do as a company!
AffiliateValley: What changes have you noticed in affiliate marketing lately?
Andrey: Speaking of our niche, we are keeping a close eye on all the verticals on our platform and there are a lot of new trends emerging. Speaking about specifics, I would just recommend for your readers to visit rollerads.com platform and talk to any of our managers, they can provide a lot of useful information on the particular topics.
AffiliateValley: How are things going with RollerAds right now?
Andrey: Right now we are focusing on crypto and finance verticals, also sweeps and software are one of our best verticals. We have very special traffic that works amazingly on push and pop for these categories, so we are investing a lot of effort to give our partners the best experience with that. But we don't forget about all other verticals too, it is important to have stable results within all verticals even if some of them might provide less revenue.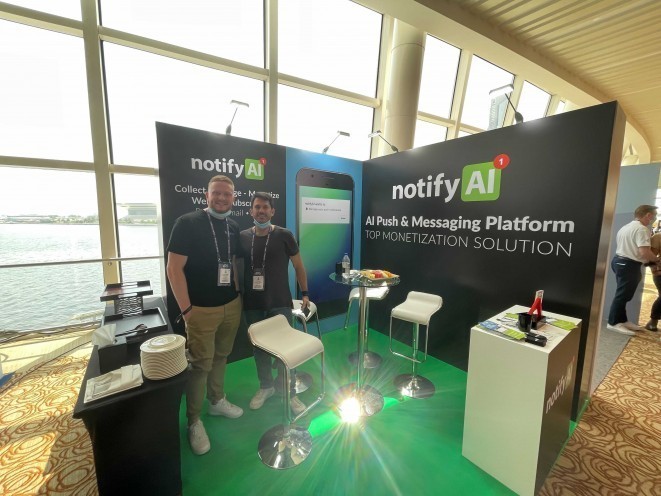 Andrey Veselov at the notifyAi booth at Affiliate Grand Slam in Dubai
AffiliateValley: What are your plans for the future? (that you're willing to share with our readers) Do you have anything exciting planned for your partners and clients?
Andrey: We are developing a CPA model on push and pop ads, so now you can ask your manager to drive some CPA campaigns. We noted 2x better performance on some campaigns after we switched them to CPA model, thanks to our advanced optimization algorithm. This could be the most interesting development that might drastically improve our clients campaign results.
AffiliateValley: Any tips for our readers? Or maybe a tip-off?
Andrey: Working with push and pop ads made us rethink our traffic structure. For example, one of the most exciting features of our platform is a parameter that allows you to track larger slices of traffic. Not separate websites/zones, but some thematic groups of websites, groups of publishers, sources grouped by traffic acquisition methods, etc. 
This allowed all of our advertisers to optimize a lot faster. For some advertisers this was a game changer, and we continue to develop features like that to make optimisation easier and more custom-tailored.
That's why we advise our users to follow our updates and do not hesitate to contact your managers with optimization questions - we want to provide the best solutions for every user.
We thank the RollerAds team for the interview, and you can learn more about this affiliate network on their official website RollerAds.com.
Share the article

Read. Learn. Do. Earn more money on Affiliate Marketing
Don't miss