Every affiliate marketer asks themselves the same question: how do I make the most out of every campaign? The obvious answer is that the marketer needs to identify and promote suitable offers. 
At Zeydoo, we understand that your priority is performance boosting using the least amount of time and money. We offer a solution through our advanced and technologically astute feature called Smartlink. 
Our position in the market as an affiliate network has allowed us access to the issues that rank highly among most marketers in the industry. We took our knowledge and developed this feature that cuts the time spent on testing. 
Using the Smartlink feature will eliminate the need to run tests and experiments to figure out which offers are most profitable and which approach will help you earn the most. Your efforts will be minimal, but your earnings are bound to receive an incredible boost. 
The thinking behind Smartlink is that affiliate marketers should spend more time crafting captivating content that will grab the attention of their audiences. The task of reaching the audiences to deliver that captivating content should be left to highly effective tools such as the Smartlink algorithm. 
Affiliate marketers who use Smartlink can enjoy the optimal performances of their campaigns. The pressure on selecting offers with the highest performance potential can be eliminated to ensure that the energy is better spent elsewhere. 
What is unique about the Smartlink feature? 
These four key features explain why Smartlink is such a sophisticated and handy tool: 
Optimization: The Smartlink algorithm eliminates the hassle of making tweaks to better your performance. Let the algorithm work for you and get it right from the onset. You will not have to go through trial and error to determine what works. 
Instant results: Within two to three days, you will earn a minimum of 50,000 impressions on a selected slice, with the algorithm getting efficient boosting. 
Metrics: With Smartlink, your rotation will receive the best campaigns per the various metrics such as CR and EPC. 
Comprehensive Feed: You will enjoy access to one of the most extensive feeds of offers in the market on our platform. Our top converting offers that include CPM and CPA offers are included. 
So how does Smartlink work? 
The Smartlink feature utilizes a fancy algorithm to help publishers get the most out of the ads on their platforms. The feature combines multiple offers in one link, and when a user clicks on it, the traffic is split between offers with the highest EPC. 
On a given day, thousands of campaigns will be processed with the preferred GEO, platforms, and other relevant variable being considered. Once the algorithm runs for 2-3 days with a minimum of 50,000 daily impressions on selected geo platforms, the algorithm will have received a boost. What follows is the traffic flow that is bound to deliver results that will make you smile. 
The activation of the SmartLink feature opens you up to great new mainstream offers that appeal to your audience at top conversion rates. 
Smartlink works for:
Traffic-Back
Pop-Under
In-app
Redirect
Push
Plus many more! Dive in and explore the best offers available and sit back to witness the incredible results!
Which verticals are included? 
At this point, you may be wondering whether your preferred verticals and niches can utilize the Smartlink feature. The answer is a resounding yes, as we have all the verticals you could imagine. Here are only some of them: 
Games 
Content on Demand 
Dating
Software and Extensions 
Finance 
Mobile Content
Sweepstakes (CCsub, SOI) 
Utilities
Under Smartlink, everything is covered. We go the extra mile to customize the links based on the preferred verticals that deliver results for you. 
Important note: Zeydoo does not work with Adult, Proxy, or iFrame traffic. 
What GEOs and platforms are covered? 
We have selected our top-performing slices (GEO and Platform) whose tires and devices are available to you once you join. 
Windows
PL (Poland), US (United States), DK (Denmark), PE (Peru), FR (France), JP (Japan), AT (Australia). 
Android
US (United States), BR (Brazil), AU (Australia), IN (India), CZ (Czechia), VN (Vietnam), FR (France), RU (Russia), MX (Mexico), NG (Nigeria). 
Mac OS
GB (United Kingdom), CA (Canada), UA (Ukraine), US (United States), JP (Japan), VN (Vietnam), BR (Brazil), IT (Italy), ID (Indonesia), DE (Germany), ES (Spain), FR (France). 
iOS
CL (Chile), US (United States), SG (Singapore), GB (United Kingdom), JP (Japan), DE (Germany), CO (Colombia), EG (Egypt), IL (Israel), IN (India).  
This list is not exhaustive. There are many more slices included. Your desired slice will be accessible to you via Smartlink. 
What are you waiting for? 
Once you access your Zeydoo account, go to the offers section and look on the left side. 

You may have to wait until your account is approved before you can explore what option you will enjoy under the Smartlink feature. 

Within the first few hours of joining Zeydoo, your view will be as shown above. The platform prides itself in having a highly responsive team that will approve your account within 24 hours.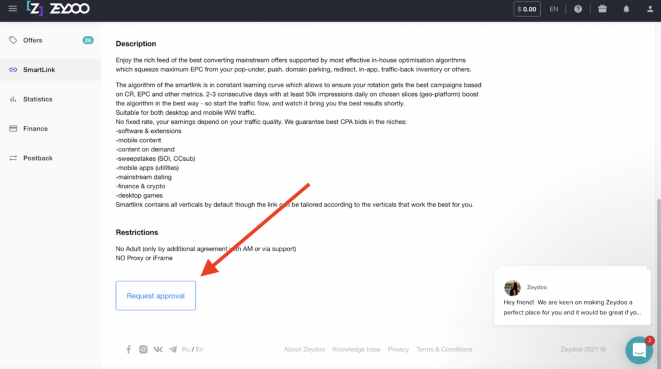 Once your Zeydoo account is active, you will see the description above when you click on the Smartlink link. Once you request is approved, you will be on your way into the world of high performance with minimal time spent optimizing for the best results. Do not let this incredible opportunity escape your grasp. Take advantage of the superior Smartlink algorithm today!
Key Takeaways
Smartlink does an excellent job, but you still need to look into the statistics and experiment with your traffic. Now that you have a remarkable tool at your disposal that can help you earn extra profits, this will be easier than ever.
Share the article

Read. Learn. Do. Earn more money on Affiliate Marketing
Don't miss