Today we are publishing the second part of the interview with Martin Calvert – Marketing Director of ICS-digital. If you haven't read the first part yet, do so now! You can find it here.

In this part, our partners from Traffic Cake affiliate network - with exclusive offers for Sports, Casino, and eSports - talked with Martin Calvert about SEO in affiliate marketing, analyzing competitors in iGaming and a lot of other insightful topics. Enjoy!
Q: Let's talk about SEO in more detail. What strategy should a SEO specialist choose: launch a lot of small projects, websites, and then select the best of them – or immediately create and grow several large websites?
Martin: Yeah, it's a good question. I think, again, maybe 10 years ago, it was easier to do the first approach: just launch a few websites, see what happens, then pick the best to really commit to. I think now it's probably harder to compete if you're just one person or a very small team. So I would probably spend more time on research initially - look at the market, look at who's making money, look at the rankings that are available, consider who is ranking for those big terms, maybe around no-deposit bonuses, free spins, or match-day previews, if it's a football thing, NFL picks, or whatever it happens to be. Look at that content and think, "Is that content something I can improve upon? Can I compete with this?"
And if it seems like the content that is ranking is not amazing, maybe that's quite encouraging – maybe that is something to say "OK, I can commit to this and I'm pretty sure I can make money through this. I know more about this sport or these games, or I have a team that I can do this with."
That's probably the most important thing: I'd say a smaller number of sites that you commit more time to and that will build for value, I think. Unless you have lots and lots of budget, in which case yeah, sure, launch 10 or 20 sites and make it all happen. But I think for most new business owners or startups, I would say picking two or three sites maximum is the best way to get things started. And then the sooner you have revenue coming in, the more you start to relax and think, "OK, I can build this now." Otherwise, you're going to run out of money so it's good to get that initial confidence.
So, if you do that correctly, you'll know what the opportunity is; you'll know who you need to beat. And the benefit of SEO in 2022 is there are so many tools to help you understand how to beat people. I think for content, nothing is better than actually looking at the content on the page and thinking, "As a human being, do I like this? Does it make sense?"
But for off-site SEO, you can use tools to see what backlinks people have, what kind of sites they are featured on, what is the traffic of those sites, and then put together a backlink or off-site SEO link building plan that can beat those competitors. And that will come down, probably, to quantity of links. So if this competitor has 10 links to their money page; if you make 15 and the quality element is there as well – you're getting better quality site linking; if you have comparable or better content, you'll probably start to have an impact.
In that way, SEO is more straightforward than it used to be, I think. Links still matter a huge amount; they're central to the Google patent. This is how Google discovers websites; it's how Google understands the connections between websites, so that's still going to be a big opportunity for you.
So that's one thing I would say is really important for SEO in 2022. I think it's definitely something that benefits from doing your research, but there are lots of opportunities to beat the competition, for sure.
"The gambling industry has so many people in it who are also gamblers, the people who gamble on themselves and don't want to do the research upfront are basically guessing and betting on themselves, which is noble and interesting in a way. But personally, I think it's better to do the research and have a much safer bet."
Q: Based on your experience and knowledge, how would you recommend analyzing competitors in the iGaming industry? 
Martin: Yeah, well, like I said, it's easier than ever before! I think that from a content perspective, firstly, doing some keyword research – I think that's one of the main things. One of the easiest things to do to get a quick idea of how things are going is to pick maybe five market leaders, put them into tools like Semrush or Ahrefs and look at what keywords they share. And that will tell you which keywords they're fighting over. And those are probably the ones that have the most value. Probably.
Gambling isn't always a logical industry. Sometimes it's possible that people are fighting over keywords that are not that valuable; they're just following each other. So it's worth applying some common sense but this should give you a list of keywords that are currently being fought over. You can then use Google Keyword Planner to see the volume of traffic for these keywords; you can look at how much people are bidding on these terms in Google Ads. That's also a really good way, usually, of figuring out which keywords are the most valuable because it's like an auction system – so the more people are paying for these keywords, the more likely it is they have some value when it comes to conversions. So that's something we want to emphasize when we're analyzing these things. It's keywords that actually bring players, that also bring depositing customers.
So, once you have that list, you can then look at the on-site content. When you type in these keywords, what kind of content is ranking? Is it 10,000 words? Is it 100 words? What aspects of it can you pick out? Maybe even just as an individual, rather than using a tool. Does it look like playful content is ranking, or more data-driven content? Is content well structured, with headings? Very descriptive headings? Probably, in most cases – that helps Google understand what's going on. And then look at what the user experience is of that page: how does that page then contribute to a deposit? Is there scope to bet on that page, or play a game? Or does it funnel people through to another page? If it's an affiliate page ranking, does that page have offers and banners? If it's an operator page, how easy is it to get from that page to a game or a sportsbook? Or whatever it is – a betslip, that kind of thing.
Once you have all this information, you should have an idea of the type of keywords that are ranking, their variations, who's fighting about it, what kind of money is being invested to fight about these things, the type of content that is ranking, whether it's friendly or complicated, long or short. And then you can take the view, "Can I produce this content?" And once you've said yes or no, you then decide what is the competitive challenge for off-site SEO, so link building.
So, for example, if you're confident you can produce really good content that will be competitive for these keywords, how many backlinks do you need, realistically, to be competitive? Roughly. Because it's never an exact science. It's not like if a competitor has 10 links and you get 11, you're going to beat them. It doesn't work like that at all. But you should get a view of what it will take to compete. And if some of these pages have 100 links, that's probably going to be very expensive to compete with but based on your research, you might decide it's worth it. Because I know that the quality of traffic is going to be very valuable.
So you can do that at a high level for the most competitive keywords; you can do it again for the mid-tier keywords, the less competitive ones, or even the more numerous – what we call the "long-tail" – keywords that have much less search value but will be easier to rank for. So it's about your level of skill, your budget, how much time you can put into all of this. And through all of this, if you put it all together, you should have a realistic strategy. That's the most important thing.
Q: Do you think there are seasons in SEO, in the iGaming match?
Martin: Yeah, seasons: in sport there's always a seasonal element around the start of different sporting leagues: transfer season in the US; you have March madness in basketball; in the UK, and everywhere, you've got the start of the Premier League, which is a big thing. And in terms of other sports in the UK, the Grand National is really important as a general attention-grabbing seasonal event. The player value that we want isn't always there because it's people betting for fun, on a one-off basis. But still, it's an opportunity. But I think, if you're a sports-based affiliate or operator, it's important to build content hubs around the sports seasons that are most important to you.
In terms of how you do that, you can look at the start of the season, the end of the season – look at when bets are spiking. People get most interested at the start and at the end, when things are starting to settle down a little bit. So when it looks like the Premier League is going to come down to two or three different teams, that's when people start to get excited about placing a bet again.
For casino and things like that, I'm not sure if there's a seasonal element to be honest. I'm sure somebody's done some research into whether people are really depressed on Valentine's day and go and play some slots. I don't know, but maybe there is some kind of seasonal element to that: different times of the year. I know historically summertime wasn't as good for table games and things like this because people were typically more likely to be on holiday. Certainly, in the pandemic, during lockdown, we saw poker have a really big comeback because people were looking for quite a social game of skill and something to do at home.
So yeah, there are definitely external things that shape how popular different games are at different times. I guess it's just important for brands to be aware of how that impacts them to where they're strongest. Yeah, definitely the sports side is, without a doubt, correct.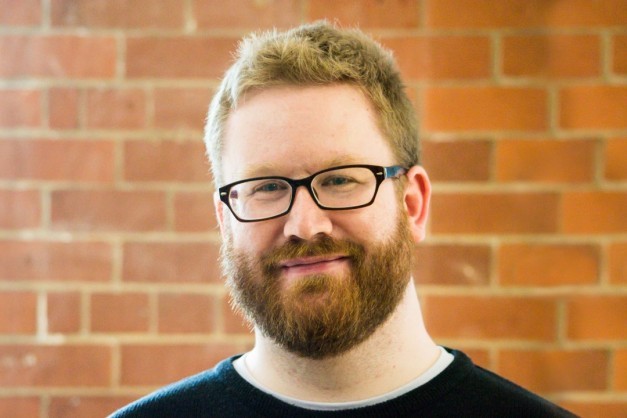 Martin Calvert. Source: Insider Media
Q: I guess in poker during this lockdown time, a lot of players became high rollers.
Martin: Well, I think some people did really well. There are a lot of people who are very clever, very mathematically minded, who have a good mind for poker. I definitely do not! But for some people, it's just about having the time to try it out. You know, that's one of the barriers for a lot of betting companies: you don't necessarily make it easy for a completely new customer to try it out. So, I think that's very true when it comes to slots and things like this. If you've never played a slot game in your life – everything moving so quickly, all the little buttons – how do you even get started? And I guess that's similar for sports. If you've never, ever in your life placed a bet on sports, or football for example, how do you know what "each way" means in a horse race? Until somebody tells you, you just don't know.
So I think betting brands can do a better job of educating potential customers – bringing people closer, not pushing them away. And that is, again, another way of looking at things from an outside–in perspective rather than inside–out, and assuming everybody knows what you do. So that's where we need to make it easy for customers.
Q: Do you often come across such requests in the iGaming match? "I love promoting this site but there are no results. What should I do?". In case if it's an unknown website. 
Martin: There are multiple things we can do.
I think the important thing is to look at it from a trust factor. I think sometimes new betting brands make the mistake of having a very exciting, maybe spammy brand name. If it is like #[email protected] or something, that's not going to look the most trustworthy. So thinking about your brand, thinking about the appearance of that brand is important. If you're talking just about online, you've got the same ability to craft a website as anybody else, more or less. That website has to appear trustworthy: payment methods have to be really legitimate, clear; give people the information about what happens when they deposit and how they get money back; try and provide things like testimonials from happy players, walkthroughs. Make it easy to be a customer and have trust.
From there, it becomes a lot easier to convert a visitor into a player. And if you have that, as an affiliate, then it's easier to strike a good deal with an operator. Not easy but easier! Because you can say, "Look, we are a legitimate company; we're not going to say anything that is incorrect or get you in trouble with the regulator. We're not going to say something controversial and have your brand name mixed with it." I think that's what a lot of operators are looking for: it's affiliates who are trustworthy and have a good reputation. And if that allows you to get better deals with them, that's something important.
Likewise on the operator side, you've got to have offers and a platform that affiliates can work with. Affiliates don't want to send traffic to a site that doesn't convert. So if the site looks weak, if it's broken, if it's too slow, if it's hard to get money out, if it's hard to deposit, if it has bad reviews, all of that is going to mean that really good affiliates are not going to want to waste time.
So it works both ways. I think trust is the most important thing. And when it comes to online, one of the best ways to establish trust is to have a stable website: nothing breaks, no dead ends, nicely branded, not like a 10-euro logo from Fiverr or Upwork or something. Have something that appears to be strong and legitimate and gives people the answers that they need, especially when it comes to SEO. They're looking for answers; you can give them the answers. And that's how you build up a nice brand. Even if you're unknown, that's something everybody can work on. You might not be #1 for free tips, or new slot games, but you can definitely work on how to help people and you can definitely manage your own appearance online and user experience. These are all things you control yourself and not something a competitor can change about you. 
That's what I say to newer companies. Try and be a stable, trustworthy brand and if you build up your SEO in the ways that we discussed, using research, being very data-led, and if you show some good traction, even over a short period, I think that will make operators listen to affiliates. And for operators, it's a way for them to start to establish themselves as somebody that affiliates might want to work with, because they know they're going to get paid.
Q: Should affiliates promote sites using behavioral factor tools?
Martin: If they have the data. I think sometimes some of the stuff sounds really clever but it's actually incomplete data. Having behavioral data, you've got to think, "What is the source of that data? How can you qualify it and how can you pass that on to operators in such a way that they're able to understand it and give you better deals or understand why this type of depositor is worth more money?" – for example. I think that's probably key for that type of thing. 
Q: OK. To do some research, have some knowledge about behavioral factors, do you need to use a program?
Martin: Probably. I think, sometimes in conventional PR and market research they can be guilty of using very limited information to make big claims. They might do some research, like a survey of 20 people and say "This is the way. Your brand should be this color and not this color."
I think it's worth it, if the data is there – if there's really good data and it's something you can have confidence in – then definitely apply it. If it's something where you're not able to make the case about why it matters, then I think that's much more challenging. So as long as you can back it up, I think operators will appreciate it and value it. Although as we've seen, operators and affiliates are not always great at sharing information between themselves; they can be quite secretive for whatever reason. So maybe you need the right partner to fully understand the behavioral side of what you're bringing to the table.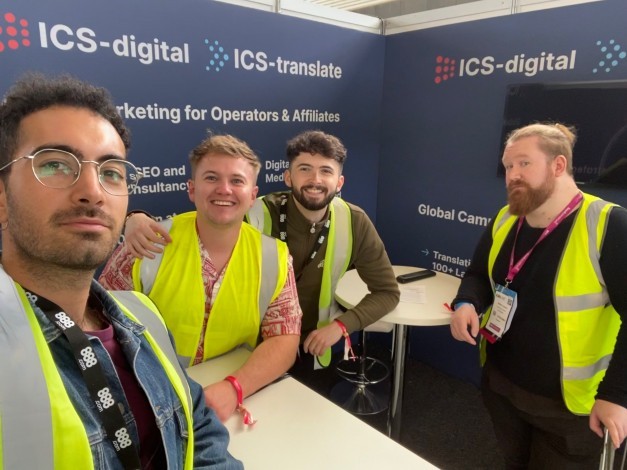 Martin Calvert and the ICS-digital, ICS-translate team at iGB Live 22 in Amsterdam. Source: Twitter
Q: What do you think: is it worth investing in website design? Is it worth creating unique content for websites?
Martin: I mean, yeah. I think these days there's a major push on AI content. I have a lot of doubts about that because when I read it, sometimes it seems accurate and there are no mistakes, but it also doesn't get me excited in any way whatsoever, especially around anything sport related. An AI platform can definitely churn out an approximate description of Manchester United and Chelsea and say these are the players that are going to be on the pitch, this is the last score when they last played, and it's not very interesting.
I think the main thing with content these days is to try and be personal, interesting, offer an opinion, give people something to really engage with. That's where I think unique content is good. It helps your brand, establishes your tone of voice, and you give people a reason to come back. Rather than just being one of 20 betting brands, if you've got more personality, then it makes more sense that they might want to read your stuff more often.
If it's purely for very transactional SEO, maybe there's some value in doing non-unique content, but I don't think that's the way to make real money, to be honest.
Q: OK. What should you pay attention to in link-building features for iGaming sites? 
Martin: Yeah, that's a really good question. Like I said, maybe 10 years ago it was really easy just to get any kind of link - irrelevant links, and it would probably help you in some way. Nowadays, I think the quality factor is really important, so having topically relevant sites linked to you. If you're a site about casinos, having entertainment and casino sites linked to you will help to reconfirm that you are a good casino site. Same for sport, same for bingo, same for any kind of betting platform.
So topical relevance is really key. I think also it's the site quality. And it's worth remembering that Google doesn't have a public measurement of site quality, so there are lots of tools with their own ways of assessing quality. It's not unusual for us to report on things like domain authority, domain rating, trust flow…all these things from  brands like MARS, Majestic and Ahrefs that they've made up as a quality metric. I think that's perfectly fine as an approximation to give people an idea of site quality but it's important to look beyond just the metrics and see: How much traffic does the site have? How popular is it? What about this individual page? And so on. And then you can get an idea of what sites are best to get links from.
So these are the things I think are good to bring into a link building conversation. From our side of things, we have maybe 20 or 30 staff members whose entire job it is to evaluate and bring on board websites and publishers that we can work with. I think we have around 15,000 publishers that we work with for link building worldwide. That makes it quite easy for us to find good-quality sites for our clients. But it's not always easy; the main thing is to always have a human eye and think, "Does this look like a real site? Would I choose to use this site myself?"
All of these sites that are just really, really bad blogs, badly written, all that kind of stuff, that's going to give no SEO value. They're probably not going to give you a penalty, because Google seems to have moved away from link penalties – partly because it would be so easy to manipulate that and send a load bad links to a competitor so they go down and you go up – but the risk is you spend money on links and you just get ignored. Google's not hurting you with them but you're not getting any benefit in rankings either.
So the main thing is to look at the benchmark for the industry you're in, look at the quality and quantity of links that your competitors are getting, and try to beat that, combining that with really high-quality content and a solid technical SEO strategy – how you're structuring your website, how fast it is, how easy it is for people searching to find the information they need. Put all of that together and you'll have an effective SEO strategy. You then have to relate that to what we were talking about earlier, which is the business case in different markets and different industries.
"It might be that you can put together a very effective SEO strategy, but the level of competition will be so high or the quality of player value will be so low that it doesn't make sense. So, as always, you need to take a human view and think, "Where can I make money? Where can I beat people, and how can I adapt if things don't go my way immediately?" 
Q: Thank you. Really, link building is a huge question for analyzing for some basis of knowledge. 
Martin: For sure. It's an enormous industry, but it's also very easy to get things wrong. We try and help people to waste less time, not waste money, and try and focus on the things that will move their business forward, even if they're an operator or an affiliate in whatever country that we work with and in. That is the key.
Q: That's a great mission. How do you set up SEO for iGaming projects in the current conditions? 
Martin: I think we've covered a lot of that already. Having a plan is really important. One of the things also to emphasize is being able to measure your success. Getting Google Analytics set up in a really robust way from the very beginning, right when you design the website, is important, so you can see over time how things have changed. Also considering Google Tag Manager and things like this, so you can track certain actions on the website and how people navigate your site. Because if you can use that information to make the journey between arriving and taking some kind of profitable action shorter, faster, that's probably better for customers because they can do what they want to do. And it's definitely better for you because you're getting money quicker and getting more value from the traffic that you're generating.
So I think having Analytics set up from the start is really important, and then there is the research phase: making sure that you're focusing on the right market, that you know how and what task is ahead of you, how big the challenge is, and you're prepared for however long that will take. If it's three months, eight months, 18 months, it depends on your budget, your appetite for risk, and what your end goal is.
The other part of it is not just getting set up with Analytics, but also knowing what you're measuring and what your end goal is. For some people, their goal is to make money as a side hustle; for some people, their goal is to grow and become a long-term business. For other people, the goal is to grow for a year or two and then sell the website, and then do it again. So these are all different challenges, different ambitions, but you still have the same levers to pull, no matter what your goals are. It still comes down to backlinks, quality of content, relevance of content, and how well structured your site is in terms of speed, performance, indexation, all of that stuff – making life easy for customers.
So, no matter what your goal is, you have to be able to use those things at different times to make an impact. 
Q: Thank you, Martin. I guess the right persons simply need to be found for the right jobs and everything will be perfect!
Martin: That's the game; that's the challenge!
Share the article

Read. Learn. Do. Earn more money on Affiliate Marketing
Don't miss