Affiliate marketing has become something usual nowadays which may lead one to the conclusion that all available niches have already been taken. But that is absolutely not true. Luxury affiliate programs can push your income to a whole new level. Read this article to find out what these programs are about, how they function, what you should pay attention to while choosing a luxury brand for promotion and, of course, top programs which can help you make more money. 

How Luxury Affiliate Programs Work
One of the main business tendencies of recent years is moving online. Ecommerce has become an essential part of our reality. People can buy practically everything from a cup of coffee to some luxury item on the web. Most of the social networks have already introduced their own affiliate programs. But in this article, we will show how you can benefit from promoting luxury brands on your website.
Many people are interested in buying goods from luxury brands due to many reasons. Some of them need a sense of accomplishment that they get when they purchase such items, some want to show off and demonstrate others their status and that they can afford it, some believe that they pay for the symbols of financial success and so on. The good news is that if you run a website related somehow to a luxury life, you can multiply your earnings and boost your online business by mere participation in luxury affiliate programs. 
But what exactly is a luxury affiliate program?

In a nutshell, luxury affiliate marketing is the process of promotion of luxury brands through offering visitors of a website links for these brand items. In other words (in a perfect situation), a visitor comes to a web page, sees a link to some luxury item, clicks it, makes a purchase and a website owner gets a commission fee from each transaction. It is that simple! 

What Luxury Affiliate Programs Pay For
Affiliates of luxury affiliate programs are paid for promotion of luxury brands on their websites through pay-per-action. It means that the visitor should not only click on the link, but also make a purchase on the seller's website. Payment methods and commission fees may vary, but they are much higher in luxury affiliate programs than in usual ones. 
The niches that pay the highest rates include luxury fashion, traveling, accessories, home goods, jewelry, health and beauty. We will further have a closer look at the best luxury affiliate programs available today on the Internet for those who are willing to dive deeper into the luxury markets recovering after the COVID-19 pandemic.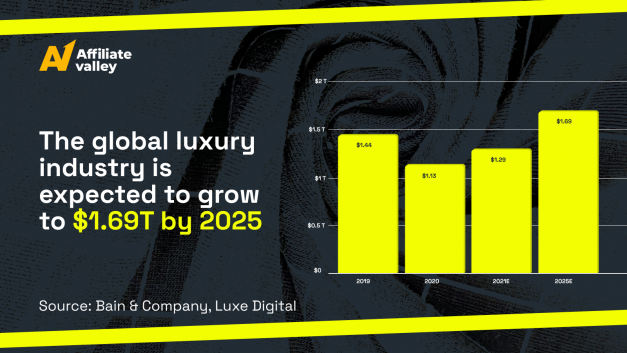 Top 15 Luxury Affiliate Programs
Let's come down to business and have a closer look at luxury affiliate programs in different niches in order to help you increase income from your web content.
Luxury Fashion Affiliate Programs
Luxury fashion brands can make anyone feel special. That's why we start with this category. 

Gucci Luxury Fashion Affiliate Program
Commission rate: 8% per sale

Cookie window: 45 days
Gucci is one of the world's most famous designer brands which practically everyone has heard of. It offers a wide range of fashion products like clothing, handbags, accessories and makeup. It also has expanded to home items, jewelry and watches. 

The 8% commission is one of the best things in the Gucci affiliate program: if you convince someone to buy a $3000 handbag, you'll get $240 yourself. Not bad for a single deal. And thanks to the growing brand's popularity, it may become easier to bring in new customers. 

Jimmy Choo Affiliate Program
Commission rate: 8% per sale

Cookie window: 30 days
Jimmy Choo is one of the top brands in the luxury industry among shoes. The brand was born in the mid-90s and quickly gained popularity among women who follow high-fashion trends. The assortment has expanded since then and now men can also enjoy Jimmy Choo shoes, trainers, loafers, boots and more. 

Ralph Lauren Affiliate Program
Commission rate: undisclosed

Cookie window: 14 days
Ralph Lauren has been a pillar of quality luxury fashion for almost fifty years already. In the beginning the brand was associated exclusively with polo shirts, but the situation has changed and now one can buy a vast collection of high-end clothing for men, women and children. 

Luxury Stores Affiliate Programs
What can be better than a single brand affiliate program? Only a multi brand program. Let's have a closer look. 

Nordstrom Affiliate Program
Commission rate: 2%-20% per sale

Cookie window: 14 days
Nordstrom is home for several luxury designer brands catering to people of different genders and ages: everything for everyone. It even has sportswear, linen, jewelry and makeup. But the fact that you can find things from the middle-class market makes Nordstrom even better. 

Commission rate (up to 20%) depends on the affiliate's performance. But it is motivation, isn't it?
Bloomingdale's Affiliate Program
Commission rate: 2% per sale

Cookie window: 90 days
Bloomingdale's is one of the oldest department stores founded in New York in the 19th century. The company sells collections from Armani, Gucci, Saint Laurent and others not only throughout many locations in the USA, but also on an online shopping platform. Clothes and accessories are offered for men, women and children. The 90-day cookie window is one of the largest among luxury affiliate programs. 

Saks Fifth Avenue Affiliate Program
Commission rate: 3%-6% per sale

Cookie window: 14 days
Saks Fifth Avenue is the online shop for those who want to buy designer clothes, shoes, bags and fragrances from such brands as Gucci, Saint Laurent and Balenciaga. Kids, teens and men also have a variety of options for shopping. 

Being an affiliate of Saks is also beneficial as a wide range of goods gives you an opportunity to segment your audience and either cast a wide net of customers or target those who are willing to spend several thousand of dollars in a single check. 
SSENSE Affiliate Program
Commission rate: begins with 5% per sale

Cookie window: 30 days
One more growing website offering its audience luxury items from Gucci, Saint Laurent, Balenciaga and some others is SSENSE. 

As an affiliate, you can enjoy rather big commission fees which can be increased after a few months depending on performance. If you are good at generating high-quality traffic, you'll be just fine. One more benefit of SSENSE is that joining with the affiliate program is free. And you can choose the payment frequency and get your commission either on a monthly basis or every two months. 

Farfetch Affiliate Program
Commission rate: 5%-13% per sale

Cookie window: 30 days
Farfetch is truly a global brand with shops in the USA, Europe and Asia shipping to 190 countries worldwide. Besides fashion items, the shop offers jewelry, accessories and shoes for all genders which makes affiliate promotion on your website much easier. Farfetch also initiated a competition among its affiliates. If you show good results, you will receive a bonus. 

Vestiaire Collective Affiliate Program
Commission rate: 7%-9% per sale

Cookie window: 30 days
Vestiaire Collective is a unique way to buy pre-loved luxury items. The shop started its activity in 2009 with one main goal – to make the luxury fashion industry more sustainable. Nowadays Vestiaire is a global player presented in the USA, Europe and Asia. 

Affiliate program offers 7% to 9% commission fees on net sales – one of the highest in the market. 

Luxury Travel Affiliate Programs
One more source of income for affiliate marketers can be found in the tourism and travel industry as many people are eager to spend large sums of money on vacation. 

Oberoi Hotels Affiliate Program
Commission rate: 6% per sale

Cookie window: 30 days
The first Oberoi Hotel was opened in 1934 promoting the idea of what a luxury hotel should look like in the Indian sub-continent. The motto of this hotel network is quite simple – the guest is everything. The result iswell-known – luxury hotels are presented in India, Indonesia, Mauritius, Saudi Arabia and UAE. 

Average order is about $500 which leads us to the conclusion that an affiliate gets $30 per referral. The main task becomes quite simple – show people how amazing a vacation in a luxury hotel can be, Oberoi will do the rest. 

MSC Cruises Affiliate Program
Commission rate: $100 per sale

Cookie window: 30 days
If you have ever been interested in the luxury cruise industry, you probably know that MSC is the largest private cruise company all over the globe sailing since 1988. At least, now you know for sure. 

Those who like luxury vacations either have tried cruises or are tired of listening about them from those who tried. In any case, it's not hard to convince people that they will never forget this cruising experience. 

MSC has different available options from short cruises to world ones starting with $15,000. Affiliates get a flat commission fee which may seem unfair, but the advantage of this program is that you can promote it to each segment of your audience. 

Velliers Jets Affiliate Program
Commission rate: 30% per sale

Cookie window: 1 year
What can describe a luxury way of life better than a private jet? Probably, nothing. No queues or crying children – only you and the sky. 

Villiers has over 9,000 jets for rent across 40,00 locations available for two- and one-way trips. 

Affiliates get a 30% commission which is rather generous. Assuming that a short flight costs more than $10,000, commission equals to $3,000. Add here a year-long cookie window and enjoy yourself.

Luxury Beauty Affiliate Programs
Beauty is often associated with luxury which makes this industry worth looking at.

L'Occitane En Provence Affiliate Program
Commission rate: 2.5% per sale

Cookie window: 45 days
L'Occitane En Provence is a luxury brand from France offering high-quality products for face, body and hair, fragrances and home goods. Both men and women can purchase here which widens the affiliate's target audience.

Sephora Affiliate Program
Commission rate: 5% per sale

Cookie window: 24 hours
Sephora is another French multinational seller distributing quality beauty products from global top manufactures like Burberry, Chanel, Clarins and so one. One can easily buy a wide range of skin, makeup and hair products on Sephora's online platform. 

Lancome Paris Affiliate Program
Commission rate: undisclosed

Cookie window: undisclosed
The third company from our list also originates from France. Being a luxury skincare manufacturer, the company offers all range of products from makeup to fragrances. All the products are said to be of high quality and ethically tested. 

How We Compiled Our Rating
In order to offer our readers the best experience, we have conducted research and carefully selected the best luxury affiliate programs. All the data was gathered from the publicly available sources like corporate websites, fashion blogs and expert channels. As a result, a list of most-linked luxury affiliate programs was created.

Our investigation includes luxury affiliate programs which are prestigious, offer high commission fees, reliable seller's reputation and goods and service quality.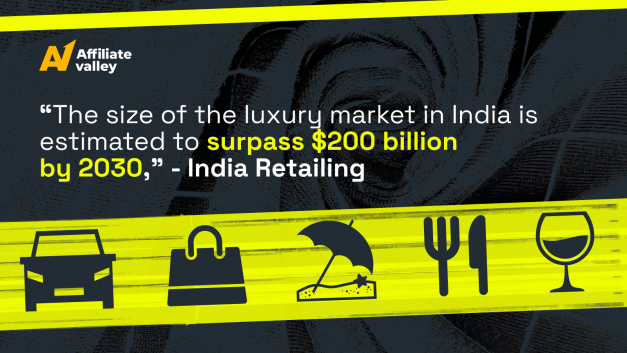 Tips for Webmasters Who Are Going to Work with Luxury Affiliate Programs
Luxury brands got the hardest hit during the pandemic. After all, if there is no one around to admire your new brand clothing, what is the point? But the end of all the bad things to come and the recovery is somewhere in the foreseeable future. And here are some trends to have a look at if you are planning to enter some luxury affiliate program. 

Asian markets, especially Chinese and Indian, are demonstrating the best results in returning to pre-pandemic levels. Many brands have improved their financial results thanks to their performance in Asia. 

Trend for "casualization" is on the rise. It means that many promoted luxury items start to look casual, but their price is still high. 
Sustainability is still a popular trend. Promotion of pre-owned luxury items in verified consignment shops can be a great option. The main drawback of this approach is that such items are sold out really fast. 
There are also some aspects that should be paid attention to while choosing a luxury affiliate program.

Payout frequency. Remember, that regular cash flow has never been something inconvenient.

Payment methods. The more methods are available, the more ways you can get paid.
Cookie duration. The larger the cookie window, the more chances to get the commission. Some people just need more time to make a purchase decision. 
Luxury items diversification. Working in several niches helps to reduce risks.
Conclusions
We tried our best to make a list of these luxury affiliate programs that are worth looking at from an income point of view. 
As one can see, the number of available niches within the luxury lifestyle is really big starting from hotels and traveling and ending with healthcare and brand clothing and accessories. 

One of the most important things to keep in mind is that the share of the affiliates who have doubts concerning luxury promoting thinking that these brands are something unreachable for them is rather big. It gives a great opportunity for those who are willing to capture it.

If you are new to the topic and want to know more, you can read our guide on affiliate marketing courses. And if you need more ways to start making money on the Internet, you can have a closer look at our other guide dedicated to it. 

FAQ 
Who is suitable for luxury affiliate programs?

In order to become an affiliate, one is recommended to have a website or a channel dedicated to the promoted goods and services as it will make traffic conversion more effective. 
What payment models are there in the niche?

The main payment model in the luxury affiliate programs is pay-per-action as the main goal of affiliates is to boost sales. 
What sources of traffic are suitable for luxury offers?

High quality traffic coming from the websites with visitors who are interested in a luxury way of life and ready to spend large sums of money on expensive luxury items. 
What types of offers are associated with this category?

Offers from different categories are associated with luxury affiliate programs: starting with some expensive beauty brands and ending with private jets. 
Does Gucci do affiliate marketing?

Yes, Gucci, like many other fashion brands, has an affiliate program. 
Does Dior have an affiliate program?

Yes, Dior also does affiliate marketing and affiliates have an opportunity to earn commissions for new customers. 
Share the article

Read. Learn. Do. Earn more money on Affiliate Marketing
Don't miss