Meet Lazar Žepinić – an expert in digital marketing specialized in business development and team building as well as e-commerce and TikTok marketing. Not only has he co-founded Pendulum Ads – an advertising agency with TikTok Advertising and Influencer hunting as their main focus, but is the CEO behind this team of specialists as well. His achievements in the world of digital marketing have served as an inspiration to many of his peers and newcomers in this field.

In fact, following this interview, he will be attending Traffic Summit as a speaker this year on September 28-29 in Istanbul, where he will share his expertise and knowledge on this industry.
Have you bought your ticket yet? If you would like to take part in the Traffic Summit conference and listen to Lazar's speech, Affiliate Valley is conducting a prize draw with an opportunity to win a free Basic ticket to the event. Just follow us on Instagram and write + in the comments section.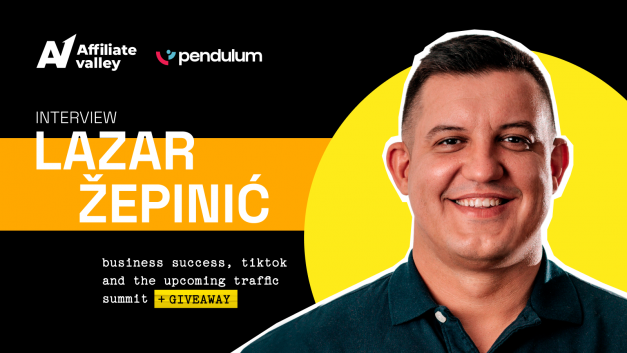 AV: Hey Lazar, thank you very much for granting us this interview! Let's start off with a brief introduction. Please tell us more about your background; we know that you have studied the Japanese language and literature at university but how did you get into the digital marketing industry?

Lazar: It started as a test at first. I was exploring my options and trying to see which kind of job fit my mindset and goals. I got a job as a performance specialist at a huge retail company and built my way to Amazon and TikTok from there.
AV: In August 2019, you launched Sellers Alley which is now a 7-figure advertising agency providing PPC marketing services to premium e-commerce sellers, how did you come up with an idea to start your own business?

Lazar: Thanks to the company where I worked, I entered the Amazon PPC world and saw a lot of potential as this e-commerce platform was expanding each year. And then, little by little, I created a team of PPC specialists who were learning, growing, and building this company with me. It was hard work, but we surpassed the obstacles thanks to the fantastic team spirit we formed.
AV: From a small team of PPC specialists to the first TikTok marketing partner in Europe, an official Amazon advertising partner, and a trusted partner of Thrasio in just three years – what is Sellers Alley's recipe for success?

Lazar: We had a massive drive to succeed and create something more significant. We believed it was possible so everything fell into place, and these partnerships happened. I think that our main recipe was togetherness and faith, which kept us going through some tough times.
AV: You are also the CEO of Pendulum Ads, an advertising agency dedicated to TikTok Advertising and Influencer Scouting, please tell us more about the project – what are Pendulum Ads' best-selling points making it different from its competitors?

Lazar: We created Pendulum Ads to become a full-service advertising agency offering clients many benefits. As you know, we are among the first TikTok marketing partners in Europe, which gives us a space to offer many perks to e-commerce businesses. Our clients can advertise in exclusive markets, quickly resolve their disapproved ads, access our influencer and UGC database and so much more.
AV: As an experienced startup executive, can you highlight the most important thing one should consider when developing marketing-related businesses from the ground up? What are the major sticking points and how can entrepreneurs avoid them?
Lazar: The most important thing is having a vision of what you want to achieve. The vision then becomes a set of goals, and goals become actions. You should focus on actions, but always keep your goals in mind. Track your KPIs and adjust them if you realize they were not correctly set. Few people will tell you this, but making mistakes is okay. I'm constantly learning from my mistakes and keeping my vision in front of me all the time.
Avoid going in multiple business directions as it can lead to confusion, and remind yourself why you started the company. Never forget your end customer, and constantly question how you can improve your service and help your customers achieve their goals.
AV: It's not a secret that one of your greatest passions is lecturing. You've already spoken at many marketing conferences, workshops, etc., and keep delivering your expertise to the global marketing community – how do you usually decide on which content you are going to deliver to the audience?

Lazar: First, I adjust my content based on the information about the event and the audience listening to my lesson. Second, I think about the most beneficial thing for them to know. Third, I concentrate my presentation on as many practical pieces of advice as possible, so the audience can apply these tips while advertising on TikTok.
AV: How can digital marketers benefit from attending subject matter events? Can you share the most exciting case based on your own experience?

Lazar: They can hear more about advertising: placements, ads, goals, attribution, and learn some creative tips on how to keep their videos fresh, engaging and with an organic look and feel. Most of the time, they can see our case studies and practical advice on creating, optimizing campaigns and making the most out of their advertising budget. I wouldn't reveal the most exciting case study, but I invite the readers to visit the summit and discover for themselves.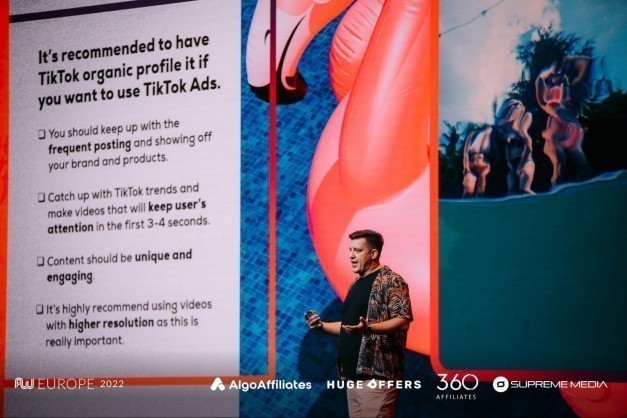 Lazar speaking at AWE Europe 2022 in Barcelona. Source: LinkedIn

AV: One of the forthcoming events you're going to speak at is Traffic Summit which will be held in Istanbul on September 28-29. What are your expectations for the upcoming conference?

Lazar: I am thrilled to take part in this event! My expectations are high as I see a lot of exciting topics and brilliant lecturers. I am looking forward to networking with fellow marketers and attendees. See you there!
AV: The topic of your speech at Traffic Summit is "Scaling your brand through TikTok Ads". Can you pull back the curtain and tell us more about what you're going to focus on in your presentation?
Lazar: I will focus on the importance of several aspects of TikTok marketing: organic profile, creative tips, ads and placements, influencers, and practical tips and tricks. It will be an in-depth story about how to use TikTok to scale your brand.
AV: What brands can be successfully promoted on TikTok today? Which niches can bring high ROIs to TikTok marketers?

Lazar: The most popular categories on TikTok are entertainment, dance, fitness, home and beauty. Brands who fall into these categories can be the most successful when it comes to advertising. Of course, they should not rely only on ads, but be creative and original. Ads can help you extend your reach and target the desired audience, but you need to have the right marketing strategy to succeed.
AV: With an ongoing exodus of digital marketers from Facebook, how do you think TikTok will evolve as an advertising platform in 2023? Given that today there are still a few people involved in this sector, how can rising competition affect performance?

Lazar: The latest research shows that people spend 10x more time watching TikToks than Reels. That says enough about TikTok's popularity and its enormous potential to reach many people. TikTok's advertising platform will constantly develop, with new ad formats, placements and creative ways to make the viewer stop the scroll. This platform has shown that it understands its users and continues to listen and learn while evolving in 2023.
AV: What are the core pillars of a successful TikTok advertising strategy in Q4 of 2022? What tactics and approaches should digital marketers pay attention to?

Lazar: They should pay attention to interactive adds-on (countdown, vote, and poll) for the upcoming holiday season in Q4. Also, community interaction campaigns can help expand the brand's community by leading the users to explore the brand's organic profile. The point is to test different campaign and ad options when approaching new audiences and re-engaging with old ones. Most importantly, they shouldn't forget to be creative. I suggest trying out TikTok's creative tools to design the most impactful ads.
Share the article

Read. Learn. Do. Earn more money on Affiliate Marketing
Don't miss