Both influencer and affiliate marketing have become essential parts of digital promotion. Not knowing the main differences between them and how they work decreases efficiency of your campaigns. The main idea is that applying each strategy in the best way can turn your target audience into loyal customers and boost sales rather fast. 
Read this guide to get a clear understanding about basic differences between affiliate and influencer marketing and to become more competent in the matter. 

What is Affiliate Marketing and How Does it Work?
Affiliate marketing is a strategy designed for promotion of products and services with the help of the partner or affiliate who posts special referral links on different platforms like expert blogs, social media accounts and websites. Visitors of these platforms consume thematic content and click the link if they are interested in what is being promoted. If the purchase is made, the affiliate gets a commission fee which may vary and depends on the terms and conditions of the affiliate program. 

Affiliate marketing is built on the basis of the performance reward system. Affiliates are interested in generating as many leads and traffic as possible to get their commission from a larger number of people. They can use different techniques like this. The principle is quite simple: the bigger the sales – the bigger the earnings. As affiliates' audiences tend to trust them, the probability of the purchase is rather high. In the long run, it is a win-win partnership both for the brand and its affiliates. 

Affiliate marketing programs give an opportunity to promote goods and services on many different websites other than the corporate ones. Such partnerships rely on collaboration with established blogs, related companies and content publishers. The main goal of any program is to generate more income thanks to special offers, discounts and sales. Companies usually work with multiple affiliates to be sure that their product is well positioned and recognized. 

In order to connect brands with affiliates, each side can visit special websites like ShareASale or FlexOffers that manage all the aspects of partnerships. 

What is Influencer Marketing and How Does it Work?
Influencer marketing is a strategy built on the basis of a partnership between a brand and influential persons who are popular among target audiences and who are hired to promote goods and services. These influencers create content related to the brand on their blogs, channels and social media accounts. Such marketing campaigns are usually short and consist only of several posts during a particular period of time. This method can easily increase brand awareness as nowadays practically everyone has a social media account and can be easily reached.

The trust of the followers (who are also the target audience) to the influencer is the basis of product promotion. In fact, influencers with smaller numbers of subscribers often have a higher engagement level than some big personal brands. But any type of influencer can impact their followers and can convince them to buy something in a more effective way. It makes influencer marketing much more personal.

Influencers are not paid for their performance or number of direct sales. They are paid for marketing and advertising campaigns. It makes it difficult to assess them, but still there are ways to do it. We'll discuss the metrics a little bit later. 

Influencers with a large number of followers cover practically every niche on the market. It makes the possibilities for brand promotion practically unlimited. There are even special websites like Upluence or NeoReach that help companies and influencers on the basis of the niche, budget and goal. 

What is the Difference Between Affiliate and Influencer Marketing?
The main difference between affiliate and influencer marketing is the basis of collaboration. 

In affiliate marketing brands make partnerships with affiliates who promote goods and the services through referral links. Clicks on them have a direct connection with the affiliates' performance and income from their efforts. This approach is considered to be rather cost-effective and produces a strong return on investment (RoI). 
Influencer marketing is not driven by sales. No doubt, that influencers don't mind any sales, but their main function is to increase brand awareness among their audience. They are paid a flat rate for their posts or just a free copy of the product. 

To make the differences more distinctive, have a look at the following table.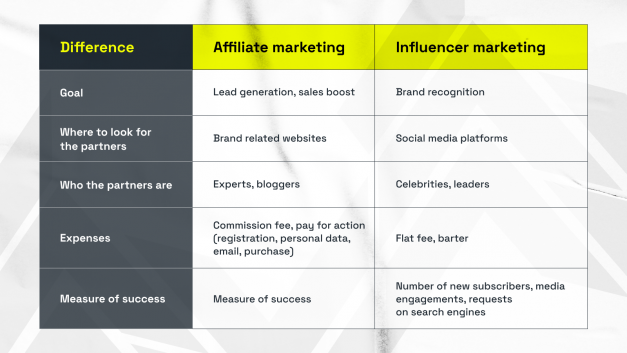 Benefits of Affiliate Marketing
The time has come to have a closer look at the pros that affiliate marketing has. In case you want to dive a little deeper into the topic and read about cons, click here. 

Simplicity of implementation

Affiliate marketing is relatively easy to implement: you don't need any special marketing knowledge or a huge amount of bandwidth. The only thing that is necessary to do is to create an algorithm that will assign unique links to the affiliates to track where the customers come from. It is also necessary to mention that the brand should be well-developed and have some reputation on the market in order to launch a successful affiliate program. 
Affiliate marketing has practically no risks as affiliates are paid only when a purchase is made through a link during a limited period of time also known as a cookie window. In most cases companies don't pay for other actions which makes affiliate promotion harder. 
Even though referral links don't have a direct impact on search engine rankings, they, in fact, increase the amount of traffic on corporate web pages which definitely leads to increase of chances for conversion and consumer trust. 
Affiliate Marketing Tools
Besides knowing what to do and how to, it would be rather convenient to have the right tools for implementation of a successful affiliate program. Here is a list of the most important of them for your campaign. 

Easy link generation and revenue tracking software is a must in a modern digital world. It will give you access to the statistical data that will show how each affiliate performs, RoI they generate and many other useful things. 

Tool for promocode management is also necessary for the cases when leakage of discount codes brings chaos on tracking. Such tools give an opportunity to avoid fraudulent utilization of those codes. 
Tool for centralized delivery of all the corporate messages and assets that the brand distributes among its affiliates helps to create custom landing pages for the proposals. 
An affiliate management ecosystem where all the tools are integrated with the ecommerce platform is one of the most crucial aspects of any business. Here you can view all the trading inventory, interact with the affiliates and track each purchase from the first click on the link to the delivery. 
How to Use Affiliate Marketing in Your Business?
In order to integrate an affiliate marketing program into a business it is necessary to implement several important steps. First of all, your brand has to be developed, at least, a little so that affiliates know what they promote. Then it may be a good idea to encourage affiliates to include your product or service into some comparison articles or videos and demonstrate its pros in an unbiased way. After that you have to define the aspects that will make your campaign successful. And the final step is to find the right promoters and sign a contract with them. 

How Much Does it Cost?
Affiliate marketing is considered to be one of the most cost-efficient ways of promotion, but, unfortunately, not totally free. Besides commission fees that are paid to the affiliates there are a number of different fees that the company has to pay, mostly for the affiliate platform, like monthly subscription, platform setup fee (paid only once) and commission for sales. Total expenses may vary. But still it may be a worthwhile investment as affiliates are paid only when something is sold and the revenue can be generated almost at once. 

In general, RoI, provided by affiliate marketing, is higher than the average as most of the payments are commission fees which are a part of your revenue. 

How to Track Results?
The following metrics can be used to assess success of the marketing campaign. 

Average order value. Analyze what leads prefer to buy: only the promoted items or something else. Also check the price of the products.

Volume of sales. Assess this parameter to see if the affiliate program helps to increase sales or not.
Traffic. Take a look and figure out if there are more new leads and if there is a growth of downloads of the free content. 
And the final thing that makes it easy to track sales is the link itself. 
If you combine the gathered data and build graphics and diagrams, you'll be able to come to very interesting conclusions concerning the effectiveness of the chosen strategy. If you see some serious drawbacks, it may be a good idea to turn your eyes towards influencer marketing. 

Benefits of Influencer Marketing
Influencer marketing has some serious advantages too. And here they are.

Influencers bear this name for a reason. They are recognized experts in their niches. And such expertise serves as a source of inspiration to many people. As a result, followers tend to trust influencers and their recommendations much more than advertising on TV or radio. 
Many statistical researchers show that influencer marketing significantly increases purchase intent. Besides that, about 40% of respondents said that they bought something after influencer posts. 

High level of focus and relevance. 

Collaboration with the right influencer helps to deliver a brand's message to the right audience. For example, if a company sells some high-end gear for computers it can partner with popular streamers with a big fan base. If these audiences see their favorite content creator using a new headset for deeper diving into the virtual world, the likelihood of becoming the brand's customer increases massively. 
Full control of the marketing campaign

The brands which prefer influencer marketing control every stage of their campaigns: from choosing an influencer to the way he or she promotes the product. It is the most plannable strategy which generates a great number of leads if implemented right. 
Influencer marketing can be effective in every industry. The only condition is the presence of the target audience on social media. Can you imagine a person who has no such account? Rather difficult, right? It means that influencers can reach everyone. 
Influencer Marketing Tools
As we have already mentioned, the right tools are a crucial factor for success. And influencer marketing also needs them. Have a look at what to consider.

Well-developed strategy for choosing the right influencers is one of the most important tools. Those of them who align with the corporate message are the best partners giving the best results. Pick and audit them carefully to see if they meet the requirements. 

Collaboration management platforms are also important. Effectiveness of partnerships increases dramatically when you have an integrated messenger, influencer profiles and all other things in one place. 

Creation of indexed data sets is another must-have. Ability to find all the necessary information concerning a particular marketing campaign in one library can save a lot of time and effort. 

Statistical platforms and analytics help to determine what works right and what can be improved. Make sure that you can easily track all the metrics of the program. 

How to Use Influencer Marketing in Your Business?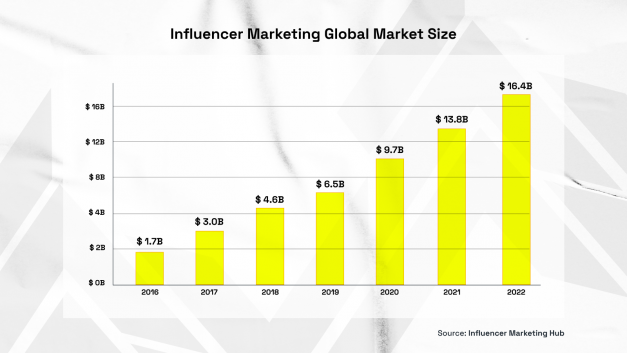 Influencers can make your business grow on multiple levels. There are different types of partnerships which depend on the kind of collaboration. You can't expect the same returns from those who help you for free than from those who are paid for their performance. But any integration process of influencer marketing consists of practically the same steps. 

First of all, you have to define why you want to use it for promotion. "It is a trend!" is a very bad reason. "Increase brand awareness" is a good one. Understanding who are the typical representatives of the target audience is the second step. Then you have to find out what influencers have the same audiences as your brand and who you can trust in terms of advertising. If you have clear answers to all these questions, determine what a successful marketing campaign is and launch it. 

Where to Find Influencers?
Where to find influencers is not a tricky question at all. In an era of the Internet, the answer is universal – on the web. On the social media where your target audience spends most of its time, to be more precise. The choice is not as big as one might think. 

Instagram
Instagram is a place where most of the influencers dwell. The main idea is to make influencers demonstrate a clear call to action (CTA). It means that the audience not only likes and comments on brand related posts, but clicks the link, moves to your page and makes a purchase. A good idea to achieve this goal is to offer influencers a promocode to share with the followers. It will also help to track conversion rate during the campaign.  
Facebook
Despite the fact that the number of Facebook users is declining, it is still the largest social platform in the world. There are billions of people that can be reached. One of the main benefits of Facebook is that influencers can post pictures, texts and videos. It makes the advertising much more effective. 
YouTube
The main video hosting platform of the XXI century is a perfect place for influencer marketing. The number of people who watch all the types of video content on a daily basis is constantly growing. YouTube gives a unique opportunity for the followers to have practically the same experience as the influencer who is promoting the product. Such a personal approach increases the probability that the audience would like to know more about the brand.
And here are some tips on how to find the best influencers: 

Matching of the target audiences.

Understanding how strong the influence on the online community is.
Right assessment of the engagement rate.
Market research in such aspects as collaboration with your competitors. 
How to Track Results?
Influencer marketing campaigns don't have traceable links which makes it difficult to assess the effectiveness of such campaigns. Still, there are some indirect signs. And here they are.

New followers mean new traffic to corporate media webpages. You have to compare the number of followers before and after the campaign. 

Increased activity on social media (more likes, comments, shares) also shows effectiveness of the campaign.
If you have a registration form on the webpage, you can see if more leads were generated. 
If these three metrics demonstrated some boost during the campaign, it can be considered effective. 

Affiliate vs Influencer Marketing. What to Choose?
The choice of a marketing strategy (or even their combination) depends on business goals. Both can generate traffic, increase sales and enhance RoI when implemented in a thoughtful manner. But poor implementation can easily do more harm than good. 

Choosing the right partner, tools and management platforms are the key factors for success. When all of them are combined and are in place, the brand will prosper. 

In order to make the right choice, you have to look at some important aspects of each approach. 

While influencer marketing has an ability to reach larger audiences, organically build marketing campaigns into content and create trustworthy relations, it may take time to explain influencers what you want from them, poor choice can hurt the corporate image badly and tracking of the results is difficult. 
Affiliate marketing is more cost effective, has more flexibility and is easier to start, but you don't have full control over the published content and can face a situation when the affiliates use some fraudulent methods.

All you have to do is to have a clear picture of what you want to achieve and how you want to achieve it. Good planning is a key to success. 

FAQ
What is the Key Value of Affiliate and Influencer Marketing?

Each type of marketing helps to promote goods and services in a very effective way if implemented right. It makes them valuable strategies in modern campaigns. 
Is Influencer Marketing Worth the Investment?

It depends on your goals. As it is impossible to track the results of the campaign, you have to decide whether growth of the brand awareness is worth the flat fee you pay the influencer or not. 
How to Determine Your ROI in Influencer Marketing?

It is a very difficult process, still there is a solution: to assess traffic, new users. If you want something more detailed, you can create a landing page for each influencer you collaborate with to see how much traffic was generated. 
What is an Affiliate Program?

Affiliate program is a marketing strategy where affiliates of the brand promote it on their channels and get commission fee for every sale they encourage.
Share the article

Read. Learn. Do. Earn more money on Affiliate Marketing
Don't miss