As with every business in life, there is competition. Clickbank has made its name known worldwide in the affiliate marketing world and it cannot be taken for granted. There are reasons when many people consider Clickbank as the best affiliate marketing program in the world; it has a variety of products you can promote, it is reliable and pays on time, it gives up to 75% commission to the affiliates, and so on. Or it is just the only affiliate program that people have heard about. What many people don't tell you when joining Clickbank is that you will find lots of junk products there to promote. They emphasize on quantity over quality. You will need to do some serious research to find a good product to promote i.e. if you are joining to promote a product you actually love and interested in. It is often good to know the alternatives of services (by services, in this case, we mean affiliate programs). In this way, there is competition. And competition makes the services better. There are lots of other affiliate programs out there that affiliates are can use which is similar to Clickbank. So, here are some of the alternatives you should check out.
Rakuten Linkshare review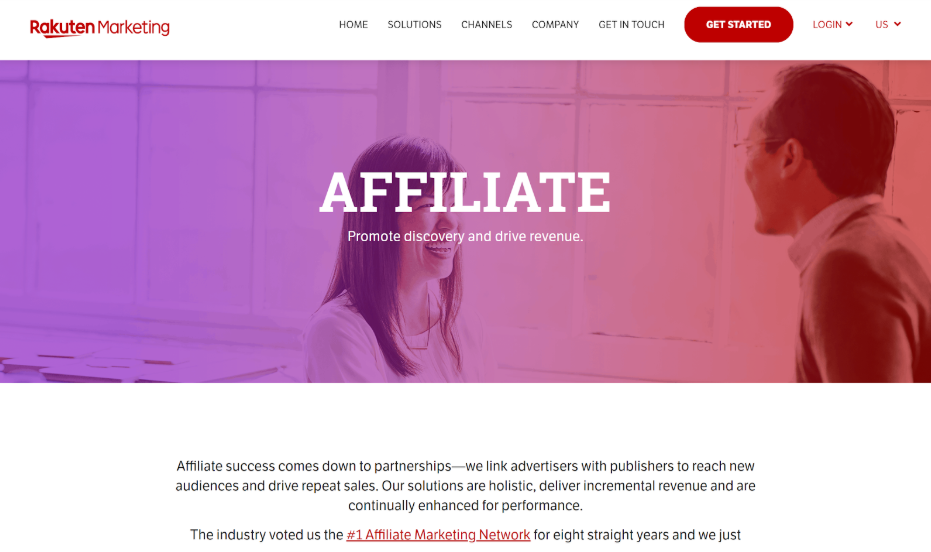 In 2005, Rakuten bought Linkshare and changed its name to Rakuten LinkShare. This platform has been voted as the best for six years. They offer many products for the affiliate to choose from including Ray-Ban, New Balance, Sephora, Lacoste, Guess, Walmart and so on. If you noticed, the brands listed above are very popular and high quality. That is why the application process to become an affiliate here is complicated as compared to Clickbank. Even if you already have an account with Linkshare, you still have to apply when you want to start promoting a specific product or brand. You will need to get the approval of each advertiser to promote their products. This just shows that they value quality. Note that most often, they focus on physical products. You will not get a high commission selling physical products. The affiliate will benefit from:
Data with patterns and customer preferences so that you will be able to send only messages to clients.
They will provide a team of dedicated analysts, attribution platform and integrated marketing insights.
Affiliate marketing will be facilitated by custom tools and products.
Quality products to promote.
Payments can be processed in up to 25 currencies. 
They can also provide you with recommendations on how to grow your business. 
Udemy review 
Commission: 20%
Cookie: 7 days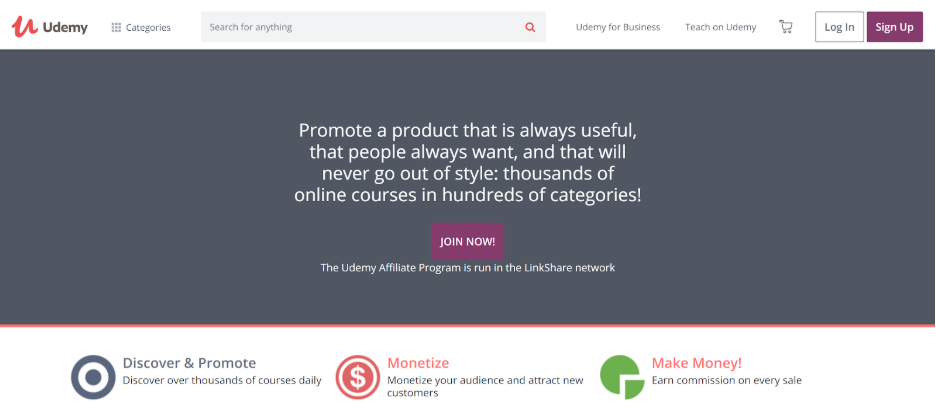 Udemy is an online teaching platform where you can study any topic, at any time. Users can make up their schedule to study. They provided over 100,000 online courses with professional tutors. So, how does this profit the affiliate marketer? Well, Udemy has an affiliate program where the affiliate can promote. The good thing about this is that you will be promoting useful products that people actually want. They also have a huge base of courses you can choose from. Their affiliate platform has the following to offer:
Needed and quality content to promote.
Commission rates are very competitive.
Many text links with deep linking options.
Dedicated affiliate manager.
Many banners.
Tools and assets that help the affiliate to drive sales.
How to make money on Udemy
Select the course you want to promote. They have thousands of useful courses created by experts waiting for you.
Use the Udemy affiliate links. There are tracking assets you can use such as site-wide links, course-specific links, creatives, custom links, etc. 
Start promoting the course by adding the creatives and links to your blog, site, email newsletters, or social media.
Once you start sending traffic to Udemy, the more money you will be making.
Coursera review
Commission: 20%, 45% on selected courses
Cookie: 30 days 

Coursera is an online learning platform where you will get every course you need, taught by top instructors from the best universities all over the world. You will also have access to video lectures peer-reviewed and auto-graded assignments, and community discussion forums. At the end of every course, you will get a shareable electronic course certificate. It is online and everyone is welcome. So, the affiliate marketer, in this case, is expected to promote the course to earn a commission. Affiliates can earn up to 45% commission when a course is purchased.  The affiliate marketer will have the following benefits:
Earn from 20 – 45% commission on purchases within 30 days when your users click the link.
You will have professionally-designed, clean text links and banners to put on your site.
Here is how to earn money on Coursera. 
Use Linkshare to join the Coursera affiliate program.
Select from 1000+ courses and specializations to promote.
Use Linkshare tracking links to track the traffic you are sending to Coursera.
Earn your commission once a purchase is made by your visitors. 
Commission Junction (CJ) review
Commission: 43%
Cookie: lifetime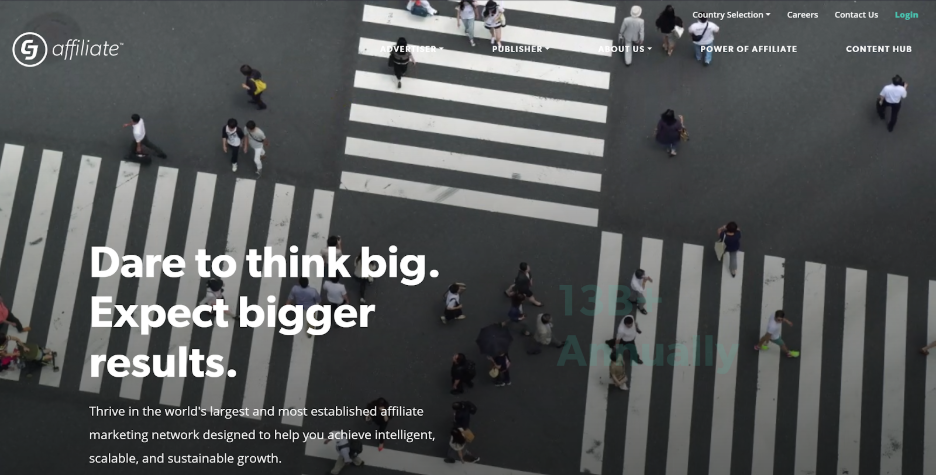 This is another affiliate program like LinkShare. It deals mostly with physical products. To become an affiliate here, you need not only to apply to the platform but also to the individual advertiser whose product you want to be promoting. Once again, this shows that the platform values quality over quantity. You will find many big brands here to promote their products. They also provide you with many powerful tools to use for your affiliate campaigns. They will also provide pixel tracking for you to monitor real-time transactions and linking options to improve sales. Successful affiliate can earn more than $10000 per month. You will be given an account manager to get better leverage for your business with advertisers. They usually pay once a month, and they support check, direct bank deposits, and other services like Payoneer. Their affiliate commission is on the rise. As of now, you can expect about 43%.
What to do they have to offer:
Quality products.
The content team at your disposal to help you with anything concerning influencer marketing.
You will be provided with premium opportunities to meet top brands.
Treehouse review
Commission: 50% per subscription, $5 per lead
Cookie: 45 days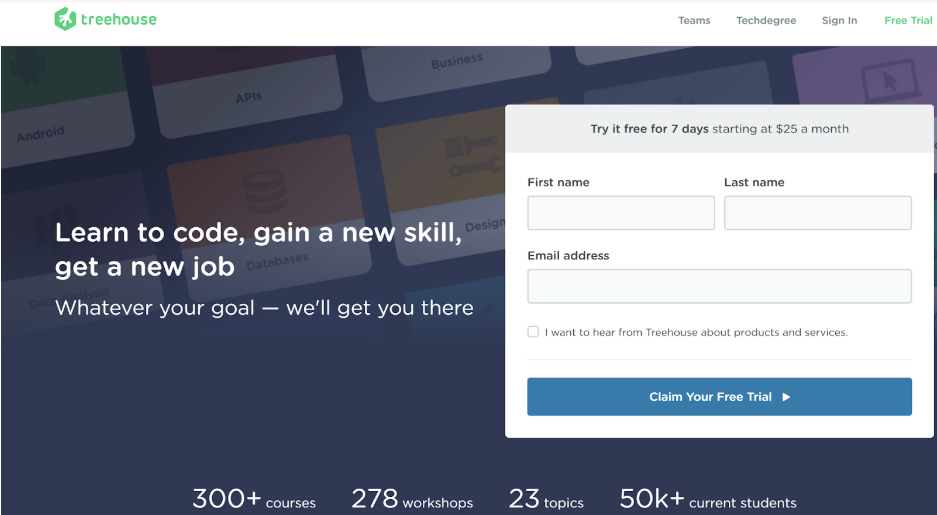 This online school teaches practical skills such as coding, web development, mobile app development, etc. The courses they offer can help you change a career path easily. Students are able to learn at a pace that suits them, and at a much cheaper price when compared to the traditional education system. 
Impact Radius is their partners that help them manage the affiliate program. Affiliate stand much to can from this affiliate program such as real-time reporting, creatives, and marketing tools. Affiliate will also be able to use the free tutorials and support from their affiliate management team on how to attain success using this program. 
JVZoo review 

If you are a digital product person, then you definitely have to check out JVZoo. It has been around for a few years now. You will find it very easy to promote digital products on this platform. 
It is similar to Clickbank and the products here focus on internet marketing. You will find many products to promote on your website. It has a very user-friendly website which will provide you with lots of stats and useful information about the products you want to promote. 
The thing about JVZoo is that the products or not of good quality, and promoting bad quality goods on your website will bring a bad reputation. This is by no means say that you will not find good and quality products here. You just need to do your research and you will find products to promote and earn a good commission while doing so. 
One of the best things about JVZoo is that it is free to join and you will get instant access to your account. They will also send you information about high converting offers weekly. This always keeps you at the top of the food chain.
PeerFly review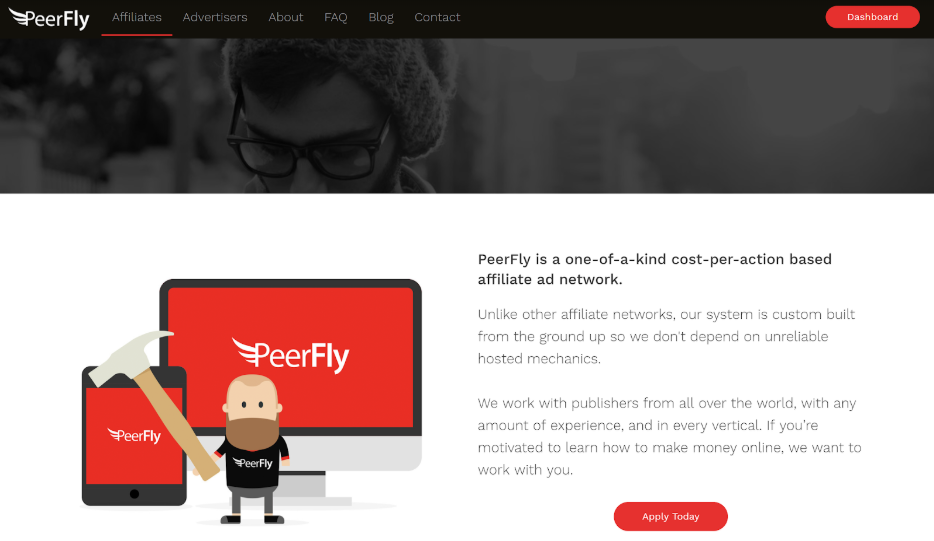 This is one of the upcoming CPA affiliate networks. Here, you do not promote digital or physical products. The commission is earned when your leads perform an action. For example, subscription or fill out a form. That is why it is called Cost-Per-Action (CPA).
One of the good things about PeerFly is that the software is custom-built which makes it difficult to downtime and other hosting related problems. 
Publishers are accepted from all over the world and they have good payment options. You can even apply for weekly payments. You will be able to use Payoneer, PayPal, wire, check, and other related services if you live in the US.  You can also earn from referral programs and as an incentive publisher. There are thousands of offers for you to choose from. You just need to select the right one. 
PeerFly is a very good alternative to Clickbank and you should not hesitate to check it out. Especially with the CPA offers. It could be something for you. 
Affiliate.com review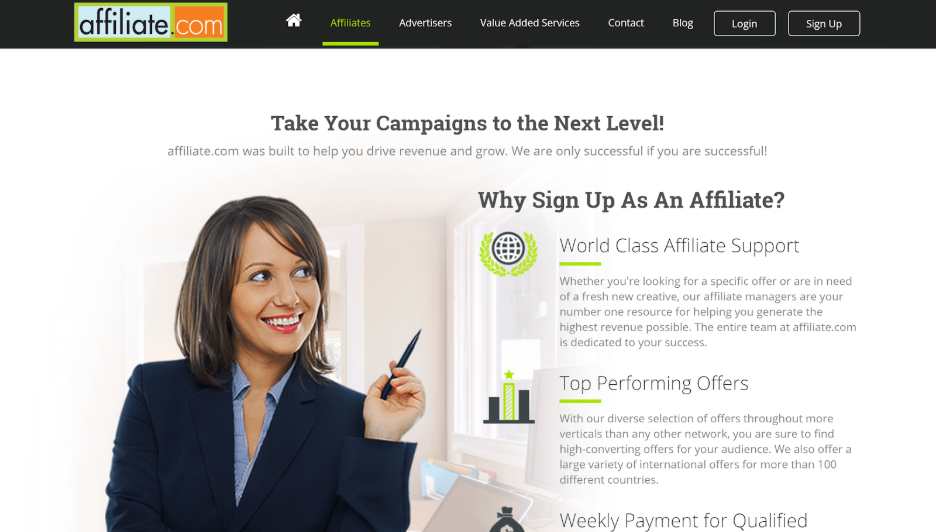 This affiliate program is not for newbies. They prefer intermediate to advanced affiliates. So, you should try your luck somewhere else if you know you are not at that level. To sign up for the affiliate program, you need to fill a form and wait for 2 business days for approval. There you will be assigned with an affiliate manager. Their affiliate support is top-notch and provides you with the best information. They also do weekly payouts so make sure you have your payment options ready. 
Your application will be scrutinized because they aim to work with the best affiliate marketers. This makes them able to provide real and targeted traffic to their advertisers.  
Amazon Associates review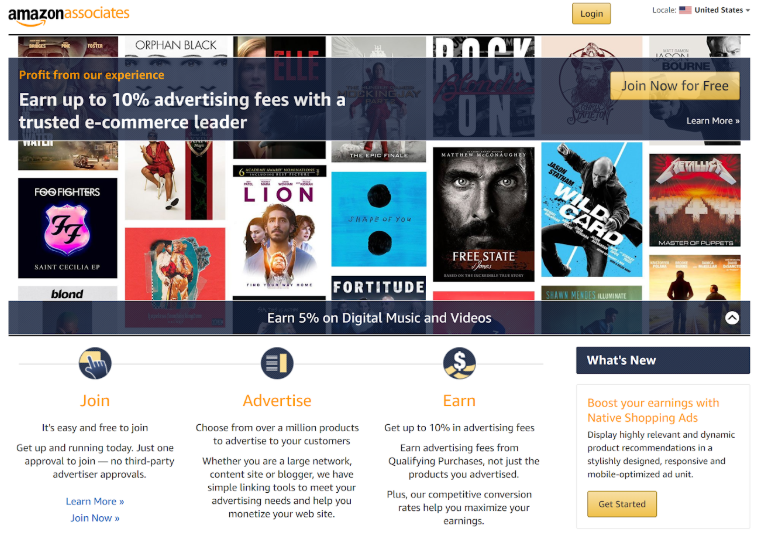 Amazon is a world-renowned platform for online shopping. You can find anything on Amazon to buy (with the exception of illegal goods of course). Affiliate marketers can take advantage of Its affiliate program called Amazon Associates. It has one of the biggest affiliate programs. Amazon has built is business gaining the trust of customers. So, affiliate marketers will not find it difficult to promote products here. To sign up for this affiliate program you must own a blog or website. The signup process is super fast and easy. If a visitor uses your affiliate link to go to Amazon, you will earn a commission on anything they buy for the next 24 hours, even if they did not buy the product you were promoting.
One of the most popular downsides to this platform is that you have only a 24-hour cookie window. This means that you will get a commission only within 24 hours that the visitor clicks on your affiliate link. Other affiliate programs offer 30 - 90 days. They also have a low commission that is from 1 - 10% significantly lower than other platforms.
eBay Partner Network review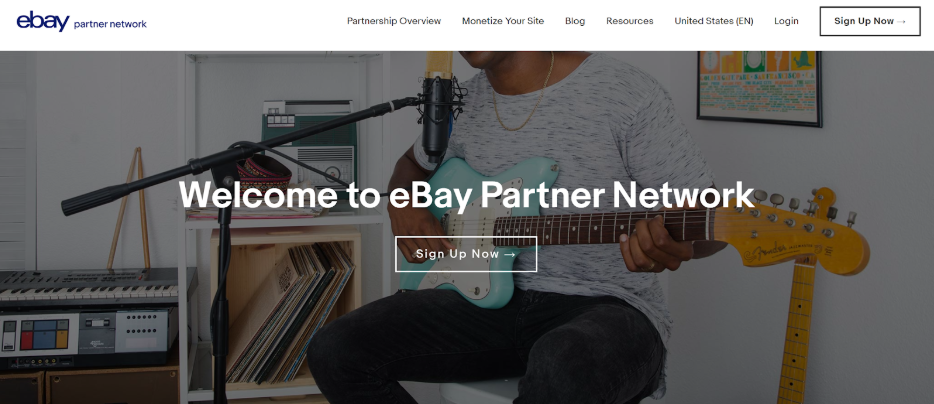 The eBay Partner Network is similar to Amazon Associates. As you know, eBay also has a huge online presence and has the trust of lots of people. They know it is safe and secure to buy from eBay. So, the affiliate marketer does not need to convince people about the safety of the platform. The eBay Partner Network requires affiliates to have a decent blog or website with traffic before they can be accepted into the network.
You will also find lots of big brands here to promote their products. There are lots of items here to promote. You can choose from the 1.2 billion listings. 
You will get a commission when someone goes to eBay using your affiliate link and makes a purchase with 24 hours. Partners are able to earn from 50% - 70% of eBay revenue. It depends on the items purchased.
Affiliate here gets paid once every month if you reach the minimum value of $10. 
Market Health review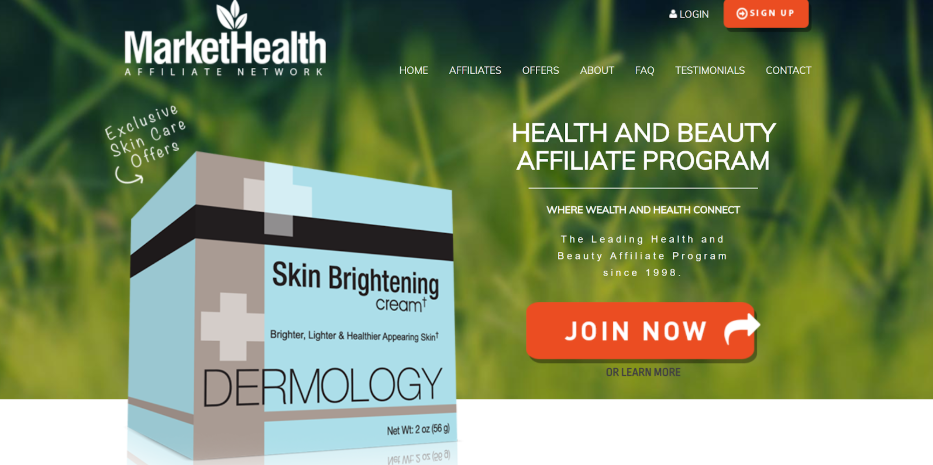 This is your go-to platform if you are looking to promote physical products that are health-related. It is very newbie-friendly and you will find a wide variety of health products here to promote. You also need to have a website to get registered here.
It is very easy to create an account and use this platform. You can promote products related to general health, cosmetics, men's health, weight loss, sports nutrition, skin care, etc. 
Selecting any product you want to promote will give you all the information about the item such as tracking link, payout per conversion, and a preview of the sales page. The tracking link can also be customized in various ways. Some of the products here also have banners that can be used on your site. 
Commission payout is done twice every month, on the 1st and 16th. This implies that you will be paid on the 1st for the sales done from the 1st to the 15th of the previous month, the payment of the 16th is for the sales done from the 16th to the 31st of the previous month.  
Conclusion
We are sure you are surprised by the number of affiliate programs that are similar to Clickbank. Most of them have great features and will help you become a better affiliate marketer. You can also use them together with Clickbank to help increase your income. It is never advisable to "put your eggs in one basket". Make sure you understand the terms and conditions of any affiliate program before registering. 
Share the article

Read. Learn. Do. Earn more money on Affiliate Marketing
Don't miss