As you must have noticed by now, Affiliate Valley is dedicated to sharing with you the best ad network reviews. We are sure you have been checking the ones we have already posted. 

Today, we want to present the latest addition to our collection - A complete Traffic Factory Review.
We are going to be doing a deep analysis of all the features of the network so that you can have a better understanding of everything. 
Those who are interested in using the ad network but are not yet sure how to go about it, then you need to start paying attention because we are about to dive in.
What is Traffic Factory?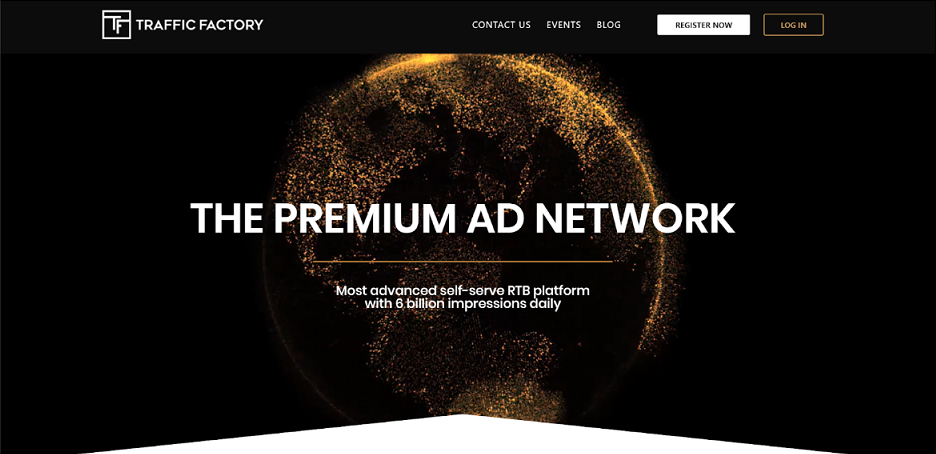 Before you start pouring your money into any service, you need to know more about it and what it can offer. Traffic Factory is an ad network that specializes in high-quality traffic. They were the first people to start real-time-bidding and monetization of different audiences. 
What do they have to offer?
They work with both experienced and non-experienced publishers, sharing ideas and help on how to grow and make profits. 
They claim that their network has over 6 billion daily impressions all around the world and on all types of devices.
Users have access to round the clock account managers that cover over 11 languages. So, users can always get help. 
They promise good user experience and always pay attention to add quality. 
Add types are banners and feature phones. 
They use the CPC pricing model.
The minimum deposit is 300€.
Payment methods are Paxum, Vendo, Wire transfer, Payoneer and Paypal.
Creating your account on Traffic Factory
You can only start working with Traffic Factory once you have created an account. To create the account, you just need to navigate to their website and register your credentials. It is a very easy process. 
On the homepage of the site, click on the Register Now button.
You will be directed to another page where you need to input your credentials - Email, Names, and Skype (not compulsory). 
Once this is done, agree with their terms of service and click the Register Now button. 
A confirmatory link will be sent to your email. Follow it to confirm the registration of your account. 
Creating your Campaign
The process of creating a campaign on Traffic Factory is not complicated. The first window you will see looks like this: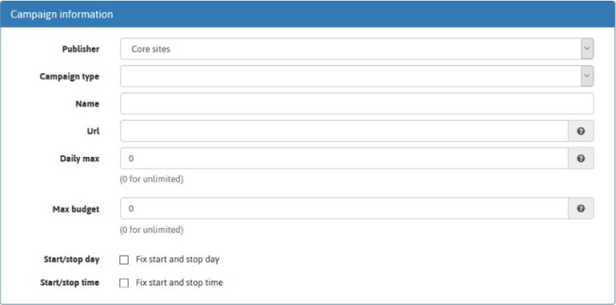 Here, you will need to select the core sites. Please note that you can select Sex.com only when working with desktop traffic.
Input your Name, URL, Budget options, and when you want to campaign to run. 
For the Campaign type, there are two options to choose from - Banner and Feature campaigns. 
Banner Campaigns
The banner campaign targets smartphones and has higher volumes. The standard size is 338 x 235. It is also known as a square banner. 
It is associated with two spots namely "Next To Video" (NTV), NTVA and NTVB. You can find it at the top right corner of the site, next to the video. 
They have introduced a new feature call the in-player square banner where the spot is on the video player. This feature is similar to an interstitial. 
928 x 244 is a footer banner placed at the bottom of the sites. 
180 x 1030 is in the shape of a tower and it is usually placed at the right side of the site. It is already present on the home of the xxx site. But on the XVideos site, the banner will only interact with the site like click or searching.

Feature Phones 
With these campaigns, it is possible to target only mobile phones that are not "smart" but can be used to browse the internet. These phones are still commonly used in developing countries like Latin America, Southeast Asia, and Africa. 
It covers a large range of phones and has two different spots.
Here, it offers two banner sizes:
120 x 60: also known as "Button 2". It can be found at the top of sites when browsing on smaller phones. 
234 x 60: it is called "Half banner" and found on the top of sites when browsing on larger phones.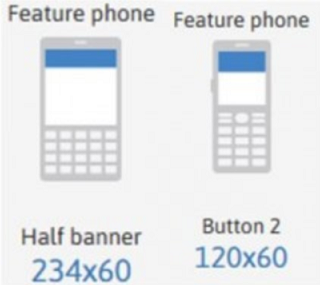 Once all the fields have been filled, click on the "Save" button to automatically add a new campaign.
Now, you will be presented with the following windows:

Let's now concentrate on the important stuff such as targeting options.
Targets 
Your targeting needs to be detailed. 
This can be done by choosing a new target from the target menu. 
Now, you will see a new menu where you can select the specific countries to target. 
These are the various targeting options that Traffic Factory has to offer:
Geo Targets
The default selection is the whole world or random countries. It is not recommended to allow the default setting. Because different countries or continents have different performances. You won't be able to see good results
So, it is better to select a specific country you want to target or even a region within that country.
Navigate to the GEO-fences map in the options menu for more specific targeting. There, you should highlight the area on the map you want to target. The area is limited to a maximum radius of 50 KM.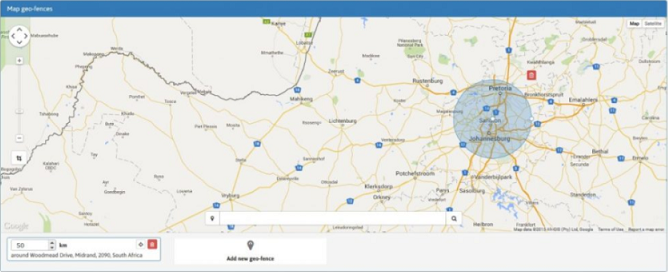 Specific targeting is very important in countries with an unbalanced economy, where some regions are richer than others by a huge margin. 
Device and operating systems 
Here, you will be able to target specific devices and operating systems. There are options for iPhones, Androids, and tablets. 
You won't be able to find all devices and operating systems because they are included in the "Other Smartphones" options. 
There is also a way to target older phones that use internet connection. This is possible under the "feature phone campaigns."
Carrier Targeting 
Carrier targeting is absent in Traffic Factory. You won't be able to select a specific carrier you want to target even 3G or Wifi. 
Categories
Traffic Factory has a wide range of categories to choose from. You can check all of them or simply select the specific ones you want to target. 
Bid
Bids here are set in CPC. This implies that you pay for every unique click (i.e. every click that comes from a different IP).
SmartBid options are not available so you should be extra careful with your strategy. 
The bidding system here is different. The positions are divided into different boxes.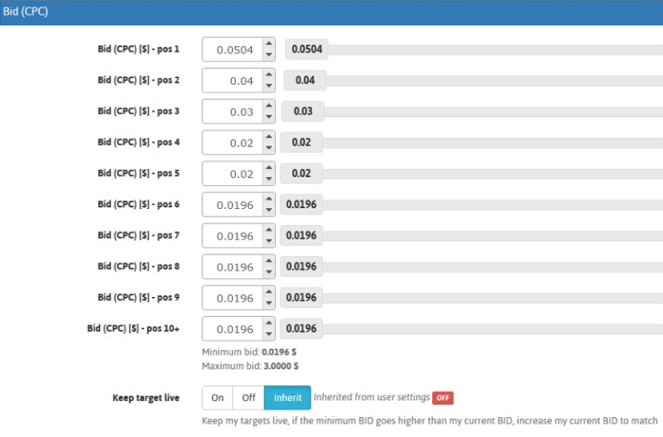 Each box represents the page view of a unique user. 
The first box is for bidding for the first-page visualization of a unique user and so forth. 
So, it is possible to change the bids according to the performance of each box. 
You need to make the bid higher than the minimum in order to receive traffic.
Traffic Factory has a setting to update your bids every Tuesday. This is to make sure that you are always receiving traffic. If your bids fall below the minimum price, you won't be receiving any traffic. 
To disable this option, turn off the "Keep target live" option.
Banners 
Traffic Factory has strict rules for banners. 
They do not restrict you on the words to use. 
You should always add images or else the campaign/banner won't be accepted.
The formats that are accepted are JPG, GIF, AND PNG. The maximum size of the image should not exceed 1024 KB.
To upload a banner, you need to go to the "Banners" tab and click "Upload banner." Then, you should insert the Smartlink for the banner in the URL box. 
There is the option to add several banners. You can do this by clicking the "Add upload" button. 
Once you have selected all the banners you want, you should submit them for approval. 
Banner Statistics
With Traffic Factory, you won't get a wide range of info. You will be provided with info per banner.
For each banner, you will be able to see impressions, clicks, and CTR.

In the "Actions" section, you can click the stats for the campaign to see the table containing number of clicks, impressions, CTR, average bid, spending, and eCPC by day for the banner. 

You can navigate to Action > Stats for this campaign to see the stats of an already optimized campaign. 
The image below shows what you will see:

Banner Optimization 
One of the most important sections of this ad network is the banner. Your success depends on it.
Check the CTR to know the performance of your banners.
First, choose the period where you can get a huge amount of data. 
Then get the revenue by banners for the period you have chosen.
Now, check the performance by the banner, choose the same period and register the margin by calculating the difference between the costs and profits.
Your tracking software will do this automatically.
Compare the difference in the performance of the CTR and margin for each. 
High conversion rates will increase your profit even when the CTR is not very high. But you should understand that banners with high CTR turn to have high CR. 
Capping 
Each box on Traffic Factory acts as a capping. 
You are able to control your bids from the boxes by deciding which ones receive high or low bids. 
New Targets
It is always advisable to start with about two or three campaigns with specific targeting for each. If you receive positive results, try creating another campaign for two other spots. 
With dynamic tracking, you can get important information about the regions and categories. 
If you want to be extra cautious, you can run test campaigns for the ones with good results. 
Deciding when to stop
Stopping a campaign should be a last resort. If you notice that you are losing money, then you should start considering stopping it. 
To make a profit, it is advisable to allow only your best-performing banners. The ones not doing so good, set the bid to a minimum. If you are still losing money, then disable the campaign. 
Trick and tips for Traffic Factory
Traffic Factory's best mobile formats are in Player Square and Feature phone.
The "In Player Square" banner works with the following principles:
Clicking in the middle of the banner redirects you to the offer from the first click. 
Clicking the banner frame, the redirect will work only if it is a double click. 
Since the banners are promotional materials, they are very important in bringing traffic. You need to test a huge number of them to see the ones that work well. This is not an easy task, so be prepared for it. 
Users are unable to use "call to action" banners. To solve this issue, you can start with slightly sexy images. Later on, you will find images that bring in good results. The images need to the enticing and provocative that draws the curiosity of visitors. 
Case Study
To be able to visualize Traffic Factory in action, we prepared this case:
In this campaign the media buyer is targeting Nigeria – In Player Square (338×235) – Android.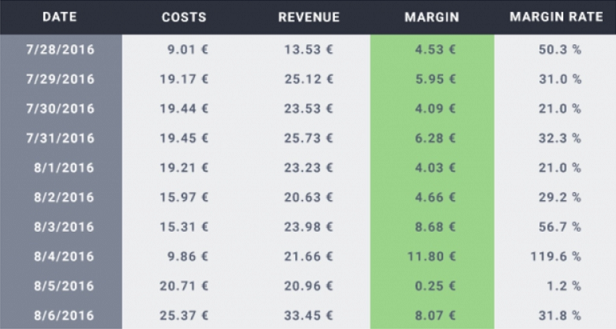 As you can see, the campaign was profitable from day one.
The only thing he had to do is track results.
On 8/4/2016 the competition appeared and he lost a huge portion of the traffic.
When he noticed it, the next day, he increased the bid and got back to the first place.
His first "In Player Square" campaign on Traffic Factory was launched for Ghana, and this is where he tested different banners.
After some time, he increased my performance with better banners.
He also decided to try those banners in some other country on this continent and chose Nigeria since it has quite the high eCPM.
He already knew which banners to use when he launched this campaign.
That's why he was positive from the beginning.
Nonetheless, the right banner isn't exactly a magic pill.
Most countries need some optimization while others are never gonna be optimizable.
When it happens, it's better to stop the campaign.
Conclusion 
Like most other ad networks, Traffic Factory is easy to use and has a user-friendly interface. It has a very simple way of targeting with an intuitive display. 
It provides only xnxx.com and xvideos.com for mobile traffic. However, you will get very high volumes from these websites. 
There are many other features that you need to check out on the platform for yourself.
We think they will catch your interest and help you with your campaigns.
We wish you the best of luck!
Share the article

Read. Learn. Do. Earn more money on Affiliate Marketing
Don't miss