SmartLink technology, which enables affiliate marketers to run campaigns seamlessly and helps in finding high converting traffic sources is in high demand, and marketers always search for platforms that offer the most effective smartlinks. This is what makes TraffCore stand out!

TraffCore offers smartlinks for every vertical and accepts all types of traffic, making it a one-stop-shop for affiliate marketers. With a minimal withdrawal amount of $10, apps for dating and gambling, in-house algorithm of machine learning for traffic optimization  and much more which we will point out, this network is certainly worth checking out.
As a smartlink platform that focuses on monetization of traffic, TraffCore needed to recruit top specialists in machine learning in order to develop the algorithm that ensures high EPC levels and the most qualitative traffic, hence creating the perfect product.

The workflow is built the following way: the higher the quality of traffic, the more interesting offers a webmaster receives by rotation.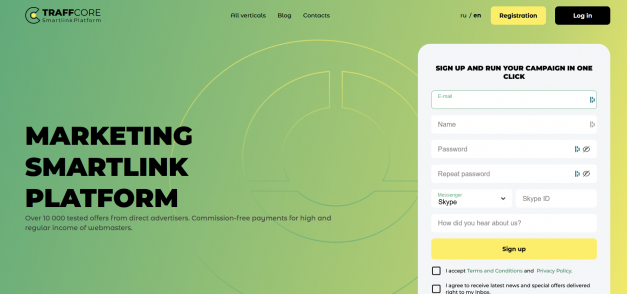 TraffCore features
Let's briefly go through the features of the TraffCore smartlink platform:

Smart algorithms of traffic optimization;
Dating and gambling apps for Facebook, TikTok, UAC;
Best offers for tier 1 countries;
10 000+ direct and exclusive WW offers;
Daily payouts for trusted partners;
Lifelong referral program (10%) for premium partners.
Now let's dive deeper into some of these features.

Machine learning
The TraffCore affiliate network has an unusual advantage - an intelligent AI-based algorithm that learns while you run the traffic. As you run it, the algorithm analyzes the statistics and picks the best offers in your smartlink to increase ROI. 

Apps for Facebook, TikTok, UAC
The affiliate network offers apps for gambling and dating verticals (suitable for FB, TT and UAC), while taking into account your wishes.

The network helps webmasters with solving payment system problems and tells which cards to link to Facebook, Google and TikTok in order to earn credibility.

Payment models and GEO
There are 10,000 direct offers available. TraffCore has in-house smartlinks, and the number of exclusive offers have already reached 2,000. It is especially worth mentioning that niches such as Sweepstakes, CC Submit, Gambling and Dating have the most numerous offers.

Payment models – CPA and CPL.

Registration and offers
Exciting offers are being developed and will be updated in the offer section once completed.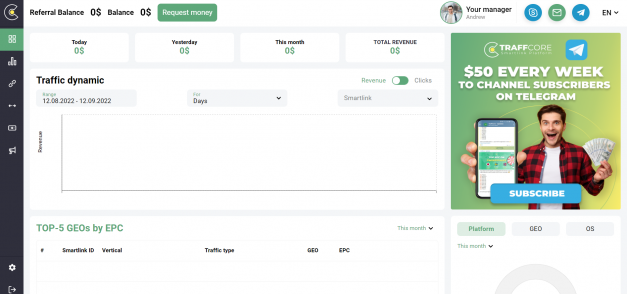 The registration process, though straightforward requires a manager to grant new users approval. However, upon confirmation users will be able to use the loyalty program that is implemented individually for every webmaster and can go up to 10%. The standard rate is 5%, but there's a possibility to increase the percentage by 10%. This can be discussed with your manager.

To work with some of the offers, access is required. Usually, the manager approves the offer within 5-15 minutes or a couple of hours max for peak periods. Managers stay in touch on the weekend giving users constant access to support.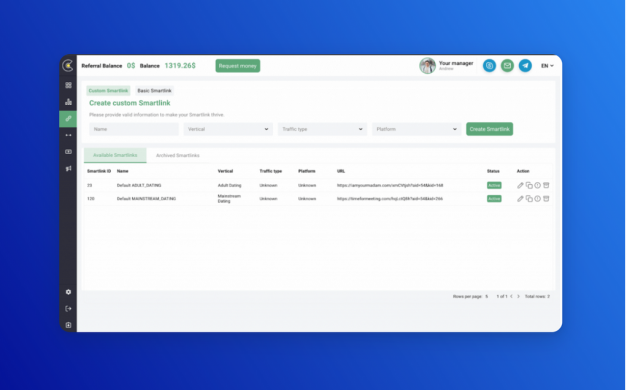 How are offers being selected? The process is automatic. The system picks the most suitable option depending on the user's GEO, device and other parameters. Moreover, the offers and advertiser's specificity is taken into account. 

The manager can give you feedback on what offers perform better and give you direct links to them. TraffCore has the following types of smartlinks:

Adult dating;
Mainstream dating;
CPL Sweepstakes;
CC Sweepstakes;
Mix CC/CPL Sweepstakes;
Crypto CPL;
Crypto CPA;
Adult games;
Webcam.
The affiliate network managers share insights from their inner buying with trusted webmasters, that's why you have the opportunity to get to know lucrative approaches.

How to withdraw money from TraffCore
The network makes payouts daily to trusted webmasters. Withdrawal is available via the following payment systems:
Payoneer;
Bitcoin;
Wire transfer;
Capitalist;
USDT (TRC-20);
USDT (ERC-20).
Now let's talk about bonuses that partners can receive.

Bonuses for the partners
The network regularly holds various prize draws among the webmasters. For example, "case competition".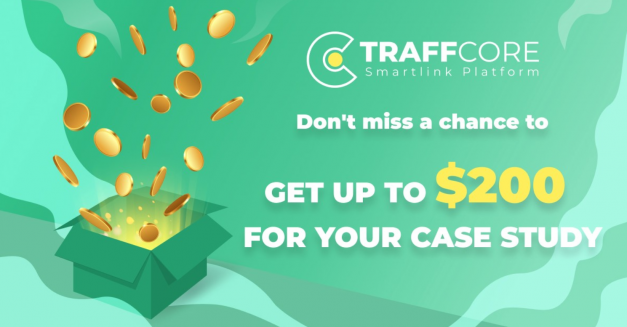 In this exciting competition, users get a guaranteed bonus to their campaign simply by sharing their experience, they also get profits of:
$500 – $50 bonus
$1000 – $100 bonus
$1500 – $150 bonus
$2000 – $200 bonus
You can double your bonus (up to $400) if you make a video case.
How is it done?
Shoot a video and write a review about your advertising campaign in English, Ukrainian or Russian;

Send the case to

[email protected]

(Title of the post: "Bonus for the case") within a timeframe July 7 – October 31;
Get feedback and case approval from the TraffCore team within 2 weeks and receive a fixed bonus of $200.
It is necessary to follow the requirements below.
Your content needs to be 95-100% original and consist of no more than 250 words;

The text should be based on your own experience of working with smartlinks or TraffCore offers;
The case must contain information about the advertising campaign budget, profit, source of traffic and targeting settings. Besides, you may show the examples of targeting pages and creatives. Everything listed here should be confirmed by screenshots;
Cases within the platform sectors are accepted: Dating, Sweepstakes, Crypto and Adult Games;
Advertising campaigns must be launched no earlier than January 1, 2022.
On top of that, there is a contest being held on the TraffCore Telegram channel where you can win $50 weekly. To do so, you need to be registered on the platform, subscribe to the updates and push the button "Participate" every week.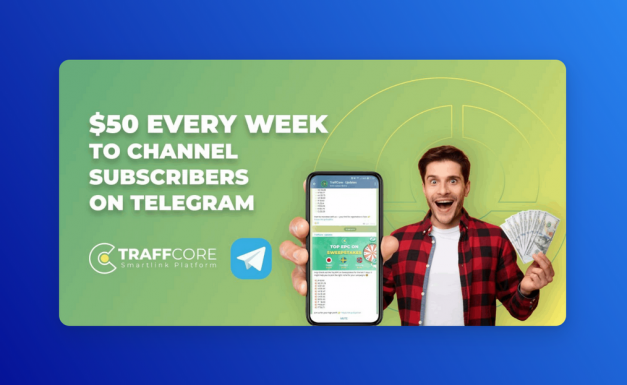 Also, the affiliate network offers a 20% discount on the Keytaro tracker when purchasing any kind of license for the first time (use the promo code TRAFFCORE) for 3 months and a 10% discount on the AdsPower antidetect browser (10% discount to the first subscription with the promo code TraffCore).
Conclusion
TraffCore is a smartlink platform with a large number of verticals. Webmasters are provided with daily payouts, user-friendly personal cabinets and a referral program. Check out this platform and assess its benefits! Don't forget to follow TraffCore on social media to stay up-to-date on the relevant promos and offers:

Share the article

Read. Learn. Do. Earn more money on Affiliate Marketing
Don't miss