With the constantly growing revenues, digital advertising attracts not only startups, small and big businesses, but also high number of fraudsters. And all these parties are interested in making profits. The main difference is in the approach. While the first ones run business, the former apply inadmissible methods to mislead commissions and scam marketers for money. 

Unfortunately, you can't avoid fraud while doing business online. And the statistic proves it: every year the number of fraudulent attacks increases. The newest Affise's research on Fraud in Performance Marketing reveals that over the two years, from 2017 to 2019, loses from the ad budget to fraudulent activities committed via online, mobile and in-app advertising increased from $3,9 billion to $42 billion. 

From Bad to Worse
Previously, it was enough to follow the basic precautions of running an online business to keep your ad campaigns safe. The actions, such as careful validation of new affiliates, checking campaigns' data and metrics growth, referring sites and URLs, tracking IP addresses, monitoring sub-affiliate networks, updating program terms and conditions, believed to be enough to keep fraud away. In the present context, things are no longer the same.
Occasionally you can recognize and block suspicious affiliates, but when it comes to fraud, the chance to miss something is relatively high. By following the recommendations above, you only minimize the risks from fraud but do not eliminate it. 
So, which measures you, as a marketer, can undertake to protect yourself from fraudsters and consequent losses? 
First things first, it depends on the technology you are using to track your ad campaigns. If you use a SaaS performance marketing platform, you have three options: 
Fraud prevention features available at the tracking platform;
Dedicated SaaS fraud prevention tools;
A custom-developed tool that you can integrate with the affiliate platform via API.
In case you have an in-house tracking platform, then you have only two options: a SaaS tool or custom developed one.
But let's have a look at solutions that are provided by performance marketing platform and SaaS fraud prevention providers. Those are the solutions that you can use straight away. 
At present, most performance marketing platforms offer in-house fraud prevention tools. These features can help you keep fraudsters away from your ad campaigns. But the possibilities of fraud prevention greatly depend on a platform you partner with.  
Built-in Fraud Prevention Tools
Click-level fraud prevention - a tool that reduces fraudulent traffic by filtering VPN, non-earmarked traffic from proxies, bot traffic etc. The system detects fraudulent traffic in real-time, block it and doesn't allow it to reach the destination website. These measures increase CR of ad campaigns, and the advertisers get higher-quality traffic to their offers. 
CR automation. Besides its primary role, CR automation also serves as a regulator of basic traffic quality index based on CR percentage under specific conditions set by advertisers. Low CR percentage means that received traffic is of low quality. High CR percentage, on the contrary, indicates the presence of fraud traffic. Thus, by setting necessary conditions, you automatically decline a significant share of fraudulent traffic.  
Rejection of IP duplicates. Conversions with duplicate IPs is a clear sign that you most likely work with low quality or fraudulent traffic. In the tracking platform, during an offer set-up phase, you can reduce the probability of low-quality traffic by choosing "Unique IP only" in the postback section. In this way, only conversions with unique IP will be approved. No one will be spamming with emulated conversions, and you will receive only quality traffic.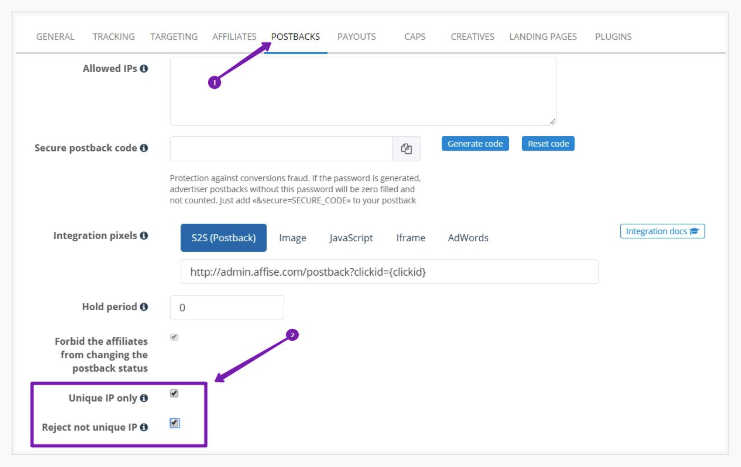 Detailed statistics. Your tracking platform must provide detailed statistics with data-slices divided by user device, user agent, devise OS, browser language, and also statistics on impressions, clicks, conversions and payouts. It helps to define fraudulent patterns in conversions and block them. For example, if you see that a browser language is Vietnamese, but the conversion IP - US. Or you observe a high number of impressions with only a few conversions, or with no conversion at all. Things like that are the first signs of fraud that you should immediately block. 
Click to conversion time report (CTCT report). For every conversion type, there is a specified time span during which a majority of clicks and installs occur. High volumes of traffic beyond this time frame usually account to fraud. СTСT report is used to detect and prevent it, particularly mobile ad fraud such as click injection and click spamming. Thus, with the help of СTСT report, you see which conversions are outside the approved СТСТ and should be rejected. 
The other option, also already available are SaaS fraud prevention services. They are platforms developed specifically to address the fraud challenge. They aggregate a broad array of data and share attack patterns from numerous sources; thus, you can rely on them in fraud prevention accuracy. Let's have a look at the top four dedicated fraud prevention services.
Best Ad Fraud Prevention Platforms
FraudScore 
FraudScore is a full-stack online ad fraud prevention and detection platform that specializes in traffic analysis for advertising networks, direct advertisers & agencies. FraudScore works both with mobile and web traffic. The company provides its clients with a unique traffic scoring solution that analyzes 100+ fraud metrics, detects patterns, and assigns each action a specifically calculated fraud score.
Fraud Defense by Inmobi
InMobi drives real connections between brands and consumers by leveraging its technology platforms and exclusive access to mobile intelligence. They create new paths for brands to understand, identify, engage and acquire connected consumers. As a leading technology company, InMobi has been recognized as a 2019 CNBC Disruptor 50 company and as one of Fast Company's 2018 Most Innovative Companies. 
Forensiq
Established in 2010, Forensiq by Impact is the most established fraud detection platform in the performance space. Powered by machine learning, Forensiq offers full-funnel fraud detection and addresses fraud at all levels of the marketing funnel. Forensiq enables networks and advertisers in the performance space to drive legitimate leads, conversions and installs, as well as obtain chargebacks for fraudulently generated conversions. As the digital armor protecting marketing and ad spend, Forensiq detects and protects against fraud at all points in the marketing funnel from impression to conversion across all device types.
FraudShield by 24Metrics
24Metrics is an anti-fraud solution provider for the Affiliate Marketing industry. 24Metrics is known to be among the first ones to step in this market in 2013. FraudShield is the most customizable fraud detection solution in the market with clear and transparent rejection results that are industry-wide accepted. 
How to Choose?
If you are considering which dedicated platform to choose or maybe you still have thoughts about developing your own solutions from scratch, check out the recent research by Affise about Performance Marketing Fraud.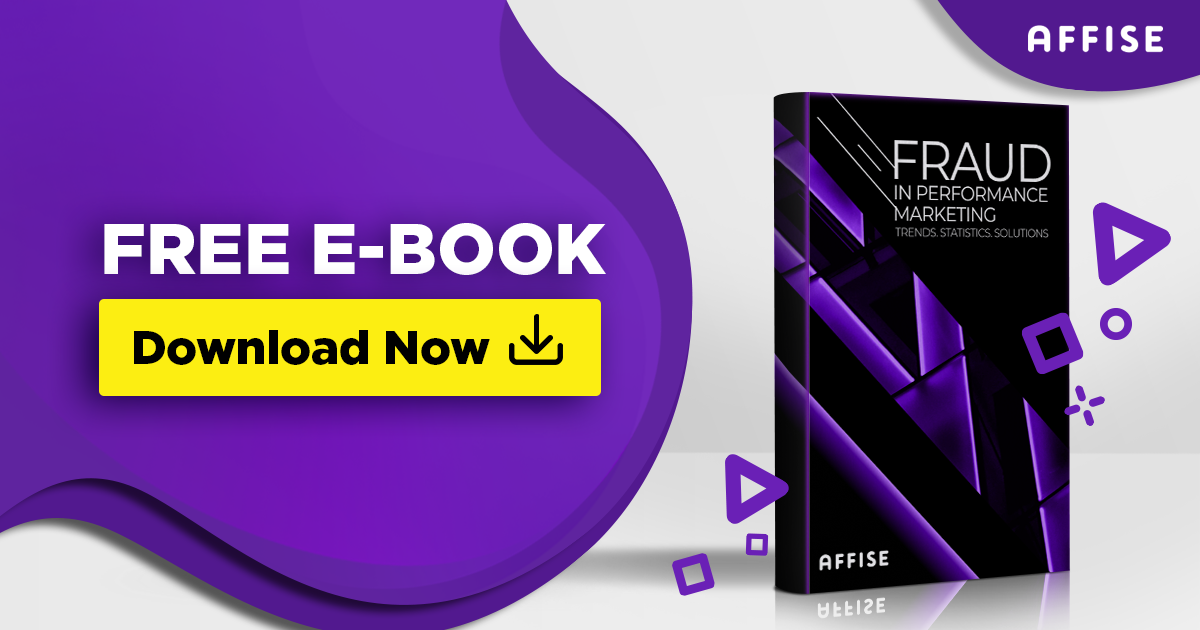 You will have access to detailed analysis and comparison of two solutions: in-house and SaaS. Also, if you lean more towards SaaS solution, you will find details reviews of the top fraud prevention tools: Fraud Defense by Inmobi, Forensiq, FraudScore, FraudShield by 24metrics. 
Download the White Paper to learn which solutions fit you the best.
Share the article

Read. Learn. Do. Earn more money on Affiliate Marketing
Don't miss