Push traffic is a new traffic source for some advertisers and can look like a dark horse. But it has a number of significant advantages. A wide range of GEOs and offers for converting makes push traffic more and more popular. 

Today we will speak about RichPush ad network. Let's estimate the usability of this traffic source and its features.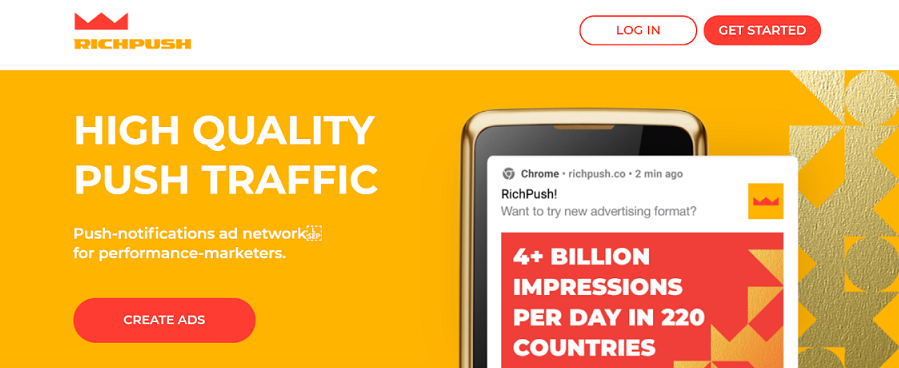 Top verticals of the platform are nutra, sweepstakes, gambling, finance, dating, and mobile apps. Moderation is not very strict: for example, you can run dating offers with no nudity on creatives and pre-landing pages. 
An important advantage of push traffic is a wide variety of GEOs: at RichPush 250 countries are available. They promise one of the biggest audiences among all traffic sources - 450M users all over the world. By the way, RichPush has its own traffic: the company collects subscribers with the help of its own platform RichPartners. So, this source can be also useful for those who are seeking for opportunities to monetize their websites. But in this article, we will dwell on the opportunities for advertisers/affiliate marketers. 
A minimum deposit of the network is $50. But if you deposit $250, the help of personal account manager, priority support, service for making creatives and other features are available. For some affiliates, $50 is enough to test a new source and make a conclusion. So, it's for you to decide how much to spend. 
Moreover, the network actively promotes its unique features to work with the campaign's optimization: Microbidding, Automated rules, and Target CPA. We will speak about them a little bit later. 
A few words about interface 
The website has an intuitive interface, for example, it's quite easy to find the registration form here. 
Right after registration, you appear in your account, where you can see the settings of the campaign and guide on its launching even without making a deposit. All other tabs will be filled with information when you launch your first campaign. 
Also after making a deposit, you will get the contacts of your personal manager.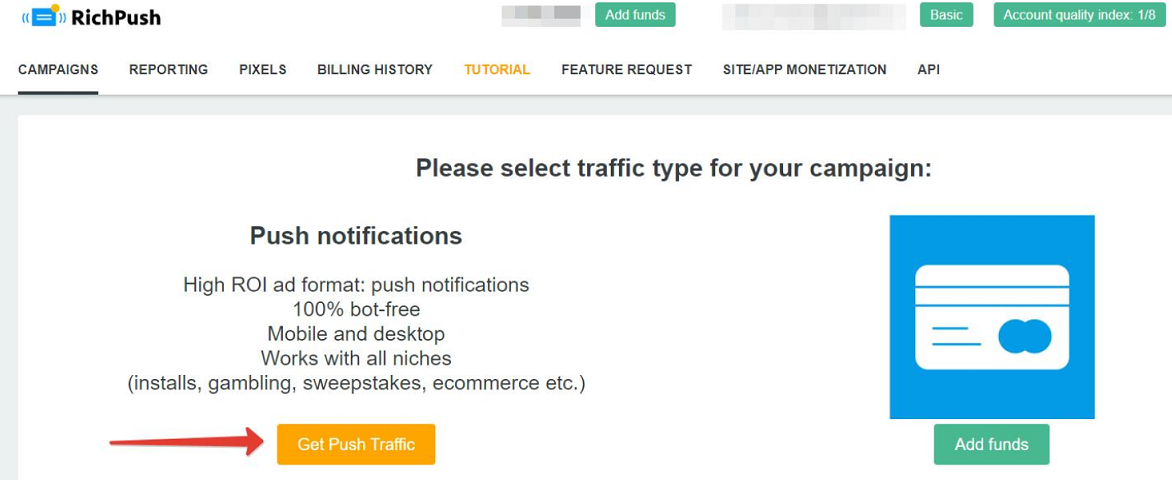 At first glance, everything looks orderly and logical. The page of the campaign launching is divided into some blocks: first, you should add creatives, then set primary targeting parameters (country, devices, browsers, OS, connection types). Then goes the section devoted work with bids. Everything is quite logical at this point: the bid rate depends on the country and some targeting parameters. By the way, the system automatically helps with the recommended bid rate. In this section, you can also solve all the issues concerning the price: limit daily budget or plug the flagship feature which automatically lowers the bid price without losing traffic volumes. 
For some reason, developers decided to hide some settings. To find them, click the "advanced settings" button which is near the button "Create a Campaign". There you will find 2 additional flagship features: Microbidding and Automated rules.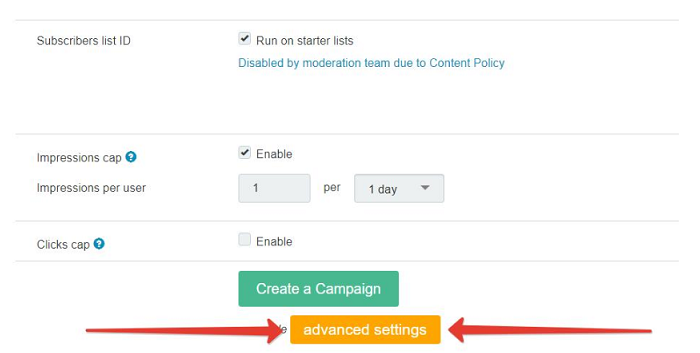 What special functions are available during campaign launching?
Ad network allows setting the conversion tracking model which is suitable for you: pixel, image or postback. Conversion tracking gives the possibility to use full-value reports and more detailed statistics. This way you can get access to some unique features of the platform which help to regulate the bid price for different traffic sources. 
10 popular trackers are integrated with RichPush. Besides, the personal manager can give recommendations on campaign optimization using data about conversions.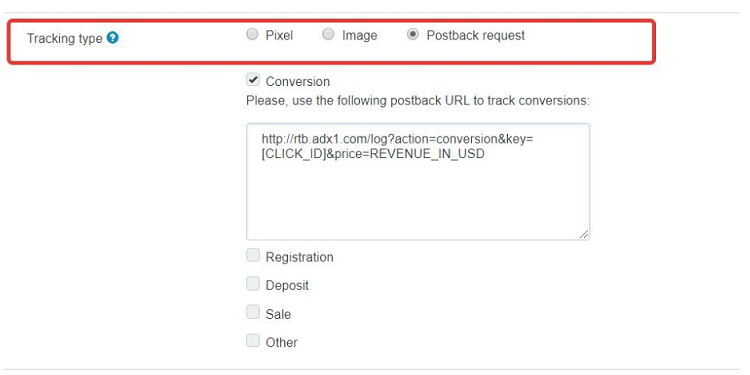 You can add up to 10 different variants of creatives in RichPush campaign. It's necessary to make a high-quality test. 
Besides, to each creative you can add a link to a certain landing page. So, you can test both creatives and landing pages. 
Not all networks allow such options. But there are also some minuses: you should compress your creatives up to 100Kb and it can be quite complicated process. 
Settings stand out by wide range of targeting parameters: you can sort out not only OS, devices and browsers, but also compress audiences by browser language, mobile operators, city and district. 
But you'll have to look for some settings: for example, browser language and mobile operators are available in "advanced settings" section.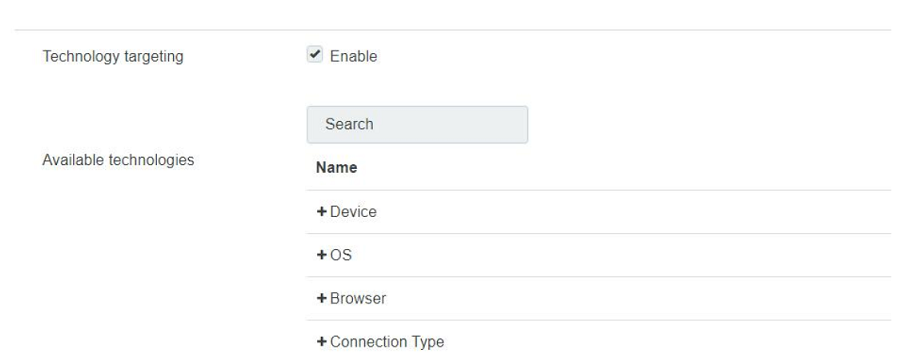 There are 2 traffic models in RichPush ad network: CPC (cost per click) and CPM (cost per mile). Actually, the CPC model prevails now, but the possibility to choose cannot but welcome. You can launch campaigns using different models and analyze their performance. 
The network also has Smart CPC function which lowers the bid without losing traffic volumes, if possible.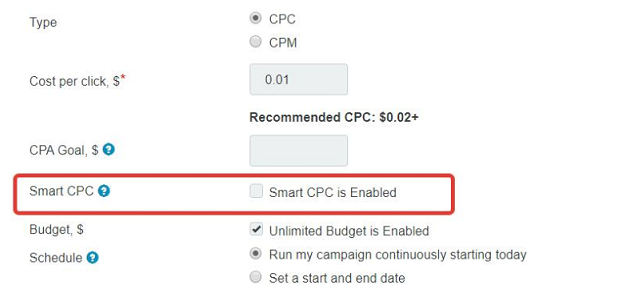 There is a very rare and useful function in the system - you can launch your own campaign only among new users (New Subscribers Only). These are users who have subscribes to push notifications for the last 7 days. Cost per click is twice as high in this case but the number of conversions increases as well. 
In RichPush network you can also apply the function which limits the number of clicks and impressions. It allows us to relieve users from a glut of push notifications and set the number of notifications they will see and click for a certain period.
Finally, let's speak about flagship features. The first one is Micro bidding - it allows us to set different bids for different parameters in one campaign. 
How does it work? When you start analyzing your campaigns, you will definitely notice the difference in conversion price in different segments: for example, new Android devices tend to convert better. With the help of this function, you will increase the amount of traffic to this OS. Just change the bid value. 13 parameters are available and you can combine them. (sublists, websites, devices, and even the time of the day and days of the week). The function also helps not to turn off some traffic sources, but just make them cheaper. There are really nice possibilities for optimization, aren't there?
The second feature is Automated rules - it significantly simplifies the campaign running. Optimization rules allow to make automatic settings for black and white lists according to 7 parameters:
publishers ID,
site ID,
OS,
creatives,
browsers,
devices,
campaigns.
Now you need not add sources in black and white lists - just set the necessary terms and get profit. Both functions are available for users which set up conversion tracking to the ad network. 
What do we have in the end?
When comparing different push notifications ad networks, we can notice the same troubles: narrow functionality, small amount of creatives in one campaign, limited amount of targeting parameter. Of course, push notifications have no such wide targeting as Facebook does. But RichPush obviously made the most possible both of the targeting and platform's functionality. It appears that they are doing everything they can to help affiliate marketers make profit using RichPush features. 
Push traffic doesn't require huge budgets to start, a wide range of GEO and offers allows making profit. Don't waste your time - try RichPush traffic and drive your performance! 
Share the article

Read. Learn. Do. Earn more money on Affiliate Marketing
Don't miss