The article prepared by Datspush Team.
Google is preparing to update the most popular browser in the world - Google Chrome. On February 4, its new version, Chrome 80, will be publicly available.


While everyone was on vacation, on January 7, a post appeared in the official blog of the Chromium browser engine, in which the development team introduces us to "silent requests for subscribing to push notifications". The new feature will already be in version 80 of the browser (desktop and mobile). 
Silent subscription requests are not the classic windows in the upper left corner of the browser that we are all used to. Silent Requests is a modest animated notification in the address bar "Notifications blocked". A subscription request will appear only when you click on this icon and allow the site to request permission to subscribe to push notifications. In the mobile version of the browser, when you request a subscription, the pop-up "Notifications blocked" pops up at the bottom of the screen. To resolve requests from the site, you will need to click on the "Details" button.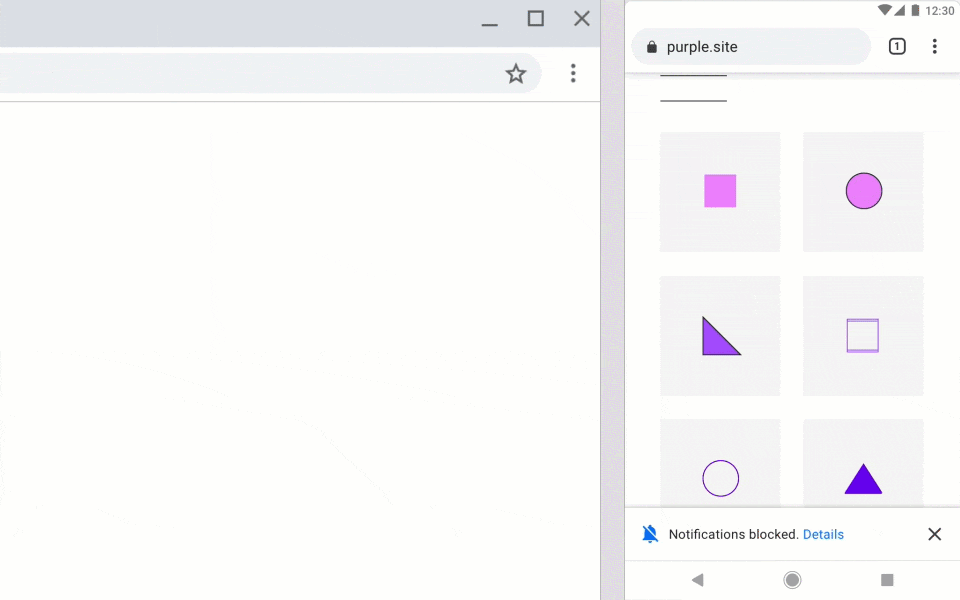 Scary?
Silent requests will be included automatically, but not always and not in all cases. Also, users will be able to manually enable this feature in their Chrome settings.
When are silent requests activated?
All users who CONSTANTLY unsubscribe from push notifications
Only on sites where NOBODY subscribes to push notifications
All other users will be shown regular subscription requests unless they manually block incoming requests or turn on the new silent request feature.
What does it mean?
Google cares about its users and uses gentle methods to improve user experience. Subscription request pop-ups have been annoying for users lately, so Chrome's developers have taken action. Although, silent requests are also a gentle method. The main flow for converting a site visitor into a subscriber will not change.
Let's look at the three mentioned user groups that will use / can use the silent request feature.
Those users who manually enable the new feature.
As a rule, these are advanced users who are able to work with browser settings and can personalize it to their needs. Of the bulk of users of Chrome, there are not so many. If such people were annoyed by pop-ups for subscribing to push notifications, they could turn off these requests in their settings for a very long time. Even activated silent requests can distract attention from the content of the site, so I'm sure that the new feature will not be so popular that all users activate it.
Those users who CONSTANTLY unsubscribe from push notifications.
How long have you been signing up for push notifications? I, for one, never. Literally every site throws us a subscription request, and we are furious and "Reject" from tab to tab because we can't concentrate on the content. I didn't connect my Internet yesterday, and I'm sure that when the site restricts its content, it wants you to subscribe to its push notifications before you can view the content. I know that subscribing to push notifications does not confirm my coming of age. I also know that files are not downloaded from the Internet after clicking the "Subscribe" button and so on.
All these users would never have become an audience of push-advertising networks, and would not have replenished their subscriber base. Chrome just makes their life easier by hiding annoying requests from their eyes.
Visitors to sites on which NOBODY NEVER subscribes to push notifications.
There are sites on the Internet where nobody ever subscribes to push notifications. The visitors close every request that pops up. Why then show these requests, which only make you make an extra click on the "Reject" button? So the Chrome developers asked themselves this question and carefully hid the notification of the request for subscription in the address bar for visitors to such sites.
Almost no one is subscribing to push notifications on your site? Motivate visitors to do this in legal ways (promise exclusive and useful content or write down all the advantages of being a subscriber. Do not forget that blocking content or sending several subscription requests at a time is the last century in the world of push. Google has long imposed sanctions on such sites that send out excessive requests. 
For special landing pages from which subscriptions are collected, the problem of "silent requests" is solved even easier - domain rotation. Automatically replacing domains for users, we get rid of Google's sanctions without a hitch.
How will this affect the quality of push traffic?
The average portrait of a user who is in the subscriber database of push-advertising networks will not change. They will remain active, but not advanced Internet users, avid for clickbait creatives and wow-offers.
Will there be less fresh subscribers?
Push notifications have not yet exhausted themselves so that the growth of new subscribers begins to decline. Yes, Google has taken the first steps to adjust push notifications, but, as I said, the flow from converting a visitor to a subscriber will not change for most users.
Will push-traffic become more expensive?
The cost-per-click in push traffic, as in all ad networks, is determined by auction. If this is high-quality converting traffic, the demand for it is growing and the price is also rising. If the traffic is bad, then it becomes unprofitable for people to buy it on their offers, and its price drops. As we have already noted, the audience in push notifications will not change. This means that CPC will remain at the same level even after updating Google Chrome.
Is it necessary to succumb to general panic? I do not know. So far nothing portends big trouble. We were expecting the worst that Chrome will refuse push notifications, but this is still very far away.
Share the article

Read. Learn. Do. Earn more money on Affiliate Marketing
Don't miss