Despite browser regulations, push traffic continues developing. In addition to classic push ads, ad networks are introducing new formats that are going to change the market! In-page Push recently announced by the PropellerAds team is a striking example. Updated push notifications allow targeting at iOS and macOS, and are not subject to browser regulations. It sounds like a new promising traffic source... what's the secret? Let's figure it out.

What is the difference between In-Page Push notifications and classic ones?
At first glance, the formats are almost identical for ordinary users, although they have different mechanics for displaying, which, in fact, gives in-page push notifications an advantage in the form of format stability and protection from browser regulations. Let's consider how each of them works.
Web-push notifications (classic browser push notifications) are pop-up text and image notifications implemented by sending notifications from the browser to the database subscribers.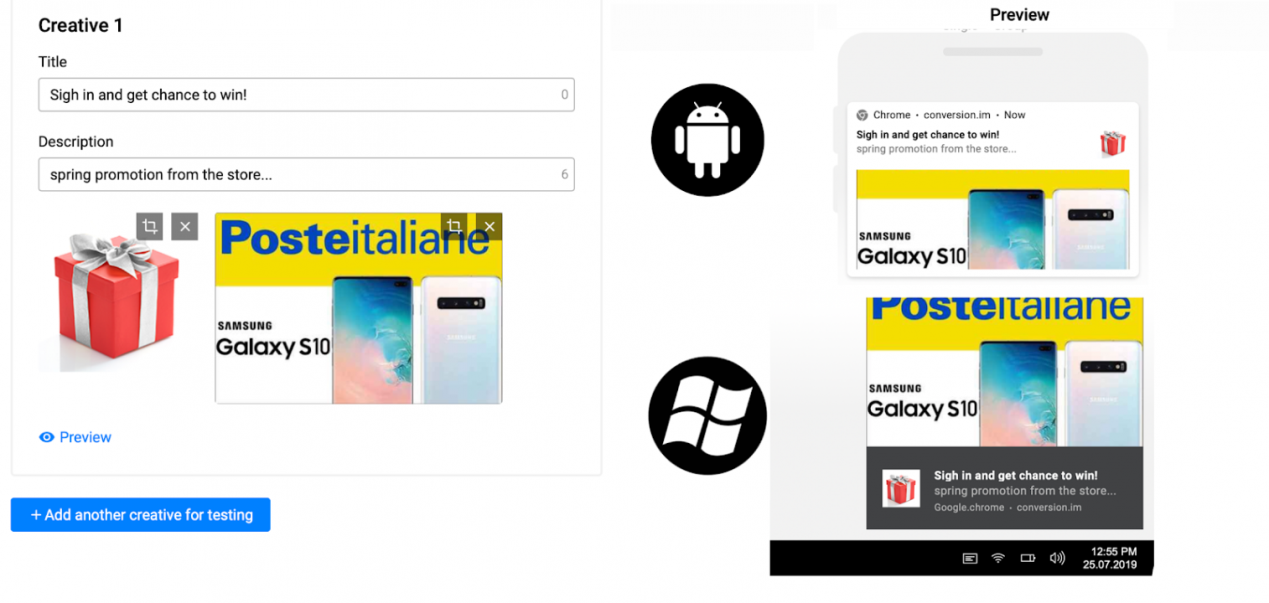 To subscribe to the database, the user only needs to allow notifications to be displayed on the site. Then push notifications are sent regardless of the user's current activity until the user clears the browser of such subscriptions.
At the time of launch, the format showed fantastic results – a high conversion rate in all the verticals at ridiculous prices, which provided a three-digit ROI! But along with its popularization on the market, users also have got banner blindness.
As a result, web push notifications have turned from advertising know-how (although the notification delivery mechanism itself was available in browsers for several years, it was simply not used for advertising purposes) to an established advertising format that many people love for its easy work.
Browser developers, who got inundated with complaints from users, who received dozens of push notifications a day, made their own adjustments. The desire to monetize all and everything was stronger than common sense, and webmasters signed users to several advertising networks at once. In this regard, browsers started regulating the format and spread panic among advertising networks, where the push traffic was the main asset. This made developers diversify risks and look for an alternative in the form of push notifications from PWA or In-page push formats.
In-page push (IPP traffic) are pop-up banner ads, stylized as web-push, that have an almost identical design for the user but are shown exclusively to visitors of a particular site when visiting. In other words, in-page push notifications only have a similar appearance to classic ones but in fact, it is a pop-up banner on the site that is displayed until the user closes it.
The absence of a large image in the desktop version (in mobile, a large image is not relevant in classic push notifications) is a distinctive feature of the format. In other words, there is a small image, title, and message text to work with the audience.

Impressions are made on the partner's sites where the code is installed and is not linked to the mailing database. In addition to the Windows and Android platforms, in-page push notifications also cover macOS and iOS, which opens up new horizons for making money with the push traffic.
Even if Google and Firefox 'kill' push traffic with their regulations (complicate subscription and make it unprofitable), IPP will not be affected in any way. Therefore, if you have never worked with the push traffic yet (or have done so already), it makes sense to try yourself in the in-page format – users haven't got tired with it yet, according to reviews, it shows itself on a par with classic push notifications and has prospects for further development.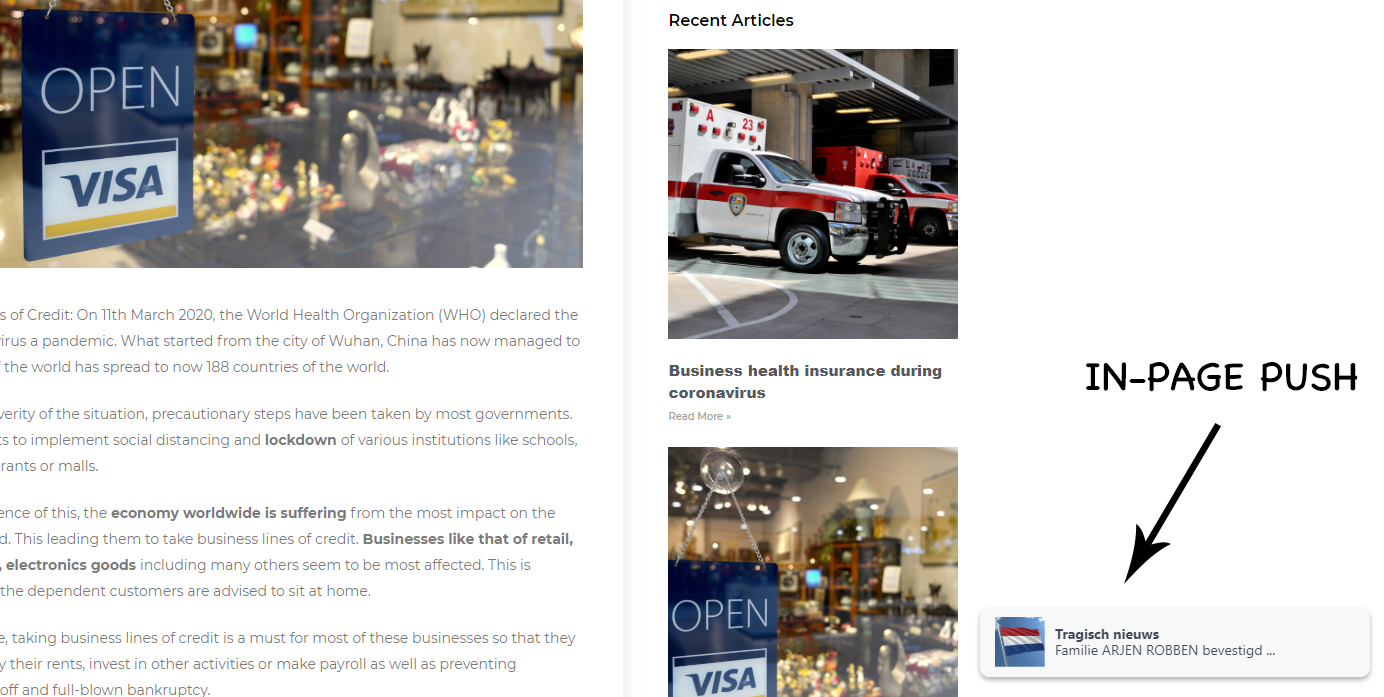 So, what are the advantages of using it for those generating traffic?
Advantages of the IPP traffic
High user engagement. Despite the less aggressive ad format, the tests show that standard indicators (CTR, EPC, CPC, etc.) are just as good as in the case of push ads. You can safely expand the volume of current IPP push campaigns or try restarting old ones.
Fresh audience. Impressions are not based on the mailing list subscribers but on visitors of a website, so the audience is different and constantly updated, significantly increasing the lifetime of the bundle. There is actually no problem with burnout.
Support for all platforms. Apple devices are now available for targeting. Users of Apple devices do not yet know what push advertising is, their eyes are not blurred by hundreds of notifications, and they will be happy to provide you with the coveted conversion. Moreover, a whole world of new offers opens up for those working with traffic – utility installations, for example.
Clicks don't come after the ad campaign is stopped. In IPP, the ad is displayed directly on the site, meaning that when the users close the page, they will not be able to click on your ad. In practice, you can clearly plan your budget for the testing of creatives.
As for classic push notifications, there is the same old story – after mailing through the database, clicks may come after a few hours or even days.
The ability to customize the ads. This is not a classic push notification, but a stylized banner, so it is likely that animation, non-standard text colors, etc. will be available. But this is more what we are dreaming about, let's wait and see.
An additional feature for site monetization. Previously, webmasters were strongly linked to their push partner sites, because when they deleted the script from the site and switched to another advertising network, they actually lost their base and potential revenue from it. This format monetizes the site here and now.
But along with the advantages, there are also points that need to be taken into account when working and they're the following:
Peculiarities of impressions. When working with CPM (paying for 1000 impressions), you need to understand that in-page is considered to be the display of the banner on the site, and not the delivery of notification and viewing, as in classic push notifications. The ad is delivered almost instantly to every user of the site, so you will need to carefully optimize traffic across sites to protect your budget from unscrupulous webmasters.
Advice: divide your campaigns by CPM or test them with pay-per-click. In any case, we recommend tracking the CPC and EPC in different formats in a tracker.

What will be more profitable? Only tests will show it.
Not everything that goes well in standard push notifications will work as well in IPP. Here we return to the issue of display mechanics. We dare to assume (just an assumption) that software installations, financial offers, dating, and other offers with payment for signing-up will perform well in the in-page push notifications.
According to PropellerAds, now health & beauty and gambling go harder and you need to look for your own approach in these formats.
But everything needs to be tested! Our team has not yet worked closely with the format to share high-quality expertise, so we will be happy to discuss your options/tests in the comments.
Volumes. The format is only gaining momentum, so at the moment it is unlikely to be able to replace the classic push notifications in full. However, the format can already give a fresh audience to your existing push campaigns.
It is also worth noting that the inventory of advertising networks by country is very different from the classic push notifications.
Speaking of PropellerAds, the main flow of in-page push traffic is concentrated in:
India – 8 million impressions per day
Malaysia – 3.7 million
Philippines – 5 million
Japan – 2 million
UK – 5 million
Saudi Arabia – 2.3 million
France – 4.8 million
The total volume of in-page traffic is about 123 million impressions per day (the volume increases every day).
If you haven't worked with PropellerAds yet and are looking for a source of high-quality traffic, we recommend it. The advertising network offers more than 7 000 000 000 impressions per day and carefully monitors the quality of traffic (adult is not allowed here). It works with such formats as Push, Interstitial, and Popunder. It offers a wide range of targeting options, the ability to automatically optimize campaigns, and other necessary tools.
See the Traffic Chart section for more information about the traffic volume of each format for the desired countries.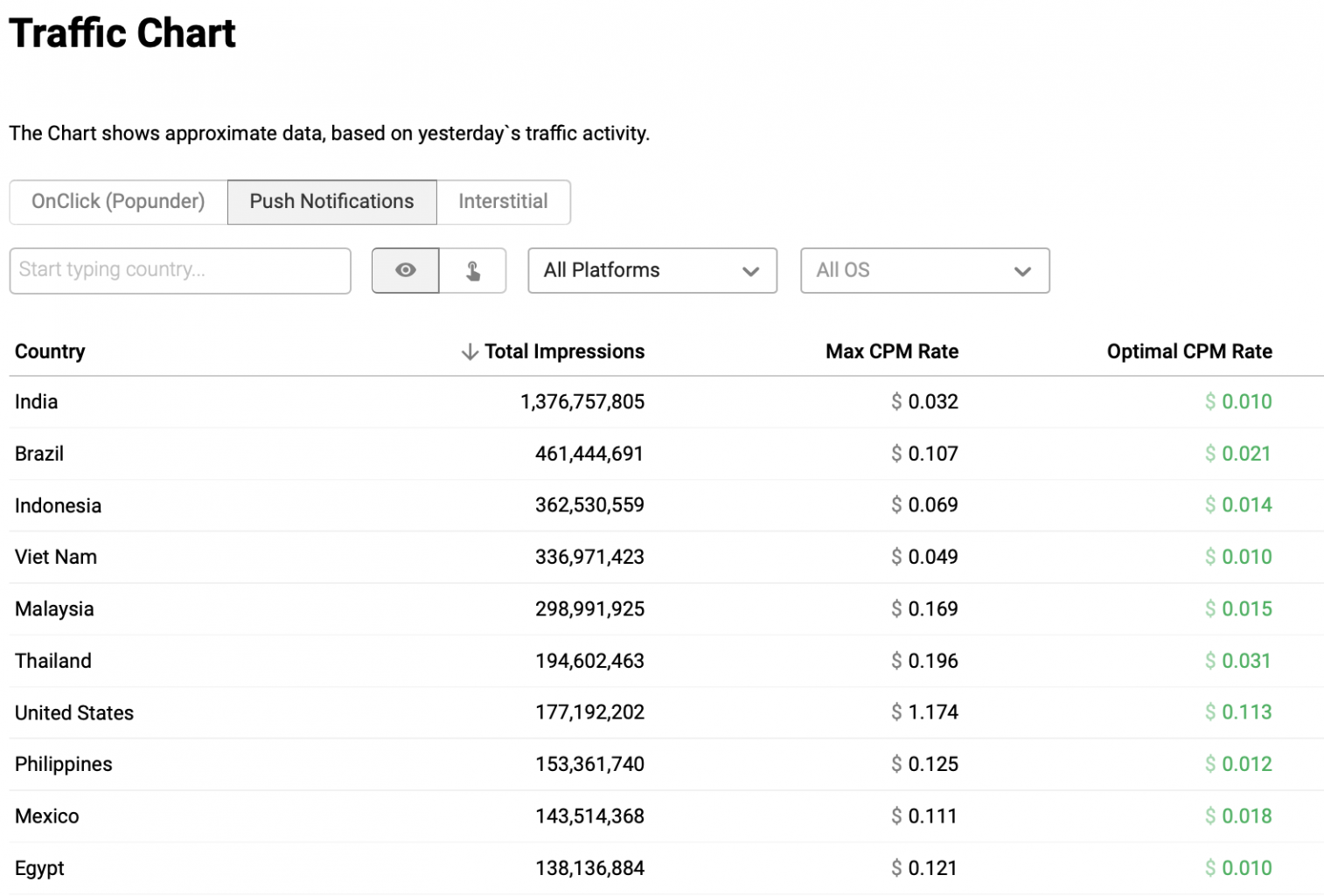 We believe that now it is a great opportunity to go into installations for macOS and iOS, the conversion is likely to be really good! The other verticals need to be tested, but the first thing that comes to mind is Dating and Utilities.
We advise you to keep tracking the expansion of traffic volume, communicate with your manager, and scale your work for some new GEOs in parallel with the expansion of the networks' base. What do you think about this?
We wish you all high-quality traffic, high CR, and evergreen ROI!
Share the article

Read. Learn. Do. Earn more money on Affiliate Marketing
Don't miss