Another popular affiliate network that deals with the Nutra niche is Everad. They have been working in this niche for quite a long time - more than 7 years and provide users with exciting global offers that convert.


They work with hand-picked offers that have good converting rates and good profit potential. Everad provides users with about five new offers every month. This ensures that you won't be getting any offers that are saturated. It is possible to drive traffic with the offers for a long time with these offers.
Everad Feature
Everad is a direct advertiser with global Nutra expertise. They own all of the offers and provide affiliates with the high payouts - up to $30 per lead.
24/7 call-centers with native operators.
Affiliates with decent traffic quality and a good reputation get paid faster.
They are focused on the Nutra, which allows them to create the most demanded products on the market. And they work with more than 42 countries.
Managers with experience in affiliate marketing respond within a short period of time if you have any questions.
They have a variety of payment options including PayPal, ePayments, Visa, Wire transfer, Paxum, and Webmoney.
Their minimum deposit amount is $50.
Creating your account
Creating your account can be done in just a few steps. First, click the Sign-up button on the Everad home page.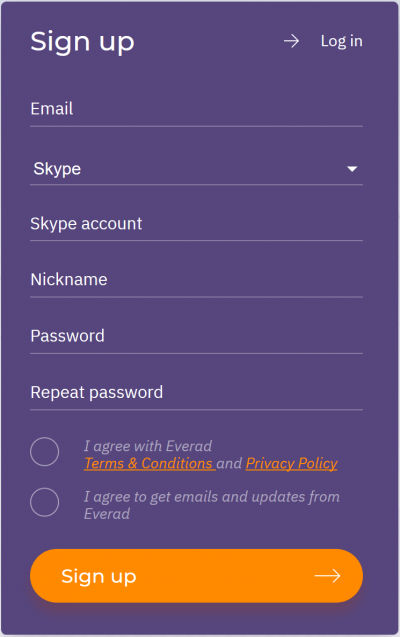 Input your credentials and agree with their terms of use, then click Sign up. A confirmation letter will be sent to your email. Follow the link in the email to get into your account. Note that if you do not follow the link sent to your inbox, your account will not be verified and you won't be able to get payouts.
Once you get into your account, the first page you meet is the Dashboard. There, you will see a summary of your statistics on a weekly or daily basis, the contact of your account managers, new offers, and recent news.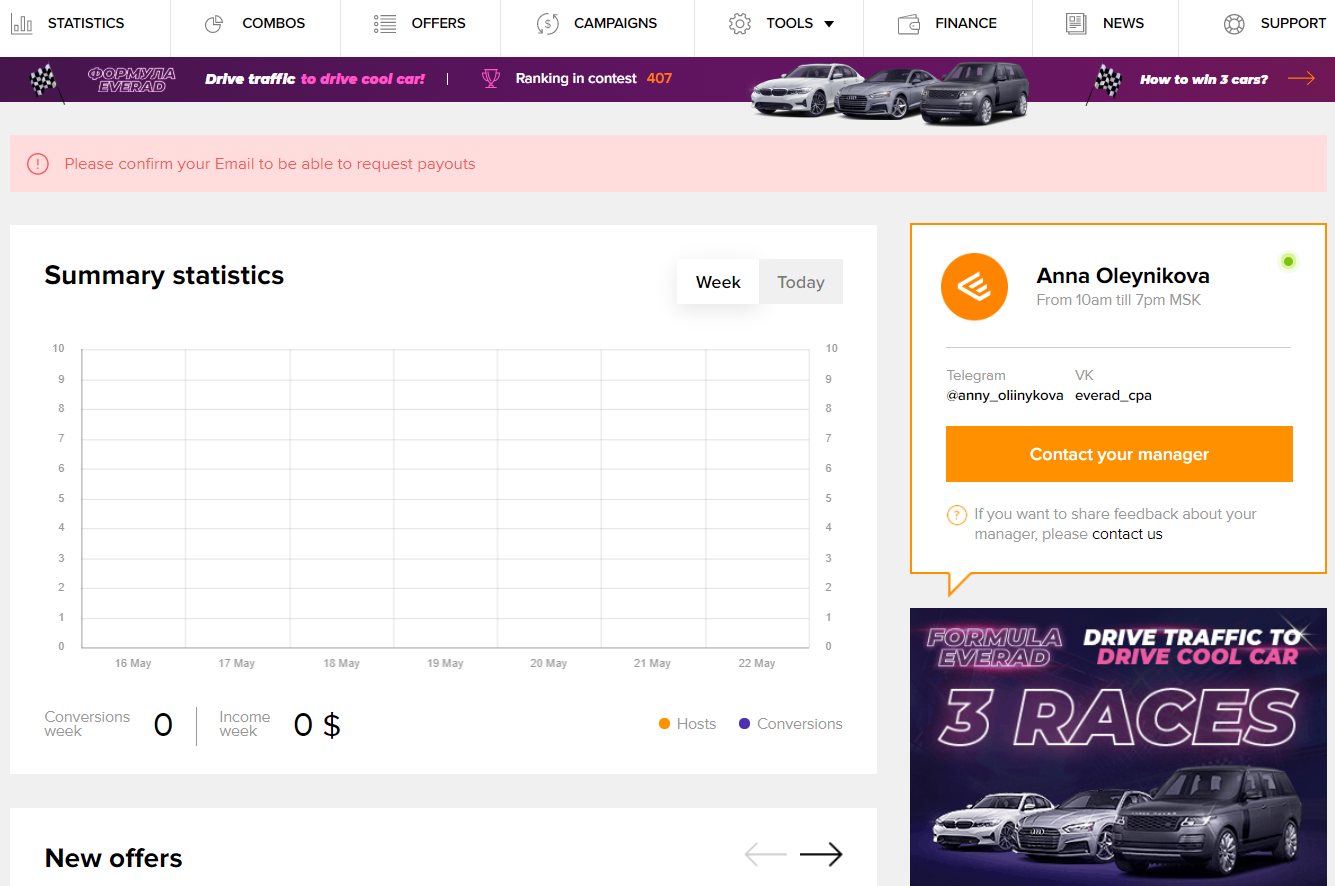 Everad provides users with lots of options to create, manage, and optimize their campaigns. Now, we are going to talk about these options:
The Statistics tab offers users a section where they can check how well their campaigns are doing and what profits they are making. They will be able to check general information on your campaigns, conversions, analytics, and combos.

The Combos tab is where users can select the appropriate combos for each offer.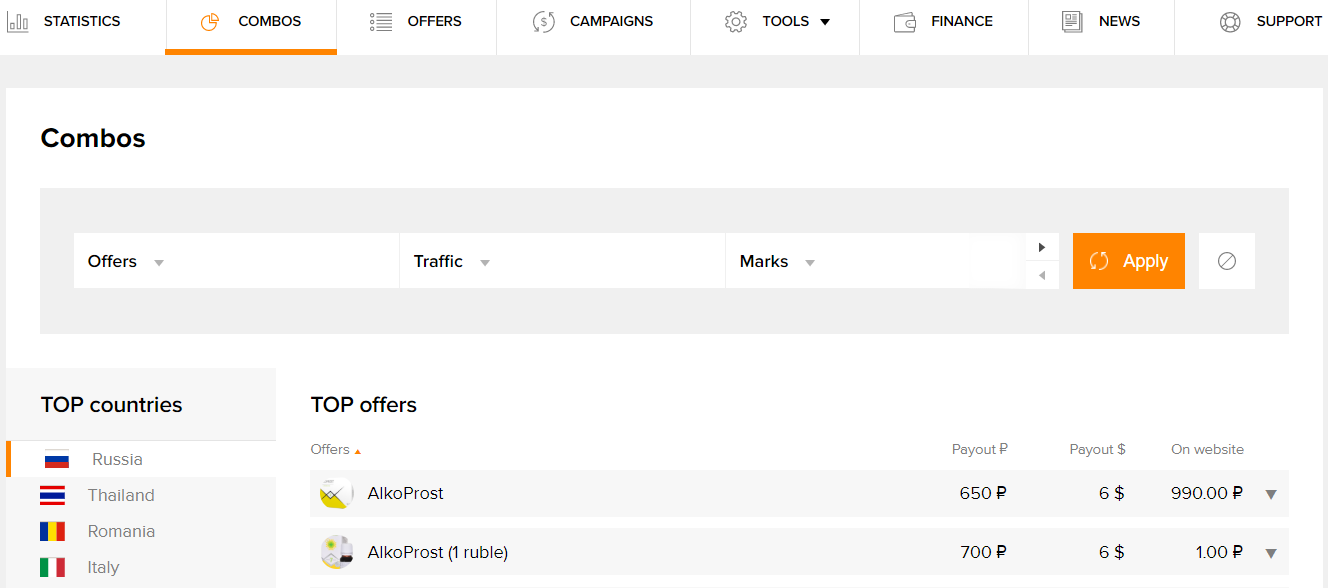 The Sources tab is where users can add their traffic sources. They have a variety of categories on what kind of sources can be added. Once a source is added, you will see it under the My sources section.

As you may have already guessed, the Offers tab provides users with information on all the available offers. On the right side of the window is a filter where you can find offers according to their category, targeting, and currency.
Once you have found the offer that suits you, click on the Request Access button and you will be provided with all the information about the offer and the terms of working with it.
Click on the Request Access button again and you will be redirected to the Create ticket screen.
Input the required information and then click the Create ticket button.
Now, all you need to do now is to wait for the offer to be approved.
The Offers tab also provides a very interesting feature called Boost. You can get +30% on your commission for 7 days or on your first 500 leads that have been approved. This feature ensures that your campaigns don't turn red, especially if you are a newbie.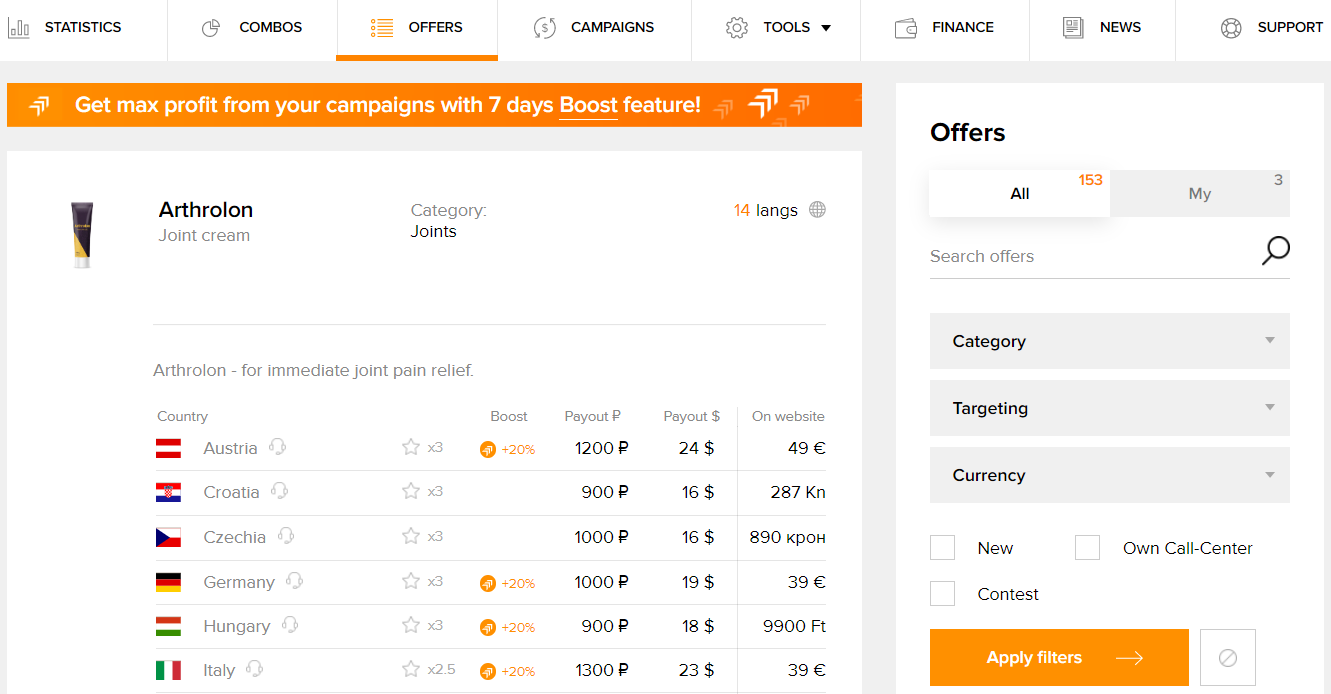 The Campaign tab is where you can create a campaign to get the offer link that you will submit to your tracker. Here is how to create a campaign:
Click the Add Campaign button in the Campaign tab.

Enter the name of your Campaign in the Campaign name text box.
Then choose the offer that you requested from the Offers drop-down menu.
Next, you need to choose the source type from the Source drop-down menu.
Also, you need to choose the language in which the offer will be presented. This can be selected from the Language drop-down menu.
Once all these options have been filled, you will see the landing page.

Now, select your offer page from the options that Everad will provide or you can use your own by clicking the Park a domain radio button.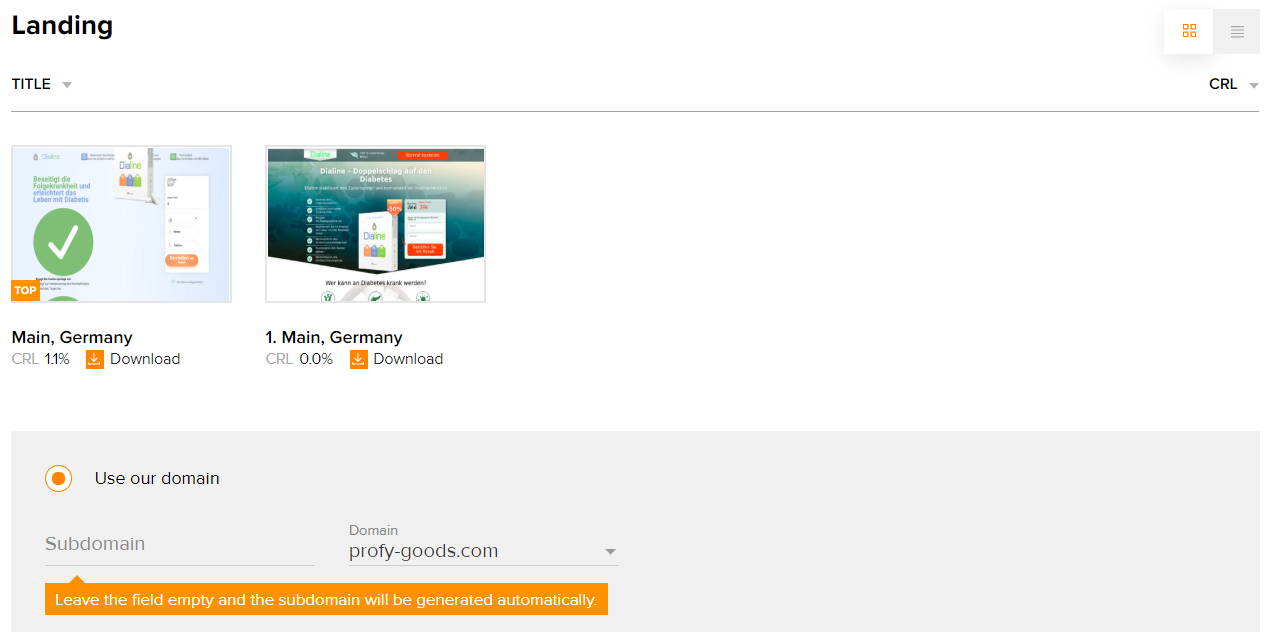 Select a landing page from the options provided by Everad or click the Park a domain radio button to use yours. If you don't want to use a landing page, you should click the Don't use radio button.
Click the Save campaign button.
Now, click the button next to the campaign you just created to open the link builder window.

You can now copy the offer URL to your tracker.
Under the Tools tab, there are several options to choose from - Newsfeed, Conversion API, Dashboard API, and Discounts.
The Conversions API section will show you how to receive orders from CPA to API. You will find info on how to send from the server, webpage, and PHP.
The Dashboard API section shows you how to manage your affiliate account inside the Everad CPA application.
The Discounts section provides users with the best conditions and discounts for useful programs. For example: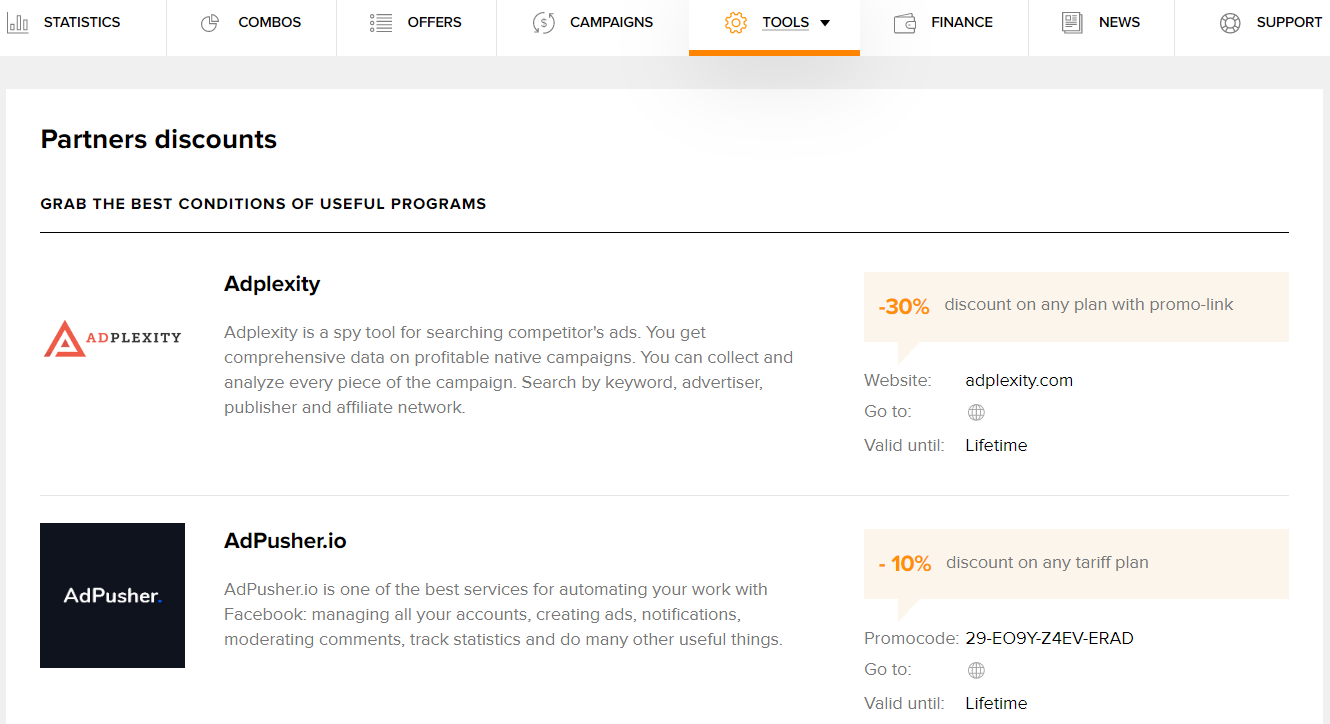 The Finance tab shows you Payouts and transaction history.

The News tab gives users updates on the changes and additions that are occurring in Everad.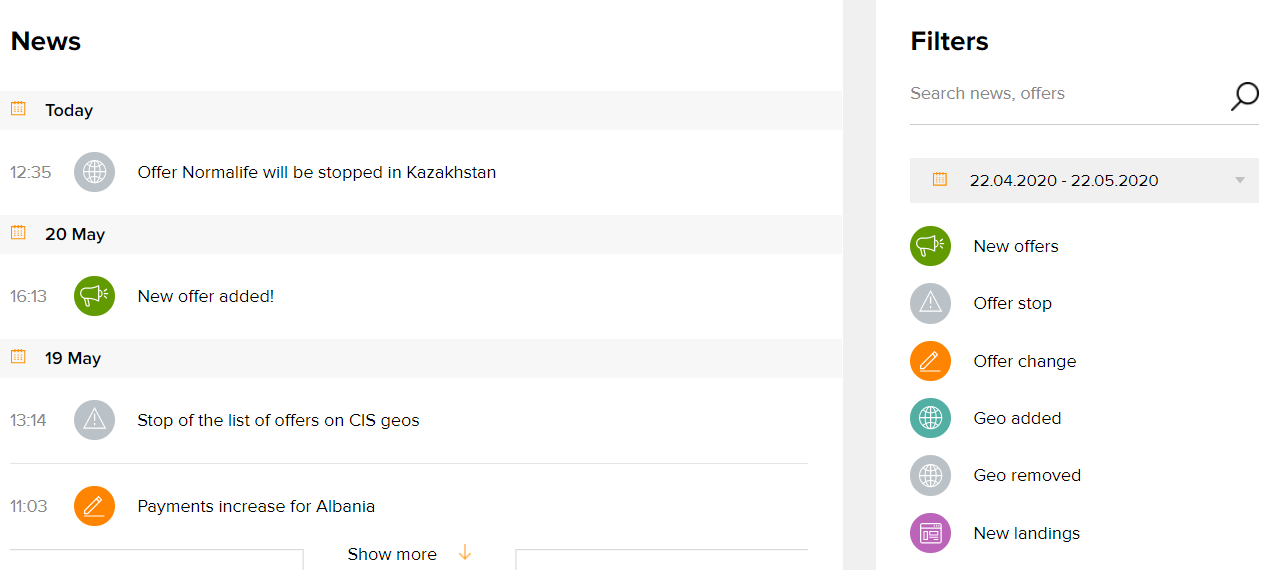 The Support tab gives users the possibility to get help on issues about Everad. Once you create a ticket, their response time is pretty impressive. So, do not hesitate to ask questions about things you do not understand. But it is also important to check the FAQ section first because most common questions are answered there.
Conclusion
Nutra is one of the most popular and profitable niches. Nowadays, it is difficult to find a network that provides you with the tools to succeed in this niche. But Everad is different. Even though they have some minor setbacks, they provide users with the tools for success. Well, this is just our own experience, you should give it a try and see what impressions Everad leaves on you.

Share the article

Read. Learn. Do. Earn more money on Affiliate Marketing
Don't miss