Today we will talk about such a well-known and top vertical in affiliate marketing as Health and Wellness (Health & Beauty, Nutraceuticals, Nutra). It performed well in 2021 and continues to be a trend in 2022.

These are thousands of products of different directions: correcting body shapes, fighting bad habits, beauty, and health of men (potency, muscle mass), eyes, beauty and health of women (skin problems, hair, nails), well-being (fighting depression), other types of diseases such as diabetes, psoriasis, etc. Among them, products for weight loss, drugs to fight fungi, for the treatment of joints (an eternal theme of an adult and affluent audience), and of course, adult (potency) are especially profitable.
So, we can divide all the products in the market into the following sub-verticals:
Skin
Diet
Muscle
Male enhancement & Erection disorder
Brain
Hair loss
So, the vertical starts with the advertisers and the product they want to sell. It is important to note that advertisers are responsible for product development and logistics, so they often place high demands on the quality of traffic. However, make sure that the advertiser also fulfills its obligations.
What types of target action can be used in the vertical?
There are three payment models for working with the Health and Wellness:

This is a credit card payment directly on the site. Pretty straightforward, isn't it? No need to think about any buy-out, there are no holds. A person goes to the landing page, makes a purchase, pays the entire amount at once — the affiliate immediately receives a reward. If you look from this side, the option is reliable, but the earning potential is lower. Today, this is not the most popular model in the CPA market. A large percentage of sales are out due to the client's unwillingness to open up their credit card details on the site. However, many newcomers to the vertical start with direct sales, since then you don't need to struggle with managing advertising platforms such as Facebook. Moreover, there is no worry about rebills. We will tell you about them in the section dedicated to the more profitable model - Trials.
The most popular and widely applicable model of working with Health&Wellness today. In this model, the customer leaves their data, then the call center contacts the customer to confirm the order, after which they are sent the product for which they pay after delivery. Offers based on the COD model convert best, because the client doesn't risk anything and pays for the product only after they receive it and get acquainted with it. Working under the COD model webmasters have no problems with the approval of offers. But to work with confidence in this scheme, you need to be confident in the quality of the products offered and work only with those offers that have good approval.
In the trial offers, the client fills out a form, specifying the delivery address and his/her bank card details. The affiliate network checks the validity of the data and, if everything is OK, pays you for the lead. Here, the concept of approval rate appears, which means the ratio of clients approved after verification and those who signed up but were not approved. Next, the customer pays a small cost of delivery of product samples, with confirmation of repeated rebills every 30 days by subscription. Therefore, it is very important to target countries where a larger percentage of the population constantly uses credit cards. Payment terms depend on the percentage of rebills, so these offers are a little more complicated, but as a result, they are more profitable when building the right funnel.
Initially, the customer subscribes to the continuous delivery of the product. The idea is that customers first pay for delivery and if they are satisfied with the quality of the product, the subscription is renewed.

When the customer receives the product, again and again, this process is called "rebilling". Rebill is the main indicator used to measure the quality of traffic. If there is no rebilling, the advertiser loses not only on the cost of the product but also on payments to the affiliate. Obviously, this model is not suitable for the advertiser.

This is why most advertisers set a minimum percentage of rebills. The average figure for the market is 60 percent. It usually takes about 14 days to determine the average rebill percentage. As a rule, the rebill percentage is lower than the approval percentage by +/- 10 percent.

So, it turns out that the main question here is how to get a high percentage of rebills?
That's where the traffic source, advertisements/banners, targeting, pre-lander, and landing page are of the highest importance. All this should work not only for the client but also coincide with the advertiser's position.
What is the role of affiliate networks?
So, we know what products are offered by the Health and Wellness vertical, what are the ways to promote the product, but let's find out why there is a need for an affiliate network. After all, most likely, advertisers have already had the staff with a dozen PR specialists and marketers and if something happens, they can always contact the agencies. Why do they need affiliate networks then?
First, affiliate networks provide access to thousands of affiliates. Who are they? They are the same marketers, bloggers, SEO, context, targeting specialists, owners of groups in social networks, and channels in messengers. In fact, the advertiser is found on the exchange of Internet specialists (sometimes a whole team of extremely high-level experts) who work for themselves. In other words, the advertiser can choose specialists specifically for the work with Health&Wellness and even for some sub-vertical of it.
Secondly, these affiliates have a clear motivation - to earn money. Their revenue depends entirely on their activity, and it is in their best interest to provide the advertiser with paying customers. Moreover, affiliates are willing to spend their money to promote products and services, and this also says a lot about motivation.
Third, the advertiser does not have to plan revenue and expense flows: he puts the affiliate's payout in advance in the margin received from the sale. He doesn't need to consider the costs of attracting, to spend budgets for testing ad campaigns, and to complicate the calculations – affiliates do this entire job for him.
After all, an advertiser doesn't need to build relationships with dozens of individual specialists and agencies: one for SMM, one for bloggers, one for content projects, and so on. Specialists in these areas come and offer their services themselves.
In such an affiliate network, you can easily meet an advertiser with a landing page that he already gets leads from, and a webmaster who has a great weight loss landing page that is completely suitable for the advertiser. The perfect match for increasing rebills!
A person who works with this vertical will know which clients to attract and how. They know how traffic works exactly with the right sub-vertical.
As for choosing a Health and Wellness affiliate network, there are several points that you should pay attention to.
Reputation and openness of the Affiliate Program.
Traffic volume opportunities and successful cases.
Conditions of work. Traffic quality control.
Statistics and transparency.
Feedback from affiliates.
Opportunity for learning and development.
CrakRevenue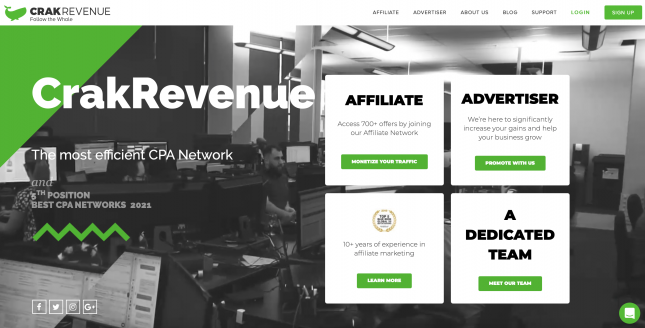 CrakRevenue is one of the oldest affiliate networks in the online space. Founded in 2010, it accommodates 35,000+ affiliates, to this day. CrakRevenue is also one of the most versatile networks featuring more than 700 various products and affiliate programs.
In particular, CrakRevenue provides access to several health and wellness products, such as, for example, Hims & Hers. Affiliates get paid according to Net 7, 15 or 30 system with the minimum payout of $100. Also, the company takes special pride in the quality of their support and affiliate management, thus its partners can always count on comprehensive assistance.
LeadBit

LeadBit is one of the main affiliate networks globally. It has global traffic from over 30 countries. Its health and beauty product category is the widest category on the platform. There are different products from Nutra, such as weight loss products, breast enlargement products, products for hair loss prevention, and many others.

Affiliate marketers can find products that can fit every taste. The platform offers affiliate marketers many cost per action (CPA), and cost per sale (CPS) offers. The payout is upon request, and the minimum withdrawal is $30. Its payment systems include wire transfer, capitalist, EPESE, paxum, and PayPal.
Everad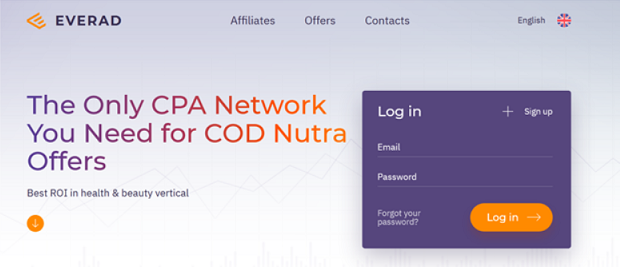 Everad offers one of the best returns on investment (ROI) in the health and beauty vertical. It has a seven-year of experience in the Nutra market. Everad is different from other companies in the market because of its Nutra cash on delivery (COD) offers.
Affiliate marketers can earn premium payouts. One can earn up to $30 per lead. Also, they offer instant payments. If you have a good reputation and decent quality traffic, you get paid immediately. Also, its call center is available 24/7 to help you convert a lead into a sale. Their offers mainly range between $4 and $30 per sale.
ClickDealer

ClickDealer has several offers in the health and wellness vertical. Nutra is one of its best performing vertical. The program has affiliate managers who will advise you on the best ways to use your traffic to earn more income. Their affiliate program focuses on conversion optimization.
Its business model includes cost per action (CPA), cost per lead (CPL), cost per sale (CPS), and revenue sharing (revshare). Also, it has various payment methods and flexible payment terms. Besides, they have several bonus programs, such as referral programs and contests. They also provide free weekly training webinars.
NutriProfits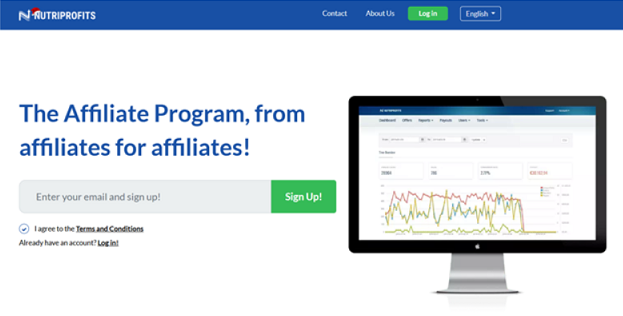 NutriProfits was founded in 2013, and the platform focuses on ensuring partners have the highest earnings and satisfaction. The products are manufactured from premium ingredients so that affiliates are guaranteed success. The products have high sales potential. Also, the conversion rate for the products is above the industry average.
They provide a 40% commission per sale. It ensures that affiliates receive some of the highest fees in the market in addition to timely payments. The customer service offers excellent support for its affiliates. Also, you can earn up to 20% on all transactions made by returning customers. You can also earn 10% from referrals.
MaxWeb

MaxWeb is one of the fastest-growing affiliate networks globally. One of its best verticals is the Nutra, health, and beauty categories. They have a supportive team, and they listen and understand their affiliates. They identify your expertise and boost your skills to ensure you earn high commissions.
The average payout for Nutra offers ranges between $35 and $90 per sale. Also, they provide promotional material to their affiliates so that they earn high incomes. They have exclusive offers and dedicated skype groups to ensure you customize your scale. You can also make money from earnings per click (EPC).
Adcombo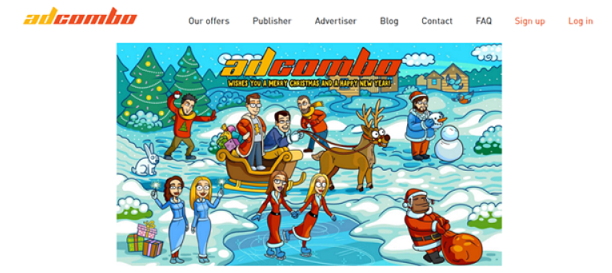 Adcombo is a good network for making a lot of money on international traffic. It has thousands of offers in the health and beauty vertical in low competition areas. They also focus on products with a high conversion rate so that you can make an optimum return on investment (ROI).
They have pre-landing and landing pages that are locally developed to concentrate on your campaign so that you do not spend most of your budget on translations. The platform has a universal set of cost per action (CPA), cost per lead (CPL), cost per sale (CPS), cash on delivery (COD), and revenue sharing (revshare) offers.
Affiliate Ninjas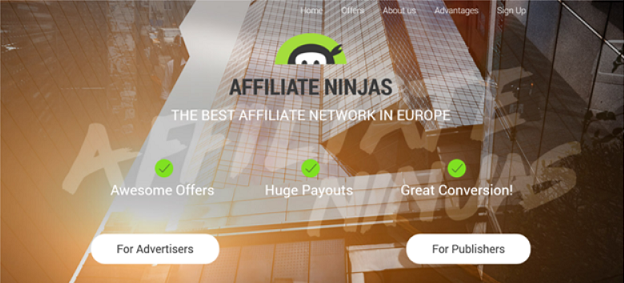 Affiliate Ninjas has a high conversion rate and exclusive Nutra offers. After signing up, you will be given a personal affiliate manager who will help you 24/7. It has quality products so that you can earn maximum commission.
Also, it has transparent and reliable statistics to ensure you monitor your sales. Its commission type includes cost per sale (CPA), cash on delivery (COD), and cost per action (CPA). Its payment methods include PayPal and Wire transfer. Also, they offer promotional material to ensure you take advantage of the best traffic sources to make conversions.
Lead Reaktor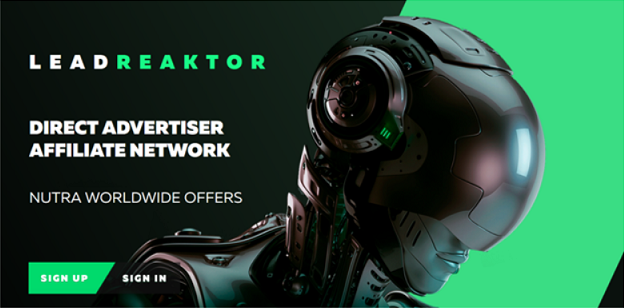 Lead Reaktor has specialized in Nutra offers. It has over 21 offers in the health and beauty vertical. It has affiliate managers who ensure that affiliates are well equipped to earn maximum commission. Also, they have native call centers in 30 countries to ensure they address the needs of affiliates and customers.
Its payment type includes cost per action (CPA) and cash on delivery (COD). Its payment methods include e-payments, visa MasterCard, wire transfer, PayPal, and WebMoney. Also, it provides training to its affiliates to ensure they have adequate skills to make more money.
MaxBounty

MaxBounty is a cost per action (CPA) affiliate model that allows affiliate marketers to earn money or income when they bring website visitors. Affiliates bring visitors to the website through their affiliate marketing efforts. It has a health vertical that affiliates can use to make money.
Its health and beauty segment is one of the campaigns that have converted well for its affiliates. Also, the affiliate manager advises you on how to stand out from competition and challenge oversaturation. Also, they help you identify the best sources of traffic. In addition, they also help you select the offers that have the best chance of conversion according to your traffic sources.
ADeer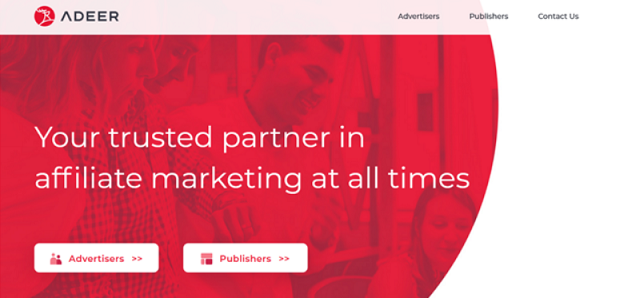 ADeer was founded in 2018 and is formerly known as NutraLights. The company has specialized in cost per action (CPA), and cash on delivery (COD) offers. It is branded as the top Nutra network in Asia.
ADeer has one of the best converting in-house offers. It offers on-time weekly payments. It has a dedicated support and affiliate manager team that provides unique solutions. The team ensures that you will scale your traffic and profitability. It has exclusive offers and bonuses.
What are the advantages of working with Affiliates Networks both for Advertisers and Publishers?
First of all, it is worth noting how high-quality traffic is important for the Health and Wellness vertical. It is clear that any vertical needs it, but this one is exactly the place where the quality of traffic plays a crucial role. Let's figure it out.

What does the advertiser care most about? These are 2 metrics:

We have already discussed the first one when we talked about the trial model because it is a really crucial indicator there. The cut-and-trust technique showed that the rebill rate should be about 15% lower than the approval rate which is the number of clients that have been approved for the trial. If this gap increases, the advertiser incurs losses, so both the advertiser and the affiliate network carefully monitor this indicator. Naturally, those affiliate networks that can track and manage the level of rebills are more successful. They are exactly what distinguishes a successful campaign from a failure.
Also, an experienced affiliate knows that to keep the rebills at a good level, you need to avoid chargebacks. A chargeback is a refund of money paid. When do the customers want their money back? Of course, when they are dissatisfied with the product. This usually happens when the customer receives something different from what they expected due to the ambiguity of the ad campaign or the advertiser's unsuccessful attempt to set up support and cancellation procedures.
It is clear that affiliates are responsible for indicators of rebills and chargebacks but advertisers are responsible for the products they promote. This is why it is so important to make sure that the information about the product is true. Otherwise, it turns out that at the initial stages, conversion rates will soar, but then, when the truth is revealed, the rebill rate will show itself in the full negative.
Why are we talking about these two indicators in this section? Because everything connected with them leads to the fact that both advertisers and affiliates seek to use the Health and Wellness affiliate networks. They become a kind of intermediary between the advertiser and the affiliate. They make sure that the quality of traffic is at the required level, they provide a huge selection of effective offers, which converts into profit for both the advertiser and the webmaster.
So, the main components of success in Health and Wellness are high-quality traffic, high rebill rates and low EPCs.
Conclusion
Given that we live in a time when we want to pay maximum attention to your health, it is quite rational to believe that such a vertical as Health and Wellness will continue to develop at a very good pace. The numbers suggest the same thing - the industry is expected to generate about $320 billion by 2023, and affiliate marketing is responsible for some of these indicators.
Yes, this is not the easiest vertical in terms of competition, but it is also a great opportunity to earn good money. We have given you every chance to learn about the vertical, how it works, and why it is better to deal with an affiliate network. So choose your own, do good for people, and have a pretty nice conversion!
Share the article

Read. Learn. Do. Earn more money on Affiliate Marketing
Don't miss