One of the main trends happening in retail is that the number of sales happening online is increasing daily. The number of online stores is growing faster than businesses located in brick and mortar buildings. Annually, online retailers bring to the US over $500 billion.
According to the US Census Bureau, online stores accounted for more than 9% of US sales. Online sales in the US are growing between 15% and 17% annually. Globally, the impact of e-commerce is even higher. Currently, there are over 1.66 billion shoppers who spend at least $2.3 trillion on online shopping.
The impact of e-commerce is so high in the retail business that some of the largest online businesses are e-commerce companies. In addition, most businesses are aggressively moving into online retail to boost their sales and retain their market. It is important to evaluate the importance of e-commerce platforms and how affiliate marketers can take advantage of the trend.
What is E-Commerce?
Electronic Commerce (e-commerce) describes the buying and selling of services and products over the internet. It can also be referred to as internet commerce because the services are provided online through internet networks.
The businesses can be conducted in four different methods:
Business to Business (B2B): It occurs when a business sells a service or good to another business.
Business to Customer (B2C): It is when a business sells a service or good to an individual customer.
Customer to Business (C2B): It is when a consumer sells an item to a business.
Customer to Customer (C2C): It is when business transactions take place between consumers who are in direct contact. A company may not be involved or may only be involved through dropshipping. This is the place where affiliate marketing is situated. Affiliate marketers market goods and services directly to consumers.
Advantages of E-Commerce to Affiliate Marketers
It will help you overcome the geographical limitations of physical stores. The whole world is a potential market for your products and services. E-commerce allows you to access over 1.6 billion online customers globally.
E-commerce allows you to gain new customers through search engine availability. Online retail and affiliate marketing are driven by traffic from search engines. It is quite common for customers to follow a link in search engine results and go to an e-commerce platform. The increased sources of traffic can be the turning point for e-commerce businesses.
E-commerce will lower costs for your online business. The lowered costs can be passed on to your customers through discounted prices. The lack of a prominent physical location and rental fees reduces business costs. Also, e-commerce requires automation in inventory, checkout, inventory management, and other processes, and it reduces or eliminates labor costs.
E-commerce eliminates travel time and costs. In some situations, customers have to travel long distances to their preferred stores. However, e-commerce allows consumers to visit their preferred store virtually, identify the best products, and make a purchase. It allows shoppers to compare different products and buy their preferred ones.
E-commerce allows targeted communication and advertising. By placing cookies on the consumer's computer, e-commerce merchants can collect adequate information. Also, it allows affiliate marketers to conduct through different platforms, such as social media. Targeted advertising allows affiliate marketers to market their products to customers who are more likely to make a purchase.
E-commerce platforms are always open because e-commerce websites are always open. Due to increased availability, it will boost your earnings. Also, it creates a market for niche products. Many people search for products online before making a purchase. Search engines boost your visibility and likelihood of accessing customers who are likely to make a purchase.
The best e-commerce platforms globally include:
Alibaba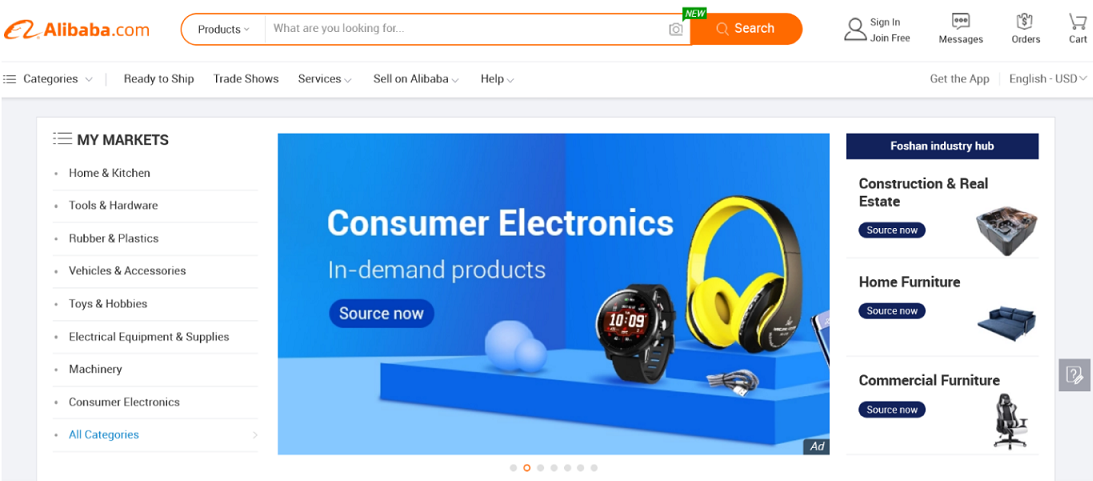 Alibaba is the world's largest e-commerce commerce. It has three main sites: Alibaba.com, Taobao, and Tmall. The site has hundreds of millions of users in addition to millions of businesses and merchants. It hosts more business than any other e-commerce company.
The transactions on its online totaled about $248 billion in 2018. It is a trusted site, and affiliate marketers can use the platform to identify goods and services to sell. In addition, due to the high number of users, you can easily find customers on the site.
Amazon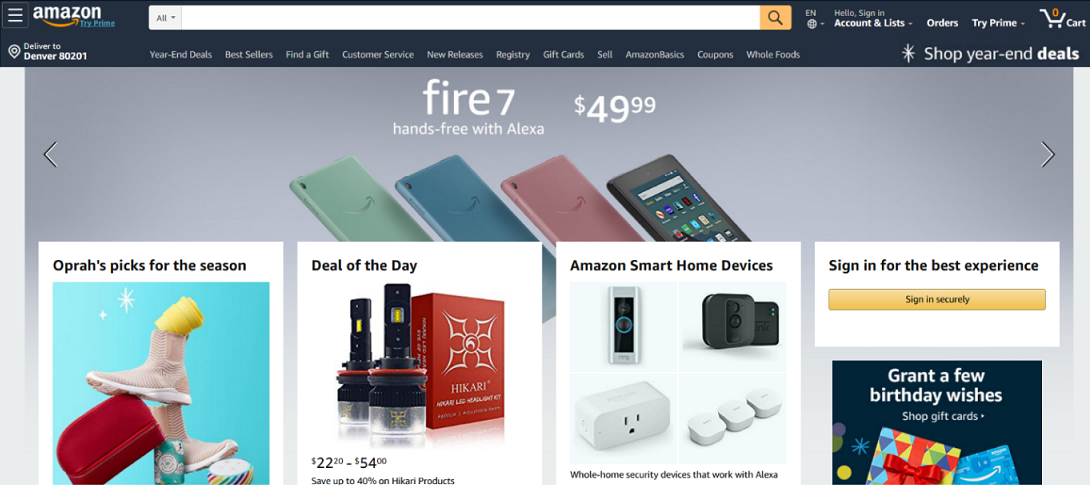 Amazon is one of the main online retailers globally. The company is based on an internet-based enterprise that sells books, toys, music, electronics, housewares, and many other goods. Notably, it also acts as a middleman between businesses and millions of customers globally.
Affiliate marketers can find businesses that are searching for clients, sell goods on behalf of the businesses, and earn a commission. Amazon is such a major online retail market that in 2012, approximately 1% of the internet traffic in North America traveled in and out of its data centers. It offers a great opportunity for affiliate marketers to earn extra income.
JD.Com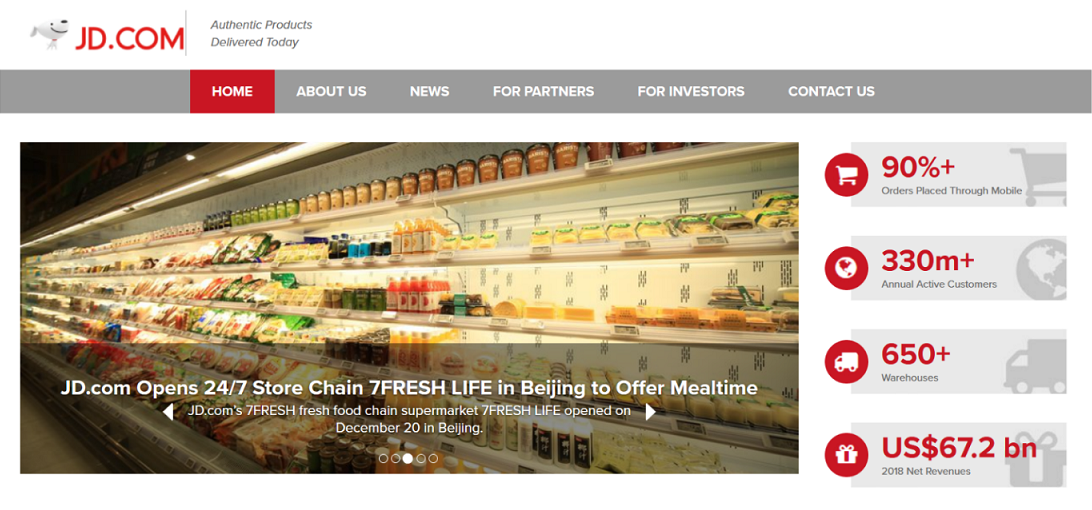 JD.Com is formerly known as 360buy and is one of the main B2C companies globally by revenue and transaction volume. It is one of Alibaba's main competitors. Its online platform was founded in 2004. It sells a variety of goods, including electronics, computers, mobile phones, and many other goods.
In 2018, it had net revenue of over $67.2 billion. Also, it has over 330 million active customers. Notably, over 90% of their orders are placed online. It is a great place for affiliate marketers to earn extra income due to the availability of customers and advertisers.
eBay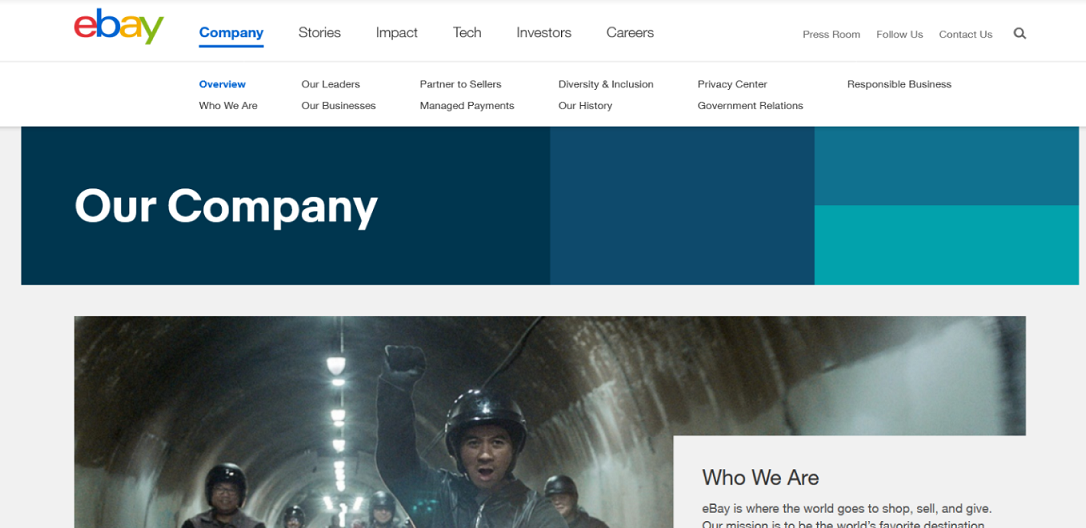 eBay is an e-commerce company that operates through its classifieds, marketplace, and StubHub platforms. It connects sellers and buyers globally. The platform allows sellers globally to organize and provide their inventory. On the other hand, buyers find the inventory and decide the best goods to buy.
Currently, the platform has over 183 million active buyers and over 1.4 billion listings. It has both desktop and mobile phone applications. The platform offers opportunities to millions of affiliate marketers seeking products to promote and sell on the platform. In addition, it has a global presence, and you can sell goods to any customer globally.
Shopify

Shopify was founded in 2004 by Daniel Weinand, Tobias Lutke, and Scott Lake. Different from most e-commerce companies, Shopify does not have a centralized marketplace. Instead, it offers a platform for small and medium-sized merchants to sell products on their own websites.
Currently, it has over 600000 merchants, and over one million businesses spread over 175 countries. The merchants range from single entrepreneurs up to multibillion-dollar brand merchants. Shopify will give you an opportunity to advertise your products on the platform. Also, there is a subscription fee for using the platform.
Rakuten

Rakuten operates an online mall for major brands in Japan. In addition, it also owns several e-commerce operations in the UK, the US, Brazil, and France. Its e-commerce platforms sell a variety of goods.
Its main competitive advantage is its delivery network. The company delivers goods to customers at lower costs in comparison to most companies. The company has an objective of creating an ecosystem of services and goods that can provide everything that customers need. The company has diversified into various products. It allows affiliate marketers to identify the best products to promote.
Admitad

Admitad is a global affiliate marketing network that helps advertisers enhance their online sales while monetizing traffic for affiliate marketers globally. Alexander Bachmann founded Admitad in 2009. In addition, it connects affiliate marketers and advertisers in one platform. The company has constantly expanded its impact on new international markets and enhanced cross border trade.
Admitad has several e-commerce opportunities for affiliate marketers. By the end of 2018, the total sales in the platform were worth $3.4 billion. It has 400 employees and has offices in seven countries. Currently, it has over 1700 advertisers and 613000 affiliate marketers. The platform offers a great opportunity to boost your income.
Magento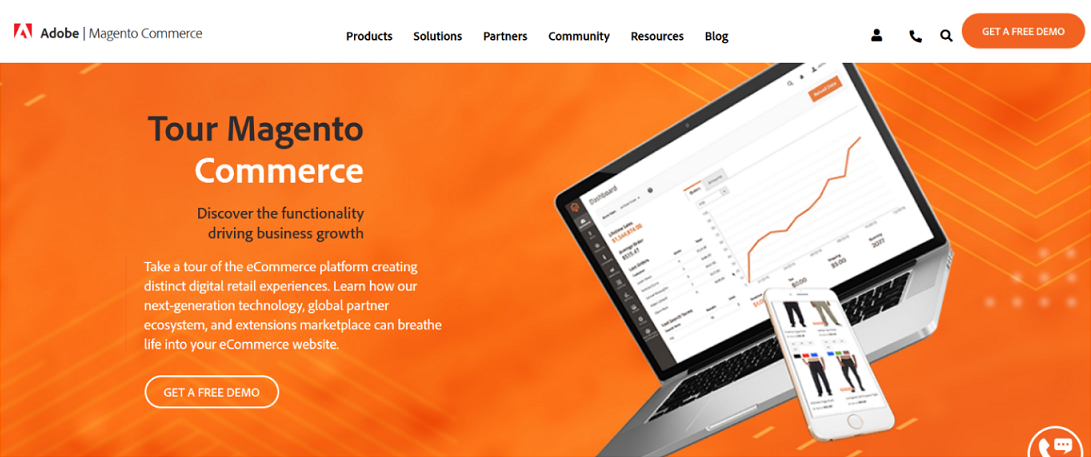 Magento is one of the main e-commerce platforms in Europe. The company was founded in 2007 but was sold to different companies, including eBay. Adobe acquired the company in May 2018 for $1.68 billion. Currently, the platform has over 100,000 online stores. In 2019, the company has sold goods worth over $155 billion.
Its e-commerce platform seeks to break geographical barriers and allow affiliate marketers to promote and sell goods globally. The platform offers unlimited scalability while allowing you to use unique strategies to boost your sales. Also, it offers training to its affiliates so that they can improve their sales.
PrestaShop

Igor Schlumberger and Bruno Leveque founded PrestaShop in 2007. The company has a 9% market share for open source e-commerce websites. The platform allows you to customize your online store, manage products, generate traffic, and make sales globally.
One of the main features on the website is that you can present your online store in different languages and currencies. Also, it allows your customers to register as affiliates and earn commission or rewards for referring customers and purchases made by the referred customers. Also, the platform helps you generate traffic to your account.
OpenCart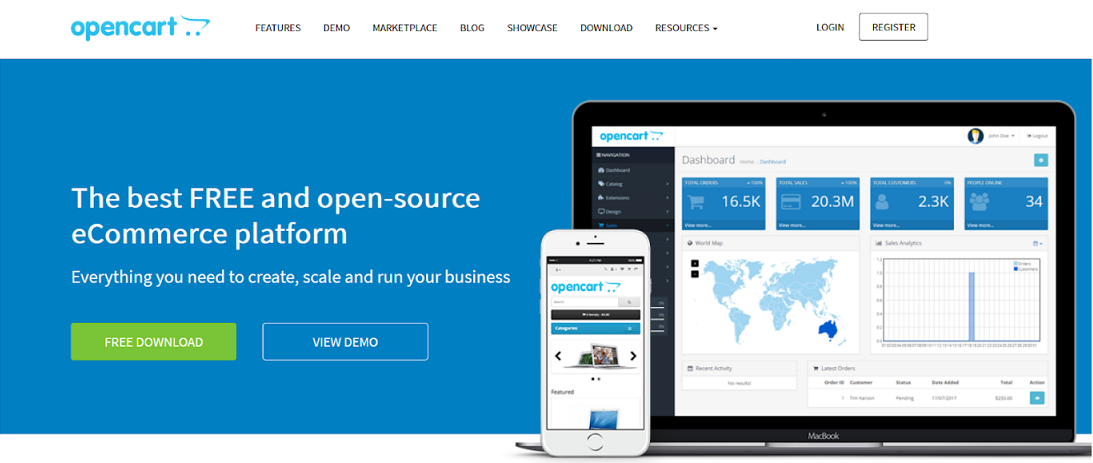 OpenCart is one of the best e-commerce platforms that help you launch your online store, manage your items, generate traffic, and make sales. The platform is open source. It means that the main OpenCart script is free. Also, the platform offers free software updates and free support.
The platform has unlimited manufacturers and products. Furthermore, it allows customers to view your store in different languages and currencies. Also, it has over twenty payment methods. Affiliates can view details such as total commission paid, total clicks, and other payment details. The platform allows you to develop creative text banners.
Methods of Generating Traffic to Your Online Store
Creating a Sales Campaign
You must plan how you are going to attract customers and convince them to make a purchase. Every customer likes a good deal. You should have a plan that creates a sense of urgency, offers giveaways, banners, and other techniques to attract customers to your online store.
Using Social Media Campaigns
More than 75% of customers turn to social media before buying an item. Take advantage of Facebook and Instagram ads to ensure your clients are up-to-date with business news. Social media ads offer targeted advertising, and they will help you reach your target audience globally.
Search Engine Optimization (SEO)
SEO is the process of optimizing visitors that reach your site by getting your website high on specific search results. Use keywords in your titles, headings, descriptions, and throughout your website's content. Also, you need patience so that you can appear on page one results on search engines.
Email Marketing
Most professionals believe that email marketing is the most effective technique of driving customer acquisition and retention. It is an effective technique of driving customers to your online store. You can optimize your email marketing through written content, visuals, and call to actions (CTA).
Creating Content
You can have a blog or develop essential information about your product and post it. It may help you establish yourself as a reliable expert in your niche, and it will drive traffic to your online store. You can also use your blog to promote your brand and products.
Using Influencers
You can step out of your network and use influencers. Social media influencers are people who have developed high credibility in their industry and have a large following on social media. An endorsement from an influencer can direct a new large audience to your online store.
Conclusion
The retail e-commerce market may hit over $4 trillion by the end of 2020. The market has been driven by the growing market and expanding the influence of smartphones and millennials' comfort when shopping online. The growth offers a great opportunity for affiliate marketers to earn higher commissions from their online stores.
E-commerce platforms enhance your scalability, and you will not be limited by geographical areas. Your online store will always be available 24/7, and you will have more customers. It will be convenient and cheaper to have an online store because you will not incur storage costs. There are many benefits associated with e-commerce, and you should be part of the digital market evolution.
Share the article

Read. Learn. Do. Earn more money on Affiliate Marketing
Don't miss