When affiliates talk about pop ads, PopCash is the first name that arises. It forms one of the best popunder networks globally! It helps you earn income through attractive offers. Also, it's convenient for businesses that would like to purchase traffic. 
Currently, PopCash has over 50,000 publishers, 4500 campaigns, 200,000+ sent payments, and over 850,000,000 monthly visitors! 
PopCash has simplified how to earn money online. The article focuses on PopCash's history, registration process, features, traffic types, payment rules, and many others. After you have finished reading this article, you will be well-informed concerning PopCash and all it entails to be their top publisher!
History
PopCash concept was developed in 2012. Within a few months, Radu Mihaita and Alex Matican began articulating the idea. The first internal test regarding the popunders was conducted in September 2012. After getting it right, the network was officially launched on October 1, 2012.
Since the concept's implementation, the network experienced tremendous growth! There was a rapid growth in popularity and workloads ballooned. The company initially focused on desktop traffic, and they brought in more publishers and staff to cater to the sizable number of advertisers. It helped the network to formulate new features to cope with the expansion pace.
In 2013, due to the success in desktop traffic and an increase in mobile phone users, the network invested in mobile traffic. It allowed a full expansion of the company, and they realized their target of one million views each day. Due to its strategic plan, they received over 5000 million visitors per month by 2015 and were acknowledged in Alexa Top 500 Global Sites. 
In spite of its success, PopCash has continuously focused on improving its features so that affiliates can have a lifetime experience in the network. In 2017, the network launched a better version that is user-friendly, impressive and tempting.
How to Create an Account in PopCash
In the Home Page, click publishers. Fill in your information correctly to create a free account.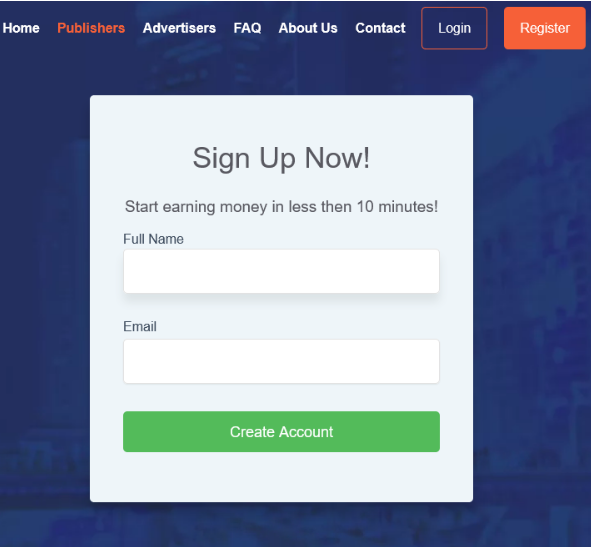 After clicking Create Account, you will be required to fill in more information.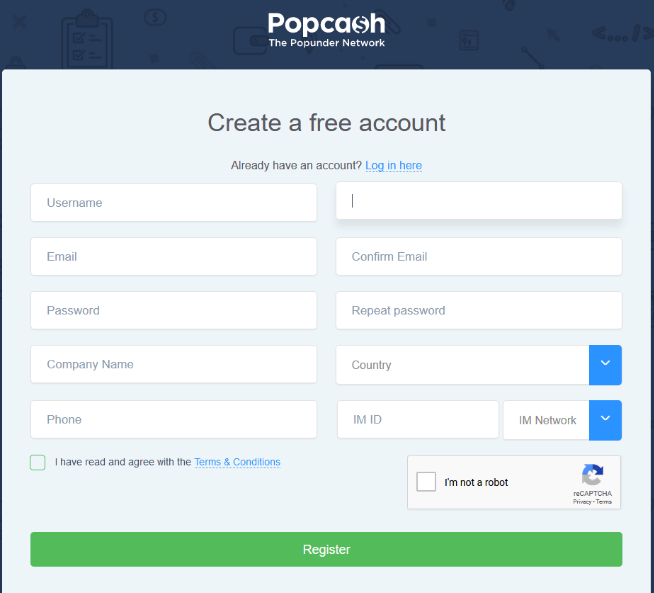 A verification link will be sent to your email. If you do not receive a verification email within 10 minutes, you should check your junk/spam folder. 

After verification, your account will be activated. A new account appears as shown below: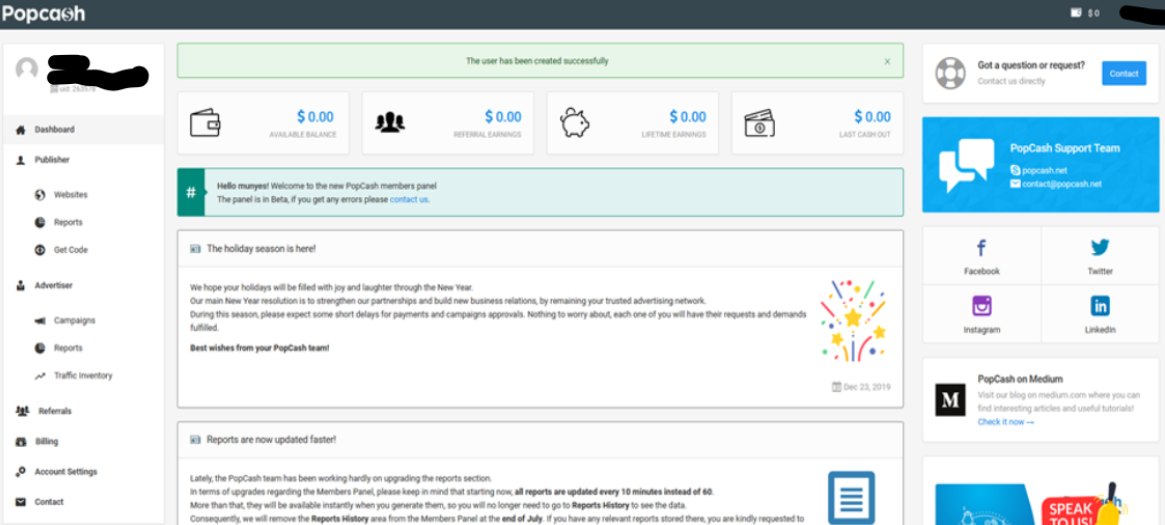 PopCash Overview
Its primary verticals include adult, games, entertainment, and mainstream. The leading converting niches include movies, video, download, image hosting, entertainment, stream video, and file hosting.
The dashboard allows you to view the lifetime earnings, referral earnings, available balance, and last cash out. It helps you assess anything related to your payment.

The publisher section contains 3 icons: websites, reports, and Get Code. The website section allows publishers to add websites. Also, the report section records the cost per mile (CPM), impressions, date, and revenue. You must possess a website to receive the ad code. It's integrated with your website to work well.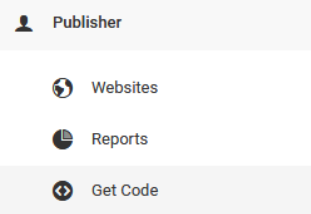 The advertiser section has 3 sections: Traffic inventory, campaigns, and reports. Traffic inventory appraises publisher traffic according to device, browser, country, and operating system (OS). The campaign icon allows you to create a campaign depending on naming, ID, daily budget, CPM, status, and actions. The report section allows companies to evaluate affiliates' impressions, revenue, cost per conversion, conversion rate, CPM, and conversions.
Advertisers can plan campaigns within 10 minutes! All you have to do is make a $5 minimum deposit to start your campaign. Also, pending campaigns are assessed and endorsed within an hour. Also, they give you 100% control over targeted ad campaigns. Notably, detailed reports are updated hourly. What's more, it has several targeting features. PopCash is adaptable and flexible to all project's requirements and specifics regardless of its size.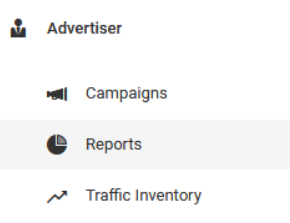 Account Settings contains all your account information, such as Two Factor Authentication, Cashout Validations, Profile, Billing Information, Change Password, and API Keys. The Billing section allows affiliates and advertisers to assess amounts requested, payment status, transaction history, fees, time of the request, and other invoices.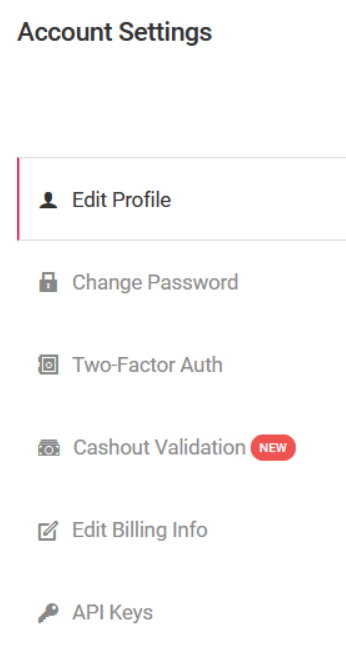 PopCash is among the easiest networks to plan campaigns. It focuses attention on the most relevant features to stop overwhelming users with excessive information. PopCash is user-friendly for account holders. Its interface is simple and accurate by only disclosing useful and crucial information. It authorizes both expert users and newbies to explore the platform.
Some of the actions that are illegal in the platform include:
Buying traffic with the objective of directing it to the platform
Phishing/malware campaigns
Products that are illegal in your country
Fake support
Incest, bestiality, necrophilia, zoophilia, pedophilia, and many more
Misleading, fake, and aggressive ads
Landing pages that are not working
Cloaking and sneaky redirects
Hate and violence based on gender identity, race, sexual orientation, religion, age, or gender
Publisher fraud
Referral Program
The referral program presents an opportunity to take home more income if one of your visitors signs up for PopCash. Notably, you earn a 10% lifetime revenue share when any visitor utilizes your ad link to link one visitor to the platform. Crucial information regarding the referral program is elaborated in the Referral Section. It documents your active referral links and money made from your referral links. You can share referral links with family and online audience!
Why Should You Register with PopCash?
PopCash is performance-based. It has several features that will make it easier for optimization. Detailed records are updated frequently.
It has fast payments. PopCash has a fast payment processing that allows payment requests to be made daily. It has a $10 minimum withdrawal.
The interface is user-friendly, and it allows experienced users and newbies to navigate the platform easily. Also, domain approval is efficient and fast.
PopCash has global coverage. Advertisers and affiliates can easily access the vast traffic inventory maintained by a monetizing system. 
PopCash has more than 8 payment processors, such as Wire, PayPal, Skrill, Paxum, and many more. It allows you to use the payment method that is most convenient. It also accepts payment using cryptocurrencies, such as Bitcoin, Litecoin, Ripple, and Ethereum.
Also, it has efficient support that is available 24/7 through skype and email.
Its language targeting abilities allow you to focus on an audience that speaks a particular language.
It has a two-factor authentication that adds an extra level of security to secure your account.
You can download reports from PopCash in PDF format.
Conclusion
If you have not registered on the network, this is the best time to get started. It has attractive offers, reliable support, a user-friendly interface, and the best routine for targeting and optimization. PopCash could be all you have been waiting for to achieve financial success and boost your future. Do not let this opportunity slip through your fingers!
Share the article

Read. Learn. Do. Earn more money on Affiliate Marketing
Don't miss