There are numerous ways to make money online, and one of the most effective ones is through passive income. The logic behind passive income is – to do something once and get paid repeatedly. And an affiliate website is one way to generate great income while sleeping.
Below, we provided you with a guide on how to create a website for affiliate marketing along with some affiliate website examples. Let's get started!
In this article, you will read about:

What Is Affiliate Marketing?
What Is an Affiliate Website?
How to Build an Affiliate Marketing Website
Affiliate Website Examples
FAQ
What Is Affiliate Marketing?
Affiliate marketing is a type of advertising in which a company pays third-party publishers to generate traffic or leads to its products and services. Third-party publishers are affiliates, and the commission fee encourages them to promote the company. The more they promote the brand's products, the more money and advantages they earn as their income relies on potential customers actually using the affiliate links they receive. 

What Is an Affiliate Website?
Affiliate websites promote physical or digital products from other manufacturers or retailers. You do not own any of the products in this case; you simply promote them through affiliate links and earn a commission.

Commissions on digital products are estimated at around 50%, but commissions on physical products are much lower.
It is best to build a niche website around a topic that people are passionate about and willing to spend money on. You can also make an affiliate website for special occasions such as Halloween, Easter, Thanksgiving, and Christmas. This website more often than not allows you to promote costumes and decor items.

How to Build an Affiliate Marketing Website
Now that you know what affiliate marketing and affiliate websites are, let's get you started on how you can create your website for affiliate marketing and start making money. But first, time to set a few ground rules:

1. Settle down for a specific niche
Pick a sphere that interests or excites you. You'll need to create a lot of content to promote your links, so it should be related to your interests at the very least. The broader the topic, the more content already exists. So, try narrowing it down to a traffic-generating niche. Concentrate on a single topic. This way, you can establish yourself as an expert while also providing a more consistent user experience to your visitors. 

Niche examples to choose from

Travel

Education
Fitness
Low content books
Food
Self-care etc.
These spheres can easily be transformed into "sub-niches" like self-care. Skincare, Hair care, and meditation are all part of the self-care niche. Just choose what speaks to you and stick with it.

2. Choose an affiliate marketing program that works for you
Here, you have two options: go straight to the source, the merchant, or start with a large network with various programs to choose from. They considered large databases for various programs. For example, Amazon Associates is the most well-known. If someone buys from Amazon using your link, you'll get a commission. You can also look at blogs in your niche to see if they have any affiliate links and simply do better. You'll thank me later!

3. Be ready to be a content creator
Part of being an affiliate is that you have to become a content creator in order to promote the brand's products, and publishing informative content such as product reviews, visitor feedback, and comparisons is the kind of work that can put you on the map and help you generate sales. You will need to be creative and consistent with your website and the social networks tied to your business. Because let's face it, it is a business.

Now, what about creating your website?
1. Select a domain name and web host
To create your affiliate website, you must first create the site itself as you may already know. The first thing you'll need to launch it is a domain name and a content management system (CMS) or website builder as your web host. There are many tools available you can use to create your affiliate website like WordPress, Hostinger, Siteground, Webflow, etc.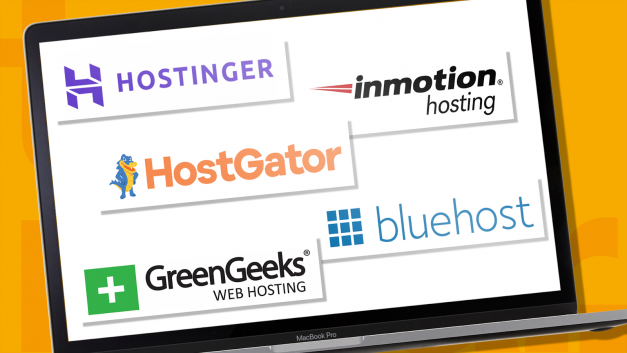 2. Customize your site 
After you've chosen a platform, you'll need to design your affiliate website and incorporate key features, and depending on your host, you will need to install plugins to better customize your website. 

In short, plugins allow users to tailor their sites to their specific requirements. This means you can use it to build almost any type of website, including one for affiliate marketing.

When selecting a theme it is recommended to choose one that complements the branding of your niche. This design consistency will reassure your visitors that they are in the right place. Set the tone of voice with your theme.

Plugins, on the other hand, are where you'll get the most value for your money. They can be used to set up a tracking system, to make sure that developing and implementing an affiliate marketing strategy is a simple task, and perform other important tasks such as handling reports, campaign monitoring, assistance in the upkeep of customized ads and links, etc. Consider some essential plugins for features like search engine optimization (SEO), security, and backups as well.

Now that your website is finished, you just have to click the launch button, and voilà! You have created your website. But now what? You didn't think that we would stop giving you tips, did you?

3. Personalize your affiliate dashboard
Whether you are a business owner or a marketer, you need an affiliate marketing website to reach out to your potential customers and boost your sales count through the roof. This particular tip is for those who want to use their website for affiliate marketing programs.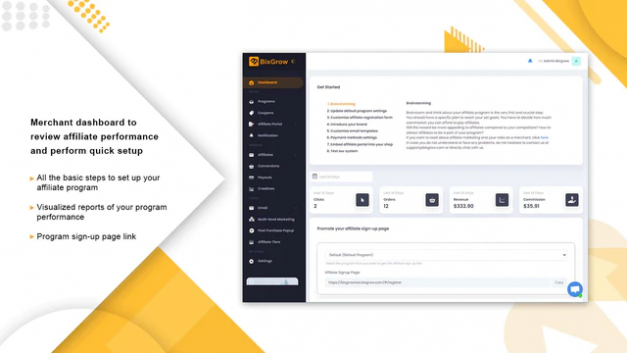 One of the most useful features your new program website can provide for your affiliates is a personalized dashboard where each partner can monitor their progress and other information.

Whatever method or web hosting service you use to create affiliate accounts for your website, making sure your affiliates have access to this information is critical. You can improve your own campaigns and revenue by providing them with all of the tools they need to succeed.
4. Share your banners and links on your website
This one is also for business owners who want to know how to start an affiliate marketing website for their program.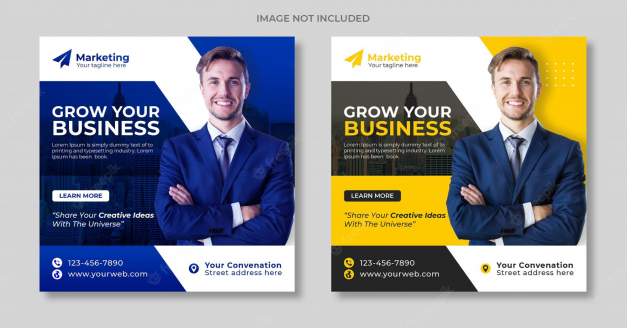 Affiliate marketing programs rely heavily on links. Sharing yours with your partners is critical for the success of your new website. While you can always create links manually, having a plugin do it for you is more convenient.

5. Publish content to generate traffic
Now that your website is up and running you need to actually put out some content to make sure that your visitors know what they have landed into.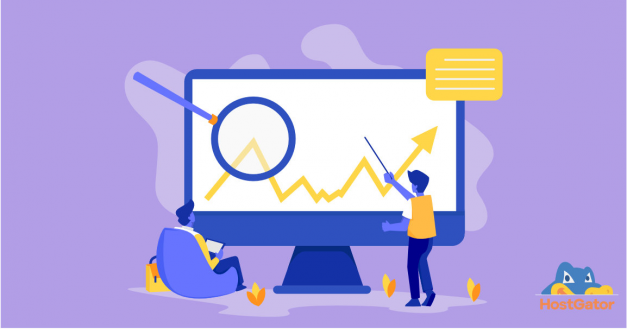 One of the best ways to drive traffic to your website is to create content related to the niche you've chosen. Google picks up and indexes articles, and using search engine optimization (SEO) techniques can help to push your content higher up in search results, resulting in more people clicking through to your site. Publishing quality content on a regular basis will help to attract more visitors, who may become customers.

6. Have an email marketing strategy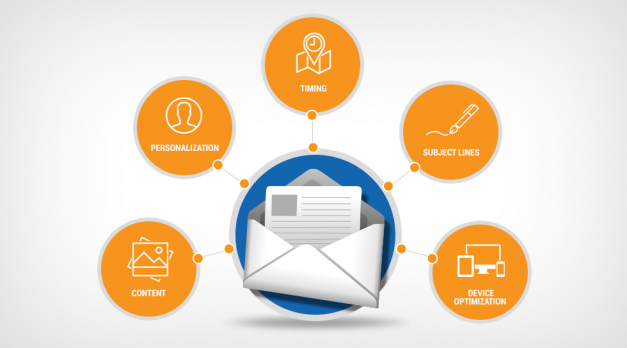 Reaching out to potential customers in their inboxes is one of the most effective ways to attract them. Collect emails by allowing visitors to subscribe to your site. Most websites include tools for creating newsletter sign-up forms. The more people you can directly contact, the better your chances of selling your products to them.

7. Share the news on social media
Having a strong social media presence is an excellent way to convert followers into website visitors and, eventually, customers. Building a social media presence with an audience that trusts and respects you is a great way to demonstrate your expertise and share your content, which can lead to more product sales.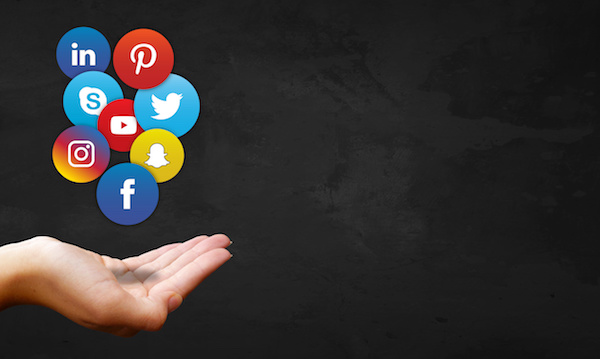 Keep in mind that it is also very possible to get into affiliate marketing without building a website. Click here to know more about it.

Affiliate Website Examples
Below you will find some affiliate website examples to feed your inspiration and help you see the bigger picture.

PC Part Picker
PC Part Picker is another excellent example for those of you interested in learning about affiliate marketing. This isn't your typical affiliate website. However, it is a useful tool for computer enthusiasts building their own rigs.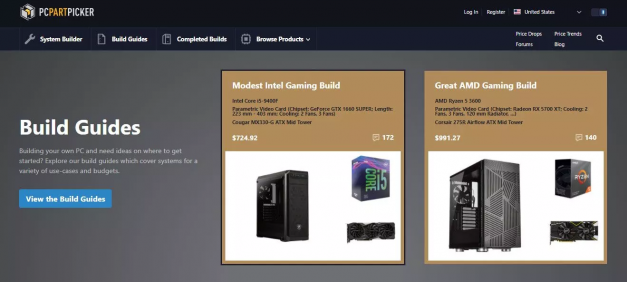 The website covers every aspect of purchasing PC parts. From the cost to the performance and compatibility. This is the only website you'll ever need to build a computer from.

Even experienced PC gamers find it difficult to build a custom rig. PC Part Picker creates such a valuable all-in-one tool that it is difficult to overlook.

The System Builder is a one-stop shop for custom PCs. It is exactly as it sounds: software that creates custom rigs.
When it comes to custom PCs, there are numerous hardware and software compatibility issues. PC Part Picker developed software to address all of these issues on a single page.

The System Builder compares the performance and compatibility of all PC components.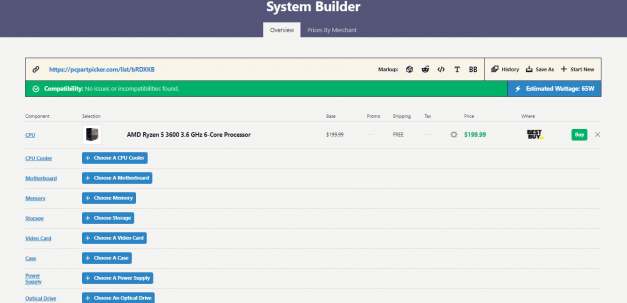 The site does not promote the parts with the highest profit margins. Instead, the website makes recommendations based on the configuration and needs of PC enthusiasts.

This is an excellent example of putting the customer first. It's also the reason PC Part Picker has such a lively community.

Globo Surf
Globo Surf is an affiliate website that functions as a water-centric community. It is a valuable resource for reviews of snow, land, and water sports. This website is dedicated to providing the best outdoor sports gear reviews.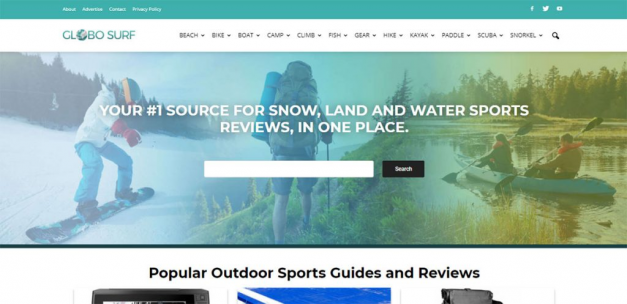 Globo Surf is a trustworthy affiliate marketing website with an effective content strategy. They rank for eCommerce-related keywords such as "wakeboard," "standing paddle board," and "inflatable kayak."

These are keywords with a lot of traffic and a lot of buyer intent. Your traffic and conversion rates will skyrocket if you can rank for them.
SafeWise
SafeWise is a home security-related affiliate marketing website. Its goal is to assist people who are facing security issues. As a result, the website offers information on the best products for safe and smart living.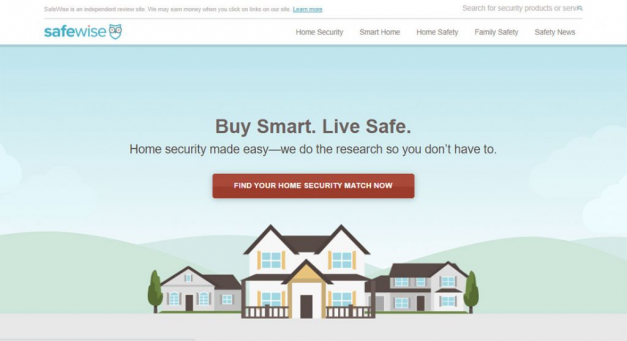 Home security is one of the best affiliate marketing niches. One of our most basic needs is personal and family safety. This is one of the reasons for Safewise's popularity.

This website goes a step further. They think about the safety of the entire family, from babies to seniors.

The Points Guy
The Points Guy began as an affiliate blog about points and miles. It now provides content on credit cards, transportation, lodging, and other tourism-related topics.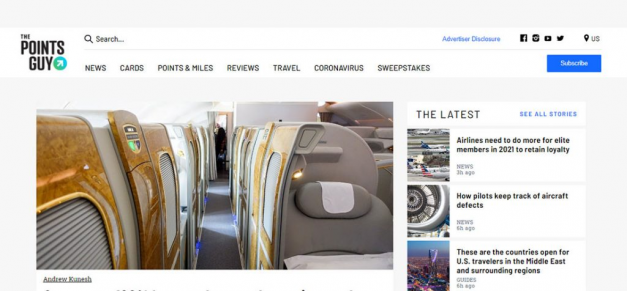 The Points Guy and other tourism-related websites are great resources. Their "Deal Alerts" feature excellent information on travel discounts. Relevant deals will always generate a lot of interest. Especially if they help you save money.

Sites like The Points Guy take advantage of this interest. They create content for keywords such as "deal alert" and "points and miles."

This attracts prospects who are already in the market to buy. Sites like The Points Guy simply direct them to the best deal while earning a commission.
Another appealing feature is their tourism news section.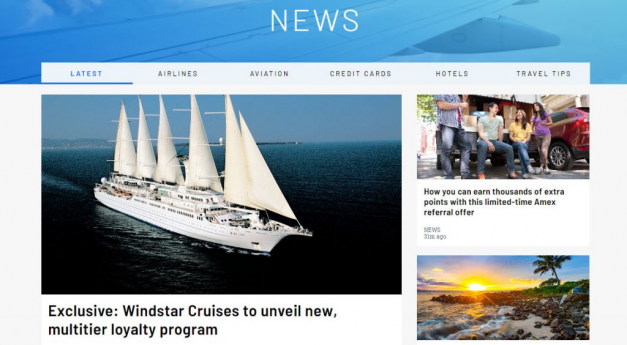 On a daily basis, this can generate a good number of qualified leads.

The Wirecutter
The Wirecutter is a reputable review site that only provides buyer feedback. Brian Lam founded it in order to provide the most unbiased and rigorous product recommendations.
The Wirecutter, in contrast to Website Setup, chose to target a broad audience. It provides product reviews for electronics, gifts, and home appliances.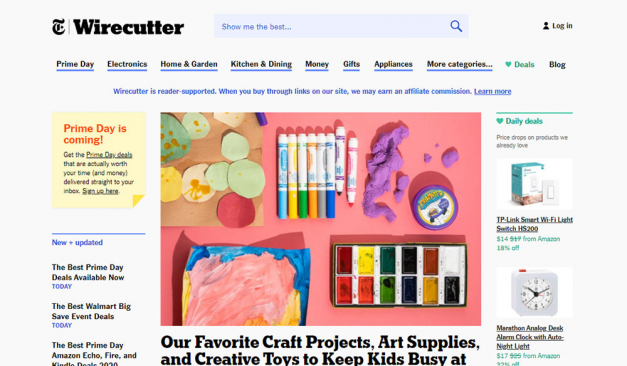 This is one of the most trustworthy review sites. Because of its detailed product recommendations, it is among the top 6,000 websites in the world as of 2011. In fact, the New York Times paid $30 million for the site in 2012.

Gear Hungry
Gear Hungry is an affiliate product recommendation website. It includes all types of consumer goods. The best products in each category can be found here.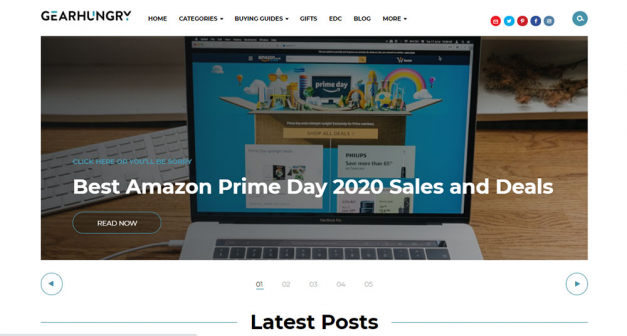 They are working hard to create a distraction-free platform that is optimized for product research.

The format of blog posts is consistent throughout the site. Top picks at the start, followed by detailed reviews with key stats for each item.
Any affiliate site can benefit from consistent blog formats. For starters, they allow you to create content more quickly. Second, your audience will become accustomed to it and will be able to navigate it with ease.

Dog Food Advisor
Dog Food Advisor is a public website. They provide expert pet nutrition advice to responsible dog owners.
You can find everything from product statistics to useful nutritional information. They also include every recall that has occurred in the United States since 2009.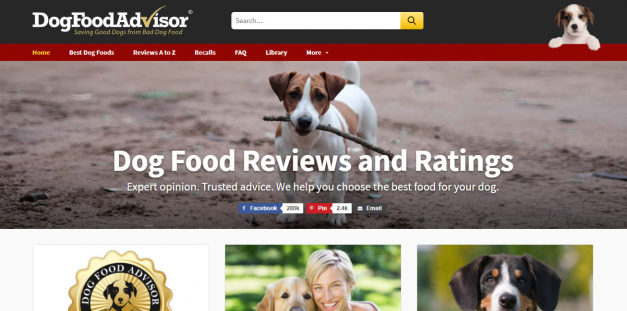 Dog Food Advisor's success is primarily due to its specialized niche. Instead of covering pet food, they increased their focus on canine nutrition. This established the site as a subject authority.

The pet food market in the United States is expected to reach $13.3 billion by 2023. Dog food accounts for a sizable portion of the overall market.

The website is an excellent example of how to establish credibility. As canine nutrition experts and dog lovers, the team inspires trust and peace of mind.

Runner Click
Runner Click is an affiliate website founded by runners. It provides running tips, advice, and product reviews.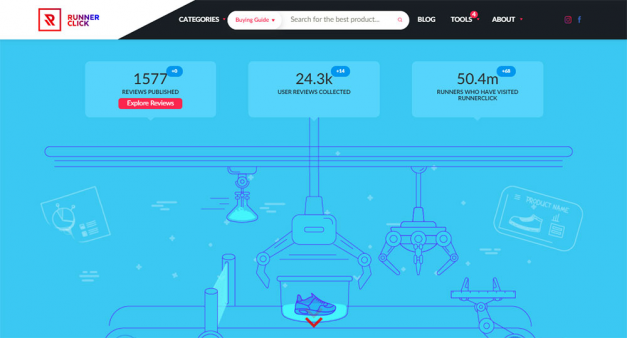 This affiliate site's content covers everything related to running. Running shoes, supplements, and fitness-tracking devices are available. Their reviews are insightful, and their advice is provided by seasoned authors.

Hopefully, you now have a firm grasp on the fundamentals of building an affiliate marketing website with the guide and example provided. Although it may appear too good to be true, keep in mind that affiliate marketing takes time and effort to produce positive results.

If you want to see examples of affiliate landing pages, click here 
FAQ
How do I generate traffic for my affiliate website?

Getting visitors to your website is what will help you earn money and to do so, the first thing you need is to have great content. Make sure that your website conveys your brand image. The second thing is to have an email strategy to help you reach those hidden potential customers. Ads and social media marketing are as important as well as they are basically one of the key elements to brand awareness and an online business overall.

How do I create an affiliate marketing website for free?

There are a lot of web hosts that allow marketers to set up their affiliate websites for free like GetResponse. All you need to do is to sign up and select the Web Builder tab, you can choose to custom create your website or import your own design, it's totally up to you. Build the website according to your niche's tone and host your website using your domain. Of course, it is advisable to implement extra features just to make your website cooler and more useful to you like autoresponders, email marketing, etc.

How much does it cost to create an affiliate website?

Web hosting prices vary according to the one you choose and the amount of money you are willing to invest into your website. You can create an affiliate marketing website for under 100 USD but keep in mind that there might be recurring annual fees for services like email marketing, ads on other platforms, content creation, etc.

What type of website is best for affiliate marketing?

We can't deny that the niche possibilities are endless in this digital world, and what we can't do is pretend that some spheres don't make more money than others. Daily deals, seasonal deals (Black Friday, Christmas, Mother's Day…) price/product comparisons or reviews, blogs, and shopping directories are considered great for affiliate marketing.
Share the article

Read. Learn. Do. Earn more money on Affiliate Marketing
Don't miss