The holiday season is in full swing, Black Friday will begin today (25 November), followed by Cyber Monday! Online stores are preparing for the most profitable time of the year. Every marketer gradually preparing to make money on the opportunities that these days provide.

Online shoppers have become more competitive than ever when it comes to getting great deals during these events, so if you are not currently promoting affiliate offers for Black Friday and Cyber Monday, now is the time to get started!

How to make money on Black Friday? In this article, we have selected the best strategies and ways to earn money with affiliate marketing during the holidays!

In this article, you will learn about:

What to expect during Black Friday and Cyber Monday 2023?
How affiliate marketing and Black Friday are related?
4 best ways to make money during Cyber week and the 2023 holidays
6 affiliate strategies for additional earnings growth during Black Friday
Recap
FAQ
What to expect during Black Friday and Cyber Monday in 2023?
According to the global Black Friday website, on average Black Friday sales increase by 663% worldwide compared to a normal day. In 2023, sales will begin on November 25. This is the day when people, thanks to sales, buy goods that they have been putting off for a long time.

The average American spends $485 on Black Friday, which is also the most significant Black Friday spending worldwide, and 20% of people spend $1,000 or more on holiday shopping!
Black Friday 2023 will be no different: 69% of people will make purchases online, and 32% - in person. Compared to 2021, online purchases on Black Friday will increase by 33%, and personal purchases on Black Friday will decrease by 9%.

Interestingly, when it comes to online shopping, different audiences have different attitudes to shopping on their computers or phones – so be sure to take this into account when planning a Black Friday strategy!

Like an online Black Friday, Cyber Monday will also see business growth. Cyber Monday 2023 will be the second most popular shopping day during Cyber Week 2023.

64% of respondents plan to make purchases on Cyber Monday (November 28, 2023). This is 42% more than in our 2021 survey. This is a high percentage, which only highlights the need for regular stores to focus on creating or improving their online stores.

How Affiliate Marketing and Black Friday are Related?
During Black Friday, most of the creators of partner products, whether retail or software developers, provide huge discounts (from 50%) on products during Black Friday week. Black Friday sales are actively promoted by all kinds of bloggers and marketers, thanks to discounts, affiliate products are selling better than usual, while commissions do not fall in price! That's why Black Friday and Cyber Monday sales help most bloggers earn a huge income.

Holiday sales account for nearly 20% of annual retail income, which means those few short weeks play an outsized role in a merchant's success.

4 best ways to make money during Cyber week and the 2023 holidays
If you've been thinking about how to capitalize on cyber week - Black Friday and Cyber Monday - this November here are some ways and strategies!
Buy and Re-sell
After the Day of grace, excellent discount offers are already appearing on many e-commerce services. Amazon, for example, began selling Prime Early Access last month, and since then it has been promoting its early Black Friday offerings. Over the past weeks, many other retailers, including major companies such as Target, Nordstrom, and Best Buy, have followed suit, concluding their early deals on Black Friday! Discounts continue to appear.

The scheme is simple - have time to buy and sell more expensive by making a discount on November 25.
Few deals right now that are available before Black Friday:

1. Act+Acre

A well-known brand of cosmetics, shampoos, and hair conditioners offers a 30% discount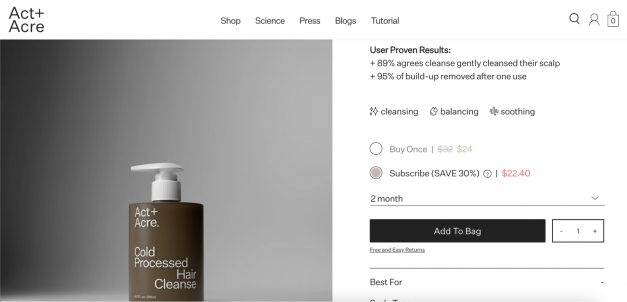 2. Amazon

Already in October, customers with access to Amazon Prime could find great discount offers. For example, you could buy AirPods with a 20% discount!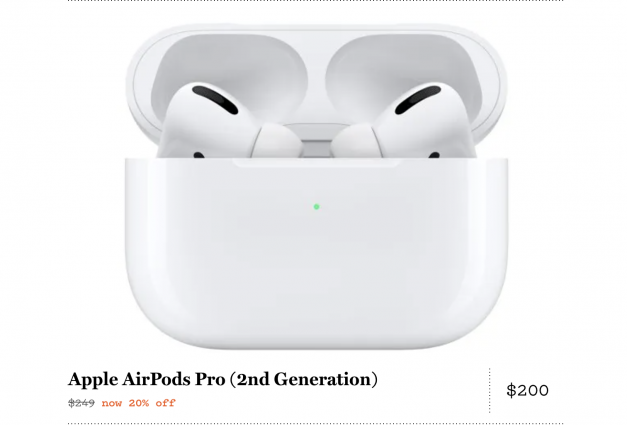 Also, such companies and brands offered their discounts: JBL, Away, Baublebar, Bear Mats, Bed Bath & Beyond, Best Buy, BioLite, etc.

These discounts that pass under the radar are a great opportunity to buy cheaper and sell more expensive during Black Friday when stocks on the trading floors run out!

Become a Virtual Assistant
Holiday sales are a lot of stress for many companies, especially when they see all the offers from competitors that you have to deal with. Virtual assistant is the one who is asked for help.
How can Virtual assistants help and how to make money from them?

1. Organization of promotions

The assistant searches for products that will soon be discontinued so that the company can specifically promote them or determine which stocks need the most replacement. Also, especially arrange advertising and products, for example: "Buy one or two as a gift" or "Exclusive one-time services that can be offered".

2. Communication with clients and clarification

Many companies like to negotiate a week before Black Friday about goods or promotions, using this as another opportunity for further sales. But companies still need an understanding of trends and stock conditions - this is a great opportunity to seek help from those with experience, as they will know how the business could cope with demand and increase sales.

3. Purchase decisions

No business should get carried away with their discounts on Friday, so as not to trade at a loss. Especially for new businesses, it can be difficult to estimate exactly how much to purchase in stock. Virtual assistants can help you build a budget and make the necessary purchases to maximize profits.

On freelance exchanges before Black Friday or Cyber Monday, vacancies often appear for the role of Virtual Assistant, who pays a percentage of each sale!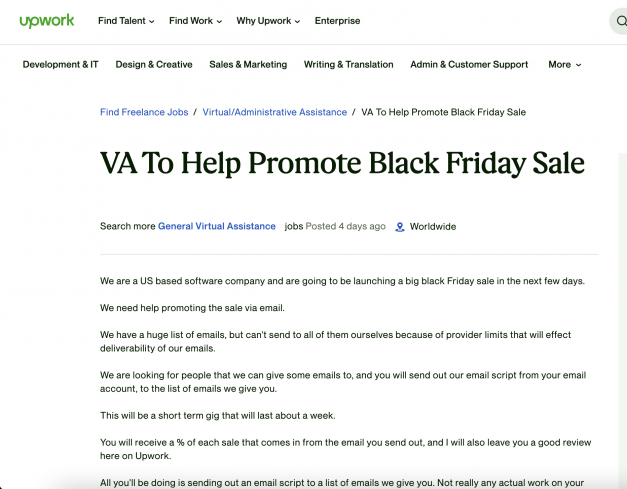 Selling Ready-Made Landing Pages
Another way to make money on Black Friday and Cyber Monday sales is to sell ready-made Landing Pages. You can prepare a ready-made website and rent it out or sell it to those marketers who did not have time to prepare for sales. This is a great opportunity for webmasters to earn money during the holidays.

What do you need for a high-quality landing page?

1. Create thematic blocks for content

Try to make the landing page as simple as possible. Users should see the promoted products and offers. The products themselves should be visible and understandable, you should avoid ambiguity. Don't forget about the attention-grabbing CTA or call to action.

2. Minimalism

A simple and clear design is what you should focus on. Minimalism allows you to make the design simple and understandable, but at the same time attractive to visitors. Don't overdo it with a design that suppresses the message and the product. The message and the product should stand out, so you need to choose the right color palette.

3. Optimize Landing Page Speed

Site speed is one of the decisive parameters of the success of any site. Shopping on Black Friday is nothing but fast shopping! Buyers strive to familiarize themselves with all offers as soon as possible and make a purchase while the offer is valid. Optimizing the landing page speed is essential. Too many large images or sections of content can slow down your site!

You can use Templately - this is a service with a set of the most popular templates for WordPress websites.

Affiliate marketing
On the eve of the start of sales, many brands and companies post partner offers to increase their sales without large marketing costs. Through marketers and affiliate marketing, companies provide customers with extravagant discounts on purchases. These discounts usually range from 50% to 80% on products.

Marketers and bloggers start promoting these offers at least three weeks before the start of this exciting season.

This allows customers to see what is on offer and get their coins ready to make purchases.

To increase sales during the Black Friday and Cyber Monday sales, we offer you to familiarize yourself with 5 affiliate strategies for additional profit growth during Black Friday!

6 affiliate strategies for additional earnings growth during Black Friday
Thoughtful Black Friday and Cyber Monday marketing strategies are the key to standing out in a large crowd of advertisers.
Email marketing campaign
Email marketing will be an excellent strategy to attract traffic and conversions for your affiliate products. It is better to already have a list of your customers who have interacted with products through your affiliate links. You need a mailing list filled with hungry customers who are looking forward to recommendations on your product.

If you want to create a converting mailing list, you need to add more useful information frequently! To do this, create a sense of urgency. Creating a sense of urgency or scarcity in your Black Friday marketing encourages customers to take action. This is an effective way to attract attention because a letter that stands out and creates a sense of urgency is more likely to be noticed than a letter that does not!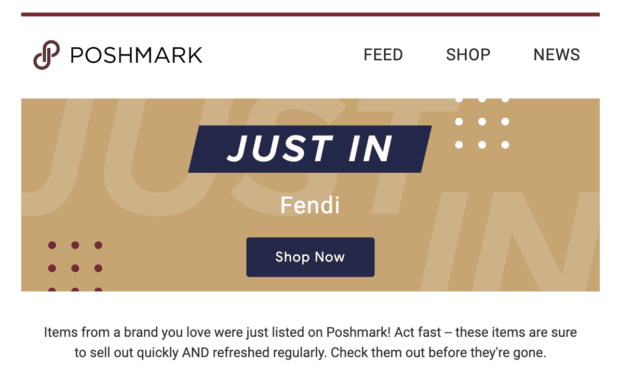 Offer a promotion that will be valid for a short period: a coupon or discount, exclusive access to sale items, customers will feel obligated to take advantage of your Black Friday offers before they disappear.

Create landing pages for more conversion
Landing pages always perform best in terms of conversion rates. Landing pages allow the buyer to focus on a single call to action. Therefore, landing pages are a cool solution for promoting products on Black Friday or Cyber Monday. Treat them carefully, place links in the right places, and you will see a lot of conversions!
Having trouble with landing pages? We are here to help!

Landing pages can be used to place offers and discounts, and a link to them can be included in an email newsletter or referral traffic on social networks.

On landing pages, you can offer a reward for minimal expenses for certain amounts. It is best to use the most popular products in the niche by offering to buy them on the landing page. For example, if customers place an order with a basket worth more than $ 50, they will receive a 10% discount or receive a trial period to an online cinema. Try to enter reward levels: for $ 50 - a 10% skill, and for $100 - a 20% discount.

A purchased gift is also a great way to encourage buying. Who doesn't like feeling like they've been rewarded? Gifts create a sense of goodwill that can make customers come back. But it is worth considering the subtleties of the niche and the need for a gift from a particular audience!

Advertising on social media
Advertising on social media is one of the best ways to attract traffic on Black Friday and Cyber Monday.
Different social media are best suited for different niches: Instagram - fashion, cosmetics, and clothing; Pinterest - household goods, clothing, and online courses; YouTube and Facebook work perfectly with technology.

If your advertising creative is attractive, you can even get free views and conversions that will work with your referral links in the future! Remember that you need to use a unique advertising creative and a good deal because the competition on social media is likely to be very strong.

On social networks, you compete not only with other marketers but also with retailers and major brands.

Identify the most effective verticals and niches
What are the most effective verticals during Black Friday and Cyber Monday?
The marketer's job is to find hot deals and promote them using the types of traffic that best match the audience they are trying to attract.

The most effective verticals of Black Friday and Cyber Monday 2023:

1. E-commerce

Some of the most popular e-commerce offers during these two days relate to clothing or electronics. Fashion brands usually show huge revenue growth, while technology brands tend to have the highest number of transactions for that particular day. Offers featuring gadgets may have more success on Black Friday and Cyber Monday because these are the days when electronic goods become more accessible.

Follow partner offers from popular brands. If you are trying to narrow down the range of transactions in the field of e-commerce, the main subcategories that you should pay attention to are computers and electronics, household goods, clothing, and accessories, as well as video games.

2. Lead generation

During Black Friday and Cyber Monday, it is easier to get people to sign up for free offers and discounts because at this time they are more open to trying products and services.

Discounted or free subscriptions to services are often given by young people to their family or friends, so it is in demand. Most often marketers use CPL offers. If you want to optimize your campaigns to attract potential customers, keep an eye out for coupons, free samples, discounted gift cards, etc.
Any mobile or streaming services can be included in this block. This applies not only to major streaming services such as Netflix, Amazon Prime Video, or Hulu but also to lesser-known video streaming sites if they have a great Black Friday and Cyber Monday offer.

3. Gambling

Statistically, the holiday season is still the most popular period for playing poker, slot machines and sports betting, and horse racing! Explore gambling and casino offers that have great deals on first deposits and leads, as you may see an increase in the number of player registrations. Most often they resort to Rev-Share models because at this time people spend much more on gambling than on normal days of the year.

4. Travel and tourism

This is the holiday season - many people prefer to travel, even at discounted prices. Travel deals during Black Friday and Cyber Monday, because this is the time when most people are thinking about going on vacation but haven't thought about how they will get there yet. Offers for early booking and family holidays will certainly convert well.

Make in-depth product reviews
Create in-depth product reviews about the products you use and promote. This strategy is best suited for tech equipment: laptops, tablets, and computers. This method can be used to promote VPN services or web hosting, for this, it is better to describe the service in more detail, for example, how HostGator or NordVPN has improved your Internet activity.
Product awareness increases conversions, trust, and helps elevate your brand for future affiliate offers. On the eve of Black Friday or Cyber Monday, publish a detailed review, to create a wave of attention and potential traffic formation in advance.

You can also create a video review on YouTube. Webmasters can place videos straight to the website. When doing video reviews, focus only on the benefits of the products you recommend. Specify how they can be useful to your audience.

Mention the product links in the description of your video. Also make sure that you have properly optimized your video titles, meta description, and tags for certain SEO keywords.

Tips and common mistakes
3 tips on how to come on top:
Decide on the product and niche in advance, do not overload the landing page or blog with several diverse offers.
Experiment with design and presentation, to stand out from tons of other offers.
Schedule Pop-Ups and target ads.
3 common mistakes:

Do not over-saturate your landing page with affiliate links. Maximum of 5 per page!
Do not promote products that you are not sure about.
Do not rush to roll out a website or a new blog post if you are not sure about the quality of the content!
Recap
Black Friday and Cyber Monday provide excellent opportunities for earning, the main thing is to approach them wisely! Affiliate marketing is one of the best Black Friday sales ways to make some cash out there. Using the right strategies and commission will ensure that you make a lot of cash.
FAQ:
What is Black Friday?

Black Friday is an informal name used to describe the day after Thanksgiving. The term itself appeared in the 60-s of the last century, due to the intense flow of customers to the stores the day after Thanksgiving. Traditionally, Black Friday is one of the crucial days for the economy, especially for retail. In 2023, Black Friday falls on November 25. The shopping holiday occurs on November 24 in 2023, November 29 in 2024, and November 28 in 2025.

How do business owners benefit from it?

Black Friday allows retailers and stores to attract their first customers and create shopping experiences that will give them a reason to become regular customers. Also, large discounts allow you to sell illiquid goods and find out what sells better among buyers. Black Friday is a great opportunity to increase sales and gain revenue growth.

How are affiliate marketing and Black Friday related?

During Black Friday, most of the creators of partner products, whether retail or software developers, provide huge discounts (from 50%) on products during Black Friday week. Black Friday sales are actively promoted by all kinds of bloggers and marketers, thanks to discounts, affiliate products are selling better than usual, while commissions do not fall in price! That's why Black Friday and Cyber Monday sales help most bloggers earn a huge income.

How can an affiliate marketer make money from Black Friday and Cyber Monday?

The main source of income for affiliate marketers is commission fees from affiliate products. Many brands and companies offer very profitable affiliate offers, where the commission is 30% and 15%, respectively. The marketer creates content that directs buyers to the product's website and receives a 30% commission on each transaction.

What are the most effective ways?

The most effective ways to promote affiliate offers during the Black Friday period are warming up the audience, email newsletters, using promotional conditions, personal discounts, and attractive landing pages that are optimized with SEO.

What should an affiliate marketer know before starting to promote during Black Friday?

It is necessary to determine the products for promotion, as well as the affiliate program. It is important to optimize the website or landing page and create high-quality content that will help promote the offer to buyers. It is also worth warming up the audience and creating discount offers.
Share the article

Read. Learn. Do. Earn more money on Affiliate Marketing
Don't miss