Affiliate Valley's Weekly Digest - a compilation of news from the world of affiliate marketing. A selection of last week's news that you need to know: right here and right now. Enjoy reading!

Snapchat maximizes World Cup buzz
Google launches AR Search Features
Ireland introduces tough gambling regulation bill
TikTok creates great opportunities for small businesses
Twitter pauses $8 tick
Another scam wave in the Cryptoverse - Grayscale
Snapchat and The 2022 FIFA World Cup
While Snapchat's competitors such as Pinterest and TikTok are focused on Christmas marketing, Snapchat is trying to arouse some national pride and attract football fans from all over the world. 

"Snapchat is transforming the way football fans and Snapchat users around the world perceive, celebrate and watch the FIFA 2022 World Cup with incredible gaming moments and immersive Augmented reality (AR) experiences" - a statement on the official website Snap.com.

Anmol Malhotra, director of sports partnerships at Snap Inc., said: "We are thrilled to be covering the biggest global sports event of the year across Snapchat – with a dedicated AR user interface and comprehensive content that will include localized highlights from every game in over 30 countries. We can't wait to provide Snapchatters with an unforgettable experience for fans during the World Cup and see the creativity of our community to the fullest."

New features include an AR experience that will color the face with the flag of the country or team, as well as allow you to try on different sets of uniforms. 

Perhaps this is a great guide for affiliates to maximize the world cup traffic and explore various options in the football niche. 

Google Launches AR Search Features
Last week, Google added several new search features, using extensive augmented reality (AR) technology to create a more immersive and interactive user experience.

This feature is a cool solution for the cosmetics niche and the beauty industry in general. With the help of AR functions, users will be able to choose their cosmetics by testing different shades of lipstick or foundation on their image. 

According to Google, 60% of online cosmetics buyers decided not to purchase because they were not sure about a particular shade and color. This new feature is designed to allow shoppers to make more informed choices when viewing and buying cosmetics.

Also, this feature will be a great solution for the niche of clothing and sneakers. Currently, you can try on Vans, Saucony, and Merrell products in AR, and new brands will be added soon.

Soon, it will be worth waiting for new functions, for example, the camera search function, with which users can search for products in the vicinity or on the Internet by photos. 

Ireland Has Introduced a Tough Gambling Regulation Bill
The Irish government has carried out several reforms in the gambling industry, approving a bill on the regulation of gambling.

The law was passed last week. Taoiseach Michael Martin said he hoped the bill would help reduce the effects of gambling-related harm.

The most important points: gambling advertising will be banned from 5.30 am to 9 pm, while advertising aimed at children and problem gamblers will be prohibited. As well as the use of credit cards in retail gambling establishments will be prohibited, while the placement of ATMs in these establishments will be controlled.

There are also plans to create a new gambling regulatory authority. Companies operating without a license can face prison terms of up to eight years. It was reported that the Irish Bookmakers Association welcomed the new legislation, hoping that it would mark a new dawn of regulation of the Irish gambling industry.

Last month, Flutter Entertainment reported spending more than 100 million euros ($104 million) a month on initiatives for responsible gambling, since the legislation is likely to receive government approval.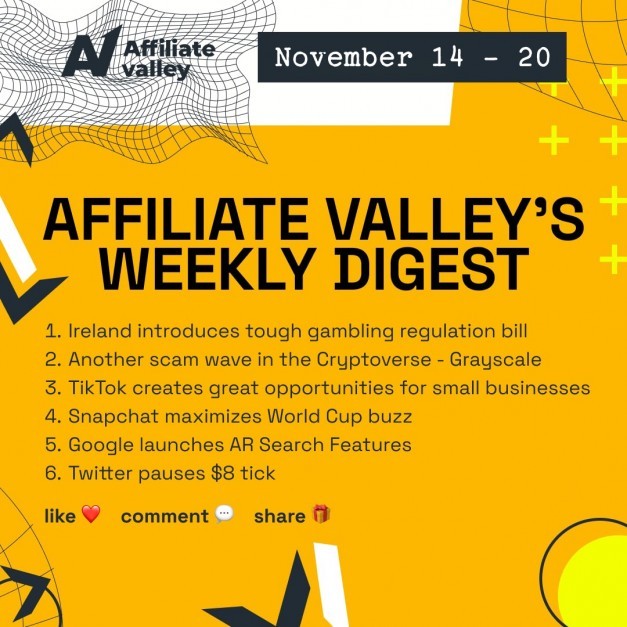 #ShopSmall in Tik Tok
TikTok has launched its #ShopSmall accelerator. This promotion is a package of recommendations developed in partnership with American Express and will contain recommendations for small businesses, platform tips, and advertising credits for suitable brands!

"The #ShopSmall Accelerator is a one-stop shop for small businesses looking for expert creative guidance from popular TikTok creators, an opportunity to attract new customers by following the latest trends, or a way to accelerate growth. TikTok is increasingly becoming a platform for opening new small businesses: 58% of TikTok users say they discover new brands and products on the platform, and 44% say they immediately went to buy what they found on the platform" - the statement of the TikTok platform itself.

Also, as part of this promotion, TikTok and American Express allocate advertising loans to small businesses in the amount of up to $ 250,000. Small businesses will be able to access a $100 advertising credit to use in TikTok when they spend $50 on their first TikTok advertising campaign, which will allow small businesses to reach a wide audience at a reduced rate.

Twitter $8 Tick on Hold
For the third week in a row, the confrontation between Musk and Twitter continues. After the big news about layoffs and a radical change in the business model, Musk's plan to introduce widespread, available-for-purchase verification checkboxes with an $8 subscription to Twitter Blue was met with a seriously negative reaction. 

Many experts predicted that this could have far-reaching consequences and significantly undermine the trust and reliability of the platform.

Last week, it became possible to purchase a Twitter Blue subscription, and iOS users were able to access this option through the menu bar. 

However, attackers and Internet trolls soon seized on this feature and used it to simulate celebrities and brands by posting fake tweets that ranged from hilarious to terrifying.

Twitter soon completely disabled this feature, reportedly due to widespread abuse. Since this was one of Musk's main plans to make the platform profitable, it can only worsen the company's problems.

Musk has officially stated that Twitter is in a difficult financial situation because he decided to cut a large number of employees. After all, the platform was allegedly losing more than $4 million a day at the time of his takeover.

Another Wave of Cryptogeddon
Last week crypto feeds were buzzing after finding out that there is a possibility of another very large scam in the crypto market. Grayscale, the value of GBTC to the net asset value of Grayscale Bitcoin Trust has reached a record -42%.

In total, Grayscale owns 633,000 BTC, but the most interesting thing is that all the coins belong to them, not to customers. The company's role was to provide 1 GBTC share (which customers buy) with 1 BTC storage. Where do the prerequisites come from, Grayscale suddenly refused to provide proof of their reserves, citing "security reasons", and also indicated that all funds are stored on Coinbase.

In case of problems with GBTC or Coinbase, this house of cards will also crumble. The whole fear for the crypto market is as follows: in theory, when a discount of -50% is reached, the parent company Grayscale - Digital Currency Group will begin asset liquidation, which will entail a chain reaction, as it was with FTX and related companies and funds. 

Therefore, there is a possibility of another panic collapse in the crypto market.

That's all for now! More weekly digest on affiliate and digital marketing news next week. Subscribe to our accounts on social media to receive daily updates. Follow us on Instagram, Facebook, Twitter and Youtube.
Share the article

Read. Learn. Do. Earn more money on Affiliate Marketing
Don't miss