Are you tired of juggling multiple CPA networks for different verticals? Look no further than our review of this multi-vertical CPA network. With a wide range of verticals and offers all in one place, Zeydoo streamlines the affiliate marketing process and maximizes the earning potential of its clients. Keep reading to learn more about the features and benefits of this top-rated CPA network.
In this review, you will read about:

Overview of CPA Networks and Zeydoo
Zeydoo Stats at a Glance
Advantages of using Zeydoo
Signing up
Navigating the platform
Zeydoo In-house products
Zeydoo Referral Program
Conclusion
Overview of CPA Networks and Zeydoo
CPA networks help advertisers and publishers achieve their specific goals efficiently by connecting them. Advertisers use CPA networks to find affiliates to promote their products, whereas publishers use these networks to find advertisers who pay for specific actions.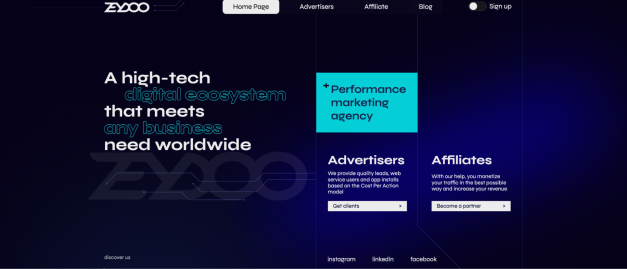 CPA networks offer unique advantages for affiliates, such as access to exclusive offers, higher payouts, and detailed reports to make informed decisions about the campaigns they run. They also provide advertisers with multiple ways to promote their products effectively, such as search engine advertising, email marketing, social media ads, and more.

Moreover, CPA networks are trustworthy and reliable. They have strict policies, rigorous screening processes, and anti-fraud measures to ensure that system abuse and fraudulent traffic get detected to protect advertisers' and affiliates' interests.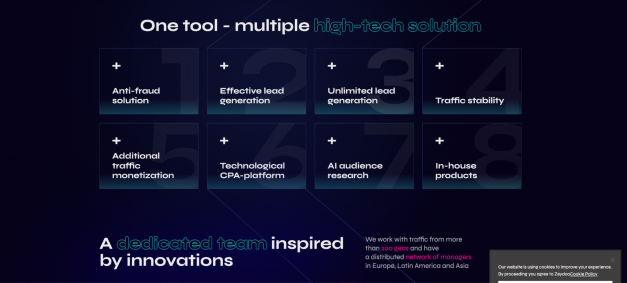 Zeydoo is a high-tech digital ecosystem that meets any business need worldwide and possesses all the CPA characteristics described earlier. With over 10 in-house products, a decade of experience, and more than 2700 offers on the platform from various niches, the organization is managed by a brilliant team of professionals. Verticals they operate in include Surveys, Sweepstakes, Mobile Apps & utilities, and Lead Generation to mention but a few.

Advertisers find Zeydoo excellent because they provide quality leads, web service users, and app installs based on the Cost Per Action model. It's the perfect network for affiliates as Zeydoo possesses a massive reach with GEOs worldwide and over 3000 global partners thereby being able to monetize traffic in the best possible way and increase the revenues of their clients. Their outstanding performances have bagged them recognition in the affiliate community and several awards such as:

Zeydoo stands out from other networks and has bagged several awards due to its fantastic performance which includes: quick feedback on traffic, regular payments, its user-friendly platform, and easy-to-use tech solutions for working with traffic – all of these points guarantee stability and increasing profit for partners every year.

Zeydoo Stats At a Glance
USP: Multi-vertical CPA Network with 10+ in-house products
Verticals: Surveys aka Leadgen, Mobile Apps & Utilities, Sweepstakes
Payout models: CPI, CPL, SOI, RevShare
Target audience: publishers that run any type of traffic
Zeydoo in numbers:
3000+ active partners around the world
more than 10 years in the CPA market
2,5M conversions daily
Advantages of using Zeydoo
Receive a special welcome package with amazing offers upon registration
Users get the best and most exclusive offers;
Access to 24/7 support from Zeydoo's brilliant team;
Guaranteed quick and regular payments without delay or excuses.
Excellent feedback on traffic and quick optimization
Easy to navigate, bug-free, and user-friendly platform;
Multi-vertical Smartlink that allows you to get the most out of your traffic;
Unlimited caps – for scaling your funnel with unlimited profit;
Global reach – users can work work with any GEO around the world;
Flexible and custom rates for your type of traffic;
Higher rates for partners with big volumes.
Signing up on Zeydoo
Signing up is easy and detailed. The overall process takes about 5 minutes and the data requested during registration is aimed at improving the experience of users on the platform. KYC (Know Your Customer) is a crucial element in deterring money laundering and other financial crimes, hence the detailed registration process.

At the top right corner of the webpage, tap on the Sign-up button. A pop-up page to sign in with an option to register will be displayed on the screen.

First choose the account type: Individual or Company. Next fill up the name, country, city, and address. It is necessary to select your affiliate type from the options - CPA Network, Direct publisher/Direct placements, AD Network, Affiliate, and Mediabuy agency.
Fill in your email and telephone number, select messenger (Telegram, WhatsApp, and Skype), and your username.
Click the "Next" button.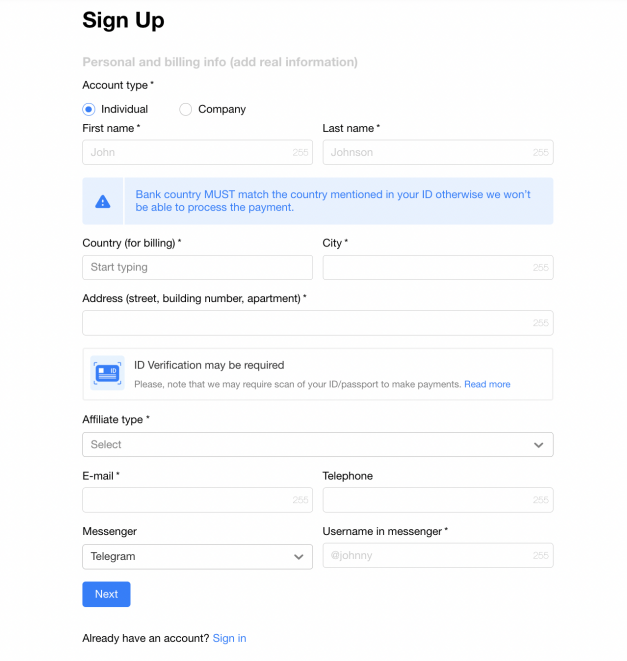 Select the top verticals you prefer to work with. Options include: betting, betting survey, captcha survey, content on demand, crypto, dating, finance, gambling, games, sweepstakes, etc

Next up select the GEOs you work with, CPA networks, traffic sources, achievements as an affiliate, budget, platforms payout, and finally Promo code if available.
Once done, you'll be asked to verify your email. Open your email account and verify the email from the account activation email received.
You'll be redirected to a password creation page after which you're all set to use Zeydoo's services.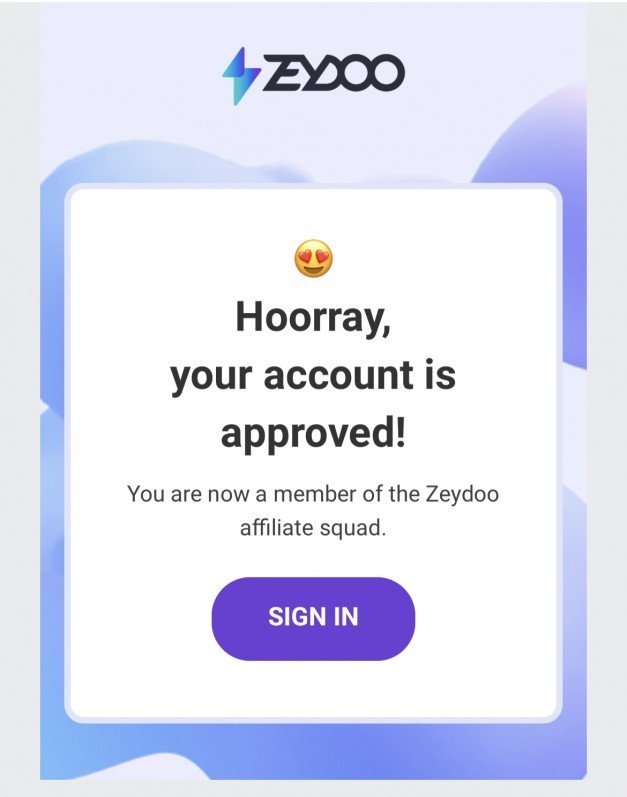 You can access your account while the Zeydoo team verifies your information. The moderation procedure occurs within 24 hours, after which the customer would be able to launch traffic and use all services. It is important to note that all information given in the registration is protected.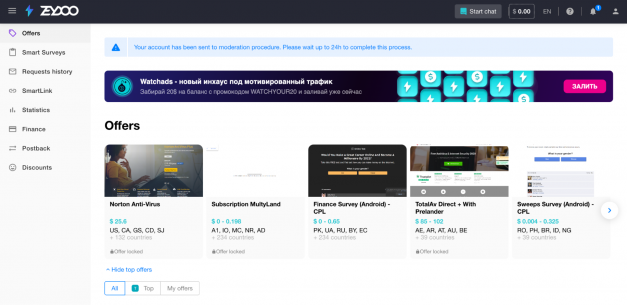 Upon sign-up, users get a special welcome package with juicy offers in smart surveys, mobile utilities, software, mobile content, and sweepstakes. This allows partners to immediately hit the ground running and start earning on the network.

Navigating the platform
The user interface is friendly and easy to use. At a glance, the eight icons - offers, smart, surveys, requests history, SmartLink, statistics, finance, postback, and discounts can be seen. At the top of the screen, users can find the Chat button with which they can send messages to the support team and get timely feedback on any issues; account balance to show current balance, help center, settings/log out, and notifications where users can see what's new on Zeydoo.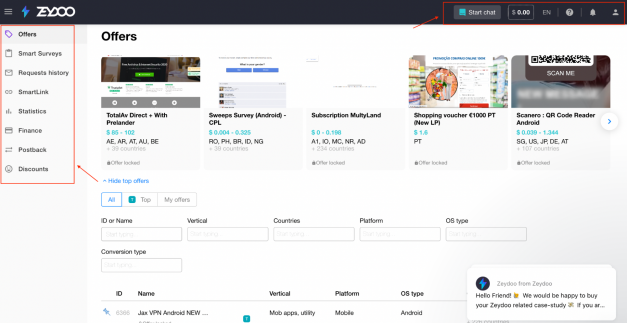 Offers: Users can see various exclusive offers that are available as well as their prices. The list is updated monthly and new landing pages, optimized funnels, and new products are added. Thanks to these offers at unbeatable rates, partners can increase their traffic volume and build stable sources of income. They only need to find a working bundle after which they can then scale without caps, limitations, or stops and without worrying about declined payments, hold, or offers' getting stopped.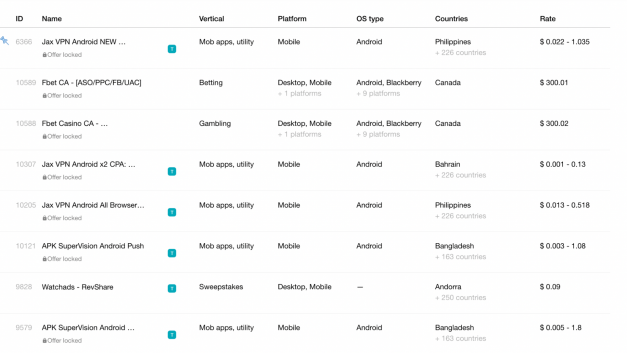 Accessing relevant data is possible via the sorting options available by filling in the Offer name or ID, vertical, country, OS type, conversion type, and platform. Zeydoo also has some exciting In-house products that can be promoted in any GEO.

Zeydoo In-house products
Zeydoo has several exclusive in-house offers that allow you to run traffic worldwide and build a stable income with media buying.
Smart surveys: This is one area that makes Zeydoo unique from other networks. Smart Surveys are offers where you get paid for every survey/questionnaire completed by the user. It's an easy and stable way to earn without any risks and tasks can be completed in only a few seconds or minutes, hence the high demand for this vertical.

You can easily access offers directly from the Smart Surveys menu button on the left to see various surveys which are regularly updated. Sorting options make it easy to see the top offers as well as the current offer being used at a glance. By toggling the options, users can see the names of the surveys, verticals, platforms, OS, time, countries, and rates.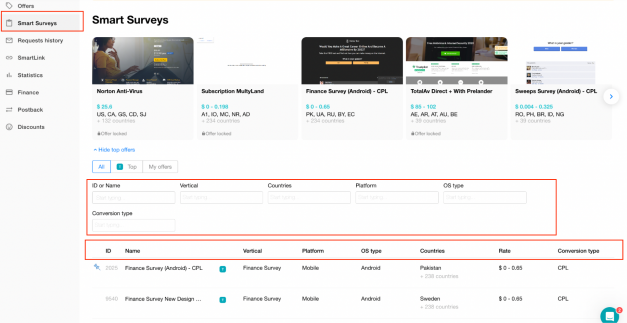 SmartLink: For those interested in this vertical, simply tap on the Smartlink menu button on the left panel to obtain all the necessary information needed such as the GEOs that you want to work with, conversion type, status, and targetings. Users can also see a comprehensive description of the product, its pluses, restrictions, and professional recommendation from Zeydoo experts. SmartLink works not only with Zeydoo products but also with offers from our partners. That means a media buyer gets a big set of offers which allows them to monetize any type of traffic more effectively.

The network has its own multi-vertical Smartlink that is perfect for mixed traffic. Users don't need to test several offers and verticals, just place a universal link and Zeydoo's smart system will find the best offers and landing pages for your traffic.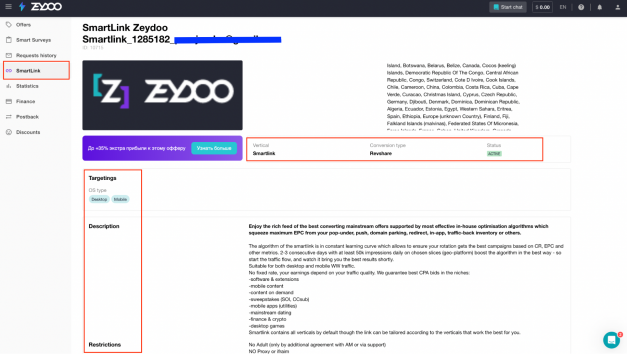 The team also monitors top slices which are a set of targeting parameters like GEO, vertical, offers, device types, device platform, and more. Slices are optimized by the Zeydoo team each week. Partners can get individual slices depending on the type of traffic and its peculiarities. It allows for an increase in CR and profit.

Smartlink is perfect if you work with:

SEO-traffic – for example, if you have a website in English and people from different countries know the language, then a SmartLink is the perfect solution so that you don't lose users;
Wide targeting – while launching funnel in several GEOs;
Buying banners on content websites – as with SEO traffic, you won't lose conversions and get the best out of the placement;
Free traffic – if you create and upload dozens of videos on TikTok, you can't control where in the world it will pick up, so a SmartLink in bio will help monetize all users by finding the most relevant offers.
SmartLink makes working with mixed traffic more effective and you get the most without long tests and big budgets.

Mobile Apps & Utilities
Zeydoo offers the following in-house products in Mobile Apps & Utilities:
Fast n Clean – an exclusive app for deleting unwanted files, cleaning up space, and optimizing the smartphone OS;
SM Dating App – a dating app available in many countries that has a great CR thanks to its exclusivity;
Scanero – the fastest QR-code reader. Scanning and reading documents, business cards, discount cards, and all loyalty cards from different stores;
SuperVision – an Android system camera app that helps film content with different effects. There are 4 landing pages in 22 languages already available for traffic;
Jax VPN – an easy-to-use VPN service with worldwide coverage and a simple flow: payout is made for the installation and further launching of the app.
Apps are in APK format and also available in the Play Store.

Sweepstakes
This vertical is highly profitable and Zeydoo has several new in-house Sweepstakes products as well as products with high traffic driving potentials planned for launch. They include:
A few new offers:

Rewardis – a Sweepstakes offer where users can win Samsung Galaxy A53. ROI and CR are super-high. Incent traffic is allowed.
Biward – a CPL offer where users can get money for completing one of the tasks from the list. Incent traffic is allowed.
For more info on the products, exclusive updates, and more, kindly join their Official Telegram chat. You can also connect with their managers:

Anna: Skype | Telegram | e-mail
Anastasia: Skype | Telegram | e-mail
Lisa: Skype | Telegram | e-mail
Check out their social media pages for exciting updates:

Instagram | Telegram | Facebook | LinkedIn

Benefits of using Zeydoo In-house products
No risks
Earn quickly - (filling the form in Smart Surveys takes a few seconds or minutes)
Excellent for pop and push traffic
Pre-landers for all offers are already designed. Simply start pushing traffic
Regularly updated offers give you a vast variety to choose and earn from.
Incent traffic is allowed
Request history: Here users can see all the offers that have been applied for. They are sorted into tabs such as approved, pending rejected, on hold, need info, and info added. Users can see the ID, offer, vertical conversion type, status, and date created at a glance. This makes it easy to work with all your offers and see their statuses.


Statistics: In this menu, users can monitor all projects and offers to assess performance and goals. With filters such as country, OS type, offer, landings, traffic sources, and requests, you can streamline and export data. Users can also select the period they are interested in analyzing and access them anytime. For current or concluded offers, users can see the date, requests, impressions, conversions, goals, CR, EPC, and amount.


Finance: Users can see their earnings, referral and ends, and billing settings in this menu. They can also see all the payments that have been made within the selected period.


Payment methods available for partners:

Payoneer
Paypal USD
Wire USD/EUR
Wise USD/EUR
Webmoney Z
For all new partners, the payment is made after a 14-day hold that is needed to check the quality of traffic and prevent fraud. It's possible to speed up the process or add an alternative payment method after discussing it with your manager.

Post back: For those not familiar with postbacks, the Zeydoo team has prepared integration instructions to guide you. To create a post back, just type in the name, URL and hit save.


Users can also test conversion tracking in this menu. yes For those that I've never worked with a post back, there are some instructions that you could use to help you get set up just choose one of them and you're good to go

Discounts: In this menu, users can see various offers with great discounts. Simply scroll down and read the descriptions of the products to get more information about the offers or from the boxes at the top of the page, type in the name and select category to find what you are interested in. It's a great way to get big bonuses and boost your earnings.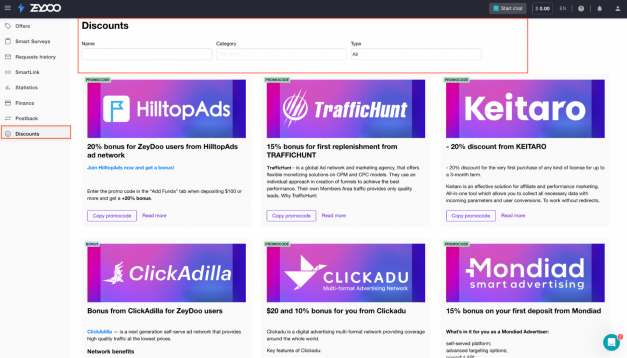 Zeydoo Referral program
You can get up to 5% of lifetime revenue generated by sub-affiliates registering with your partner link. To get your own referral link, write to the manager on the page for activating the referral program.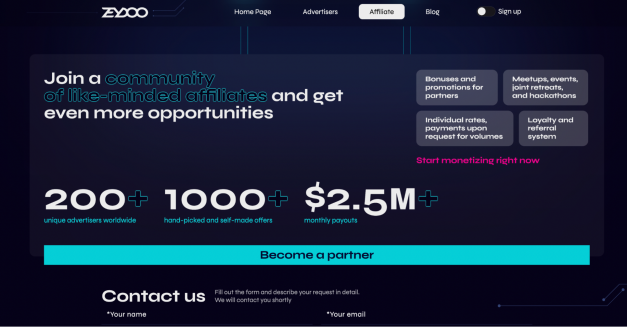 Conclusion
Zeydoo is one of the most unique networks we have reviewed. Their services are unique and are aimed at providing opportunities for their users to boost earnings with minimum risks. Their network is safe and their in-house products are game changers. They provide quality leads, web service users, and app installs based on the Cost Per Action model, quick feedback on traffic, regular payments, and more. They deserve all the accolades received and are highly endorsed.
Share the article

Read. Learn. Do. Earn more money on Affiliate Marketing
Don't miss