Success is what everyone is looking for. If you ask different people about what success means, it is highly likely that you will get more than one answer. But we speak about affiliate marketing here and can say for sure that the measure of success in this industry is constant business growth. This is usually achieved through a thoughtful analytical assessment of many aspects of the marketing process like how the campaign is being performed, how the budget is optimized, what changes you need to make, and so on. In this article, we have collected the top 7 indicators that you must track to improve your strategy.
What is an Indicator in Affiliate Marketing?
An affiliate marketing indicator is a kind of performance metric used to assess your business and marketing performance on the way to the final goal which is usually skyrocketing sales. You may need different indicators for different situations, but in most cases, they revolve around revenue.

That is why we have created the top list of indicators that will be enough for you to make your perfect assessment combination. Each of them gives you access to crucial insights on your performance: if you look at the indicator and feel that you are not putting much effort, you will know for sure where to focus your marketing efforts.

Top 7 Affiliate Marketing Indicators to Follow
One of the best info concerning affiliate marketing indicators is that despite the fact that there are so many of them, only a handful of metrics are essential for a deep assessment. Let's stick to the topic and start with the first three indicators that are considered to be most important in marketing performance.

Click Traffic
Click traffic is considered the king of indicators as more than 80% of marketing experts affirm that the total number of affiliate link clicks during a particular period is the most popular metric. It shows the level of interest in advertised products and services among the affiliates' audiences.

This indicator is necessary when you need to estimate how successful your affiliate marketing campaign is running. You just need to compare the number of clicks to the number of sales. When these numbers differ significantly and the first number is very high and the second one is very low or even equals zero, there is something wrong with what you are doing.

Click traffic gives you an opportunity to understand exactly which aspects of the campaign perform well and which are not. In order to improve the situation, you need to assess the incoming clicks that you receive from the affiliates' websites. If the numbers are bouncing or take more time for conversion than usual, you may need to revise your collaboration with some of the affiliates. For example, you can improve their efforts by sharing the positive experiences of their more successful colleagues.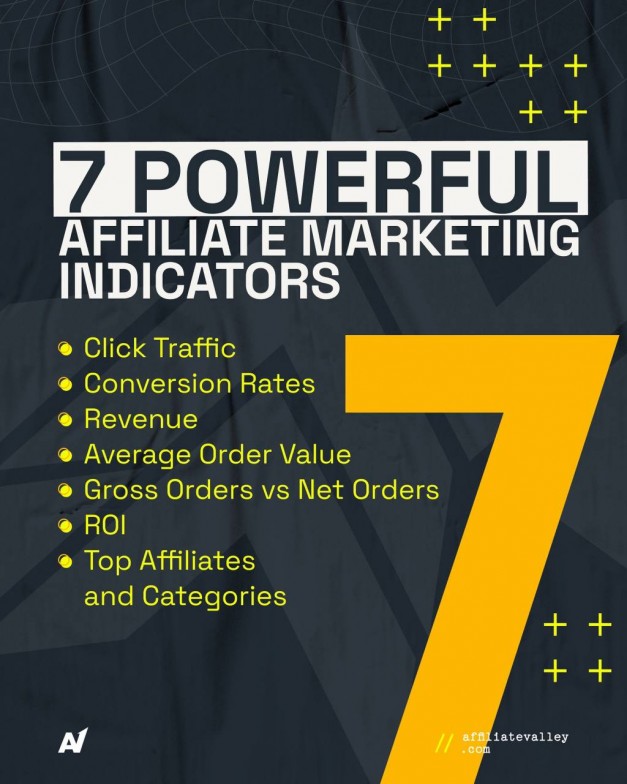 Conversion Rates
The success of any business, no matter how big or small it is, is assessed through the number of customers who really help companies generate income through sales. This idea is supported by more than 70% of affiliate marketers who are sure that the second most important indicator is conversion rate. This metric is the percentage that you get by dividing the number of conversions (which is the synonym of "sales" here) by the number of clicks on the affiliate link. The main difference with the click traffic indicator is that while the total number of clicks shows if your marketing campaign is interesting to the audience, the conversion rate simply helps you understand how many clicks are necessary to get a single conversion.

Constant monitoring of this indicator is the key to its improvement. For example, the growth of conversion rate can tell if your promotional campaign was well accepted by potential customers. On the other hand, a decrease in this metric due to some changes in the website design can indicate that it didn't resonate well with the customers. A constant observation of the conversion rate (fluctuating up and down) and linking it to what you have done before them (changes, events, promotions, etc.) can help you understand what you need to repeat, boost, or just get rid of.

Revenue
The third indicator in the first part of our list is revenue which is considered to be the most important metric by more than half of the marketers – 59%. This may seem quite obvious, but the situation when some business pays more attention to other key performance indicators is not rare at all.

There are two approaches to revenue assessment besides measuring absolute numbers. And they are essential for sustainable improvement.

Overall revenue growth of a particular affiliate program during a particular period of time.

Incremental revenue wouldn't have been generated without an affiliate program and that cannot be substituted by other channels like news lettering or paid advertising.
If you take into consideration all these aspects of revenue, you will get access to extremely useful information. For example, you will see the performance of which affiliates require improvement and which can be awarded by discounts, increased commission rates, and product samples for review. On the other hand, the worst performers can be coached and educated on what they can do. In the end, affiliate marketing is built on the basis of mutual profit.

The above-mentioned three indicators may be enough for the understanding of what is done right and what can be improved in the business. But just relying on them does not always win a game. If you need a more in-depth analysis of the marketing activity, read further. There are some more metrics to pay attention to.

Average Order Value
Even if the total sales volume is not as big as in previous periods, you could still generate more revenue in case the average order value (AOV) has increased. The size of AOV depends on the industry and its formula is "revenue / total number of orders". Growth of this indicator means that your customers have started to spend more money on each purchase per single visit. This information is crucial when you need to determine how effective your marketing performance is and how profitable your affiliate programs are.

Another AOV advantage is that it gives a much more objective assessment of affiliate performance. Even if some of your partners do not generate much traffic or deliver a high conversion rate, they may still be a valuable source of cash flow as they may attract customers who are ready to spend more on your products and services.

The strategy to improve the AOV indicator is quite simple: implement what successful affiliates do in other channels.

Gross Orders vs Net Orders
Gross orders include all the orders that were generated by the affiliate program. Net orders are the orders that haven't been canceled. The reasons for the purchase cancellation can significantly vary: the customer could just return it, logistical problems that led to longer than usual delivery, fraudulent activity, and many more.

One of the most important things here is to monitor gross and net orders year-over-year as this is a clear demonstration of whether your program is growing or not. An increased number of orders is a positive signal, especially in a combination with a higher AOV.

At the same time, the increased number of returned orders is a reason for investigation as it can easily be an indicator of illegal activity. For example, some partners could deceive the program and place a lot of orders to get commission fees. In this case, searching for responsible parties is a must. Once they are identified and removed from the program, this metric is highly likely to become more realistic and increase.

Return on Investment
Return on investment (RoI) is one of the most popular indicators for the assessment of any business activity. In marketing, it is also known as return on ads spent (RoAS). RoI is calculated as the generated revenue from the affiliate program minus all the spending on it (commission fees, special software, salary of managers, designers, and so on).

Tracking RoI shows you whether your affiliates help your business to grow or if you need to find some other way of promotion. Besides that, if this indicator is a zero or a negative number, you need to consider other metrics to see the reasons. If RoI is positive, you can analyze the reasons for success and implement these tactics in other marketing channels.

There are a great number of ways to increase RoI and their full description will take too much time as this indicator is really one of the economic fundamentals. But in any case, the first thing you have to do is cost reassessment.

Top Affiliates and Categories
Top affiliates are the main contributors to your sales and conversions who generate significant numbers in the total revenue. Keeping track of them and knowing for sure what role each of them is playing in your affiliate program (as well as maintaining good relations with them) are key factors for business growth in the long run.

One of the easiest ways to track this indicator is a unique UTM code and referral link assignment to each affiliate. In this case, you will be able to implement a deeper analysis of their performance with the help of advanced link management tools. Besides that, you will always have higher chances to detect negative dips at the early stages. If an affiliate's performance doesn't lead to an increase in click-active or sale-active ratios, something is definitely wrong and it is high time to start an activation campaign to improve the situation.

If you run a business with affiliate programs designed for products of different categories, you can use the same assessment approach to them here too. Top practices can be deployed in other areas while ineffective ones are eliminated. Access to such data helps to make better marketing decisions, rearrange financial flows and be more cost-effective.

Concluding Thoughts
The indicators above are usually enough for a comprehensive analysis of the marketing performance in most cases. But there is always room for a deeper and more detailed assessment. The choice of available tools on the software market is really great. The only limiting factor is what result you want to get in the end.

Still, we have some more tips for you to be more effective in your marketing activities.

First of all, never rely on one or two indicators as in this case you will not get a clear picture of what is happening in your affiliate program, and more importantly, why it is happening.

Secondly, try to diversify your marketing and promotion strategies, as crises of any kind can affect even the most efficient and profitable of them.

And, finally, implement a systematic approach to everything you are doing as it gives an opportunity to detect the forthcoming challenges and face them practically in real-time.
Share the article

Read. Learn. Do. Earn more money on Affiliate Marketing
Don't miss