"Where can I find quality traffic?" - a frequent question among affiliates. And the main problem is that traffic doesn't pay off. Therefore, affiliates are looking for new sources and testing various advertising formats. Some of them try such hype traffic sources as TikTok, while others choose ad networks with push notifications, native ads, and other established formats, cause they inspire trust, stability, and are easy to understand.

Today we wanna reveal the secret of ad networks' popularity and take one of the top networks as an example. To make the life of newbies easier, we've also added some practical tips from an expert that will help significantly reduce the budget on tests (you will find it at the end of the article).

So, why do affiliates prefer ad networks?
Everything is simple and logical - the success of ad campaigns depends on professional skills and not on luck, the "mood" of the source (hello, Facebook), and a huge number of bans. Affiliates should pay attention to competent traffic analysis, high-quality selection of advertising sites, and work with the auction in order to get the most profit from advertising campaigns.

Let's move on from the dry facts to a review of one of the largest ad networks with premium traffic - Clickadu. Recently, they have significantly increased the volume of traffic, and their impeccable reputation will attract every affiliate that's why we decided to choose them for analysis.

Multi-format advertising network Clickadu
Clickadu is an international multi-format advertising network that has been operating in the market since 2014. Today, the network provides more than 2.5 billion impressions daily and covers 200+ countries.

They relaunched Ad Server and started introducing new ad formats in 2018.

At this moment, they are offering 7 ad formats:

Push-Notification

Instant Text Message
Popunder
Pre-Roll
InPage Push
SKIM
Banner
By the way, more than 93% of traffic is made up of direct publishers. Also, the network buys traffic from trusted RTB partners.

The minimum deposit is $ 100. You can use payment methods such as Webmoney, Credit Card, PayPal, Paxum, Wire.

Traffic comes mainly from entertainment sites that is why we recommend testing primarily the following verticals:

iGaming (gambling and betting)

Dating (adult and mainstream), webcam
Sweepstakes
Wap-click, Pin-submit
Installations (VPN, tools, utilities)
If you have your own website you can easily monetize your traffic with Clickadu. There are 6 formats that work together and more than 26500+ launched campaigns that will let you monetize traffic to gain maximum profit. All formats are created following Google requirements.

You can specify the volume for each GEO and format inside the platform in the "Traffic Inventory" section.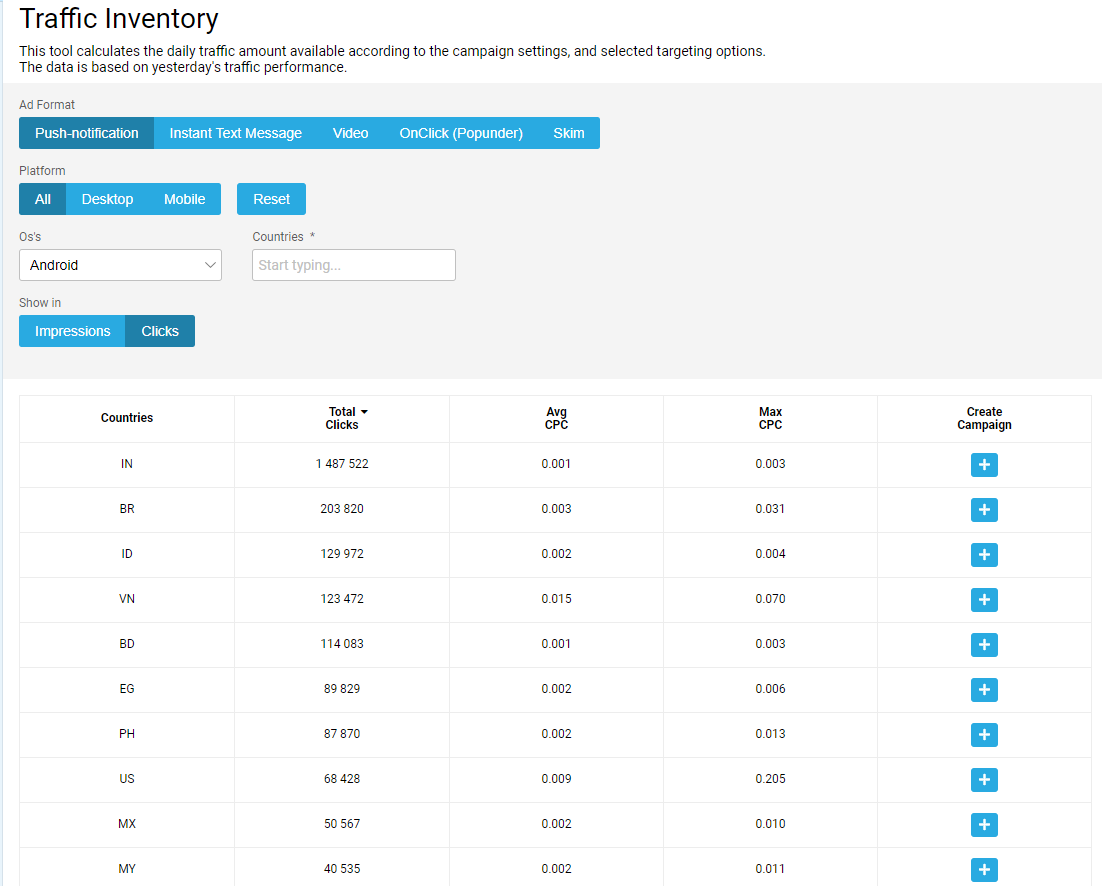 You can always request this information from your manager. By the way, during registration, you will be assigned a personal manager who will answer any of your questions.
You can find the detailed description for each format on the main page of the website: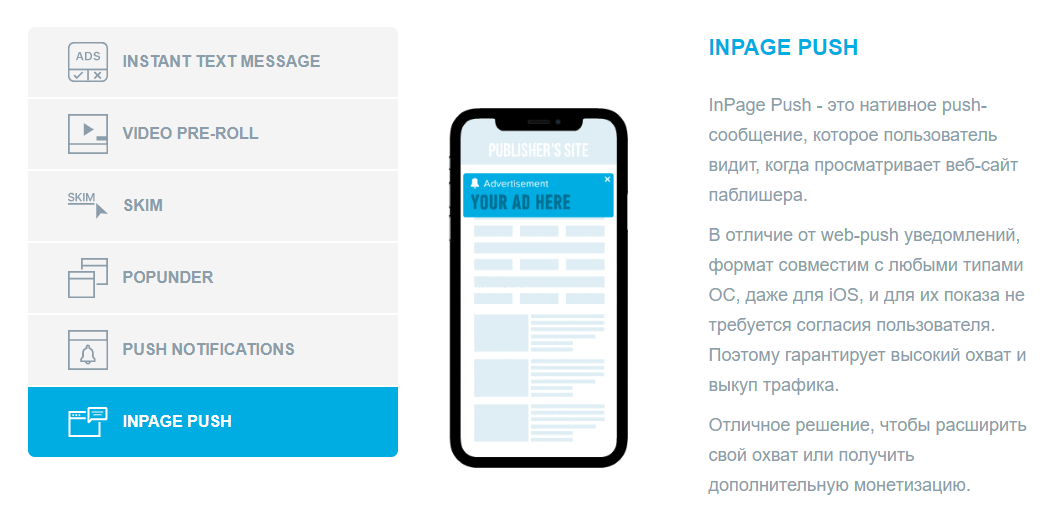 We'd like to say a few words about the format that is rapidly gaining popularity today. This is Instant Text Message.
Instant Text Message is a pop-up notification for mobile devices with two buttons "Ok" and "Cancel". When the user clicks "Ok", he automatically redirects to your offer. Instant Text Message is a Google-friendly format that you definitely need to test.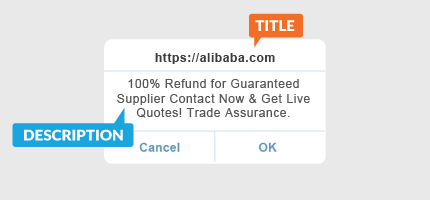 Moving on, I propose to analyze the functionality of the platform using the example of one of the main formats - Push-notifications. It is worth noting that activity targeting is available in the ad network, and this is a big advantage when you are working with push notifications.
Let's start creating an advertising campaign:

1) Enter the name of the ad campaign, choose the ad format, type of sources (18+ or mainstream), vertical ( it will show the traffic of the audience, which turned out to be the most active in the selected topic based on the experience of the platform):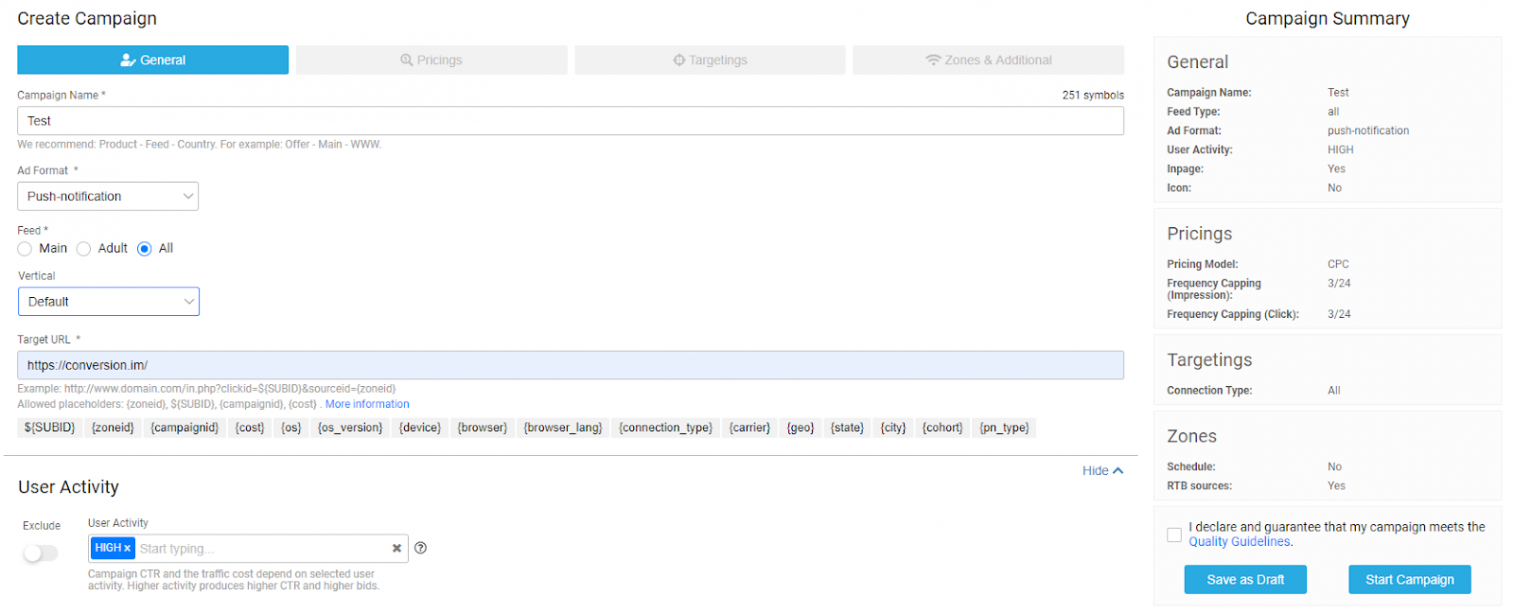 2) Go to the "Pricing" tab. Here, you need to select the necessary GEO, specify the model of work, competitive rate, and set limits.
In Clickadu you can work on CPC, CPM, SmartCPM or SmartCPA models.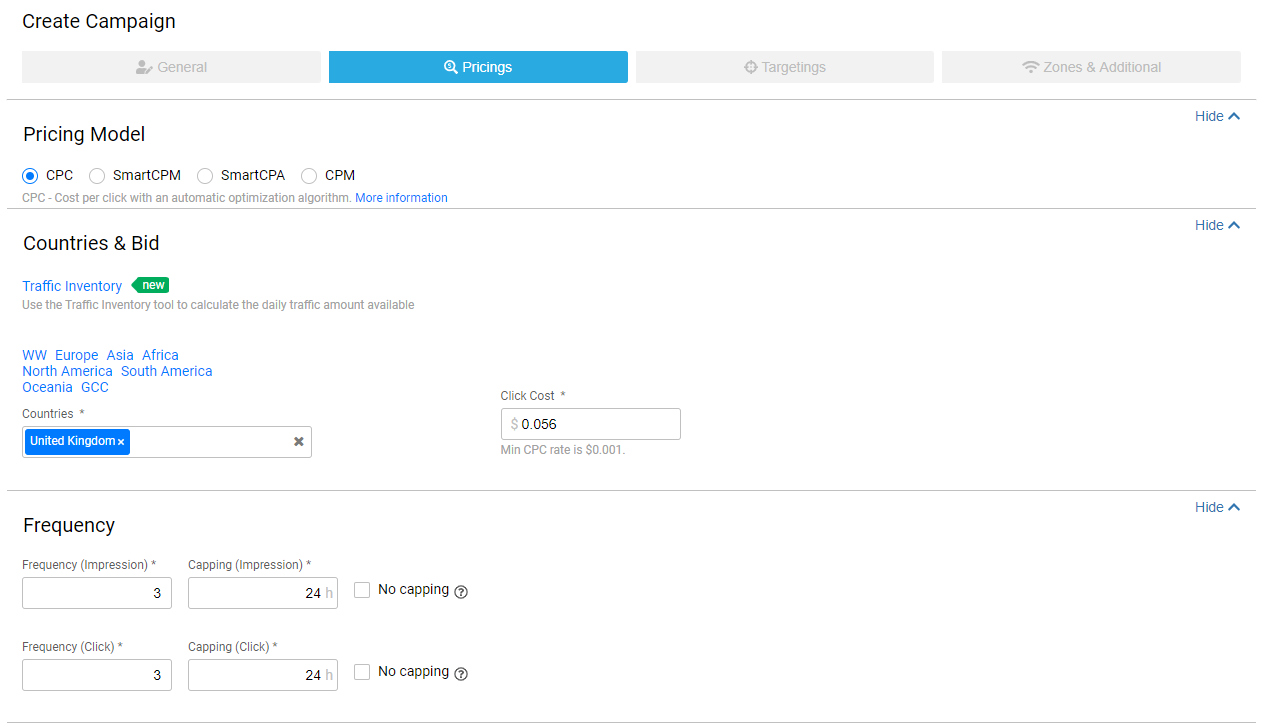 We'd like to draw your attention to the latest models - SmartCPA and SmartCPM.
The first one allows you to set the appropriate conversion cost. According to this, the system will search for traffic within this budget and also disable those sites that seem more expensive.

Working with SmartCPA you need to add Postback to track the real conversion cost. By the way, Clickadu has ready-made integration with all popular trackers, so you won't have any problems with this.
SmartCPM is a CPM model with an integrated pricing formula that automatically optimizes your campaign's bid based on competition in targeting settings. Optimization capabilities are the main difference between the Smart model and the standard CPM.

The Clickadu team recently updated this pricing model to include a new customizable zone rate feature. This allows you to set a fixed cost for individual zones (sites) and increases the ability to control the budget.

3) Next, we set the parameters of devices for targeting (Mobile or other).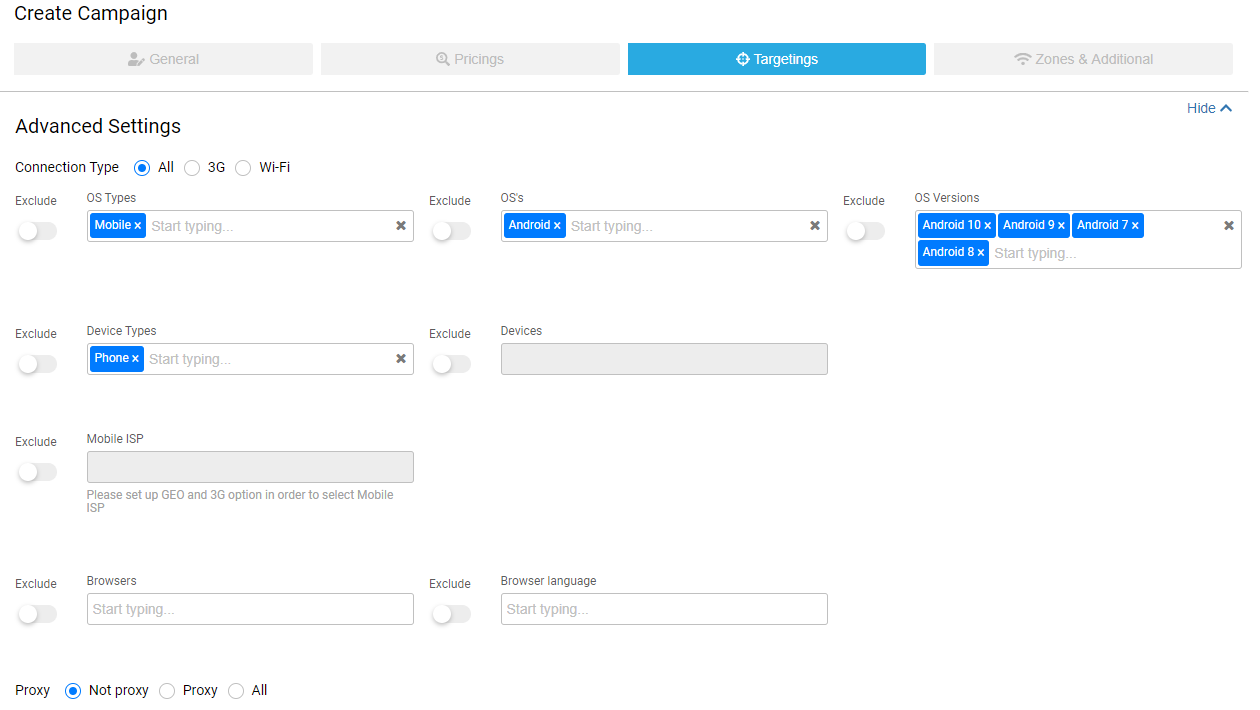 If you work with mobile subscriptions (or other offers where the operators are initially specified in the terms and conditions), remove Wi-Fi and leave only mobile operator traffic.
In all other cases, only tests will show that the settings are correct. Then you should work with the statistics and refine your targeting settings.

4) Upload an advertising creative: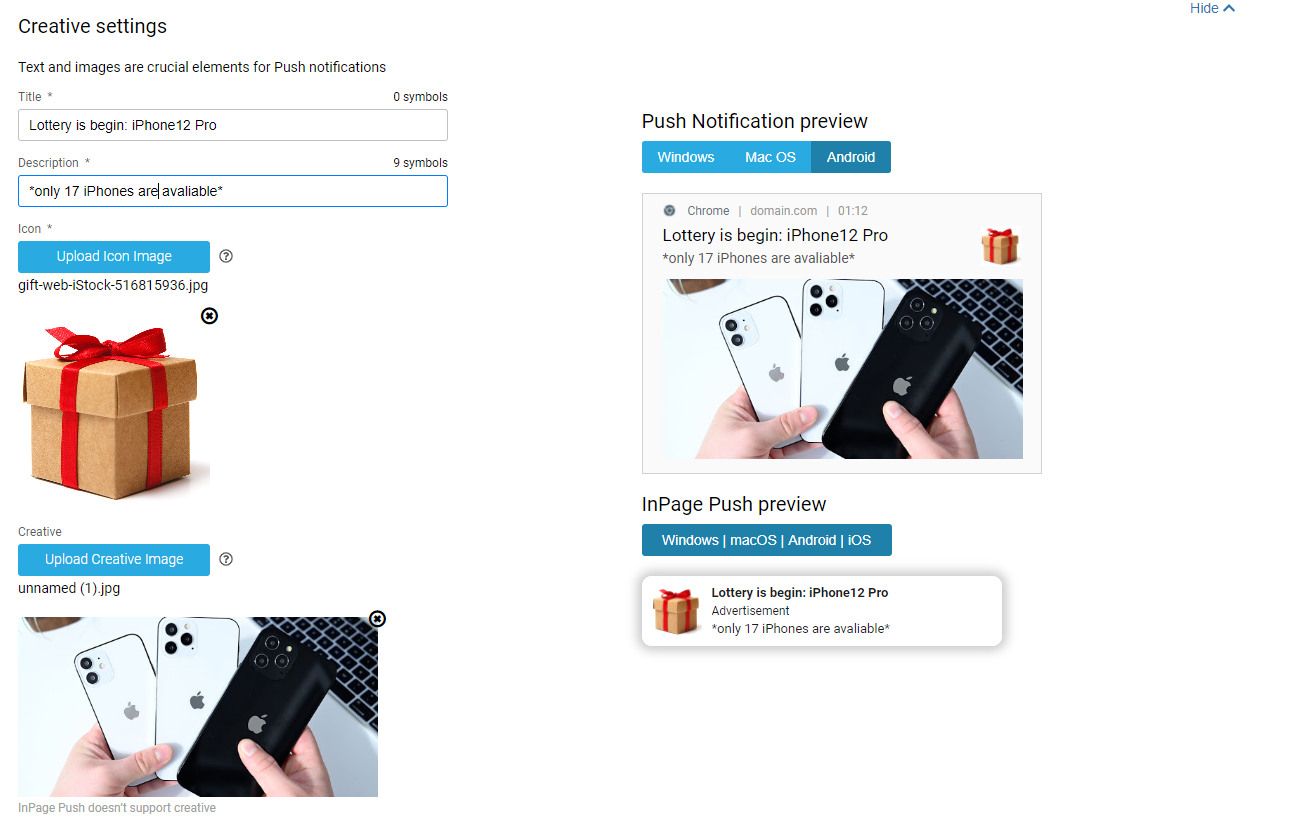 5) Also for advertising campaigns you can select/exclude sources (black and white lists) in the tab "Zones & Additional ". In addition, you are offered to choose a campaign schedule, an impression limit (to spend the budget as quickly as possible or distribute it evenly for the whole day), and many other interesting and useful things.
The feature set of this ad network is extensive and complete. It is very interesting to learn how to work with the SmartCPA format. You can quickly test and scale packages. This is especially handy when it comes to CPI and CPL offers. By the way, these payment models have considered the best options for newcomers to affiliate marketing as you can run tests automatically without spending too much money.

6) The last step is saving the advertising campaign, after that, it's automatically sent for moderation.

All impressions, clicks, revenue, and expenses immediately fall into the Dashboard section (or simply Statistics). You can filter data for a certain period, or look in the context of campaigns, zones, GEO, or day here.

Additionally, you can also add filtering by campaigns, advertising format, GEO, and zones. It has a classic detailed feature set, with no unnecessary air.

Also, you have access to impressions, clicks-conversions, ads CTR, CR, CPM, CPA, and CPC in the statistics section.
The feature set is totally enough for working with one advertising network, but we recommend using additional trackers to make your work more convenient.

How about some piece of advice for newbies?
We asked George, Business Development Manager Clickadu, for recommendations to maximize profits for affiliates. And he gave us some professional traffic tips:

"First of all, you need to clearly understand that this is real work. Yes, just like working in an office. This job requires knowledge, skills, and technical equipment, like any other job. Now let's go over each item in more detail:

Learning by doing is no doubt a good thing. But the whole chain looks like "information - plan - budget - work - analysis of results - repeat". First, choose a niche, take a closer look at partners, conditions, sources, and risks, strike a balance between tests. And after that start crazily running A / B / C / D tests.

You need to be able to negotiate with the traffic source (it will be easier to do this with the network) and with partners (CPA network or direct advertisers) about launch conditions, converting links, traffic sources, payments, and the best formats for work. You need to communicate well, be polite and friendly and at the same time beware of scam)

Learn the technical part. It is better to study the issue in advance in order not to be scarred by the manager's questions about postback and SmartLink. It is also important to understand the flow of offers to calculate the profitability of certain approaches. By the way, it is also worth getting a tracker to analyze the quality of traffic and results. Also, basic knowledge of HTML, programs for working with graphics, and placement on domains will improve the chances for success. It will increase your competence and reduce the costs of searching for third-party executors.

And just heart-to-heart advice. Do what you love and love what you do! And you will always be happy."
We also recommend you to read the guide for media buyers, which contains all useful information for working with Clickadu traffic.

Conclusion
Traffic from ad networks will never lose its relevance, as users don't have enough traffic from social networks. Moreover, the number of ad formats continues to grow. At the moment, working with ad networks is the key to high ROI.

The main advantage of such traffic is stability that often depends on the quality of the websites. Also, affiliates need to correctly set targeting settings and devote enough time to tests to get the maximum CTR.

We recommend the advertising network Clickadu as an excellent option for working with ad campaigns. It is one of the market leaders that gives ample opportunities for working with traffic. Clickadu provides a lot of traffic – billions of impressions per day, 6 advertising formats, and more than 200 GEO for work.

Use promo code "AFFVALLEY" to get an extra 20% bonus on your first deposit from $100 or an extra 10% from $ 300. This offer is valid until December 26th.

If you have any questions, feel free to ask the manager. The Responsive support team will promptly solve any problem and gladly give advice.

We wish you high conversions and evergreen ROI!
Clickadu has Telegram community dedicated to Affiliate Marketing conferences, news, tips and networking https://t.me/affiliateconfEng

Register with Clickadu right now and get the unique bonus!
Share the article

Read. Learn. Do. Earn more money on Affiliate Marketing
Don't miss