Being smart in affiliate marketing doesn't just mean choosing the right offer, setting up ad campaigns and optimizing them to bring the most profit. It's also about finding and leveraging demand by turning the events that happen all around the world to your advantage.
The FIFA World Cup 2018 was a brilliant example of an event that could make you richer if you knew how to make the most of your affiliate marketing skills.
What kind of sites do you think have higher-than-usual traffic during widely anticipated soccer games? Seriously, any ideas?
The answer is sports streaming sites. The case with streaming sites is that their primary source of income lies in pop ads. Advertising during the game exposes you to high volumes of traffic. Now, how can you turn high traffic volumes to high volumes of conversions? By promoting offers relevant to the content of the website. With sports streaming sites and the ongoing soccer championships, you know exactly what's your target audience (soccer fans). All it takes is giving them an offer that they can't refuse.
You know how everybody becomes an expert in a given discipline when a big sporting event comes, right? Everyone has their take on each player, team and game. Why not try their knowledge and experience with a little bit of gambling? Promoting sports betting sites and apps has proven extremely successful during the World Cup. Don't worry, though, if you missed this opportunity. What we want to show you today is a scheme for smart affiliate marketing that's based on the example of the World Cup, but can be applied to pretty much any big event in the future.
Let's study the case of one happy Zeropark user, whose memories of the FIFA World Cup 2018 are just as great as France's.
Selecting the right offer
One of the hottest offers to promote with Zeropark during the World Cup was "Caliente Sport." Caliente is a Mexican sports betting and casino gambling site, where soccer fans could follow the games' results, watch live streams and place their bets.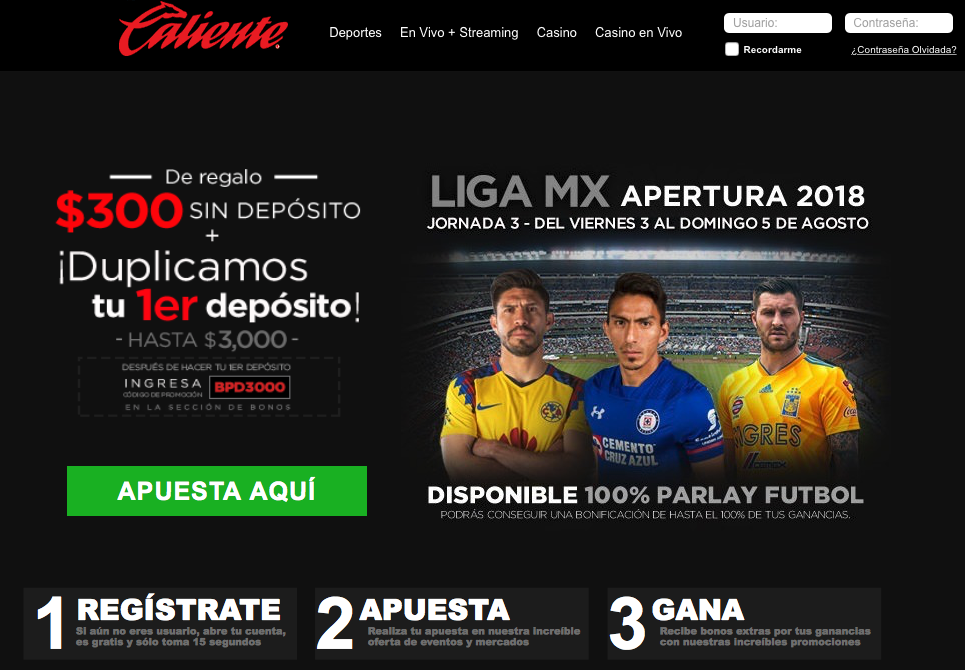 This is a great example of an offer that simply makes perfect sense during the World Cup. Sports betting offers were pretty much a safe bet during this event which was demonstrated by high engagement no matter what their traffic source was.
Of course, the FIFA World Cup is a recurring event that happens only every four years, but there are plenty of opportunities to give sports betting vertical a try. UEFA Euro, the Champions League final, or the Super Bowl can make you just as rich.
Analogically, there are other events, outside sports, that can be used wisely for affiliate marketing. Even promoting sunglasses can bring you tons of profit if done in the right time (think summer).
Choosing the right traffic
In our case, the advertiser went for a Run-of-Network, pop up campaign on both adult and non-adult kinds of sites. Our advertiser chose the Premium Traffic segment, which tends to cost a bit more than Standard Traffic, but consists only of sources proven to bring an above-average number of conversions. Although this choice turned out very profitable for our advertiser, we saw a big number of customers who also succeeded with different kinds of campaigns.
For example, going with Keyword campaign wasn't a bad idea at all. Keywords allow you to put your ads on sites related to the content of your promo. Website publishers always define the keywords for their sites, so Zeropark can successfully go about the matchmaking process. In this case, any keywords related to soccer (don't forget about "football"!) would work.
Getting the right setup
With the daily budget of $1200, the advertiser in our example opted for a mobile-only campaign, deciding to display his ads only to Android device users.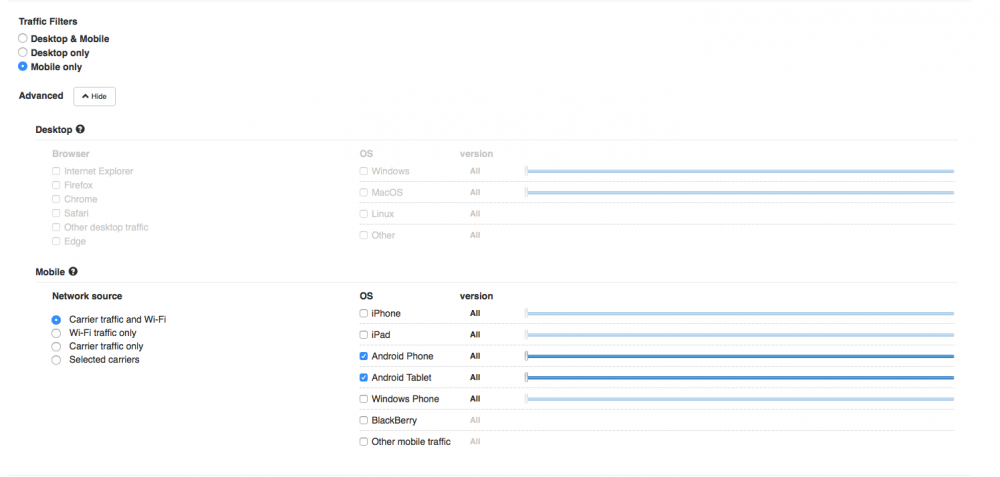 Since Caliente is a Mexican site, the targeting was set just for Mexico not to promote the offer to ineligible users.
Lastly, the Day Parting was specified to avoid spending money during the late night and early morning hours and to match fans' betting activities. Remember to set up Day Parting accordingly to the target timezone. The hours you tick/untick refer to the timezone of your account, so you need to calculate the difference yourself.
What can also be done to improve your setup? If you track your campaigns (which you should) and pass conversion data to Zeropark, you can enable Rule-Based Optimization (RBO).
RBO lets you automate the optimization of your campaign with a set of if/then rules. For example, you could choose to automatically pause a target if you spent over $10 on it, and it didn't bring you more than 1 conversion.
There are more rules to set, which can help you automatically filter out the worst performing targets, sources or geos or scale up on the best performing ones. Check out our knowledge base for more information.
Optimizing on the go
RBO serves as a sort of predefined optimization. Obviously, there are other ways of optimizing your campaigns.
If you're using Voluum, its AI algorithms can even optimize campaigns for you. For a more traditional approach, you have to rely on your data analytics skills. You can do some basic optimization in Zeropark (like bid adjustments), but to make the most of your campaigns, you need to turn to a tracking solution like Voluum. What could give you an advantage over your competition during the World Cup, was optimizing the campaigns on the go, during the games. Sports betting sites' traffic peaked during the games, giving you the largest volumes and sample size for optimization.
The results
The campaign presented in this case study peaked halfway through the World Cup. It reached nearly 4 million redirects on the most successful day – about six times more, compared to the days before and after the event. Generally speaking, there were almost twice as many sports betting campaigns created in Zeropark during the World Cup, as there were in the preceding weeks before.
Advertisers did a good job trying to make the most of the event and spent twice as much money on sports betting campaigns than they did before the World Cup. A correct decision to scale up on a profitable vertical. Sports betting and gambling rose to become the second hottest vertical in Zeropark between the opening ceremony and the final, trailing only to shopping and travel.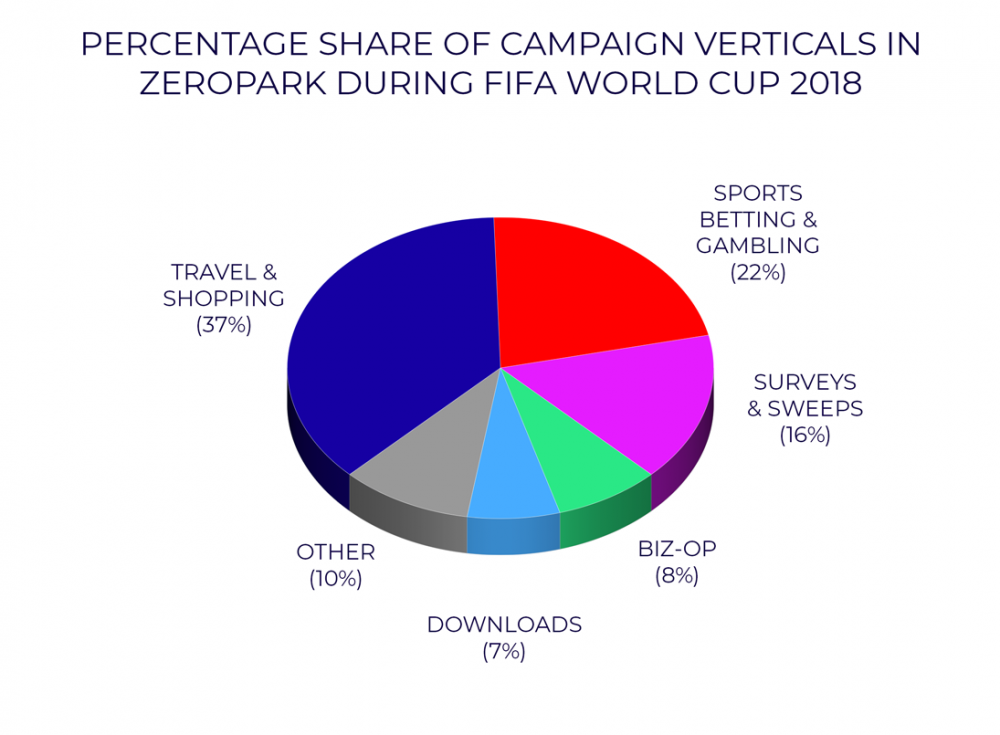 Looking for another opportunity
The FIFA World Cup 2018 showed us how affiliates can turn ongoing events to their advantage. But even if you missed out on this opportunity, there are always plenty of new ones ahead. There are major sports events, like the aforementioned Super Bowl, but there are also other events you can make money on. Ramadan, Christmas, Hanukkah to name a few religious holidays. Then there are all the Black Fridays, Cyber Mondays. Trust us, there's always something to turn to.
That's why it's important to keep your eyes open for every opportunity and think how you can turn them into gold. Just like Zeropark advertisers did on the occasion of the FIFA World Cup 2018.
Source: Zeropark blog
Share the article

Read. Learn. Do. Earn more money on Affiliate Marketing
Don't miss