"Automation" has entered a regular affiliate marketing trends lists since 2017. While some affiliates go into a desperate search of the "smartest" features, others prefer to wait until the hype falls. Anyway, today almost all decent networks, traffic sources, and trackers provide their users with auto-something solutions. 

Let's see what automated features are currently available at the market and what kind of value they can bring to you.
What is Automation in Affiliate Marketing
Automation is a technology by which a specific process is performed with minimal human assistance. It's often confused with sophisticated and expensive artificial intelligence and machine learning products. The reality is -- usually, they have nothing in common with all those automated features available on the market today.
The popular and quite a fair question is -- do all these bells and whistles bring the declared value to your business? Or is it just a nice-to-have set of features that are more suitable for enterprises with big budgets?
The ultimate goals of any quality automation solutions are pretty simple. They are:
reduction of routine and monotonous work;
saving your time by taking a big part of work on themselves;
preventing you from draining the budget;
providing you with more opportunities to concentrate on strategic tasks.
Let's check what auto-features affiliate networks, traffic sources, and ad trackers offer to the market today. 
Traffic sources automatic features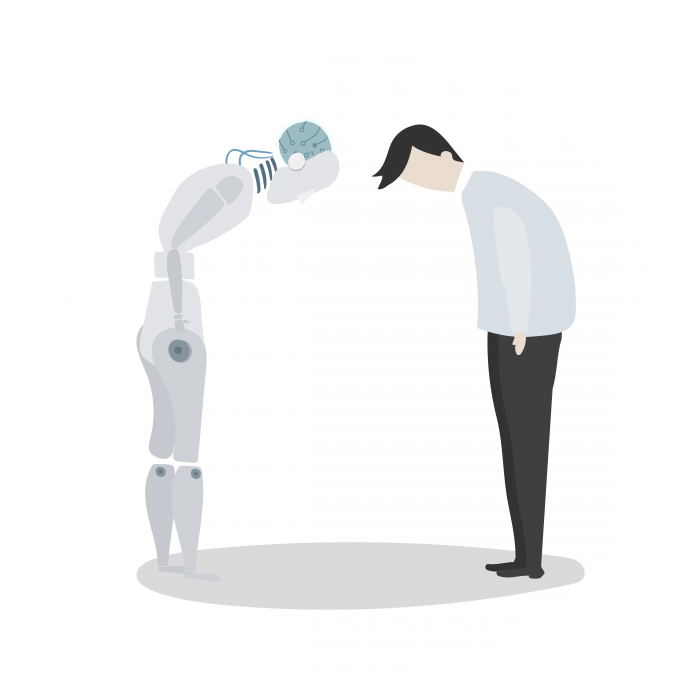 The more traffic you gain and the better it converts, the more money you get. Should we tell you that the choice of a traffic source might be the most important one for any affiliate? There are hundreds of options out there, but only a small part of them have already embarked on the road of automation. 
Auto-optimization of traffic distribution.
The idea behind it is to help affiliates save their budget while displaying their offer to the best audience at the best place possible. A great tool for beginners that will help to gain confidence while making first steps. 
Auto-optimization of campaign elements (ad formats, creatives, landers).
The feature that automatically pulls in the ad formats, creatives or landers that perform best and optimize it for further promotion. The data sampling method used by machines to identify these successful patterns can be tricky but often show good results. 
CPA goals automatic optimization.
The automation feature that works according to the required price per conversion. The system automatically adjusts the bid, while indicating how each zone is performing.
Self-developed fraud filters.
No matter how trusted your ad network is, no one can ever guarantee you that your offer won't get on shady publishers' websites. Some ad networks started providing smart bot filtering tools to their affiliates, helping to stop the invasion of bots on your offers.
The examples of traffic sources that cover the automation within their feature-set: PropellerAds, MGID, ExoClick. 
Affiliate Networks automatic features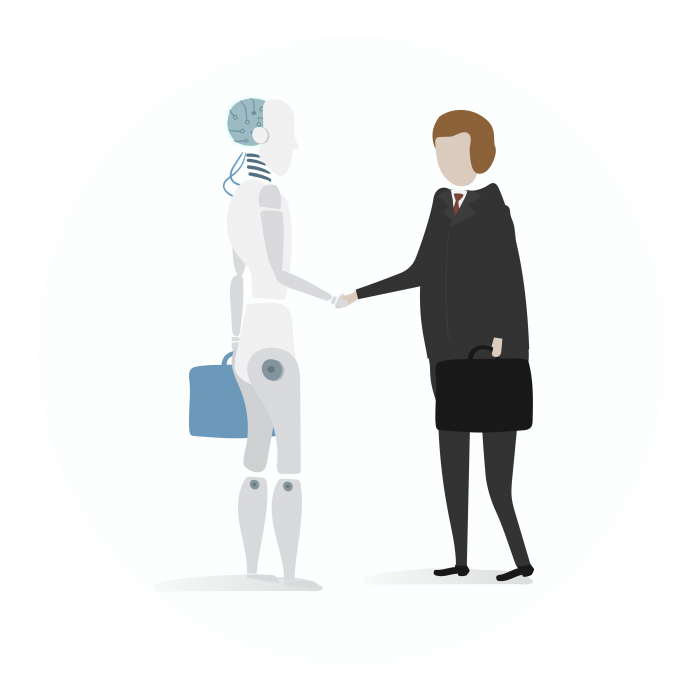 The most common usage of automation by Affiliate Networks is the introduction of Smartlink technologies. What is this? Instead of using dozens or hundreds of links in different campaigns, you create only one Smartlink that automatically recognizes your traffic and shows each user the best performing offer. It secures that you get maximum revenue from your advertising investments. 
Affiliate Networks that provide SmartLink technologies: ProfitSocial (dating smartlink), Mobidea, Monetizer.
AdTrackers automatic features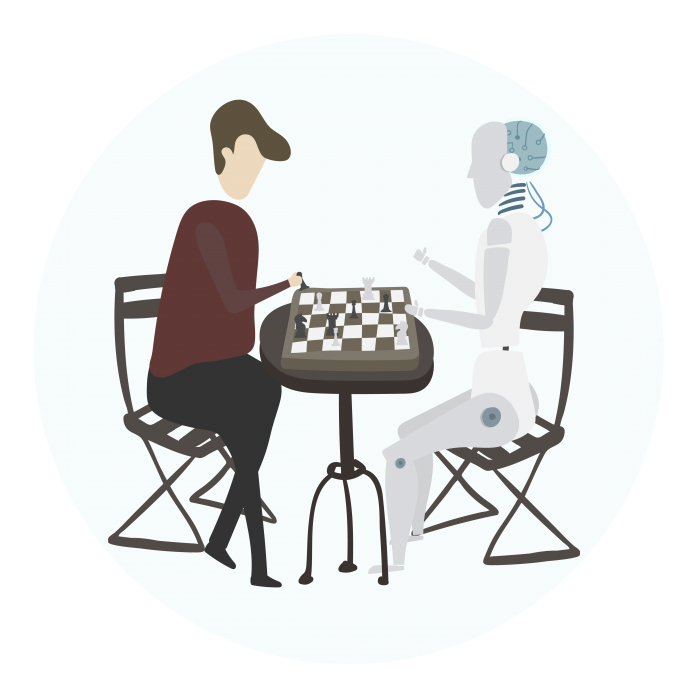 Believe it or not, but ad tracker can not only help affiliates to track their campaigns but provide the automation benefits Traffic Sources and Affiliate Networks have all together. On the example of tracker RedTrack let's see how it helps to free up some effort in running your ad business as an affiliate marketer. 
Automated campaign optimization -- Smartlink replacer.
Though smartlinks are often presented as the last word in the world of technology, technically it can be replaced with the lines of code. It's not only AI that can steer your traffic in the right direction. In fact, a set of automated algorithms can make it much better. Their main advantage is that they don't sample data to draw any kind of conclusion. Instead, they fully adapt to your needs and act in full accordance with your established rules.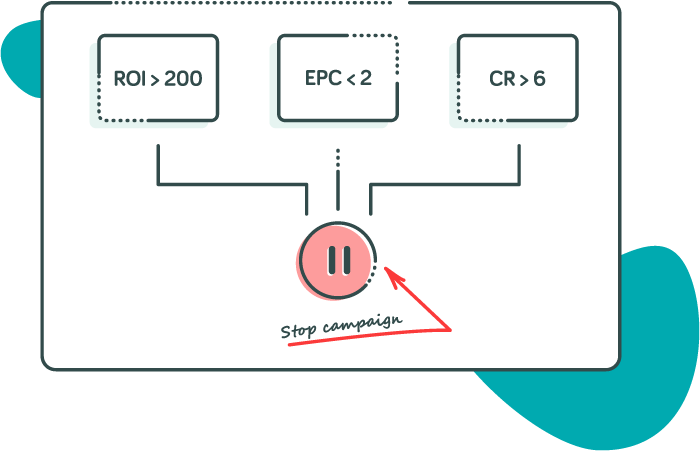 Without naming it as smartlink or AI technology, RedTrack has introduced its auto algorithms. It automatically distributes traffic between the offers within a campaign once it receives a set amount of conversions. It guarantees that the offers with better performance would receive most traffic that ensures your budget is spent wisely. 
Such metrics as CR, EPC, and ROI are among the key indicators of an ad campaign performance. The possibility to set desired KPIs for your campaign and automatically pause sending traffic to them if metrics are not met is the solution that would ease and speed the testing process for all media buyers.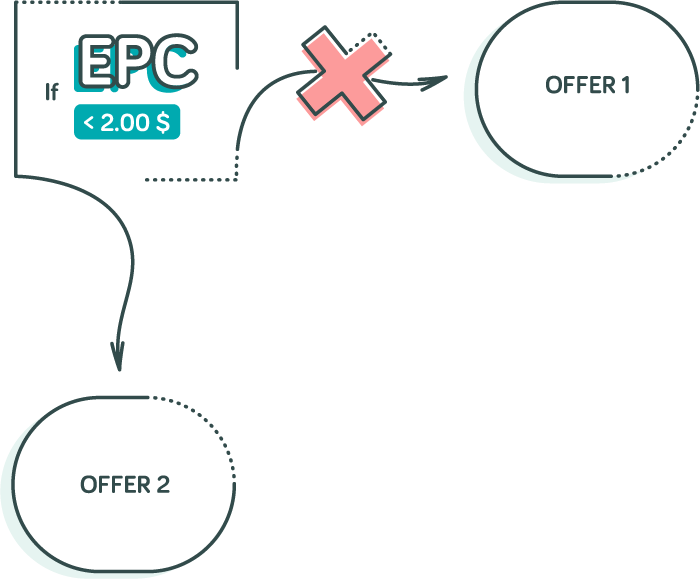 The way it works at RedTrack is very simple. Now you create rules to indicate which metrics should your offer / lander get (e.g. EPC not less than $1) and if this KPI is not met, RedTrack automatically pauses the traffic on the source side or distribute it to the other offer. Currently, RedTrack supports its functionality for a limited number of sources, like MGID, PropellerAds, ExoClick, Google. 
Automated traffic distribution based on quality.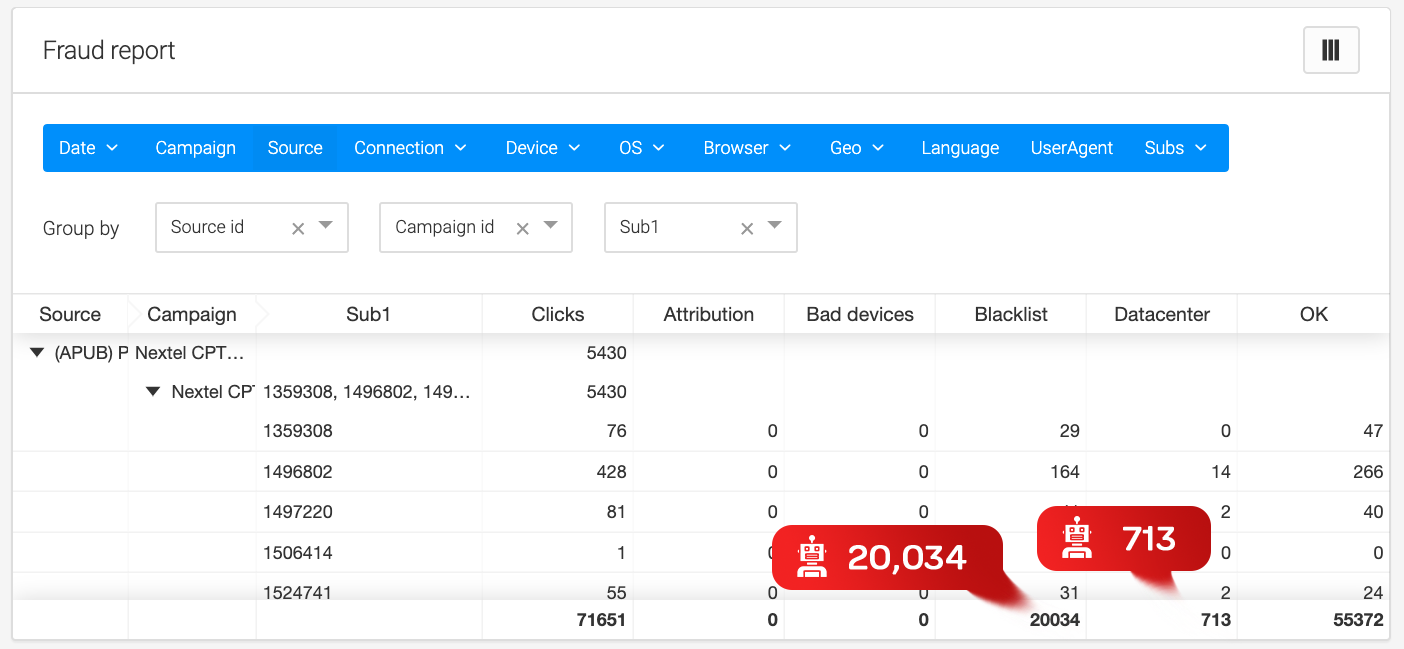 To be in full control of your traffic, you can set special rules when RedTrack should automatically pause traffic in a particular traffic source if its quality is suspicious. This rule works together with fraud reporting feature and is aimed to prevent your ad budget from loss of money.
Many affiliates still have to constantly check traffic values on the source side and put them manually into their ad tracker to update statistics. Auto-update cost functionality saves you a lot of time that you would otherwise spend updating cost data manually. RedTrack reads cost data from your Traffic Source via API, updates and reports the states like profit, ROI, and EPC with up-to-date information. Currently, RedTrack supports its functionality for a limited number of sources, like Google, RevContent, and MGID. 
Having set all these automation tools means you can focus your attention on something else, like creativity or business growth and scale. Free time is one of the biggest benefits and reasons why affiliates adopt these auto-something solutions so eagerly. 
Share the article

Read. Learn. Do. Earn more money on Affiliate Marketing
Don't miss