What is AdF.ly?

AdF.ly is a URL shortener that pays the publishers of the shortened links by giving them a percentage of the advertising revenue. Publishers earn money through AdF.ly by placing the shortened links on their online stores or social media accounts.
Each time a visitor clicks on the AdF.ly links, they initially view a full-page ad for 5 seconds before the Skip Ad button appears. After that, the visitor can continue to their destination. AdF.ly shares the revenue from the advertisements with the publisher of the link.
Also, AdF.ly allows you to view your account status and earnings. The platform allows you to create new links even when you are on the move using your tablet or mobile device.
History and Overview of AdF.ly
AdF.ly was founded in April 2009 by James Simpson. It is in the affiliate marketing and online advertising industry. It is one of the oldest online companies for affiliate marketers who are seeking to monetize their links. The company has kept growing because it offers, and it has upgraded its tools and features. The main focus of AdF.ly in the industry is shortening monetized links and pop ads.
Most people who use AdF.ly want to take advantage of internet traffic to make money. The platform's main users are divided into two main groups: digital influencer and social networking users. Digital influencers include streamers, bloggers, podcasters, and YouTubers. Social networking users include those who use Twitter, Facebook, WhatsApp, and Instagram. If you are a digital influencer or social media user, AdF.ly is a great option to make money.
How to Use AdF.ly
Links are dynamic and can be found everywhere, including the offline world. You can directly share the monetized links on social networks, such as WhatsApp, Twitter, Instagram, and others. It allows you to send the link to family, friends, and the entire world because they are all connected through the internet.
You can also make money through your blog or website on the internet. You can shorten the links within pages. Also, you can use pop ads to earn more income. Furthermore, you can send the shortened URLs through push notifications, SMS, email, and other physical and digital media. The success of your campaign is dependent on your strategy and creativity. The payout rates are available on the platform average between $1.60 per 1000 views and $16.60 per 1000 views. Your actual earnings from your AdF.ly campaigns will be determined by:
Placement of ads on your blog or website
Quality of traffic on your site
The number of people clicking the shortened URLs
The location of visitors seeing your ads
Why Should You Use AdF.ly?
Contrary to other techniques of making money online, such as banner views, commission per sale, or clicks, AdF.ly just needs you to have a shortened link and a person who wants to access it. The platform does not require you to convert sales or to have clicks and views on your banner.
Earning from AdF.ly campaigns does not require you to have professional experience in blogs, programming, websites, and marketing. Although having a blog or website is essential in generating traffic, AdF.ly is simple and easy to use. Having only one link and a person to visit it, you can start earning a few cents. If you have an effective marketing strategy, you can earn from a hundred dollars to thousands of dollars.
How to Create an Account in AdF.ly
Visit the Official AdF.ly Website and click "Join Now."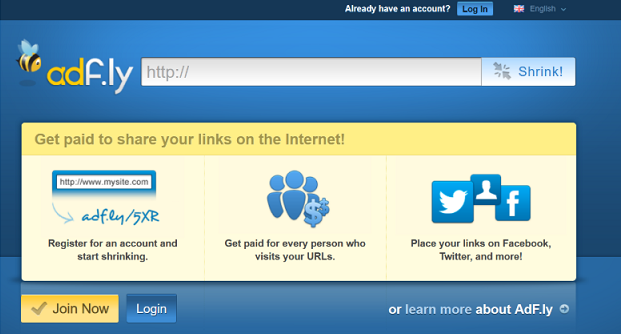 After clicking Join Now, fill in your details. Also, the platform allows you to log in using your Google account. On the account type, you have the option of signing up as a Link Shrinker or an Advertiser. In this case, we will sign up as a Link Shrinker because we want to earn from the visits. Click that you agree to the platform's terms and conditions. Click Sign Up.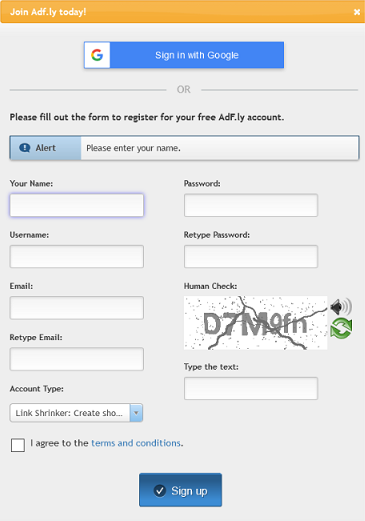 After signing up, AdF.ly will send you a verification email. Ensure that you have verified your email within three days. In some cases, you have to check your Junk/Spam folders to access the verification email.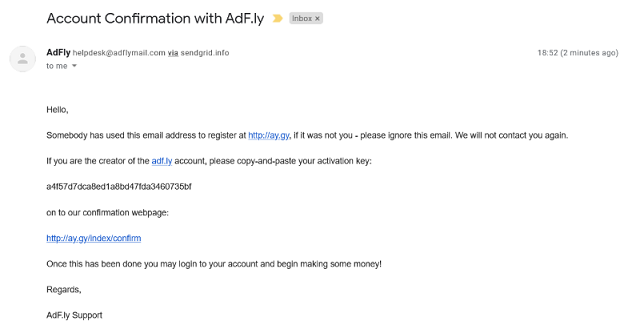 You can only verify your account by copying and pasting the activation key on the confirmation webpage. Then click confirm registration.

You will get a notification that your account has been successfully confirmed.

Your new account will appear, as shown below.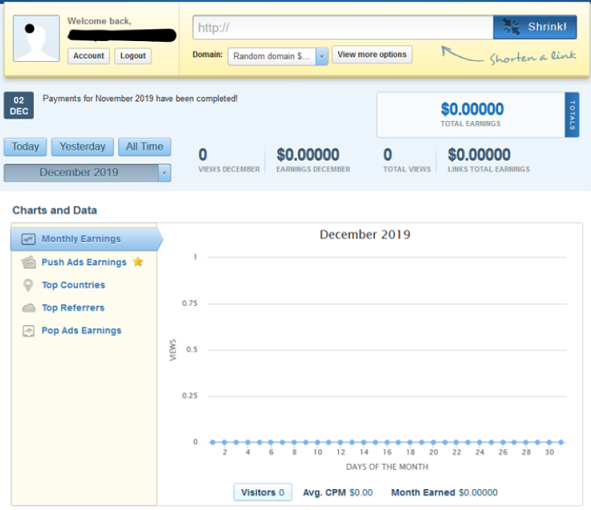 On the top side of the platform, you will insert a URL, shrink it, and then share it on the social media accounts, and through other means. You will be able to view your total earnings, views per month, total views, and links total earnings. On the left side, you will view your push ads earnings, top countries, top referrers, and pop ads earnings. On the right side, the chart will allow you to monitor your views daily. Also, it will show you your visitors, average cost per mille (CPM), and month earned. CPM means cost per thousand views.
Ways of Shortening Links in AdF.ly
There are two types of shortening links in the platform: interstitial and banner. Each technique has its own strengths and weaknesses. There is no wrong or right option. The platform gives you the opportunity to select the best way of shortening links that best addresses your needs. Both ads have unique traits that will yield different outcomes.
Interstitial Format
Interstitial advertisement is when the entire page is an advertisement, and it is necessary to do a manual action to visit the original links, such as pushing a button. When used in AdF.ly, a shortened link that uses the interstitial format forces the user to view an ad for at least 5 seconds before being able to click the "Skip Advertisement" button. This ad is quite common in YouTube videos.
Interstitial ads are quite aggressive, and it has a higher financial income because users are forced to view the ad. However, it is very aggressive and may be annoying to the user. Also, you do not access the original link immediately.
Banner Format
It simply uses a banner added at the top of the original link. In this situation, users have already accessed the content they desire. The user has the option of closing the AdF.ly banner and eliminating the advertisement from their screen without taking any action.
Although the technique is less intrusive, it yields fewer views to the affiliate marketer. One can simply ignore the ad. Ultimately, the affiliate marketer will experience the lowest billing per link.
Pop Format
The pop format is similar to the interstitial format. One of the main features of the pop format is the "Show on Skip Ad Button." The feature ensures that when a person clicks the Skip Ad button, the ad will appear there. It is an aggressive way of advertising, and people will have to view the ad.
Recommendations
You should prioritize interstitial ads on external links, such as blogs or websites. It should mainly be used on links that often receive high traffic. However, you should avoid using interstitial ads on links that have an action to be done, such as making a registration.
Banner ads are ideal for links that receive little or minimal traffic. It is the best ad for links that require an action to be done, such as making a registration.
For each situation, it is advised to evaluate and identify which advertising format fits your needs. The ad format has an impact on your earnings. Take your time to understand your needs and the outcome of the ad before identifying the best ad format. Choosing the wrong format can cause lower monetization or lower visits. Notably, all links can be edited after they were created. AdF.ly allows you to change the ads at any time.
How to Generate Traffic in AdF.ly
Social Media
Notably, AdF.ly links are not illegal or banned in any social media platform. However, they are banned when you start spamming other users with the shortened links. You can link your Facebook and Twitter accounts to optimize user coverage. The same information you post on Facebook will be automatically shared on your Twitter account.
For instance, if you have 200 Facebook friends and 200 Twitter followers, then it means that a single AdF.ly link will reach 400 people. Whenever other people share your link, it becomes a win-win situation for you. The best time to post on any social media network is when most people are online.
Do not post bare links on your social media accounts, include an attractive text to the URL. The attractive text should be related to the content. For instance, your shortened link may be related to "dropshipping via Instagram." You can write it in your post or status like:
Learn how to boost your Return on Investment (ROI): Dropshipping via Instagram. Just follow the link to know how to make more money in 2020: http://locinealy.com/3cRo
Through this technique, you can grab the attention of your family, friends, and social media friends and followers. You can share the links with friends and family when having a conversation. If they are impressed by your links, they are highly likely to share your posts. If you do not have a social media account, such as Facebook, Twitter, Instagram, or any other, create one. Also, follow people whom you have similar interests, such as your niche.
To search for people who are related to your niche, type the keywords that are related to your niche in your Facebook, Twitter, Instagram, or any other social network's search bar. It will allow you to find thousands of people with similar interests.
Websites and Blogs
It is one of the most effective techniques for generating traffic. However, the technique is time-consuming. You can decide to monetize all your site's links and pages using AdF.ly. If you have quality content on your website or blog, one visitor may visit your site regularly. You may end up with more than ten visits on the shortened links on your site from one visitor.
The technique is time-consuming because you have to set up your site in such a way that it is attractive to clients. Also, you should increase the number and quality of posts or contents. Achieving attractive and quality content cannot be achieved in a single day. It may take a week or even months to get it right.
You should optimize your posts using keywords so that you get better ranking on search engines, such as Google, Yandex, Bing, and many others. When you have better rankings, you can drive massive traffic to your site. However, you may already have a blog or website that has quality content and good traffic. You are already prepared to make money very fast. You can simply monetize your links, pages, or posts with AdF.ly.
YouTube
You should start looking around major "Breaking News Websites" or other sites to identify a video with the potential to go viral. Some of the videos that have the potential to go viral include wardrobe malfunctions or live TV stuff-ups, such as celebrities in weird situations or famous people swearing live on air.
When you identify a good video, you have to act fast. Upload it on YouTube and ensure you have a good title, tags, and description to attract a large audience. Take a break for a few hours and submit the video to various online platforms, such as blogs, websites, and other platforms with large numbers of visitors.
When you start getting thousands of views or hundreds of views per minute, you can monetize the video. Create an AdF.ly link that requires users to view the ad for five seconds before viewing the video. There are many ways of generating traffic so that you can earn on AdF.ly.
How AdF.ly Pays its Members
AdF.ly pays its members through Payoneer, PayPal, or Payza. The minimum amount that AdF.ly pays to its affiliate marketers is $5. The minimum withdrawal for Payza and PayPal is $5, while Payoneer is $10. Payments are made on the first day of each month as long as you have reached the minimum withdrawal amount. If you do not have an account with the three payment platforms, open an account and add the details to your AdF.ly account.
Conclusion
If you have an office job, you may need an extra source of income. Also, if you are an affiliate marketer, you may need to make income on different platforms. If you have a social media account, blog, or websites with a huge audience, you can monetize it using AdF.ly and earn extra income. The review has given a good review. Now it's up to you to start making more money in 2020.
Share the article

Read. Learn. Do. Earn more money on Affiliate Marketing
Don't miss