Gambling vertical is becoming more and more popular especially now, during the world pandemic. There are lots of traffic types you can run gambling with but surely push notifications have priority over all other formats. How to run gambling campaigns successfully using push traffic? Find out right now!

Choose GEO in Asia, Africa or Latin America
Usually, push traffic converts great in Tier 1 countries, for example, Germany, Canada, and Scandinavian countries. But they are not always appropriate for all budgets due to quite high competition.
That's why we recommend choosing countries in Asia, Africa as GEOs. India, Thailand, Vietnam, Malaysia, Nigeria, Kenya, Ghana are the best options if you start and have limited budgets as they are becoming more and more popular during the pandemic. These GEOs have great traffic volumes as well as lower bids and competition.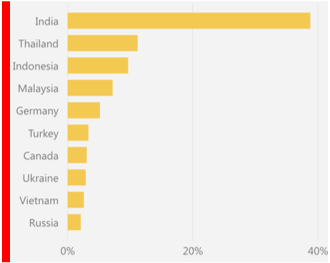 Clicks by GEO at RichPush ad network in gambling vertical
Use 3-5 (up to 10) unisex creatives
Don't hesitate to use creatives that allow reaching both men and women. Yep, women gambling as well. Try not to lose this audience segment and make unisex creatives. This way both genders will click your notification equally.
Speaking of number of creatives, don't choose one and only variant. You should have a few options to make a/b testing and identify which creative converts better. We recommend using at least 3-5 variants. But the amount can reach 10 different options.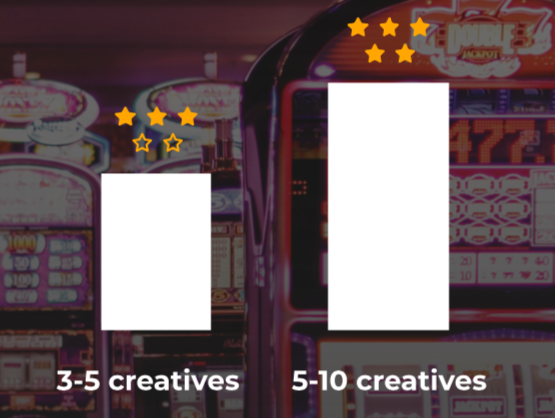 Create separate campaigns for mobile and desktop
There are no strict preferences in choosing mobile or desktop types of campaigns: they both work great with user acquisition. But don't forget that there are different costs of bids for mobile and desktop campaigns, so it will be incorrect to create one campaign. We recommend creating 2 different campaigns for mobile and desktop to cover all possible audiences and save your money.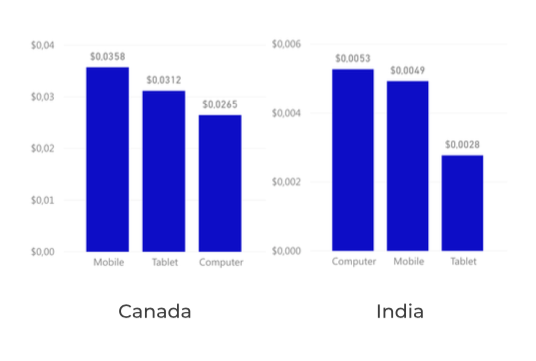 Average CPC by device
Set up browser language and change the language of your landing page
Make research concerning the language of the offer's audience. In spite of the fact that lots of people in Western Europe use English, don't forget about native language options. This way your creatives will look more loyal and cover a wider audience. This point is especially important for multi-language countries, for example, India (Hindi and English), Canada (English and French), or Belgium (French, Dutch, and German).
You can limit impressions for the audience that don't use a certain language after setting up browser language. In RichPush, ad network you can find targeting according to browser language — make creatives in different languages and you will reach "your" audience.
Set up timing and schedule
On this stage psychological factor is especially important. Usually, people visit online casinos in their spare time. The best options for running are evenings after work and weekends. But now, during isolation, they spend at home all day long. That's why it's much more complicated to define the time of their activity.
We recommend launching your campaigns without any timing and schedule. Then check a certain period and analyze statistics. But pay attention that statistics is not always real-time.
Use different types of titles for creatives to increase CTR
One of the most important parts of sales funnel in running traffic is creative. All the parts (title, icon, text, and the main image) should reflect the offer's sense and attract users.
Here are 3 working formulas for creatives' titles with examples:
Personal messaging titles
Talking person to person is one of the great possibilities of push ads. Personal appeal increases CTR significantly.
Titles with hidden effects
Your title should generate curiosity. Users should find answers to their questions only when they visit a certain website of the online casino.
Such titles are typical for advertising texts. They make users think that important information or an interesting story is waiting for them on the landing page. News always attracts attention and makes the user click your push.

To know more useful tips on running gambling using push traffic in 2020 register for FREE RichPush webinar!
📌 Topic: "How to run successful gambling ad campaigns in 2020 with push traffic"
Share the article

Read. Learn. Do. Earn more money on Affiliate Marketing
Don't miss