Reddit is one of the largest Q&A websites with traffic of more than 1.4 billion people per month. One of Reddit's nicknames is "the Internet's home page" so it's something to think about. 

In addition, Reddit is the most friendly platform, so you should definitely consider it as an advertising platform. 
However, there is one unwritten rule — you should be a "Redditor", not a marketer. Your ad will get the best response only in this case.
Let's take a closer look at the audience and ad settings.
Reddit Audience
According to SimilarWeb, about 50% of Redditors are American.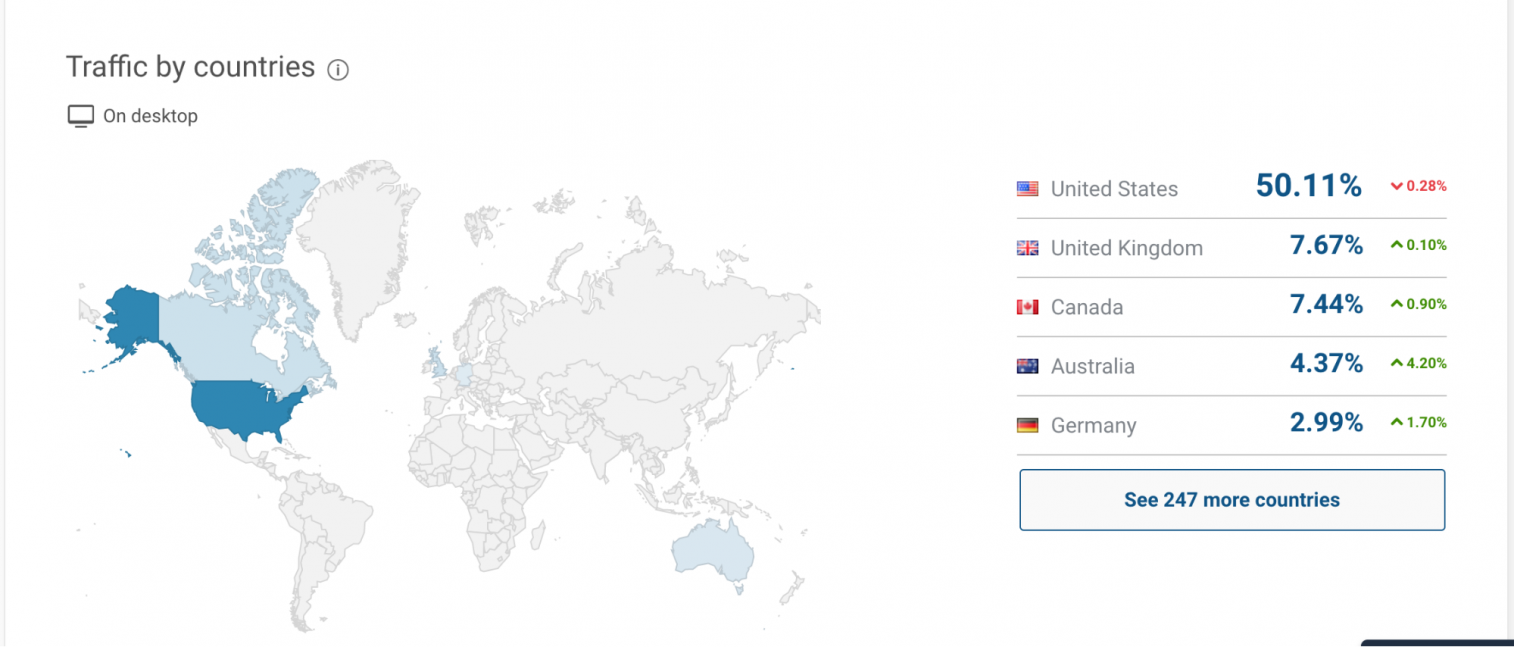 70% of all Redditors speak English, 79 % of users are from 18 to 34 years old, 42% have a higher education, and 35% earn more than $75,000 a year.
When working with advertising offers, we recommend choosing those that are focused on the United States.
Make sure that your offer doesn't violate the company's policy. You will definitely not be able to get approval for ads for weapons, products that violate US trade policy, or counterfeit goods. But you can advertise gambling and related apps.
Launching ads on Reddit
There are two promotion options on Reddit:
banners in the site's sidebar;
promotion of publications.
Banner advertising is available only through the Sales Department, so let's consider the second promotion option.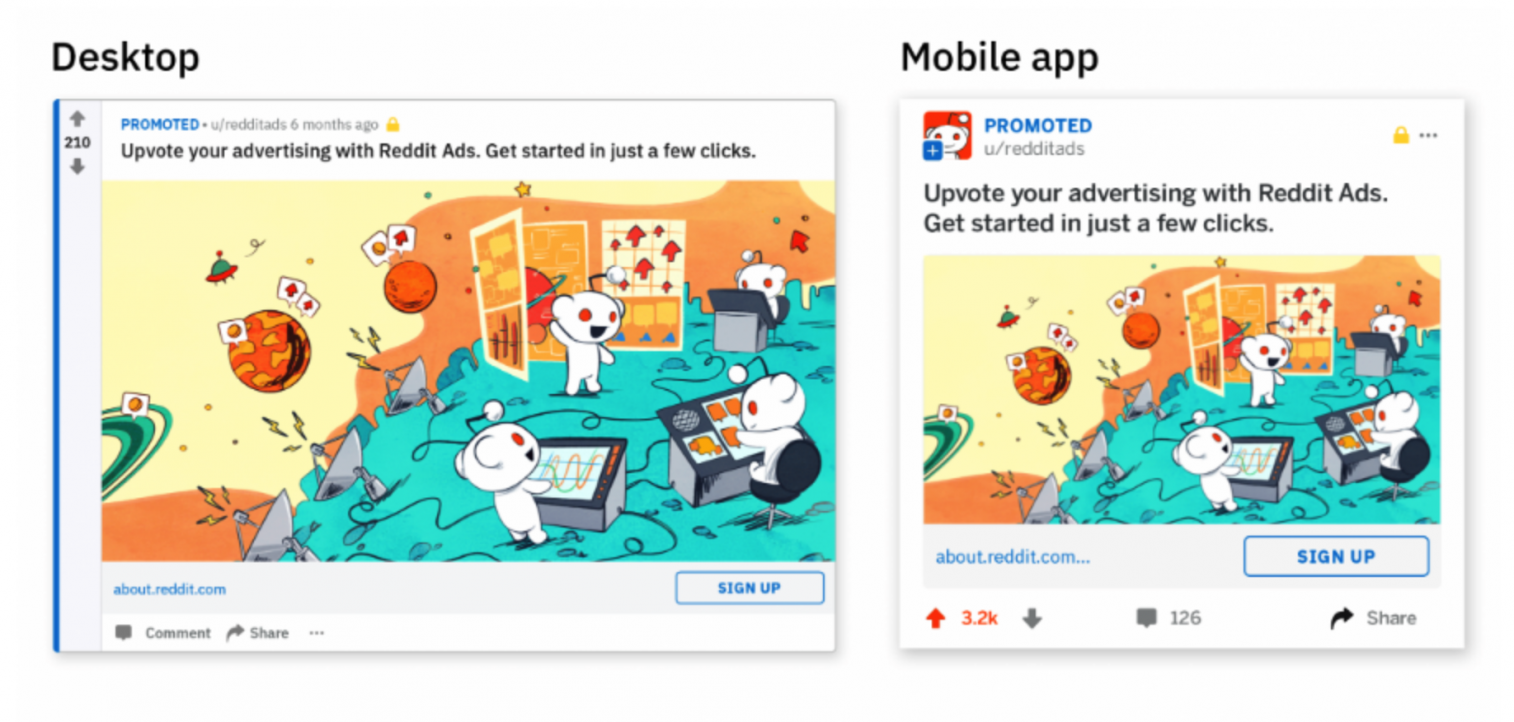 To start working with the advertising account, you need to go to the website and click "Create an Ad".

Next, we need to fill in the account information. In the Username column, specify the name of your company or offer. Others are filled in as standard.
After that, fill in the card data. Remember that Reddit works on a postpaid basis. Now your account is ready to purchase ads.
There are several types of ads on Reddit:
Traffic;
Brand Awareness and Reach;
Conversions.
Choose the one that suits you and start setting up your audience. There are several types of targeting: geo-targeting, targeting by interests, targeting by specific subreddits, and device targeting. Let's look at each of them.
Geo-targeting
You can set up targeting by country or by state. If you don't specify anything, then your ad will be displayed on all geo.
Device targeting
By default, your ads are served on all platforms. You can adjust it and work only with mobile platforms or with desktop.
Targeting by specific subreddits
Subreddits are categories on the platform that are dedicated to specific topics. Reddit advertisers can target users who have recently interacted with certain subreddits or subscribed to a subreddit. 
Targeting by interests
You can use Reddit ads to target users who have recently interacted with certain categories of content. Here is a list of current interests that you can target with Reddit ads:
Animals
Design and art
Cars
Business and Finance
News and Education
Entertainment
Gambling
Fashion and Style
Food and Drinks
Family
Healthy lifestyle
Sport
Technologies
TV
Traveling
You may have noticed that gambling is not prohibited, but you can only run gambling ads through the Sales Department.
Campaign budget
The next step is to specify the budget that you are willing to spend on promotion. Keep in mind that payments are made using CPM, so don't forget to specify daily budgets. The minimum daily budget is $5. The minimum budget for the entire validity period is formed at a rate of $5 per day. 
The minimum CPM rate is $0.5, and the maximum - is $100. Reddit can spend up to 20% over your daily budget. 
Ad creation and moderation
There are two types of promotion: going to a site and going to a post on Reddit. If you need to go to the site, select Link Post, and create an ad. The size of the ad text is 300 characters. The displayed image is 1200×628.
You can remove the ability to comment on it if you are afraid of negative comments. 
Then send it for moderation.
Moderation takes one business day and is performed manually. If your ad is not approved, you will receive an email explaining why it was rejected.
Conclusions
The Reddit audience is loyal and picky at the same time. You must become a part of the community to understand how the audience reacts to a particular ad. Take a closer look at the existing ads and read the comments. And only then test it on your offer.
Ads must be as native as possible and useful.  Otherwise, the audience will reject it.
Track the trends of the country you are targeting. The hype is all we have.
Don't forget to configure the pixel so that leads are shown correctly in statistics. 
Ads.reddit is not available in many countries. Work via proxy and VPN.
Share the article

Read. Learn. Do. Earn more money on Affiliate Marketing
Don't miss