Today sport is not only worldwide popular amusement but also a profitable way to earn money. People are betting on sports and satisfy their need for passion.

There always have been lots of sports events in different countries but pandemic has changed everything this spring. Lots of sports events were canceled and the whole industry collapsed.
Now in post-COVID-19 times betting industry is gradually coming back to life. Affiliate marketers can run betting offers again and make even more profit as the niche is not overloaded after the break. RichAds team is ready to give you TOP tips that allow increasing your performance in running betting ads.
Choose traffic type properly according to your needs, experience, and budget
There are lots of different traffic types each of which is appropriate for betting vertical. It's important to make the right choice not to lose money and make as much profit as possible to manage your resources properly. We recommend using 3 ad formats: push, pops, and native.
PUSH
You can use personal messaging to the customers in the form of push notifications to make users more loyal and increase engagement rates. Moreover, push notifications have a lower price (as compared to other ad formats). There are few rules and regulations that's why you can advertise products that will likely be banned on Facebook, for example. One more advantage is huge traffic volumes.
POPS
This format is the easiest one which is perfect for newbies. You don't need to make creatives and think about different variants making a/b testing.
NATIVE
Only affiliate marketing professionals can cope with this ad format that's why it's not very suitable for newbies. Your ads will perfectly match the website's content and won't be perceived as ads at all. This non-irritating format will show nice results. Also, native ads often require pre-landing pages.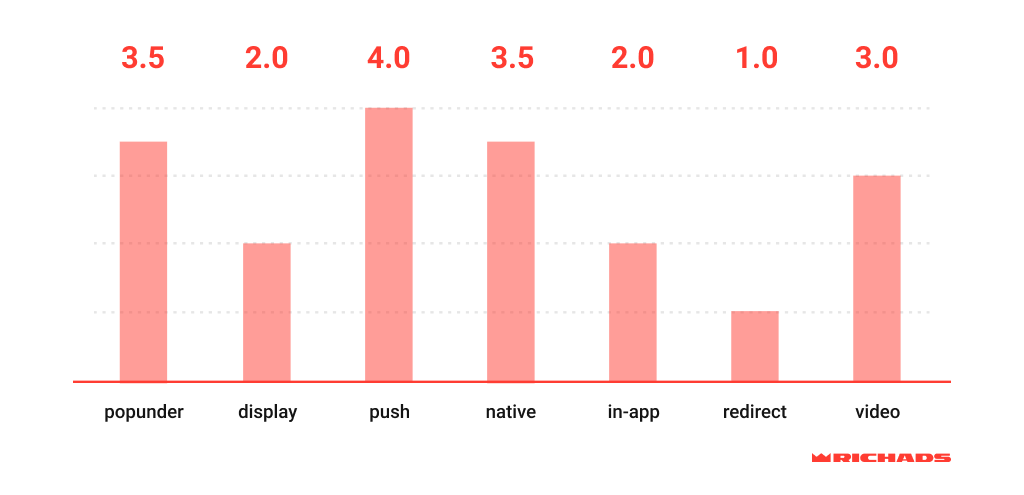 Start your betting campaign with CPL, CPA, or CPI deals
We recommend newbies using CPL (cost per lead), CPA (cost per action), or CPI (cost per install) payout models. The steps for which you will get money are easy – registration (email or phone number verification), making a deposit, or installing. In this case, you will hardly earn much but this way is perfect to understand how betting vertical works. Speaking about Tiers, for the first tries, Tier 2 and 3 are the best options.
You can also use the RevShare model but it's more difficult to start with as you should know how to optimize the campaign and get the necessary statistics for it.
Don't forget to know the peculiarities of the platform you work with as your success partially depends on it.
Use wide targeting options and don't forget about blacklisting strategies
Don't implement too narrow targeting in your first campaign as your audience must be as wide as possible to get statistics for further optimization. Choosing between blacklisting and whitelisting strategy we recommend referring to the first one.
If you use whitelisting strategy users from your whitelist will get the same ads a few times. In this case, you should spend at least 10% of your budget on testing new sources in a separate campaign. That's why using whitelists may require a larger budget.
Preparing creatives remember about regular and exclusive events
All betting events can be divided into regular and exclusive ones. Regular events are standard and recurrent. They are held quite often and have lower popularity rate. Exclusive events are usually resonance final matches or events with high popularity (for example, football matches or boxing fights). For these two types of events, bettors use different kinds of creatives – regular and exclusive.
Exclusive creatives ideas
Competitive spirit and emotions are the most important points of any betting campaign. Showing famous players, dynamics of the game, or emotions will work with both regular and exclusive creatives. Use these tips if you want to get high CTR!
Regular creatives ideas
For regular creatives, you can use images with beautiful girls. It's not a secret that bettors are mainly men. That's why these creatives will work nice and attract attention. Also, you can use the idea of money as all the players want to win and get profit.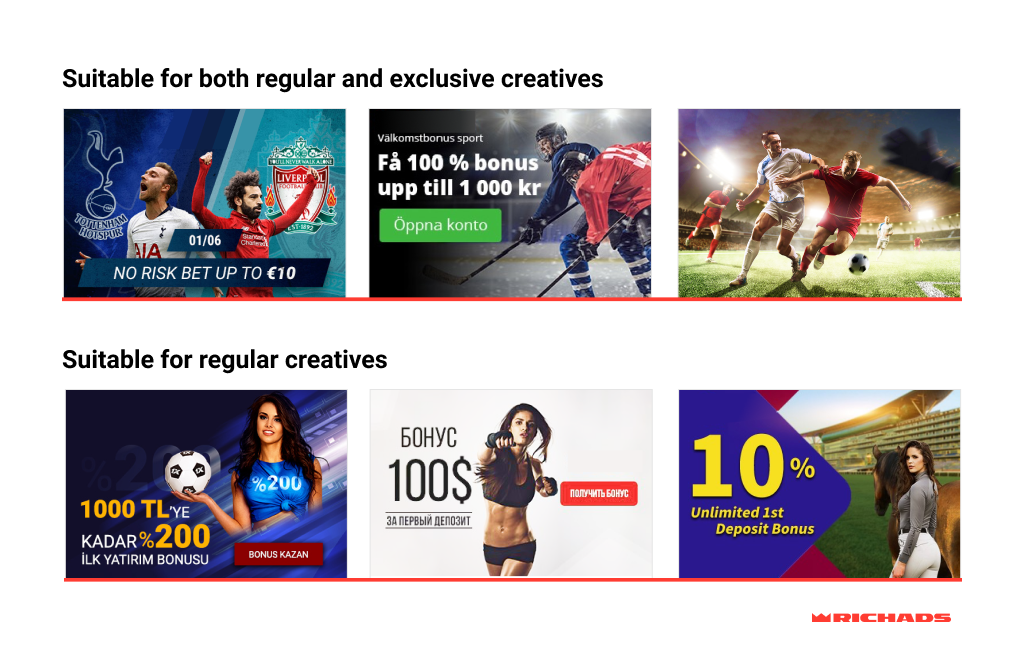 Use landing and pre-landing pages with basic key elements
Landing or pre-landing pages are especially effective with push ads. We highly recommend using them since usual direct links not always lead to conversions. But testing is the only opportunity to know what works in your particular case.
Key elements:
famous players or teams;
steps for getting a bonus;
use risk-free bet to attract attention;
add numbers;
make CTA-button.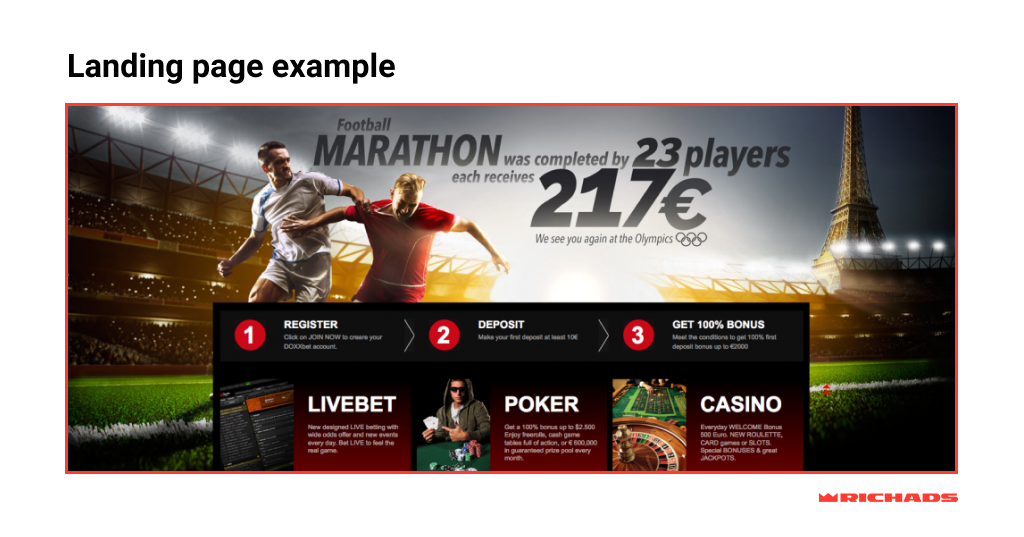 To know more about betting: best GEOs, tips on creatives and landing pages, testing and optimization tips register for FREE RichAds webinar "Betting on push ads. How to run like a PRO" 📚

Share the article

Read. Learn. Do. Earn more money on Affiliate Marketing
Don't miss