Affiliate World Asia 2019 is one of the biggest affiliate conferences in the world. That is why we have prepared this ultimate guide. You will find all the information concerning the conference, from its history, reasons to attend, event information, to what to do in Bangkok.

How Affiliate World Asia began
At first, the conference was meant to bring to life the STM forum discussions. It all began as an STM meetup and has grown into a company of its own. The meetups became a full conference in 2015 and are now considered to be one of the largest affiliate events in the world. Starting off as newbies in the world of affiliate marketing, today these guys are recognized as one of the best events in the industry!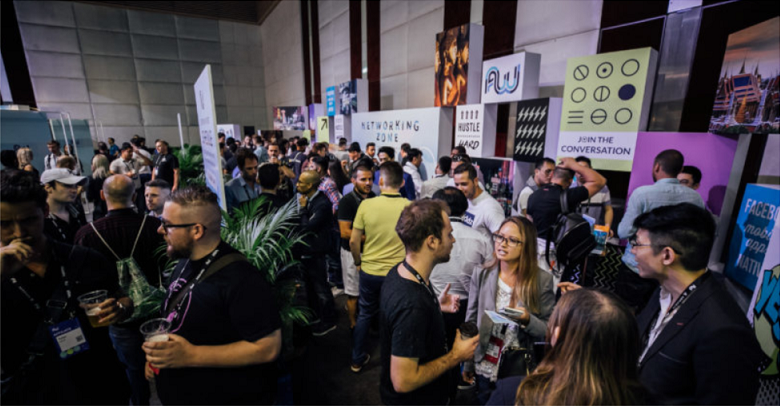 Why attend?
Affiliate World Asia has brought another world-class event for everyone involved in the affiliate marketing industry worldwide. More than 3000 attendees from around the world with the opportunity to meet old and new friends.
30+ speakers with top content that will enlighten you about the affiliate industry. It will grow even bigger in next year's event that will be held in Spain. So, you can start making plans on how to attend.
This event will have more than 190 exhibitors.
You will have the opportunity to network with the brightest minds in the industry who have made up to 7 figures and listen to experts in every sector of the affiliate marketing world. 
You will be able to connect with your peers and like-minded people to share ideas and push your career forward. 
Don't miss the opportunity to attend the pre and after-parties.
Last but not least, you will have the opportunity to visit the famous Bangkok and witness all its wonders.

Event Overview
This event is constantly growing and continues to grow larger than the previous conference. Let us guide you on what you should expect.
Main Speakers
Affiliate World Asia has brought together some of the best experts in the Affiliate marketing world. You will have the opportunity to listen to the best as they share their experience and knowledge with you.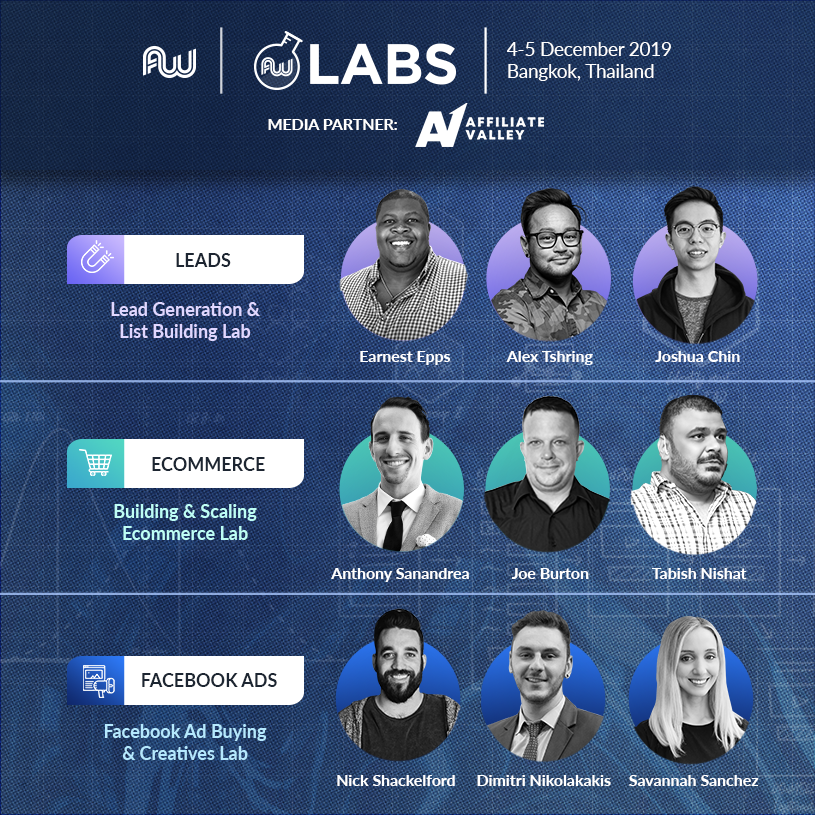 Nick Shackelford - Top Facebook Ads Specialist
Nick will be talking about "Inside the Mind of Nick Shackelford | PLUS: Live Interactive Creative Contest". Nick has quickly become one of the world's leading ecommerce and Facebook marketers. He manages several 6-figure ad budgets for massive brands. With his impressive resume, Nick has seen almost every situation and can push through with actionable tips.
Anthony Sarandrea - Top Ranked Lead Generator in the U.S.
He will be sharing his thoughts on "How to Build an 8-Figure Lead Generation Business from Scratch". Anthony Sarandrea is recognized as one of the top customer generators in the world. He specializes in the financial services, mortgage, and insurance space, where he runs a team that drives over 1 million customers a year.
Dimitri Nikolakakis: 8-Figure Growth Marketer & Agency Owner
Dim Niko and his team at DimNiko.com agency consult multiple 7- and 8-figure ecommerce brands, amongst other businesses. 
Savannah Sanchez - Facebook & Snapchat Ad Authority
Savannah will be giving a talk about "The Ultimate FB Experiment: CBO vs Expert Methods". Savannah leads the team of Facebook and Snapchat media buyers at Common Thread Collective, one of America's most in-demand ad agencies. 
Georgina Green - Mobile App KPI Specialist
She will be speaking on "How I Make $200k a Month Promoting Mobile Apps in Tier 3 Geos". Georgina has over 9 years' experience in the ad tech field. She is the founder and COO of GMT Hub, a marketing agency focused on connecting apps with the right traffic sources.
Check out the full list of speakers and their topics.
Labs are back in AWA 2019
We can not hide our excitement about Affiliate World bringing BACK the Labs this year. This is really great news because the labs contributed so much to the knowledge you gained and the connections you created. 
There will be hour-long networking mixers surrounding our Labs.
Networking on our world-renowned exhibition floor where you will mingle with like-minded people and share ideas. 
You will have an opportunity of a lifetime to mix and mingle with our top speakers. The information you will gain from this interaction is priceless.
Details about the Labs:
Location: Bangkok, Thailand
Date: December 4-5, 2019
Link: TBD
Dedicated Labs
Facebook Ad Buying & Creatives Lab
What it is: Facebook Ads crash course plus advanced Facebook scaling blueprint used by 8-figure Facebook ad buyers.
Speakers and Topics:
Nick Shackelford - Inside the Mind of Nick Shackelford, PLUS: Live Interactive Creative Contest.
Savannah Sanchez - Machine Learning on Facebook: Is It Smarter Than a Seasoned Media Buyer?
Dimitri Nikolakakis - Scaling Systems: Pressure Testing $20K/Day Spend on our Advanced Ad Systems for the Annual Q1 Slam.
Lead Generation & List Building Lab
What it is: List building, scaling and creative development methods used by 8-figure Lead Generation experts.
Speakers and Topics:
Anthony Sarandrea - Owning the Customer: How I Built a $100K+ Per Day Lead Gen Business from Scratch.
Joe Burton - The Perfect Funnel for List Building with Native Ads.
Matt Diggity - The 6 Figure Flip Story: Flipping Your Web Property to a 14x Investment with Affiliate SEO.
Scaling Ecommerce Lab
What it is: Ecommerce Marketing crash course covering Facebook, Google, and Email. Plus, advanced paid advertising and growth hacking tactics that 8-9 figure e-commerce brands are using.
Speakers and Topics:
The Tan Brothers & Angus Kong -What it Takes to Build a 9-Figure e-commerce Empire.
Alex Tshring - How We Built One Of The Fastest Growing Brands In The U.S. With Facebook Ads.
Earnest Epps - How to Optimise Your Google Shopping Campaigns to Increase ROI and Minimise costs.
Do not miss this great opportunity to push your career to the next level and create long-lasting business relationships.
Getting to Bangkok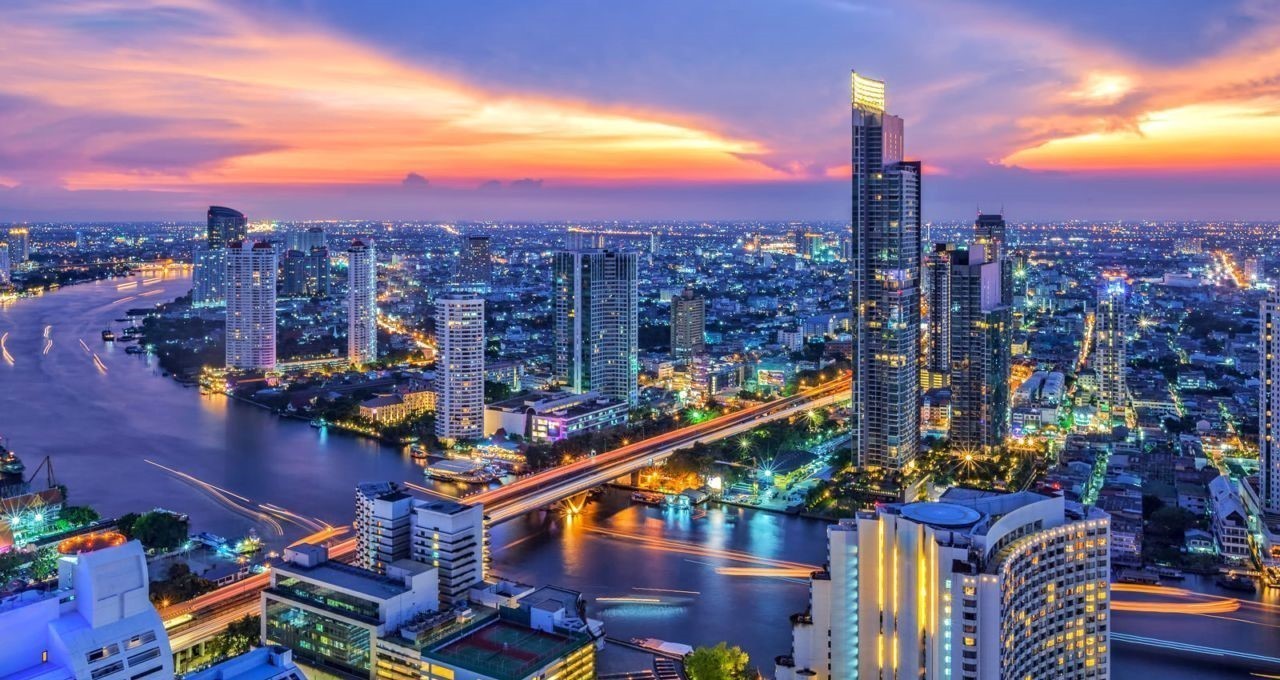 Traveling to another country or city can be exciting as well as troublesome. There are lots of things you need to know about the place you are traveling to. Since this conference is taking place in Bangkok, you will need to do your research to have a good experience when you get there. Luckily, we are here to provide you with that information. 
Getting a visa
Thailand is one of the most popular tourists' destinations in the world, so it is easy to get short-stay visas. Note that the visa requirements will depend on your country of origin. Normally, tourists are granted a 30-day visa with no big issues. You can check here for more information about visas to Thailand. 
Weather
In December, the weather in Bangkok is pretty hot with an average temperature of about 88 degrees Fahrenheit (31 degrees Celsius). So, you should consider what to pack and how to dress. 
Currency exchange
The local currency used in Thailand is Baht. 1 USD equals 30 THB at the time of writing this article. Note that it is always subjected to change. You can follow the link provided above to know the exact rate. Since you are traveling from another country, you will need to change your currency to Baht. Once you land at the Bangkok airport, you can withdraw money from any ATM. This will cost you about $5. To avoid this charge, you can withdraw from your debit card over the counter at a Thal branch bank. You will need your passport for the withdrawal. 
The exchange rates in and around the airports are a bit higher than most branches downtown. One of the best places is in the bank downstairs - Kasikorn Bank. They work from 7 am to 11 pm. 
Average Expenses
The prices in Thailand are affordable and cheap. As with most other places, when the locals notice you are a foreigner, they will charge more, but nothing that you can't afford. For a day, you can spend about 400 Baht on food and 300 on transport. 
Getting around Bangkok
There are a few ways to get around the city which you will get to know in a few seconds:
Tuk-tuks and taxis: these are some of the most abundant means of transport. They are everywhere and are honest at all. Public transportation is the best option. Taxis and tuk-tuks always charge more for a ride. But the good thing is you can bargain the price. 
BTS Skytrain: This is the metro system of the city. It is very cheap and fast. The only problem with this means of transport is that the stops are limited. The closest stops to the conference venue are Chit Lom and Siam. Here is a full map to plan your trips. 
Bangkok MRT: This is the subway system of the city. It is not a large network, but fortunately, it covers the area around the conference. You can find the map here. 
Walking around Bangkok: Walking around the city at this time of the year is possible. But can be a little uncomfortable due to the heat. It is always advisable to download a map and use it to navigate around the city. 
Uber: This is the best option since the prices are international and stable.
Conference location 
Airport to Conference venue and hotels
Moving from the Airport should be a 40-50 minutes drive depending on the traffic. It is a pretty straight road but you should still be able to see some nice attractions. We advise you to take Uber from the airport to the conference venue once you have changed your currency to Baht. It is the safest way and the prices are stable. Here is a map to show you your movement from the airport.
There are many ways to move around the city. The best options are taxis and trains. For booking taxis through your smartphone, check out Grab or GoBike.
If you prefer to use the train, take the Sukhumvit line and get off at Siam station about 700 m from Centara Grand. We advise you to purchase a Rabbit Travel Card.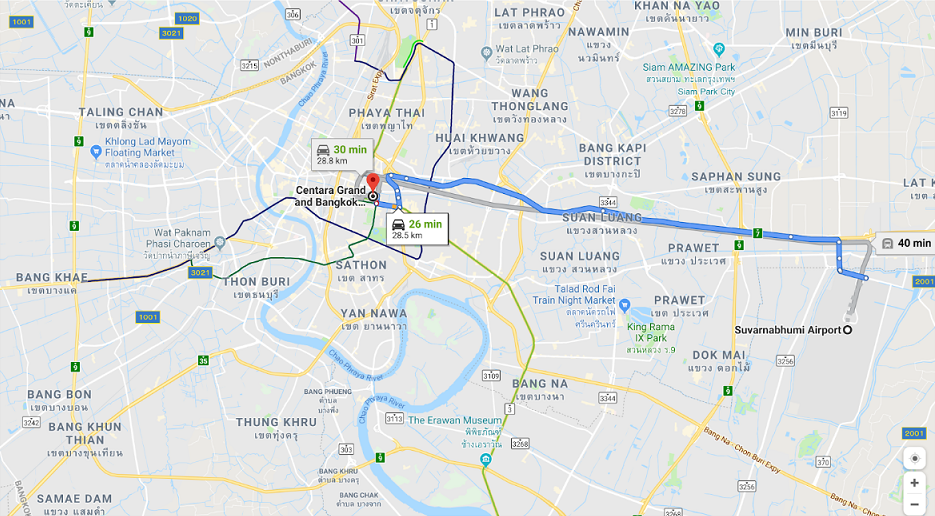 Date: The 2019 Affiliate World Asia conference will take place on the 4th - 5th of December 2019. 
Venue: Centara Grand and Bangkok Convention Centre
Address: Level 22, 999/9 Rama 1 Road, Pathumwan, Bangkok 10330
Hotels and accommodation
Centara Grand acts as the venue for the event and also is the official hotel. This is very comfortable because you will not have to travel again to reach the conference venue. So, we suggest that you book your stay fast because the rooms are limited. You can book your room with a discount using this link. 
Other Hotels to check out
There are also other nearby hotels you book. We have found some hotels for you to choose from. You will also have discounts and promotions for each. Here are some of the hotels available:
Novotel Bangkok Siam Square - This hotel has many facilities including a large outdoor pool, sauna room, day spa and fitness center at affordable prices.
Grand Hyatt Erawan Bangkok - This is a 5-star hotel with exotic views of Bangkok cityscape. It has very spacious and luxurious rooms. 
Siam Kempinski Hotel - This is a very luxurious 5-star hotel that is minutes from the AWA19 venue.
You can find the list of hotels here. 
Food 
Bangkok street food is one of the best in the world. You will not find anything like this somewhere else. The food here is simply delicious. There are no words to perfectly describe it, you need to try for yourself. 
There are also some great restaurants around the conference venue where you can grab something delicious to eat. Here are some of the options we have selected for you:
Emergencies
You always need to be prepared for emergencies. Especially in stressful or difficult situations. Bangkok has the Tourist Police that you can call for your emergencies. They are very helpful. They will offer you assistance in English and you can call them using this number - 1155.
You can also reach emergency services by calling 191. 
To get in touch with other attendees of the conference, you can use the Networking app which will be available soon.
Event Schedule
The full schedule of the event has not yet been announced. But you should be expecting it anytime soon. This event is packed with interesting activities and panels. We will let you know when every detail is available. So, stay tuned. 
Parties
It is impossible to attend such a huge event and return without having some fun. AWA has prepared lots of afterparties for you to attend. Make sure you interact with other affiliates and in the group chats to get the chance of being invited. 
Things to do and see in Bangkok
In Thailand, you will not run out of things to see and do. You will always be in awe. That is why it has been nicknamed Land of Smiles.
You can check the list of attractions here.
Temples and Buddhas
Thailand is known worldwide for its temples and Buddhas. You can find interesting information about them on the web. Here are some of the temples that are close to the event venue:
Wat Pho: This is among the biggest and most popular temples. The architecture of this temple is outstanding and you can see a reclining buddha. It is also famous for its massage therapists. Lots of massage professionals claim that they were trained at the Wat Pho temple.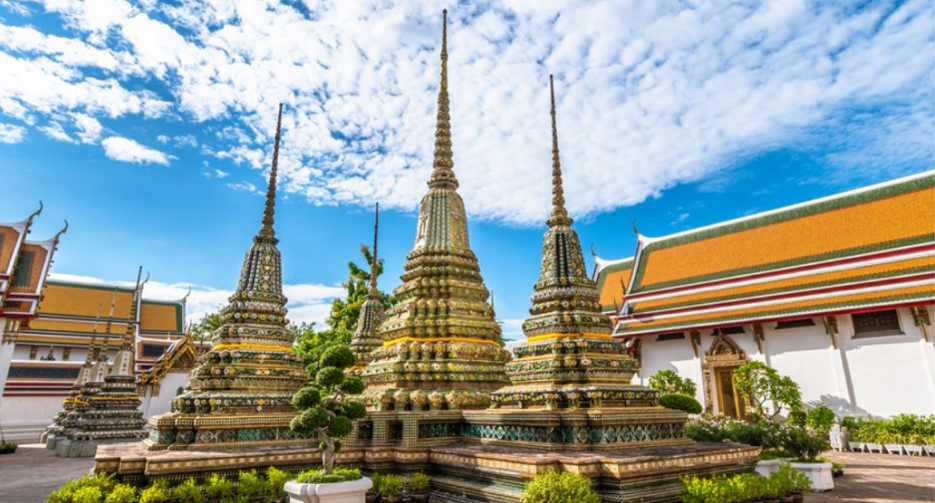 Wat Arun: This is one of the most beautiful temples in Thailand. From afar, you can see the tall, colorful, and ornate temple.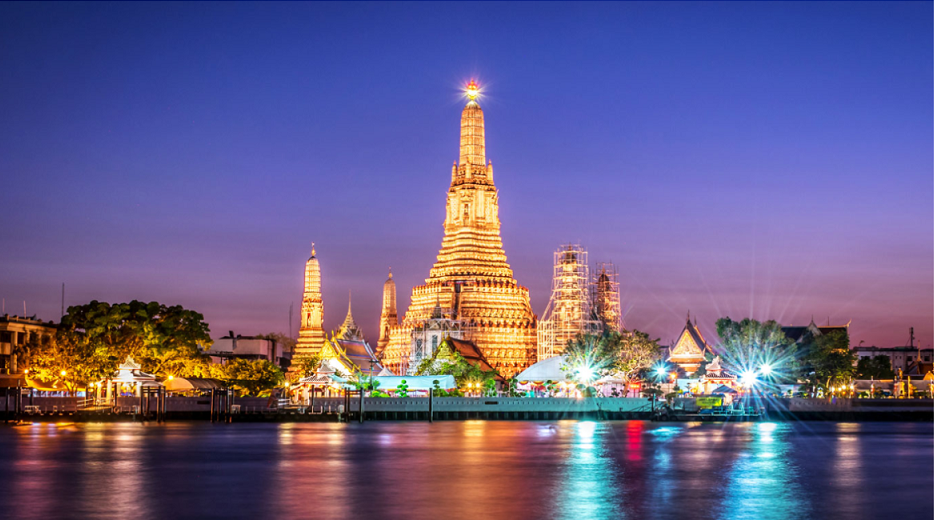 Wat Saket: This temple features a golden tower which can even be seen from the hotel. It is not something you want to miss.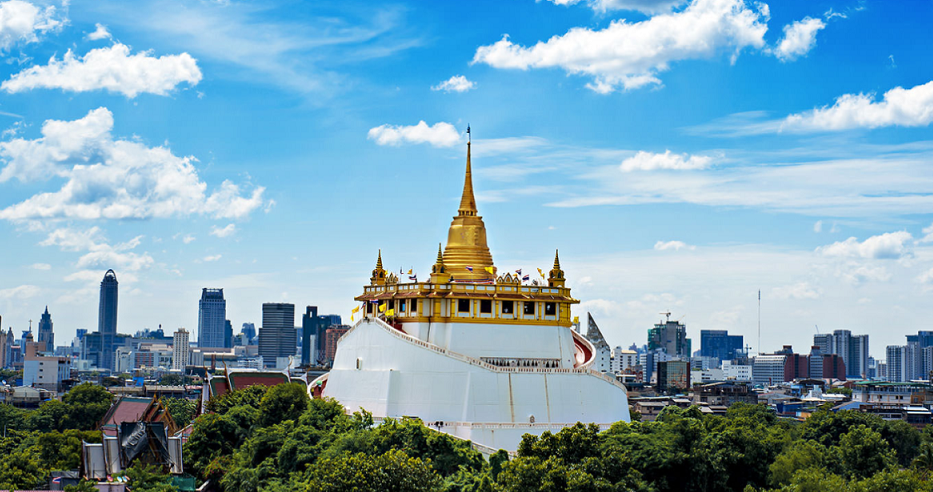 Wat Suthat and the Giant Swing: This temple is famous because monks use to gather here and swing in exchange for coins.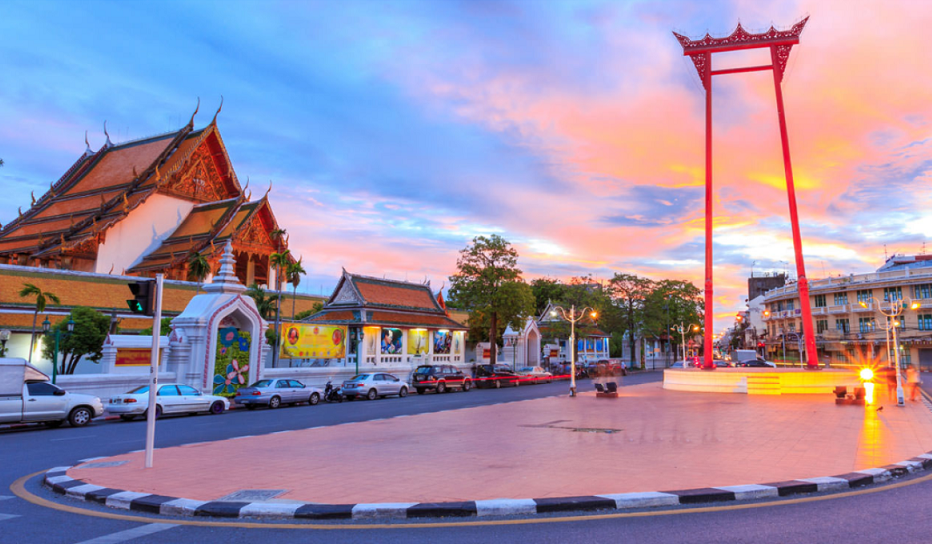 Muay Thai
This is a type of martial art that is embedded in the Thai culture. It was used to settle large disputes, but nowadays, it is a great addition to MMA. If you wish to see live-action, you can go to the following places:
Rajadamnern: This is one of the largest venues for fights. On the second level, you can gamble because it is legal. You can get tickets for affordable prices. For more information about tickets and fights visit the site.
Channel 7 Stadium: This is a free show conducted by the Royal Thai Army. The fights are broadcasted live. You can check for more info here.
Floating markets 
It is always fun to go shopping, but it is more fun to go shopping in a floating market. There are few of these in Thailand and you can check them out. They are located far from the city and will require you to travel. 
Amphawa: This is one of the favorite floating markets for visitors. You can often get souvenirs, sweets, and snacks from here while enjoying the boat ride.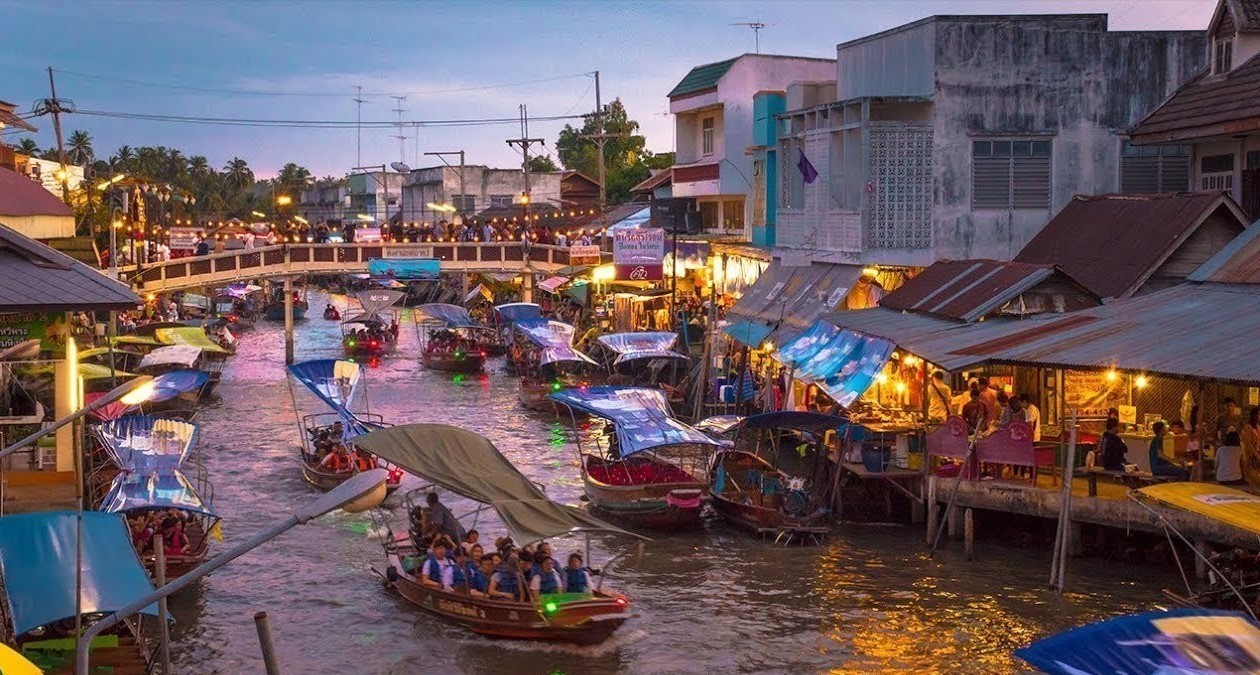 Damnoen Saduak Floating Market: This is also a very famous market but it is about 100km from the city.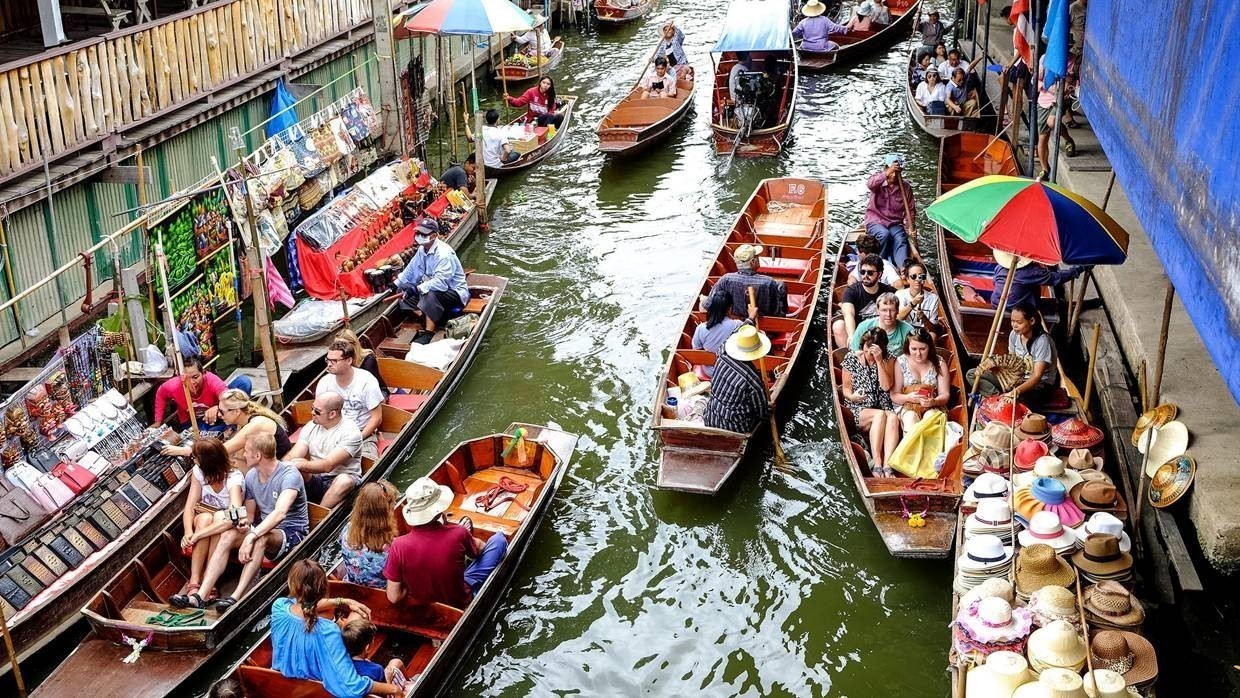 Traditional Thai massages
Thai massage is one of the famous types of massages in the world. You do not want to miss a chance to get one from the local professionals. 
Wat Pho: This is one of the best places to get a massage. You will not forget the experience. 
Health Land: This is also a good place to get your massage. They have massage salons in many locations and are authentic with good massage therapists. 
Night Life
There are lots of places in Bangkok that can entertain you at night. In fact, they are world-famous. You should also expect lots of parties from AWA sponsors. So, keep an eye out and do not miss the opportunity to get invited. You can even take a glism of the parties organized by the sponsors of the last event. 
Asiatique The RIverfront
This is a lifestyle complex that contains shops, restaurants, attractions, clubs, etc. You will never run out of things to do.
Soi Thong Lo 10 (Thonglor)
If you want to see how the locals' party, this is the place to come. 
Meet AffiliateValley There!
We are going to take an active part in the conference. It is our job to bring you the best and most updated information. So, we will be there making reviews and interviewing the experts. If you want to collaborate or make yourself known to the affiliate marketing world, you can write to us.
Share the article

Read. Learn. Do. Earn more money on Affiliate Marketing
Don't miss