TrafficJunky has been around for a while now and most media buyers should already know about it. But how many of them can claim that they are using it to its full potential? Honestly, not many. 

TrafficJunky is an Ad network to explore as a media buyer. You have lots of profit to make if you can master its features. That is why AffiliateValley has decided to step in and provide you with this guide that will help you get the most out of this ad network.
First, let's talk about a little bit of history. It is always important to learn about the past because it helps shape the future.
A brief history
One of the key ad networks with regards to mobile adverts is TrafficJunky. It was created in Montreal, Canada in 2008, now it is owned by Mindgeek. This company is also in control of some of the most popular adult websites that you can name: RedTube, Pornhub, YouPorn, etc. 
Okay, the history class is over. Now, let's look at a present-day overview of the ad network.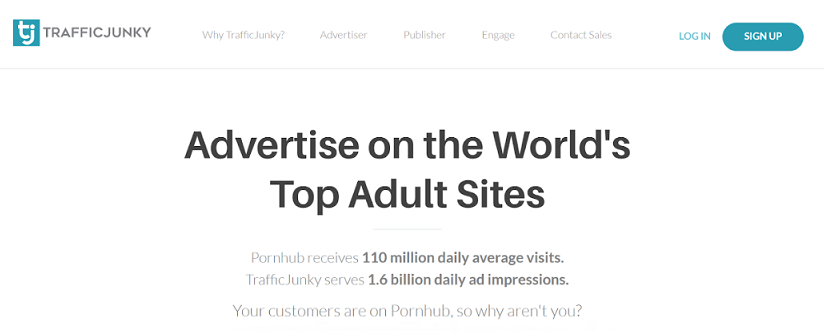 Overview of TrafficJunky
This is self-serve bidding, pre-paid ad platform. This implies that you can navigate the site from start to finish without assistance. This is an indication of how user-friendly this platform is. Also, you can decide to seek the aid of account managers and 24-hour life support to help with anything regarding this platform. 
They are experts in banner ads which include a mobile footer, interstitial, and underplayer. Their placements are best when it comes to the top adult websites. 
They concentrate on the following niches: Adult dating, gambling and entertainment, adult paysites, health and beauty,  gaming, and sexual wellness.
It still gets bigger. Here are some numbers to impress you. They have over 150 million visits per day and 3 billion daily impressions. Very few ad networks can boast of those numbers. These numbers are mainly from tier 1 countries (USA, UK, Germany, and France). They also have good traffic from tier 2 and 3 countries. 
For people who love to consult an account manager, there is great news for you. TrafficJunky has 24/7 live support on chat and phone. This helps to reduce the time taken for the ad review process. 
That is not all. They also have Help Center that expatiates on all the various sections of the platform. How cool is that?
Apart from that, there is the FAQ section that answers most questions. The site has an impressive and user-friendly design. 
Creating your account
Click on the Sign-up button to begin the process.
On the next page, you will be given the option to be an Advertiser or Publisher. Select Advertiser and input your credentials.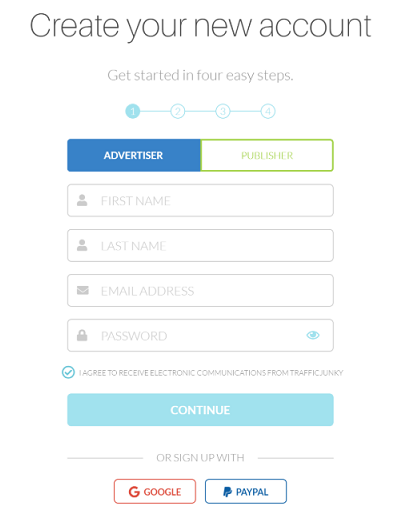 Once this is done, a code is sent to your email address. You need to confirm by pasting the code in TrafficJunky.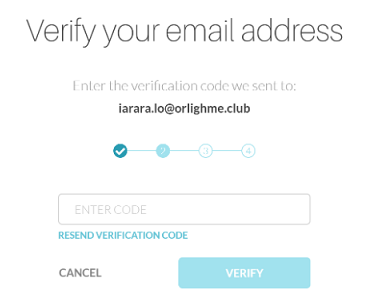 Once you have created your account as an advertiser, you will be taken to the Edit profile page. So, that you can complete filling your details. If your profile is not complete, you won't be able to add funds to your account.

Your account is divided into 5 main menus - Dashboard, Campaigns, Finance, Tools, and Referral program. 

The Dashboard
This is where you will find the stats overview of your campaign. You will find information on the ID, Campaign name, targeting options, Ads, Bids, Budget, Impressions, Clicks, CTR, Cost, eCPM, eCPC, and labels for all the campaigns you have created. You can also create a new campaign from this page.

Campaigns

This page is dedicated to all your campaigns. It is made up of three sections - Overview, Settings View, and Ads View. 
Within the Overview section, you will be able to search for your campaigns using several different filters.
Finance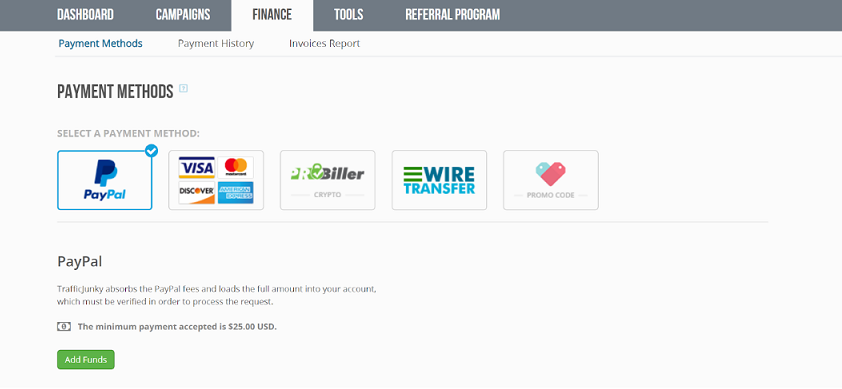 This page is where you will find all the details about your finances. It is divided into 3 sections - Payment methods, Payment History, Invoice Reports.
Payment methods: TrafficJunky accepts Paypal (min payment is 25 USD), Visa/Master/Discover/American Express cards (min payment is 100 USD), ProBiller (min payment is 250 USD), Wire Transfer (min payment 1000 USD), and Promo code.
Payment history is where you can find all the previous payments you have made over time.
The invoice report is where to view your history of invoices and you can download a PDF file of each invoice. You can download up to 5 invoices at the same time.
Tools

This page is where you find the tools to help manage your campaign. It is divided into 5 sections:
GEO opportunities: Here, you can check for your geo targets. Also, you can get discounts depending on the targets you work with.
Conversion Trackers: This is where you track all your processes.
Image Bank: The name speaks for itself. Here, it is possible to upload all your photos so that they are ready for use at any time. It also has a search feature to easily find the photos. You can upload up to 500 photos at once.
Manage Labels: Label and manage your campaigns. This gives you a better understanding of your projects.
Sites and Spots: This is a cool feature provided by this ad network. You can get a preview of where your advert will be displayed according to the device, website, and spot.
Referral Program

Here, you can get your referral URL and also keep track of the past bonuses and referrals. 
Now that we are done with the sections of the platform, let's get started with campaign creation. This is actually where the fun starts.
Creation of your campaign
From the dashboard, click the New Campaign button and select Regular Campaign. Another interesting thing about TrafficJunky is that you can Create a Cannabis Campaign where you advertise cannabis content to regions in the US that it is legalized. We will explain that in another article. Let's continue with the regular campaign.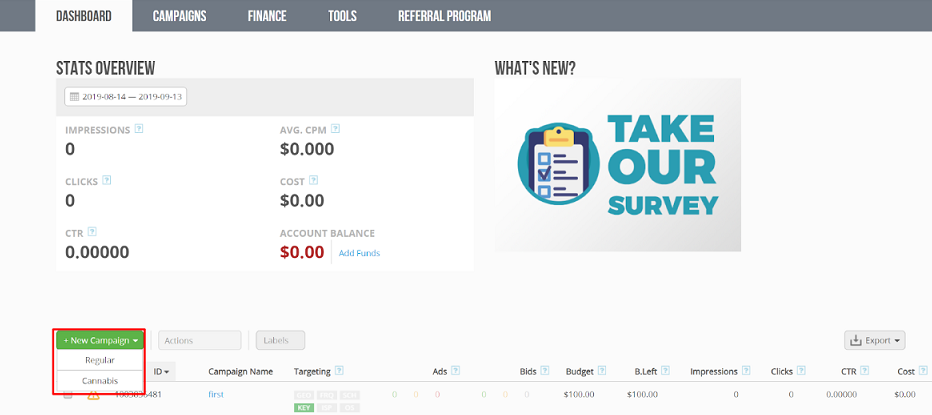 From here, you will have to name your campaign, pick the device type, target group, and set the daily budget. 
Now, you can select the Geo which includes country, state, and region you would like to target. 
The Capping subsection allows you to pick the duration of your campaign, schedule specific times when you want your campaign to run and fiddle with the frequency capping feature.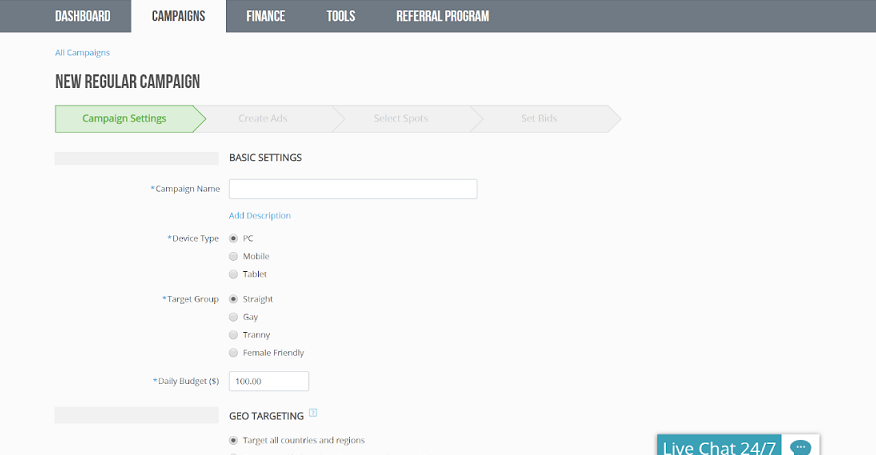 Clicking on Advanced targeting will open a new suite of targeting options. There you can decide to target specific keywords. This will make your ads to show up next to the videos featuring the content you have targeted.
When you are done, click Save and Continue.
This will take you to the Create Ads page. Make sure you have your ad files ready.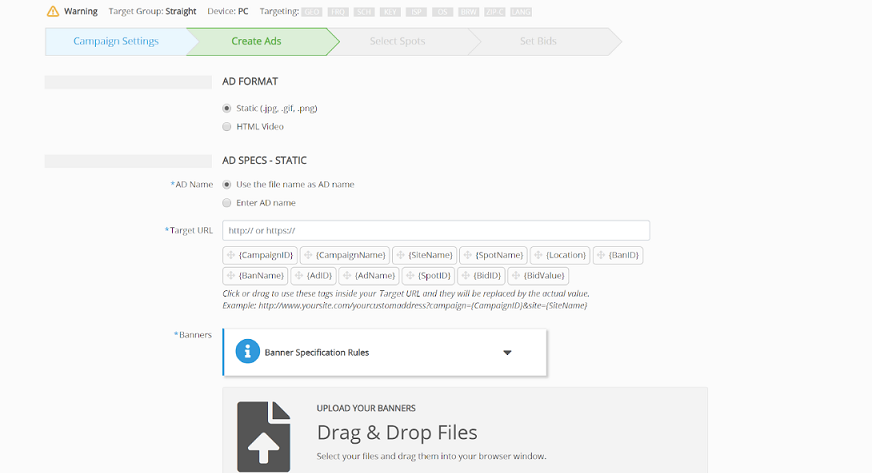 Now, select your Ad Format.
Next, enter the target URL which will determine where clicking on your ad will lead to.
If you are not sure of what kind of banners to upload, tap the downward arrow on the Banner Specification Rules menu. You will be able to see the recommended size, accepted formats, and file dimensions. Assuming your banners are compliant with the rules and regulations of TrafficJunky, you can then add them. Here is something you should know. The size of the banners is important. You will be able to target Underplayer, Header, and Mobile Embed zones if you upload a picture size of 305 x 99. But if you upload 300 x 250, you will only be able to target footer spots.
When you have selected the banner, click Confirm Ads and continue.
The Select Spot page will automatically recommend what sites and spots you should target by highlighting them in green. You can select the spots you want. Here is a tip just for you. Header spots show better performance because they are the first to be displayed on any page.
Click Save and Next when you are done.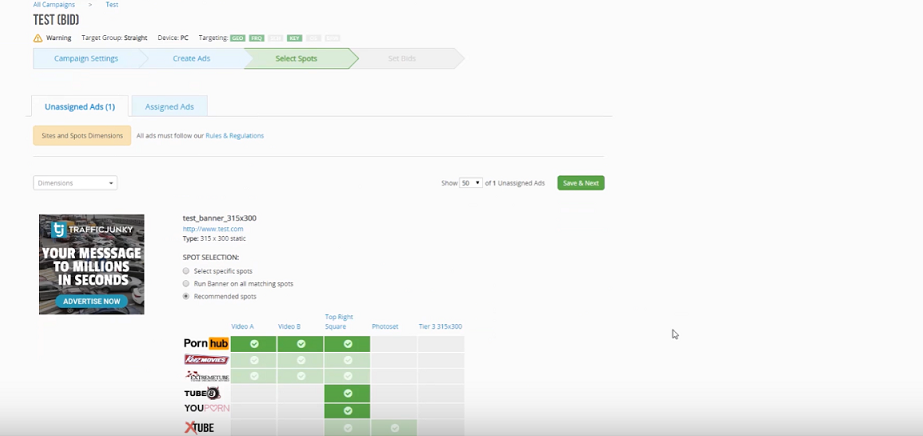 From the Set bids page, you can either hit Confirm to set your bids or click on every individual bid to bring up the bid table where you will find your share of traffic and be able to edit the bids. Here we always advise users to have an account balance that covers the daily budget. This is because you will be able to afford the total impressions your bidding for, and you can get better traffic. The opposite happens when your daily budget surpasses the account balance.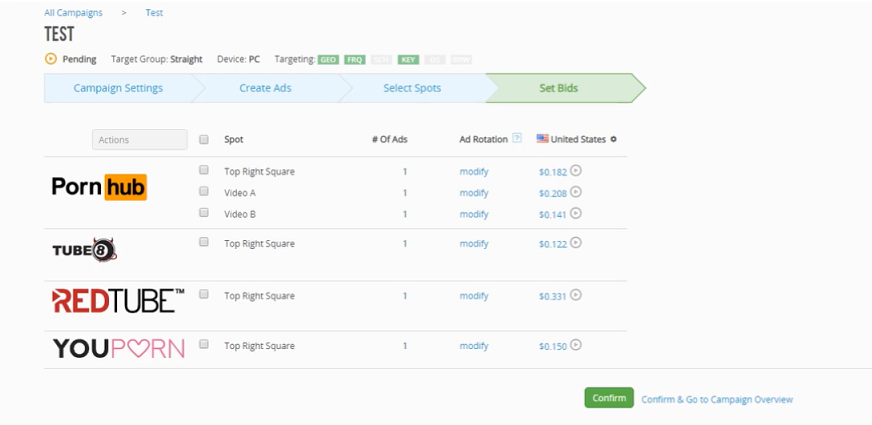 Click Confirm to continue. If you have no funds in your account, you will be redirected to the payment method page. Make sure you add enough funds to cover your daily budget.
Once your campaign is launched, you will be able to view all the stats on the Dashboard. You will be able to see how well all the campaigns you have created are doing, and what is affecting their success or failure. 
Note that if you are having any issues with your campaign, you can always contact the Live Chat support. They will respond to you in about 30 seconds. Customer support is very fast and helpful. 

TrafficJunky tips and tricks
Try not to use one banner all the time. This platform is set up for testing. It is always advisable to start off with at least five or six adverts. Test different banners and see which one gives the best results. Make sure the campaign runs for a few days to get enough data to know if the banner works or not. 
Newbies are always advised to familiarise themselves with the sites and spots section. This will give you more info on what is available. Make sure that you are not spending carelessly. The spots found above the fold such as Video A or B and the Top Right Square should be your targets. This does not mean that you should not target footer. They are cheap and will save you some money. It is also a good thing to check out the 950x250 footers. They will provide you with more space for information. 
Make sure the landing page you are using reflects the vertical you are promoting. It is not a good idea to have a landing page about college girls but your advert is about MILFS. Try moving from click to purchase if you are advertising an online shop. You should limit the number of clicks. 
Selecting the right keywords is vital for the success of your campaign to do so, go to the TrafficJunky Select Keyword bar and start typing a popular search term. Automatically, the platform will give you some suggestions with their relevance and search volume. The same thing can be seen when you type a popular such term in the Pornhub search bar. These are high-end keywords that you can use for your campaign.
If you are promoting a dating offer, we can not stress enough how important it is to be innovative. You need to use different unique banners, test landing pages, and tier 2 and 3 countries. Also, the banners should match the language of the country you are targeting.
You can find more information on how to use TrafficJunky from their Ultimate How To collection.
TrafficJunky Case Study
Now, we are going to see a real-life case of how someone used the TrafficJunky network to generate income:
Vertical: Dating
Type: SOI Leads
Network: MundoMedia
Offers: Flirchi (Primary) | Amoory & Kismia (Secondary Split Tests) | Local MILF (Main) | Easysex & Hookup (Secondary split testing offers)
Tracker:  Voluum
Ad Networks: TrafficJunky 
Target country: India | Brazil | USA | Great Britain | Venezuela | Colombia
After checking how others are promoting the Flirchi offer, I got a pretty solid idea of ​​how I need to act. I decided to create my own creatives (banners and landing pages). After creating the ads, I just created a campaign with several types of landing pages and 3 pages of offers. Then I went to my TrafficJunky account and created a campaign on two advertising platforms, NTV A and NTV B (Next To Video commercial) on pornhub. As for bids, it was cost per thousand impressions (CPM), and I made sure I got into the top 3, to get the maximum number of impressions and clicks on the banner and landing pages.
As soon as I had enough data, I optimized my campaign, excluding ineffective banners and landing pages. As soon as I saw a stable profit and good ROI, I simply scaled my campaign on all available NTV advertising platforms on TrafficJunky. At the same time, I started working on creating campaigns for Flirchi Brazil, Venezuela, and Colombia. Used the same banner and landing page format and followed the same procedure as in their Flirchi India campaigns.
My campaign statistics
Day 1
Cost: - $ 16,515 
Total conversion: - 19 
Total return: - $ 10.64 
Total return on investment: - $ 5,875
Day 2
Cost: - $ 17.206
Total conversion: - 46
Total revenue: - $ 29.14
Total return on investment: $ 11,934
Day 3
Cost: $ 21.851 
Total conversion: 75 
Total return: $ 42 
Total return on investment: $ 20.149
Day 4
Cost: $ 23.02
Total conversion: 77%
Total revenue: $ 43.12
Total return on investment:  $ 20.1
Day 5
Cost: $ 88.83957 
The total number of conversions on my network: 303 
The total number of conversions shown on the volume: - 244 (59 conversions were not recorded on the volumes, because there was downtime on the part of my CPA network, and later they added potential customers without any click data cost. So I lost some good data) 
Total return: $ 169.68 
Total return on investment: $ 80.84
Once the campaigns began to steadily increase ROI, I began to test various elements such as the title, color contrast, images (nude/half-naked/not nude), CTA buttons, flags, etc. I also created new campaigns (the offer "Local Moms" and "Improving Male Potency") and started testing them along with my existing profitable campaigns.
The Flirchi offer lasted 3 months, and I did my best to earn as much as I could. I was a bit late to start with the Selffies Local Milf offer. Whenever I found a new offer for dating, I split it with my existing offer in my lucrative campaigns. The screenshot below shows my total revenue from these offers, which amounted to 17,106 US dollars, and total expenses amounted to about 10,000 US dollars with an ROI of 70%. Since Voluum does not store data for more than 6 months, so the data could not be obtained.

Conclusion
TrafficJunky remains one of the best platforms for you to place your adverts on adult sites. They also work with other popular verticals. You will be able to create profitable campaigns. It has lots of features to offer. 
Use promo code TJ19AFFVALLEY  to match bonus up to $50!
The minimum deposit on TrafficJunky:
$25 USD by Paypal
$100 USD by Credit Card
$100 USD/100 EUR by Paxum
$ 250 USD by crypto payment
$ 1,000 USD by wire payment
Share the article

Read. Learn. Do. Earn more money on Affiliate Marketing
Don't miss