TrafficJunky has been around for a while now and most media buyers should already know about it. But how many of them can claim that they are using it to its full potential?


In this guide we will look at TrafficJunky's main features and help you get the most out of this ad network.
A brief history
One of the key ad networks with regards to mobile adverts is TrafficJunky. It was created in Montreal, Canada in 2008, now it is owned by Mindgeek. This company is also in control of some of the most popular adult websites that you can name: RedTube, Pornhub, YouPorn, etc.
Now, let's look at a present-day overview of the ad network.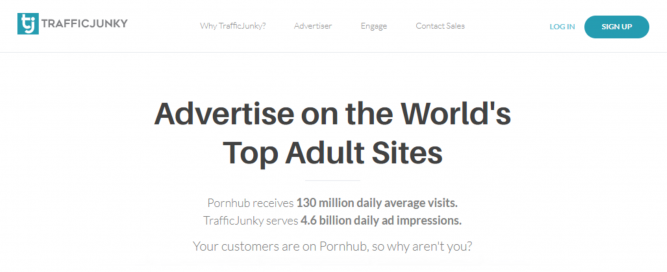 Overview of TrafficJunky
This is a self-serve bidding and pre-paid ad platform. This means that you can easily navigate the site and launch your own campaigns.
TrafficJunky are experts in banner ads which include a mobile footer, interstitial, and underplayer. Their placements are the most popular when it comes to the top adult websites. This platform concentrates on the following niches: adult dating, gambling and entertainment, adult paysites, health and beauty, gaming, and sexual wellness.
TrafficJunky has over 150 million daily visitors and 4.6 billion daily impressions. These numbers are mainly collected from tier-1 countries (USA, Japan, UK, Germany, and France).
In case any questions arise regarding the platform features, TrafficJunky has 24/7 support via chats boxes and hotline. Live support also means less time spent on the ad reviewing process.
TrafficJunky also has a Help Center that provides detailed information on all sections of the platform. There is also the FAQ section that answers general questions. The platform's interface is user-friendly and can be navigated intuitively.

Creating your account
Click on the Sign Up button to begin the process.
On the next page, fill out your personal info or sign up with one of the available social media websites.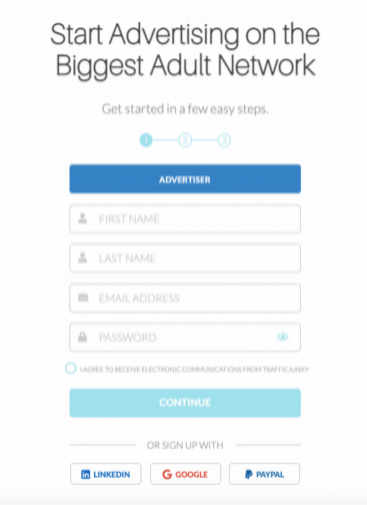 Once this is done, a code is sent to your email address. You need to confirm by pasting the code in TrafficJunky.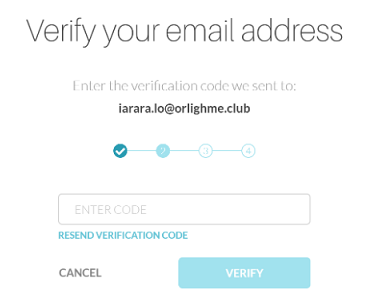 Once you have created your account as an advertiser, go to the Edit profile page. Fill out all the fields that are marked with a blue asterisk. Until you have provided all the necessary information, you won't be able to add funds to your account.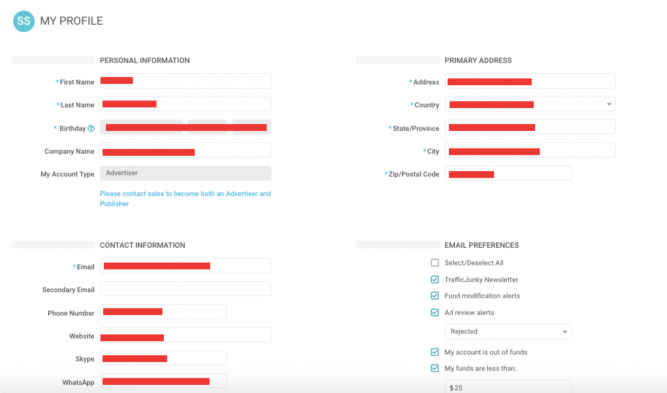 Your account is divided into 8 main menus - Dashboard, Campaigns, Rules, Finance, Tools, Blog and Help Center.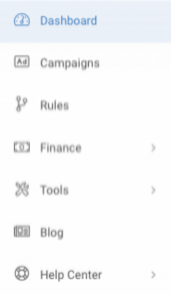 The Dashboard
This is where you will find the stats overview of your campaign. It shows you the bigger picture with all relevant information on previously created campaigns, their parameters and results.You can also create a new campaign from this page.

Campaigns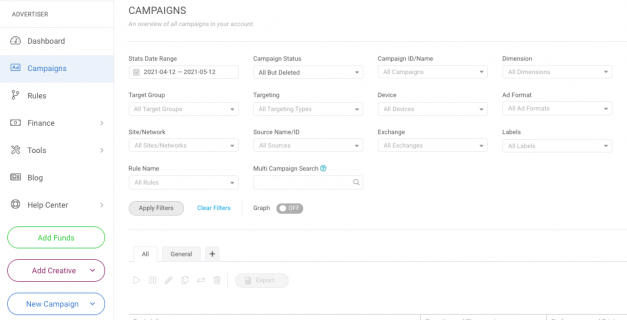 This page is dedicated to all your campaigns. With this overview, you will be able to see details for all executed campaigns, and filter through them. For example, you can find old seasonal campaigns that can be reused in the new season.


Rules
Here you will be able to create and manage all rules for your campaigns. They will help the algorithm to execute your campaign in a way that fits your goals. You can set logical conditions which will trigger the goal of the rule to be executed.
Finance
In this section you will find all the details about your financial transactions. It is divided into 2 sections - Payment History and Invoices Reports.
Payment methods: TrafficJunky accepts Paypal (min payment is 25 USD), Visa/Master/Discover/American Express cards (min payment is 100 USD), ProBiller (min payment is 250 USD), Wire Transfer (min payment 1000 USD), and Promo code.

Payment history is where you can find all the previous payments you have made over time.

The invoice report section is where you can find the history of invoices for your account and download a PDF file for each individual invoice, up to 5 files at the same time.
Tools
This page is where you find the tools to help manage your campaign. It is divided into 5 sections:
Conversion Trackers: This is where you track all your processes.

Image Bank: Here, it is possible to upload all your creatives so that they are ready for use at any time. It also has a search feature to easily look through your inventory. You can upload up to 500 images at once.

Manage Labels: Label and manage your campaigns. This gives you a transparent overview of your projects.

Referral Program: here, you can get your referral URL to promote TrafficJunky on your traffic and also keep track of the past bonuses and referrals.
Blog and Help Center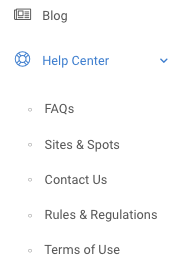 Here you can find a link to the platform's blog and to all information about the platform that includes FAQs and Contact Us sections.
Now that we are done with the sections of the platform, let's get started with campaign creation. This is actually where the fun starts.
Creation of your campaign
Begin by clicking the "Create Campaign" button and then select "Bid" from the dropdown list.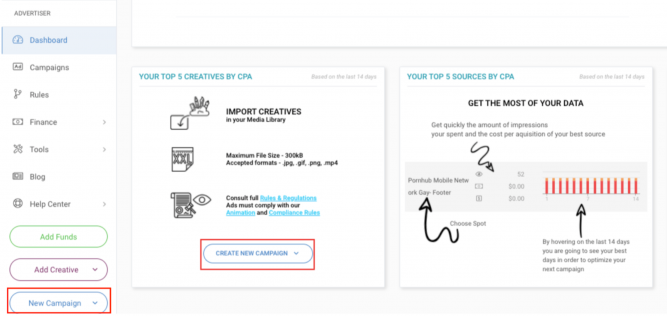 From here, you will have to name your campaign, pick the device type, target group, and set the daily budget. 
Now, you can select the GEO which includes the country, state, and region you would like to target.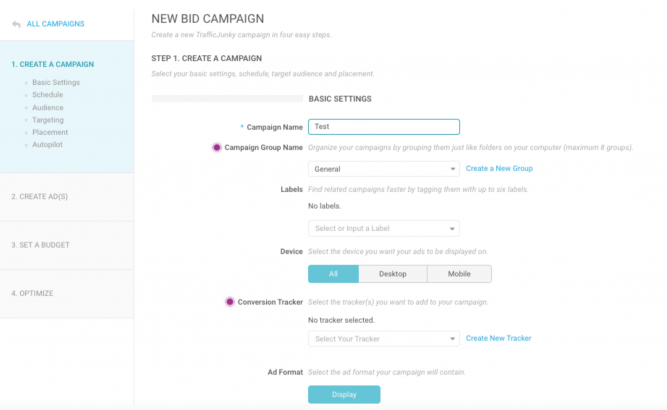 When you are done, click Save & Continue.

Upload creatives
Next step will be to create ads. Make sure you have your ad files ready and start with choosing your creative. 
If you are not sure of what kind of banners to upload, check out the guide to uploading your creatives. You will be able to see the recommended size, accepted formats, and file dimensions. Assuming your banners are compliant with the rules and regulations of TrafficJunky, you can then add them.
When your files are ready, click the "Add Creative" button. You will be able to target static banners, video banners, and overlay logos in the respective tabs. For display campaigns, your creatives need to match the following dimensions: 950 x 250, 315 x 300, 300 x 250, 468 x 60, 305 x 99, 635 x 150 and 300 x 150.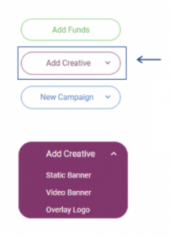 Moderation
When you have selected the banner you want to upload, add the creative and await approval which might take anywhere between 10 and 60 minutes.
If you've just uploaded a creative, wait until the compliance team approves it. Afterwards, you will be able to set your budget. It's best to have an account balance that covers the daily budget for total impressions. This is because you will be able to afford the bids that your budget is set for and get better traffic. If your daily budget is too low or surpasses the account balance, your ad won't be participating in the bidding and, therefore, won't be shown to the target audiences.
Optimization
Next and last step is to choose optimization options. To optimize your campaign, use one or more of the tools offered: The Bidder, AutoPilot, and Rules Engine.
The Bidder will allow you to set a Target CPA (cost-per-action) for the campaign and Per Source Test Budget. 

AutoPilot allows your campaign to be run by a build-in algorithm without you having to spend too much time on tweaking the settings. 

Rules Engine will let you set certain indications for each campaign that the algorithm will follow. That can include rules that check your eCPA (effective cost per action), eCPM (effective cost per thousand), revenue etc. and compare it to the target you have set. And the frequency to which this check will happen can be set to daily, weekly, or monthly.
Once all of these steps are completed, your campaign can be launched and you will be able to view all the stats on the Dashboard. You can see how well all the campaigns you have created are doing, and what is affecting their progress. 

Note that if you are having any issues with your campaign, you can always contact the Live Chat support. They will respond to you in about 30 seconds. TrafficJunky customer support responses have proven to be quick and helpful.
Best practices on launching a campaign with TrafficJunky
Try not to use one banner all the time. TrafficJunky gives you tools for testing different approache. It is always advisable to start off with at least five or six creatives in a campaign. Test different banners and see which one gives the best results. Make sure the campaign runs for a few days to get enough data to know if the banner works or not.
Make sure the creative you are using is appropriate for your landing page. It is not a good idea to promote a landing page about college girls with an advert about MILFS.
Selecting the right keywords is vital for the success of your campaign. To do so, go to the TrafficJunky Select Keyword bar and start typing a popular search term. Automatically, the platform will give you some suggestions with their relevance and search volume. The same thing can be seen when you type a popular search term in the Pornhub search bar. These are seed keywords that you can use for your campaign.
If you are promoting a dating offer, we can not stress enough how important it is to be innovative. You need to use different unique banners, test landing pages, and tier-2 and -3 countries. Also, the banners should match the language of the country you are targeting.
You can find more information on how to use TrafficJunky from their Campaign Creation Guide and Campaign Optimization Tools.

TrafficJunky Case Study
Now, we are going to see a real-life case of how an anonymous affiliate used the TrafficJunky network to generate income:
Vertical: Dating

Type: SOI Leads

Network: MundoMedia

Offers: Flirchi (Primary) | Amoory & Kismia (Secondary Split Tests) | Local MILF (Main) | Easysex & Hookup (Secondary split testing offers)

Tracker:  Voluum

Ad Networks: TrafficJunky 

Target countries: India | Brazil | USA | Great Britain | Venezuela | Colombia 
After checking how others are promoting the Flirchi offer, I got a pretty solid idea of ​​how I need to act. I decided to create my own creatives (banners and landing pages). After creating the ads, I just created a campaign with several types of landing pages and 3 pages of offers. Then I went to my TrafficJunky account and created a campaign on two advertising platforms, NTV A and NTV B (Next To Video commercial) on PornHub. As for the bids, it was cost per thousand impressions (CPM), and I made sure I got into the top 3, to get the maximum number of impressions and clicks on the banner and landing pages.
As soon as I had enough data, I optimized my campaign, excluding ineffective banners and landing pages. As soon as I saw a stable profit and good ROI, I simply scaled my campaign on all available NTV advertising platforms on TrafficJunky. At the same time, I started working on creating campaigns for Flirchi Brazil, Venezuela, and Colombia. Used the same banner and landing page format and followed the same procedure as in their Flirchi India campaigns.
My campaign statistics
Day 1
Cost: - $ 16,515 

Total conversion: - 19 

Total return: - $ 10.64 

Total return on investment: - $ 5,875
Day 2
Cost: - $ 17.206

Total conversion: - 46

Total revenue: - $ 29.14

Total return on investment: $ 11,934
Day 3
Cost: $ 21.851 

Total conversion: 75 

Total return: $ 42 

Total return on investment: $ 20.149
Day 4
Cost: $ 23.02

Total conversion: 77%

Total revenue: $ 43.12

Total return on investment:  $ 20.1
Day 5
Cost: $ 88.83957 

The total number of conversions on my network: 303 

The total number of conversions shown on the volume: - 244 (59 conversions were not recorded on the volumes, because there was downtime on the part of my CPA network, and later they added potential customers without any click data cost. So I lost some good data) 

Total return: $ 169.68 

Total return on investment: $ 80.84
Once the campaigns began to steadily increase ROI, I began to test various elements such as the title, color contrast, images (nude/half-naked/not nude), CTA buttons, flags, etc. I also created new campaigns (the offer "Local Moms" and "Improving Male Potency") and started testing them along with my existing profitable campaigns.
The Flirchi offer lasted 3 months, and I did my best to earn as much as I could. I was a bit late to start with the Selffies Local Milf offer. Whenever I found a new offer for dating, I split it with my existing offer in my lucrative campaigns. The screenshot below shows my total revenue from these offers, which amounted to 17,106 US dollars, and total expenses amounted to about 10,000 US dollars with an ROI of 70%. Since Voluum does not store data for more than 6 months, the data could not be obtained.
Conclusion
TrafficJunky remains one of the best platforms for you to place your adverts on adult sites. The features mentioned in this article allow you to find the best strategy for successful campaigns.
Use promo code TJ21AFFVALLEY  to match bonus up to $50!
The minimum deposit on TrafficJunky:
$25 USD by Paypal

$100 USD by Credit Card

$100 USD/100 EUR by Paxum

$ 250 USD by crypto payment

$ 1,000 USD by wire payment
Share the article

Read. Learn. Do. Earn more money on Affiliate Marketing
Don't miss