Wouldn't it be amazing if all you needed for success was within reach? Without spending countless hours on searching for a network with good offers. Without looking for where you can buy traffic for these offers. AND knowing how your competitors work with these offers. 
Over the span of two months we have presented comprehensive reviews of CPA.House (affiliate network), Push.House (push network) and Spy.House (spy tool). Do you see anything in common here? All of them give you a "House" to stay in and start working: almost like Hogwarts, but with no sorting hat. Because here you want to be in all the Houses at once.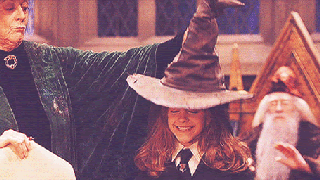 So, how does it work exactly?
Even though all these platforms can be used separately, they bring more to the table when used all together. The ecosystem of Push.House/CPA.House/Spy.House was specifically designed to satisfy all the needs the publishers might have: find a good offer (CPA.House), find traffic (Push.House), see what others do with the same offers (Spy.House). 

But let's break down some great important advantages of such an ecosystem.
1. Allowed type of traffic
CPA.House is one of not many affiliate networks that accepts push traffic for most of the offers, which makes it a lot easier to work through Push.House. All you need to do is to find an offer you would like to promote on CPA.House, check out all the terms and conditions and apply for access. No doubt that Push notifications will be among accepted types of traffic.
Let's randomly take an offer. So here's Mostbet (an exclusive offer with CPA.House) and types of traffic that they allow: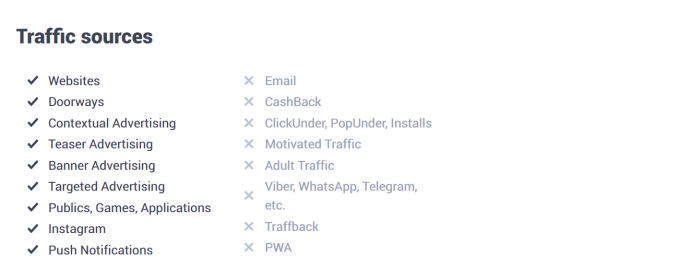 The same goes for almost every offer available on the affiliate network. You can always find something to drive push traffic to. However, if you have any doubts regarding types of traffic for the offer, you can always consult your personal manager.
In CPA.House you will easily find offers to your liking. New offers are added incredibly often (it seems like every day), so you will always have something to work with. If your volumes are big, you may secure higher commission. And working in the ecosystem with Push.House (and push traffic converts really well), you will have it soon enough. 
2. Easy withdrawal
When you're working with CPA.House driving push traffic with Push.House, you don't need to think how you'll be paid. Moreover, all of the money earned in CPA.House can become available at Push.House to use further in your campaign (which is extremely beneficial for any confused beginner). All you need to do is to leave your email (the one you use for Push.House) and all your earnings will automatically appear there: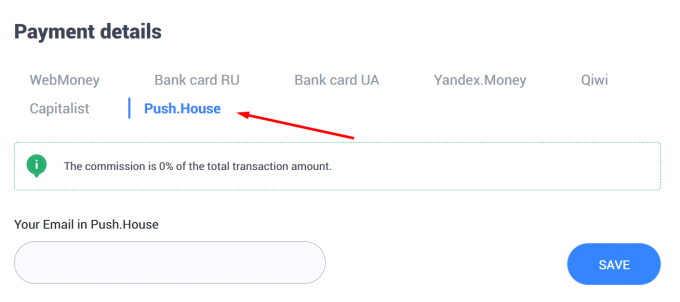 And it's not only about how easy it is to transfer your earnings to Push.House. They offer privileges for long-term partners with a lot of traffic. For example, you'll have the opportunity to be paid faster and more frequently..
3. No technical problems
Both CPA.House and Push.House offer simple solutions to all things technical. You can set up a postback (they also have an option to go with global postback) or API to receive all your statistics. For example, here is the manual for creating a postback that you will be offered in Push.House: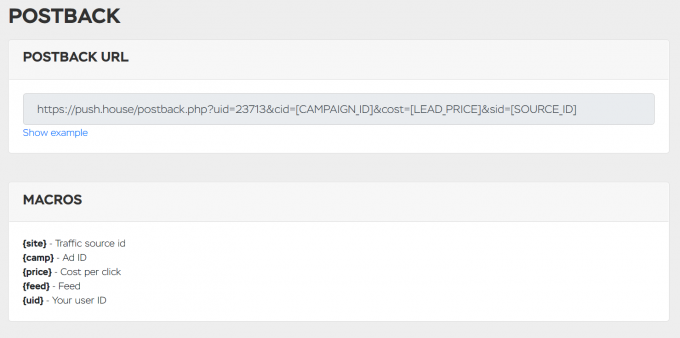 With CPA.House you have a variety of options, including generating an automated postback. They offer you postback templates which basically means they do all the work for you. You do not even need to think about what parameters to choose. This is a great benefit of the ecosystem, where all you have to do is to choose the Push.House template and add metrics. Since both of your accounts are interconnected, all the information will be available on both platforms.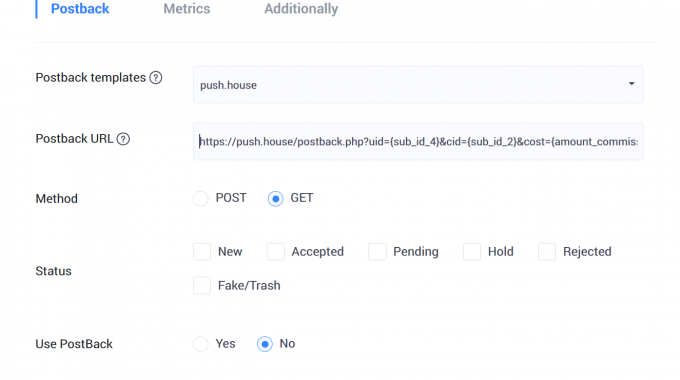 4. Keeping up with competitors
While CPA.House and Push.House help you to find offers and start driving traffic to them, Spy.House will aid in finding a better strategy for your campaigns. With Spy.House you can literally spy on your competitors: see what creatives and landings are mostly used to promote this or that offer. 
Let's see what pushes are used among the publishers with Push.House to promote Mostbet (from CPA.House). You can sort all the information by Advertising networks (and we chose Push.House), by views (the more frequent ones on the top of the list), by devices (mobile and desktop), languages and countries. Not only can you see them, you can also download them and use them yourself.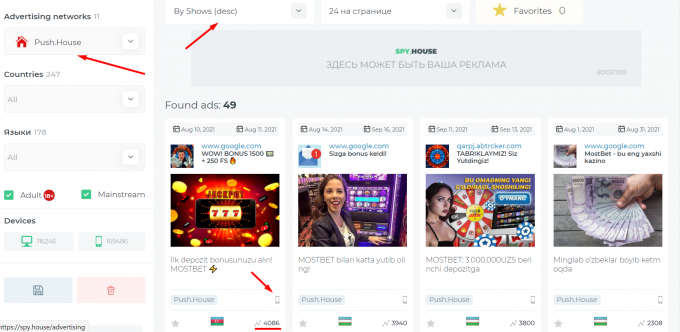 What's more, you can also see what offers are being run on different affiliate networks, what the target action is and payouts they have. They will also give you information about the landings used and how long it's been live.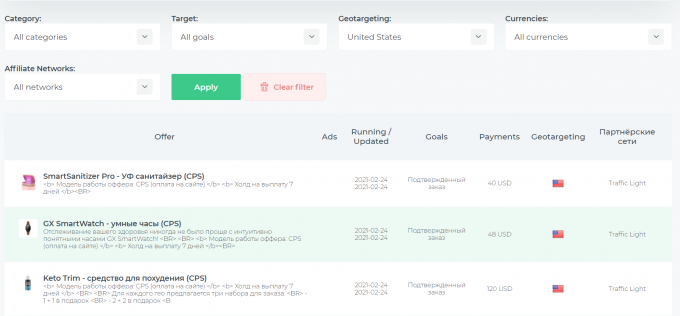 But it's not just that. Spy.House is striving to be more than just a spy service. It's a place where you can find information on different CPA networks, their ratings and reviews from other publishers. A place where they tell you about different trackers you can use (and people's experience with them), services (like SEO instruments, proxies, SMM tools etc.) and upcoming conferences.
5. Community
Entering the ecosystem of CPA.House/Push.House/Spy.House, you will be greeted and aided by an inspiring community of affiliate marketers. For everyone's convenience there are several telegram chats where you can see the latest news or ask for advice. The objective here is to share your experience, find solutions to your problems and learn more about affiliate marketing in general.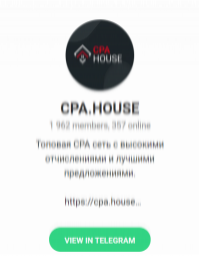 Join the EN chat here. 

Everyone is quite friendly there, there are very few conflicts or complaints. Since the networks are beginner-friendly, the support team is always there to help you out: if you have any questions about the validation process, technical setup or payments.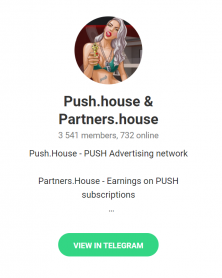 Join the chat here.
Another point worth mentioning is the CPA.House blog. The team is putting a great deal of effort into developing useful materials for affiliates, so if you're looking for extra sources of knowledge, go check it out — it's totally worth your time.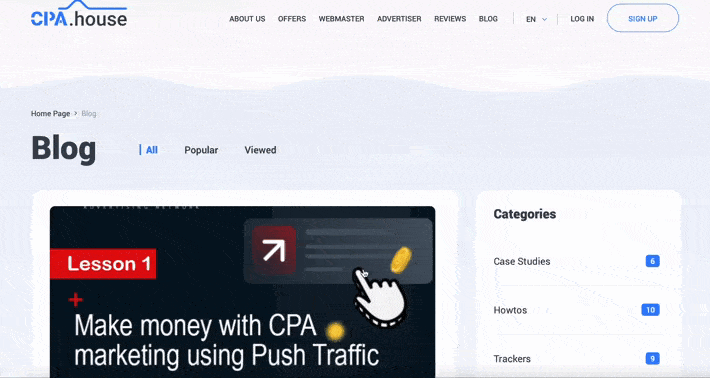 What do publishers say?
We have learned about the main advantages of working with all three platforms. Let's have a look at some testimonials from publishers who are working within the ecosystem.
---
"It is great when different services are created and managed by the same team. It is exceptionally convenient in terms of finding offers, integration and withdrawals. What's more, it inspires more trust in these networks and how they operate."
---
"I came to CPA.House when they first launched it. After talking to the manager (who helped me choose several offers) I started driving traffic (through Push.House) and it went great. I mostly work with nutra offers in Asia and CIS. It's important that you do some thinking and analyzing because that is how you will have huge profit."
---
"For me it's more of a hobby, because I run my own offline business. Mostly, all the processes are already automated. All I need to do is to check statistics, analyze it and do some optimization."
---
Summary
The team at Push.House/CPA.House/Spy.House has created a whole universe for the publishers: there is no need to go anywhere else. It is ideal for those who want to either start with affiliate marketing or are looking for ways to multiply their income. 
Just go register there and use all the benefits of working under the same team (and there are plenty of them). For more information, go check out our review of each platform so you know where to start. 
Share the article

Read. Learn. Do. Earn more money on Affiliate Marketing
Don't miss